Welcome, We Love To Serve You!

ER Equipped for Breathing Assistance
EMS Manikin Trains Medics in Rescue Breathing
Airvo 2 Supplies Warm, Moist Oxygen
Airway Device Supports Breath In AND Breath Out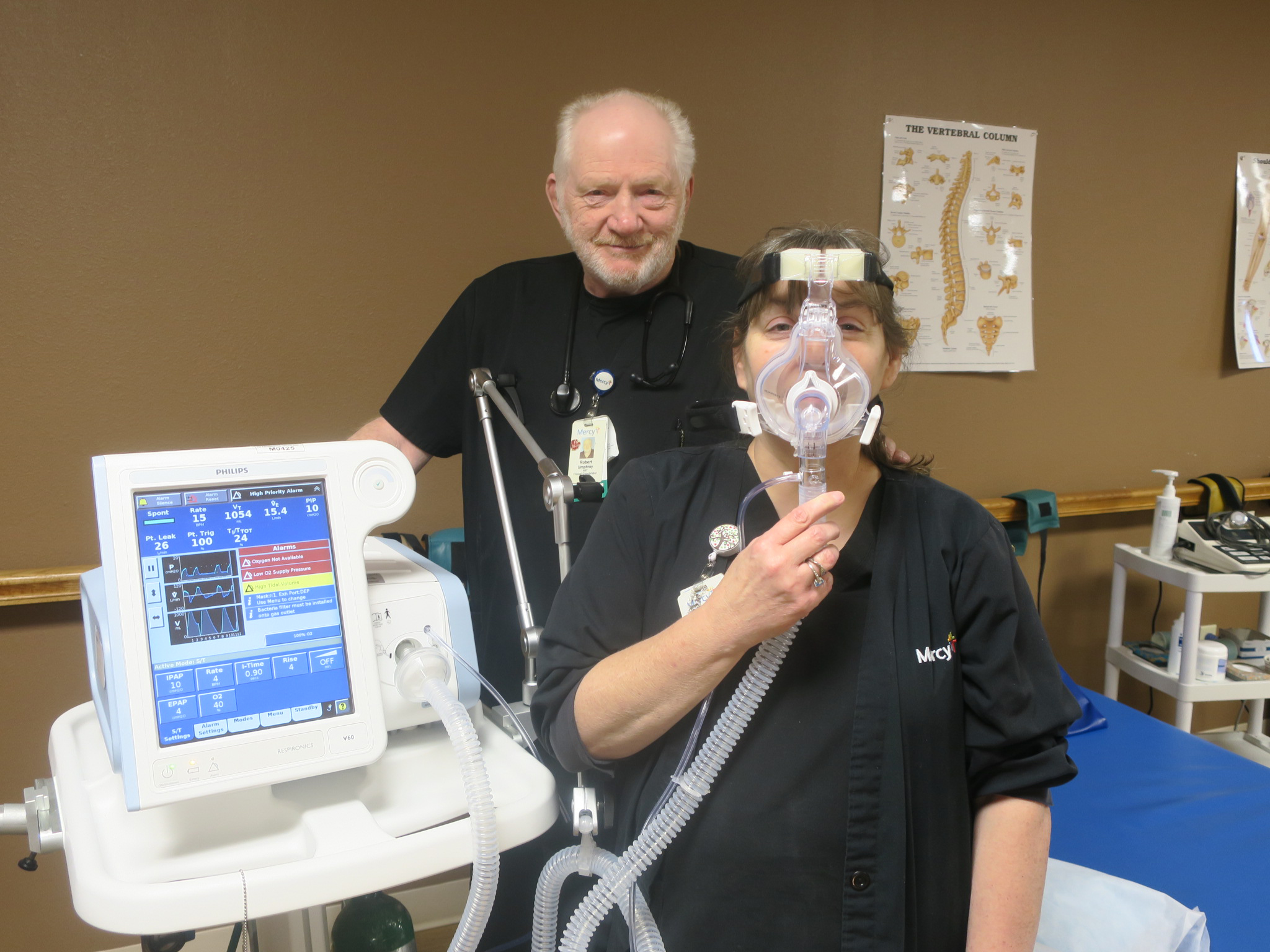 Deep Breath In and Out: Respiratory Therapist Robert Umphrey
and Department Head Michelle Lively demonstrate the setup of
the Emergency Room's Philips Respironics V60 machine. This is for
seriously ill patients who can breathe on their own but need extra
support. It is the hospital's first stand-alone breathing device with
dual (bipap) settings: one for helping air move into the lungs, and
the second for helping air move out of the lungs.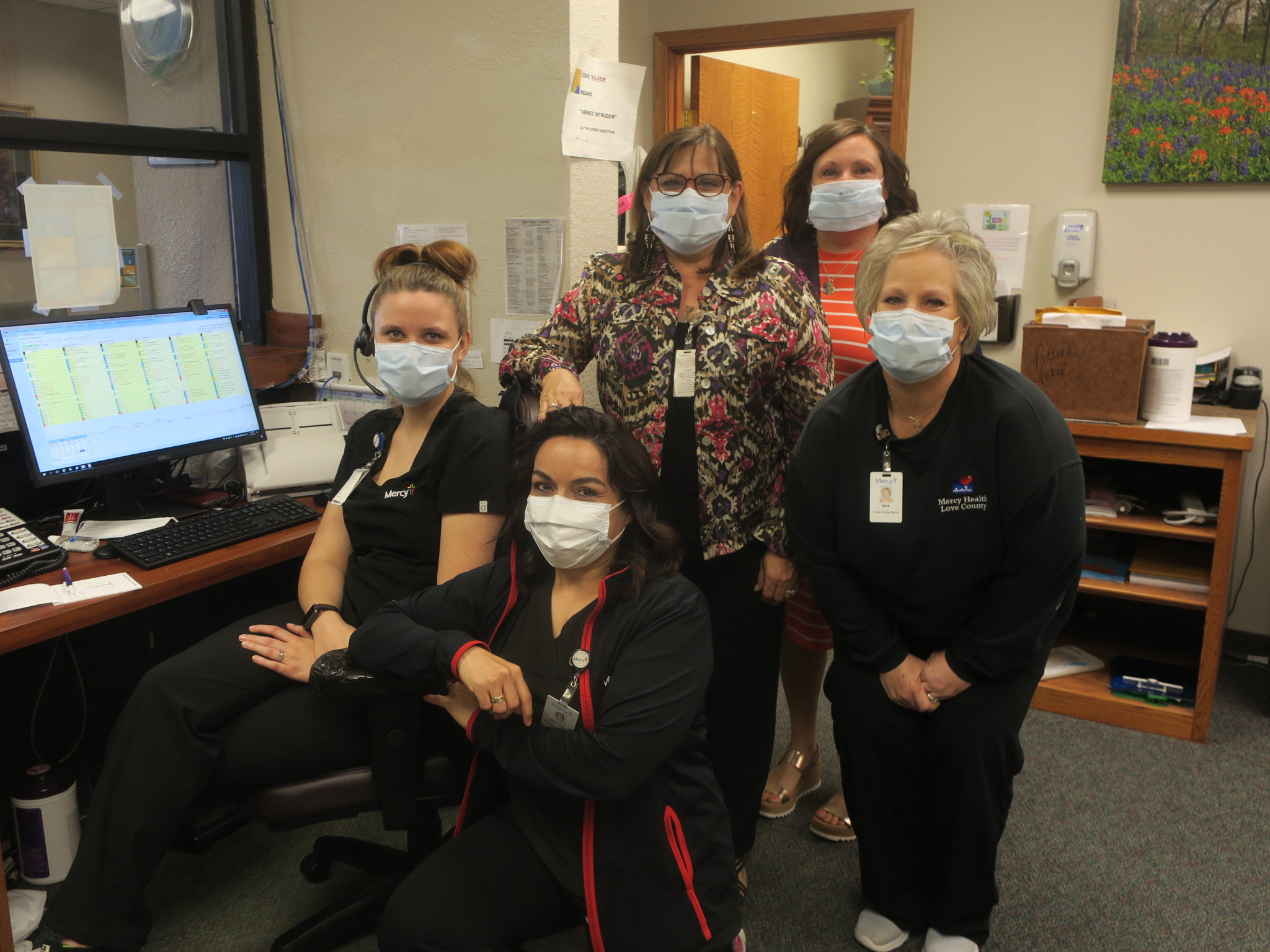 Welcome Back, Patients: Clinic Director Connie Barker, back
left, stresses the medical environment is safe for patients
to resume regular health care visits at this stage of the
coronavirus pandemic. She is joined by Business Office
Manager Misti Kirk, back right, and Customer Service
Representatives Dawn Monetathchi, Manuela Barrientos,
and Jana Brown.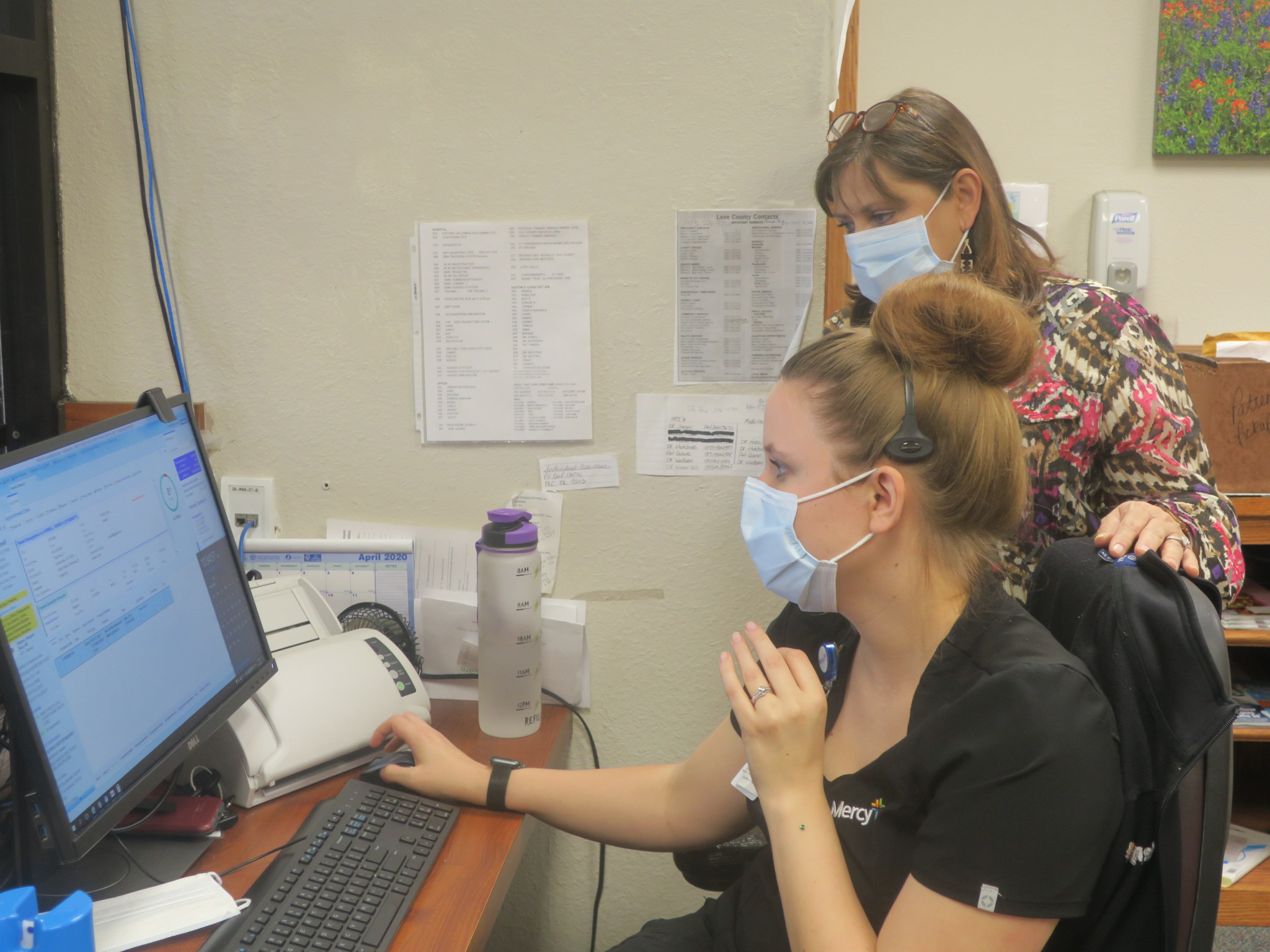 Virtual Visits: Customer Service Representative Dawn
Monetathchi, left, and Clinic Director Connie Barker look
over new software for setting up teleconference visits between
established patients and participating primary care providers
at Mercy Health/Love County. The 'virtual visits' have been
introduced as one way to cope with the coronavirus COVID-19
pandemic. Barker said precautions are in place and medical
environments are safe for in-person appointments.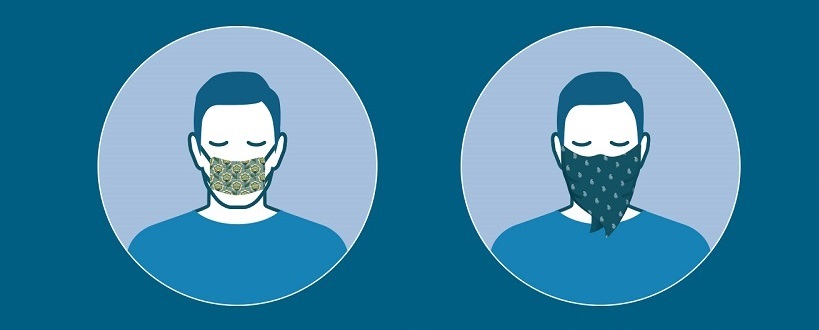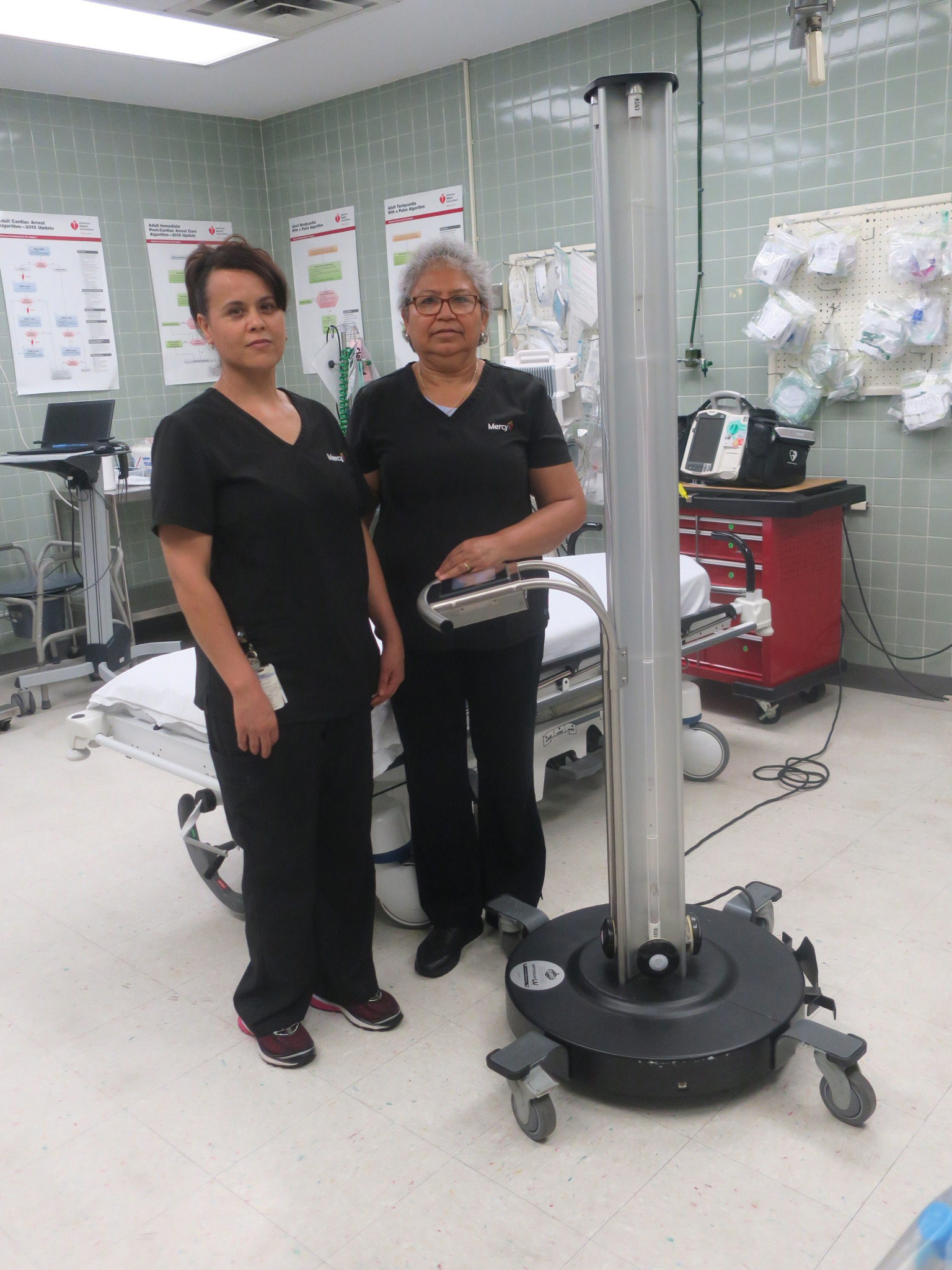 Housekeepers Patricia Salazar and Gabina Bustos program
an ultraviolet light for final sanitizing of the emergency room.
Below a smaller ultraviolet light for killing bacteria and viruses in
clinic pods, back of ambulance and other small rooms. See
press release for more information.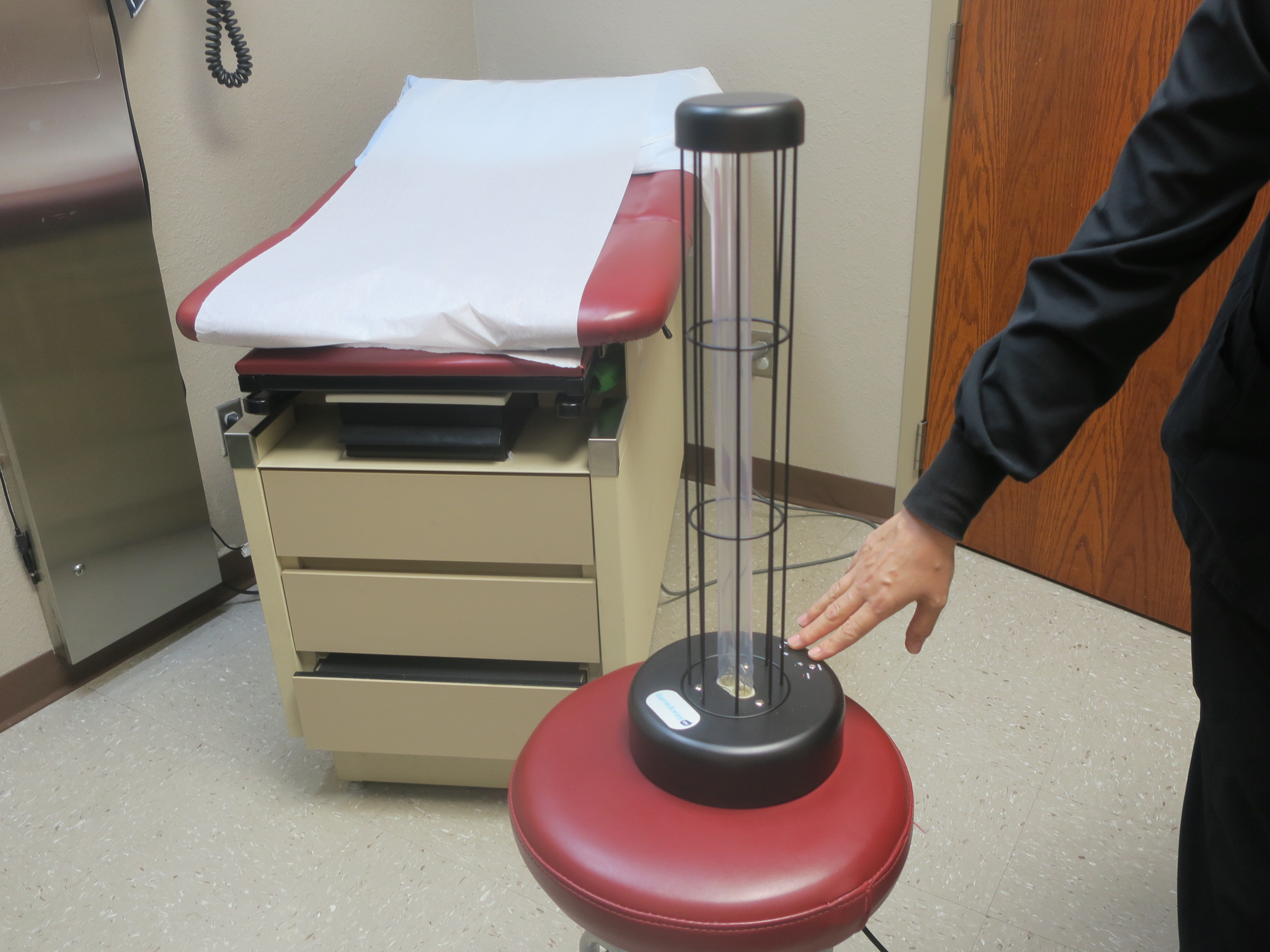 Love County Health Department is now a site for COVID-19
drive-thru testing. Testing is open to everyone. People no longer
need to be exhibiting symptoms in order to be tested for
COVID-19. Testing is by appointment only. Testing is free.
LOVE COUNTY HEALTH DEPARTMENT
What: COVID-19 Drive-Through Testing
How: By Appointment Only
Where: 200 C.E. Colston Dr., Marietta, OK
Contact: (580) 276-2531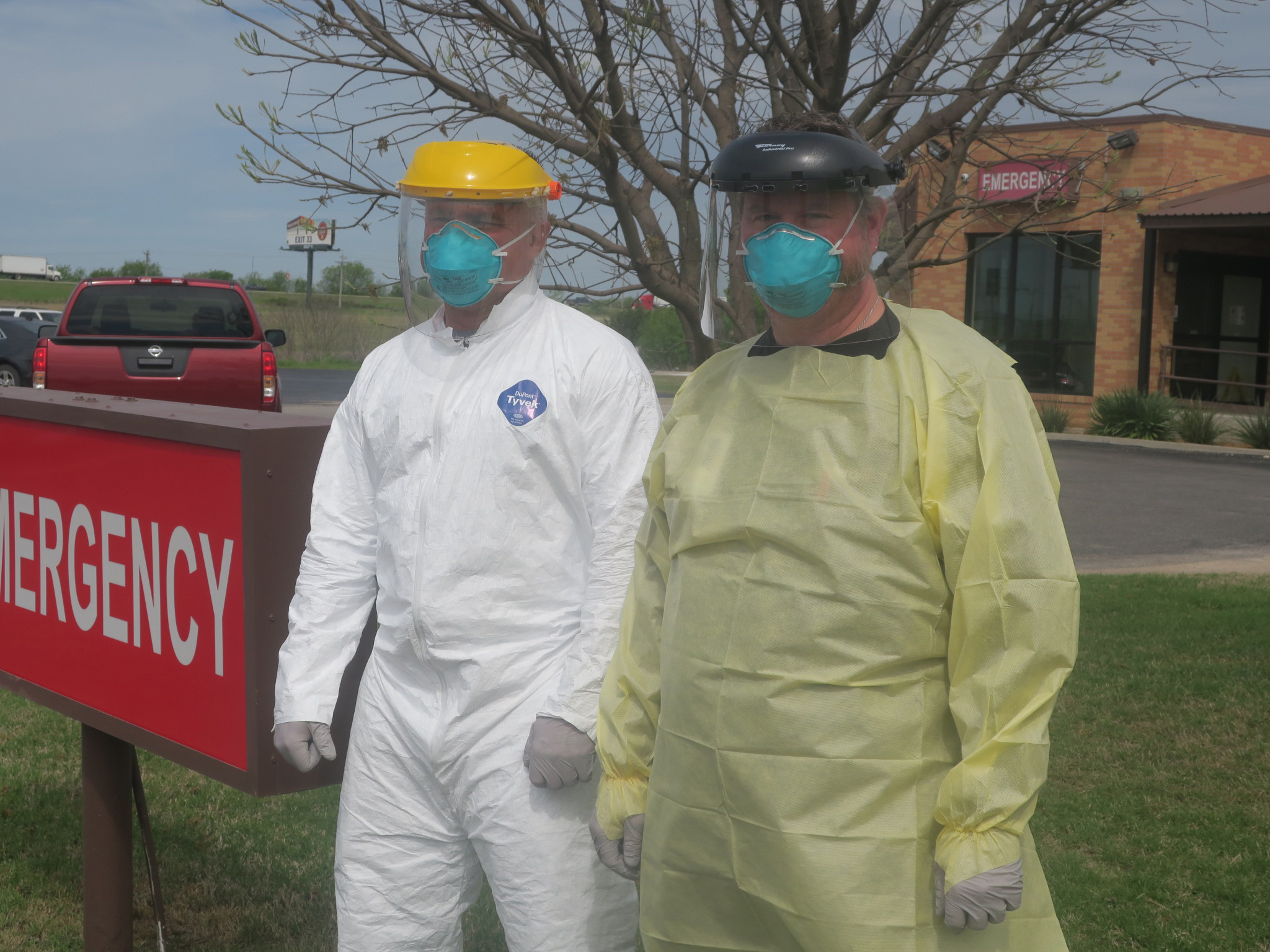 Chris Ramsey, ambulance paramedic (l) and
David Manning, registered nurse, model the
PPE (Personal Protective Equipment) for their
respective departments. Healthcare workers
wear PPE when treating patients
infected or exposed to the coronavirus COVID-19.
See More in Press Release
Legacy Park Open for Exercise During Pandemic
See story and photos in Press Release
Love County Quilt Guild Sews Colorful Worker Gowns, as
demonstrated by Megan Stephens, RN, and Connie Barker,
Clinic Director on April 8, 2020. See More in Press Release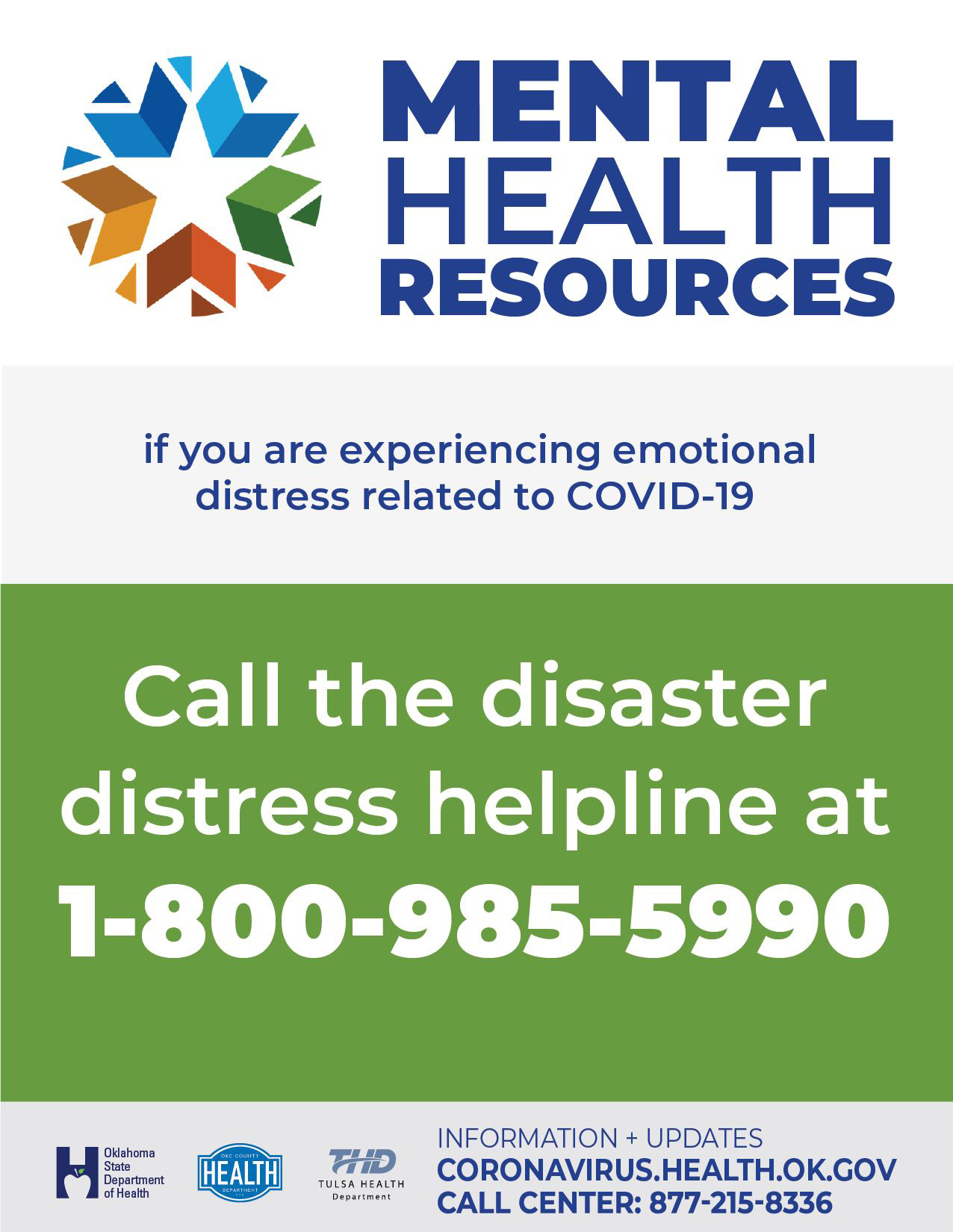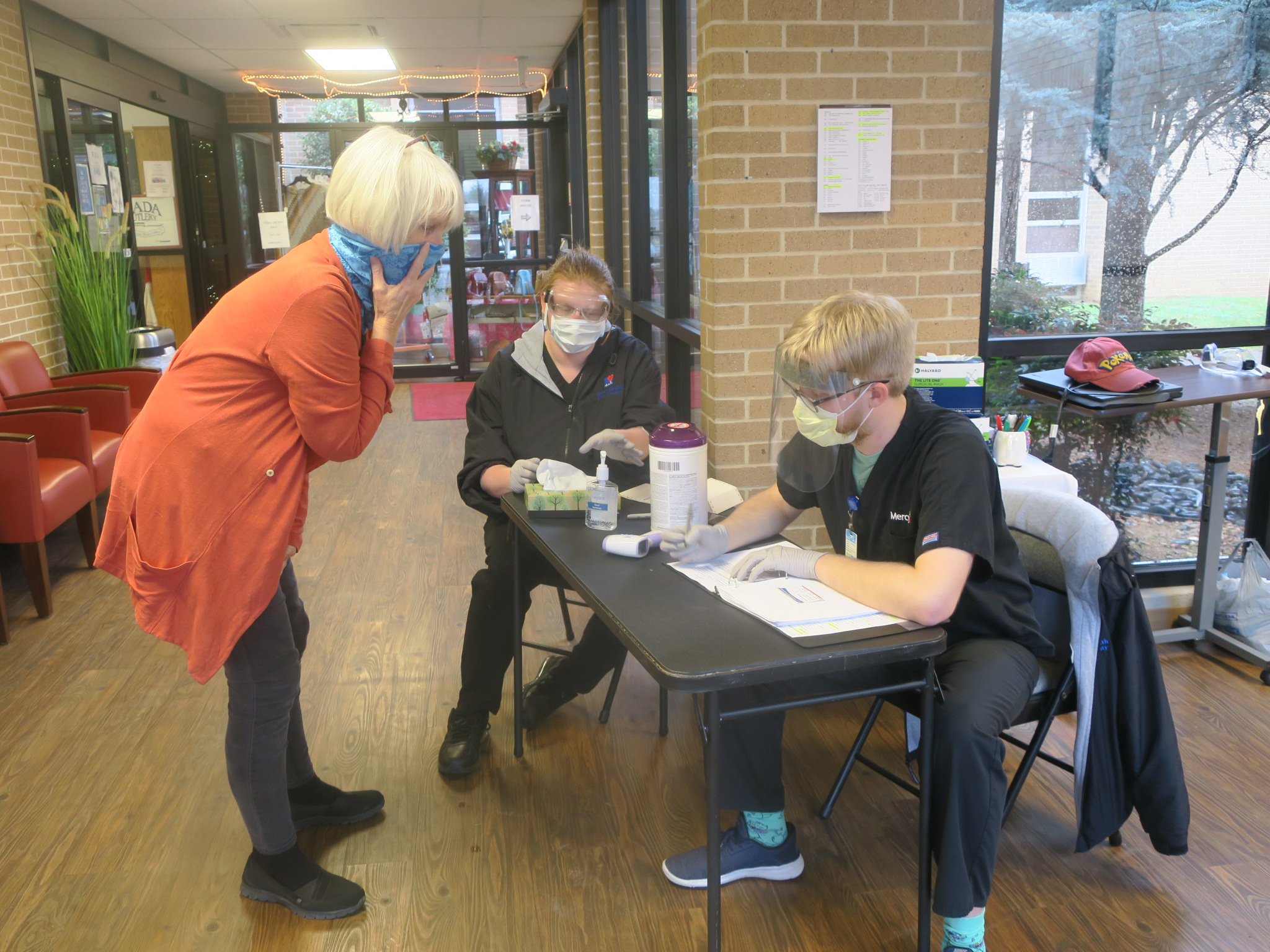 Virus Precautions: On March 17, 2020,
Mercy Health/Love County Hospital and Clinic began
screening all arriving patients and visitors for
symptoms or exposure to the coronavirus, COVID -19.
(Above) Carolyn Gordon answered questions from Laura
Beck, CNA and Curtis Hembree, CNA. She accepted a
mask and applied hand sanitizer that was offered.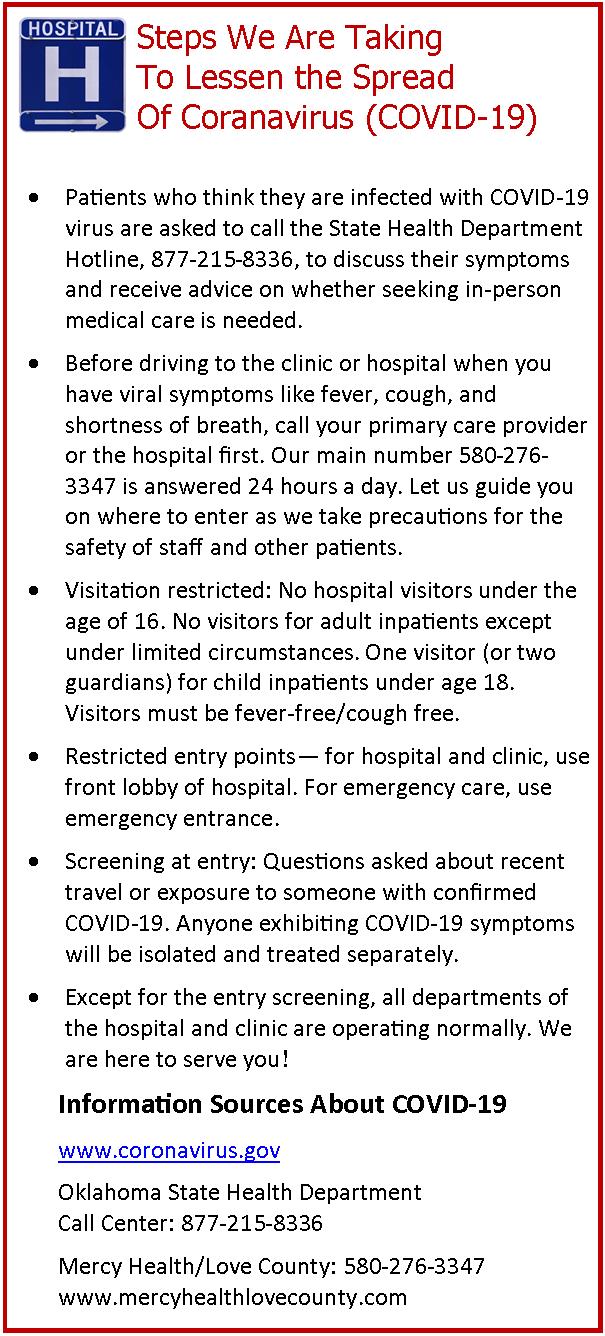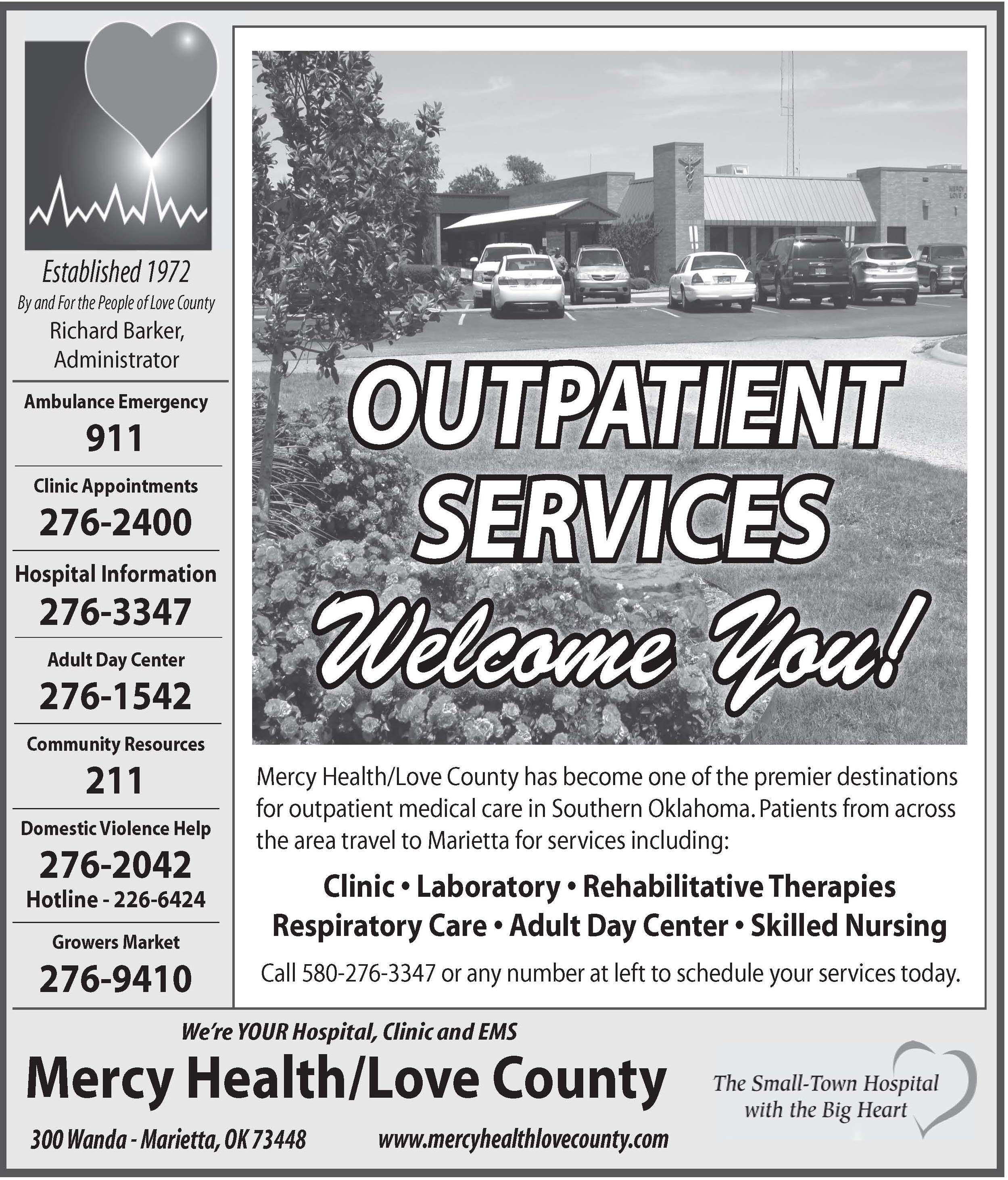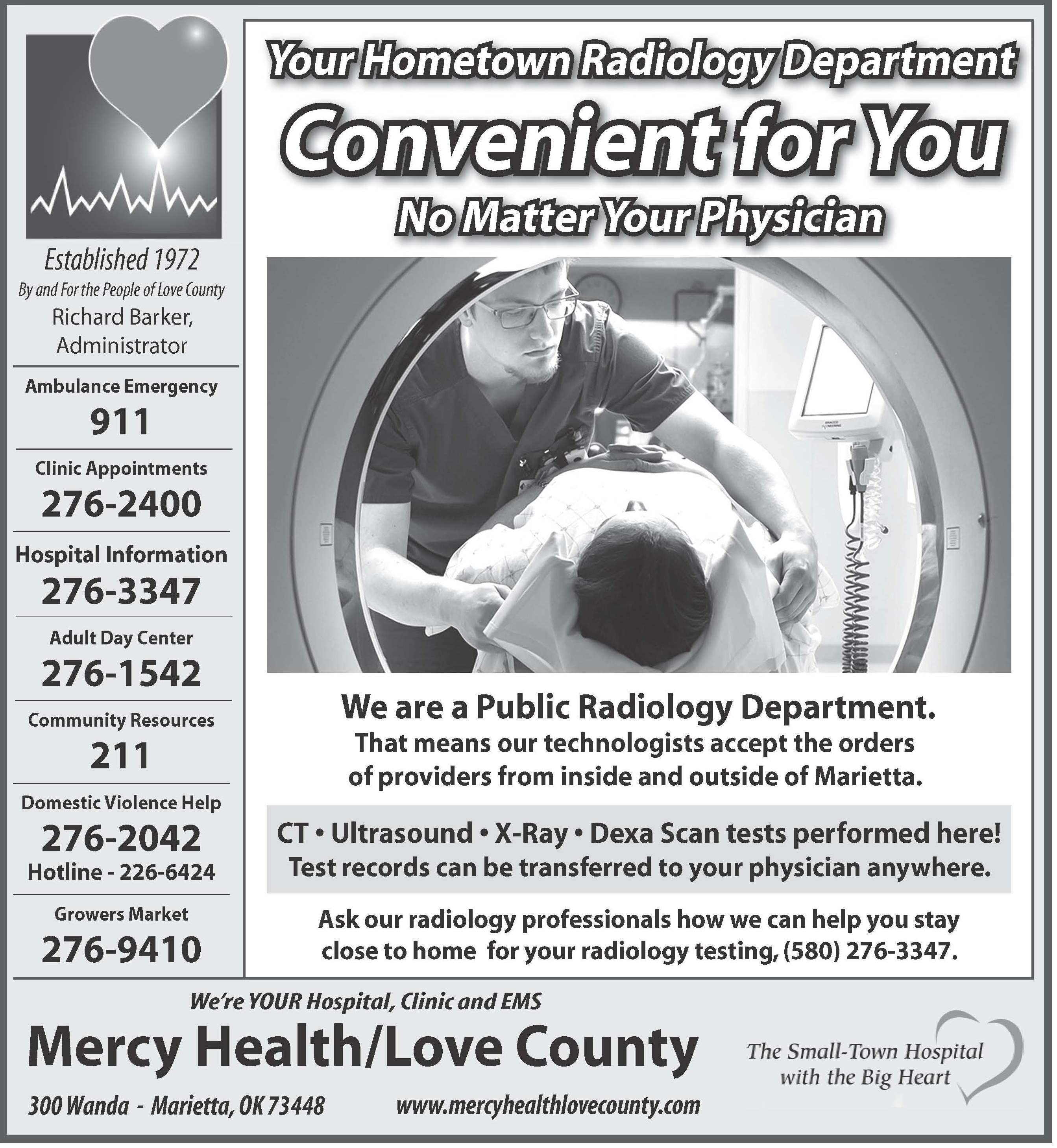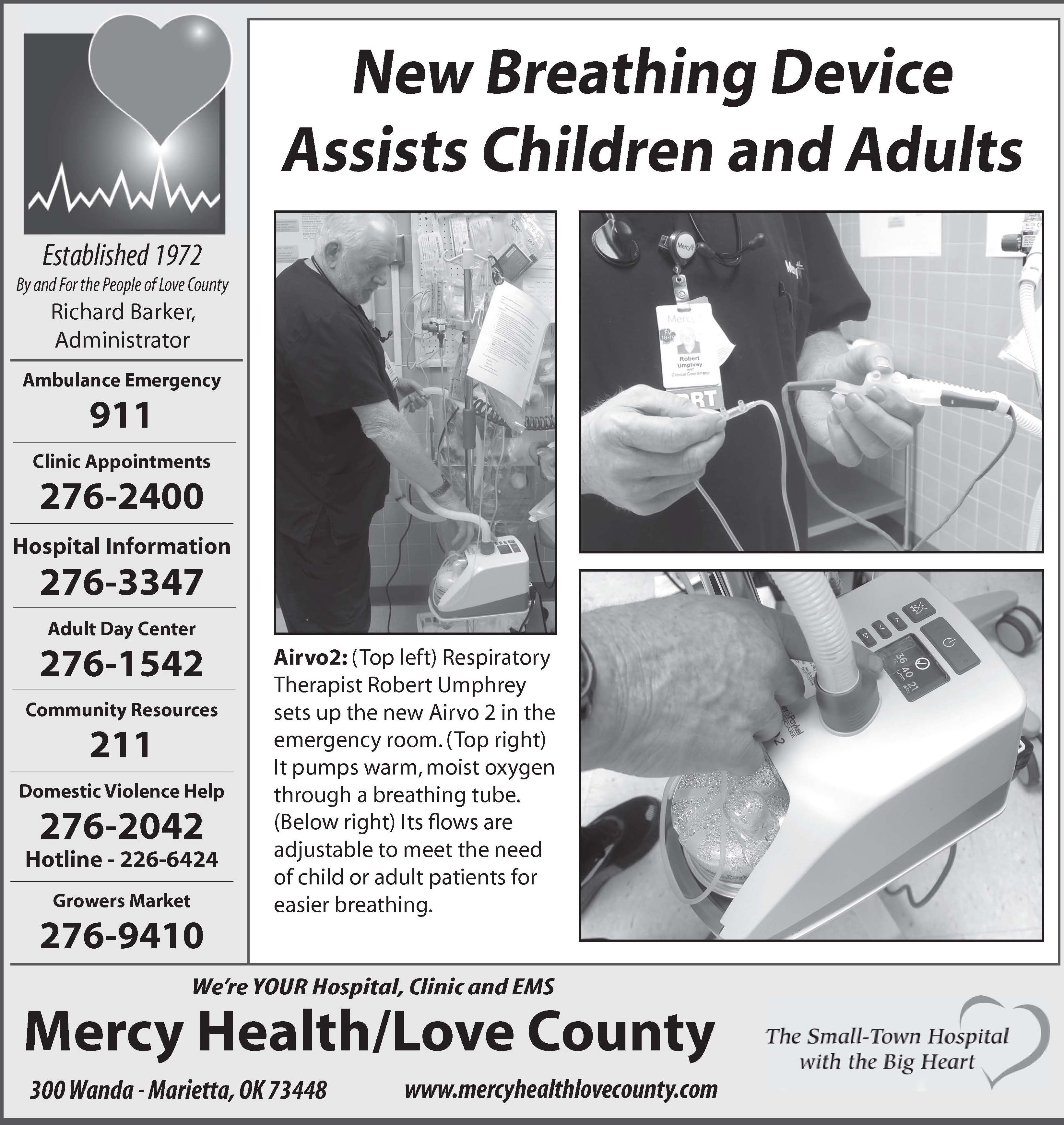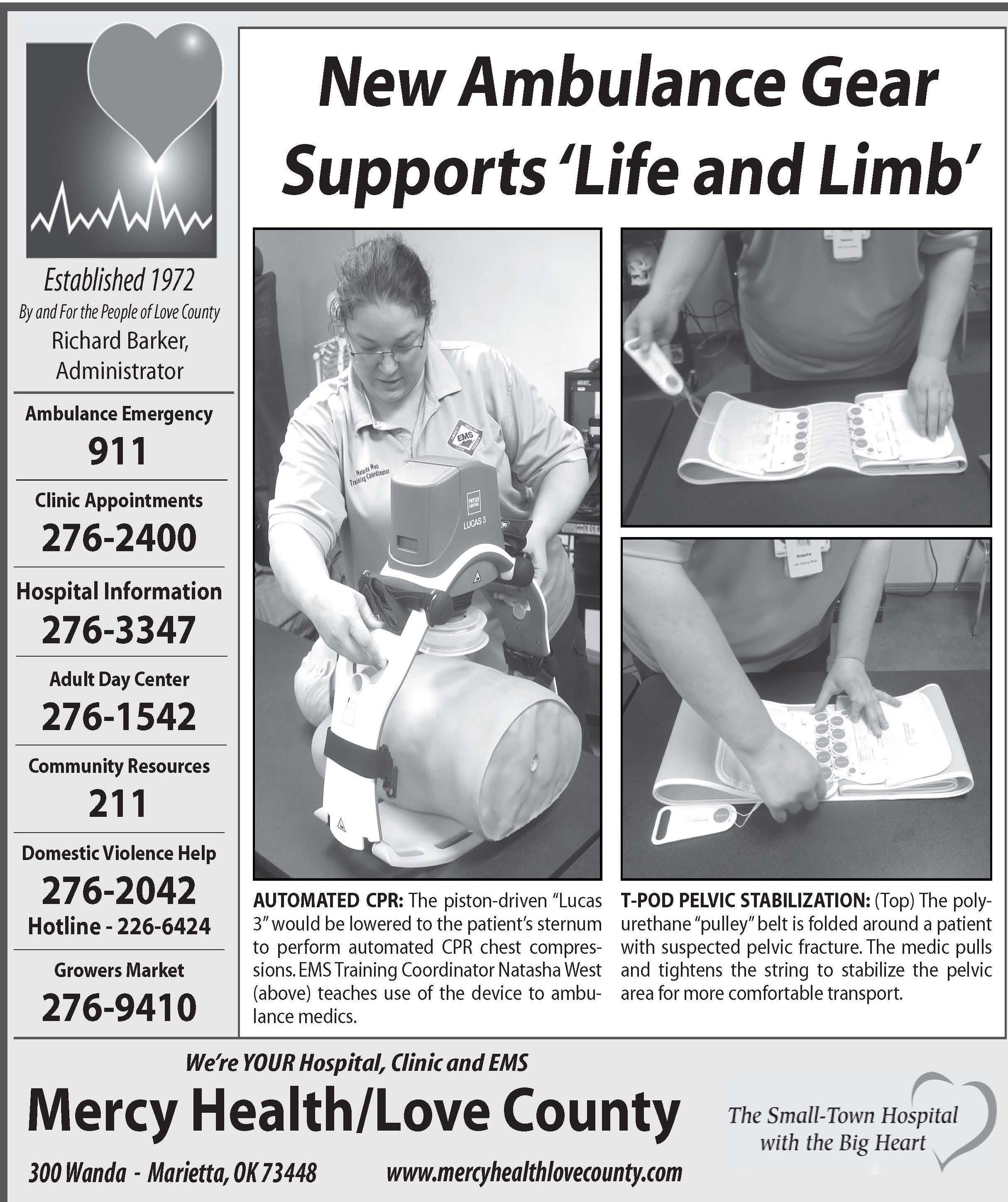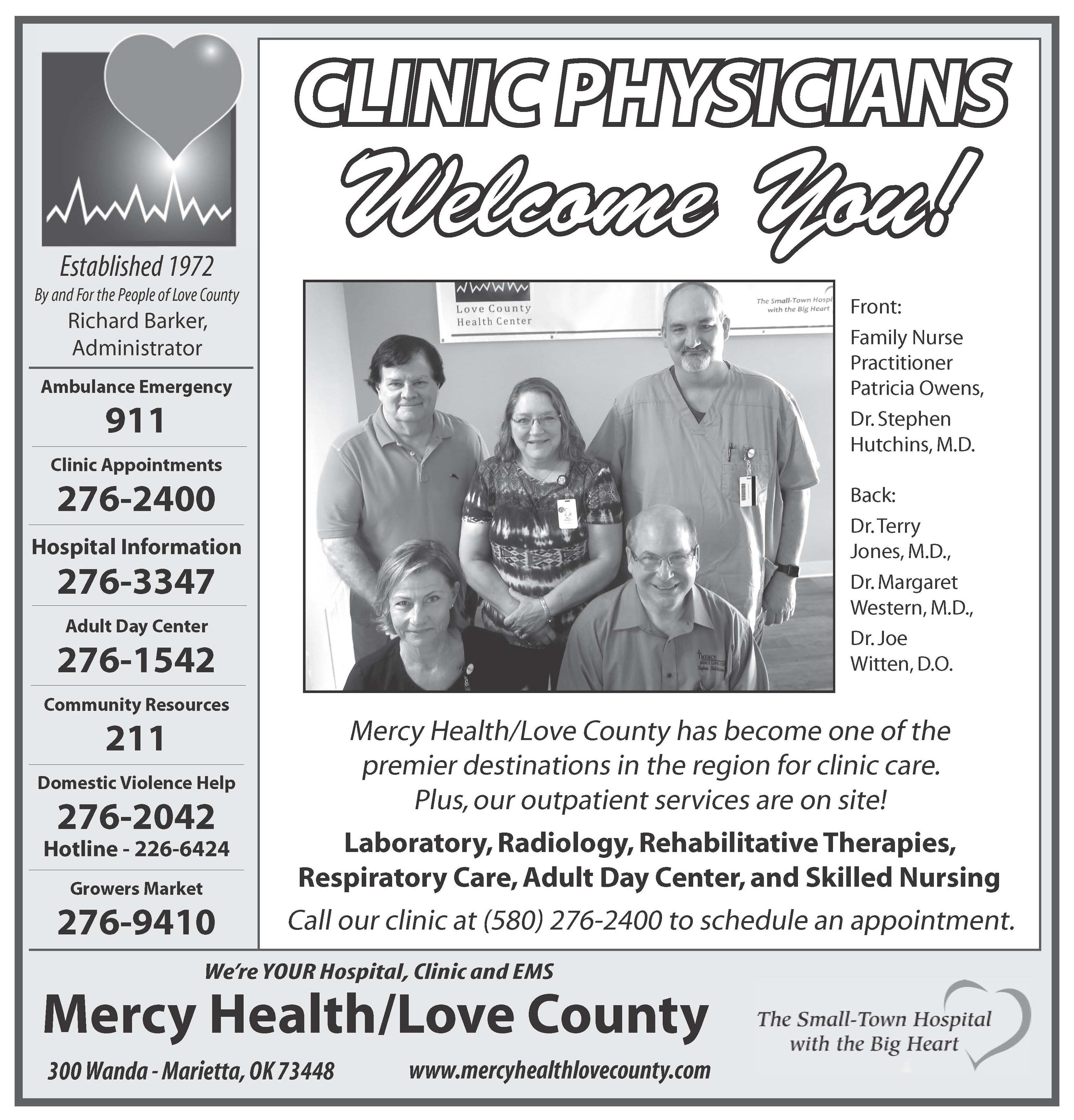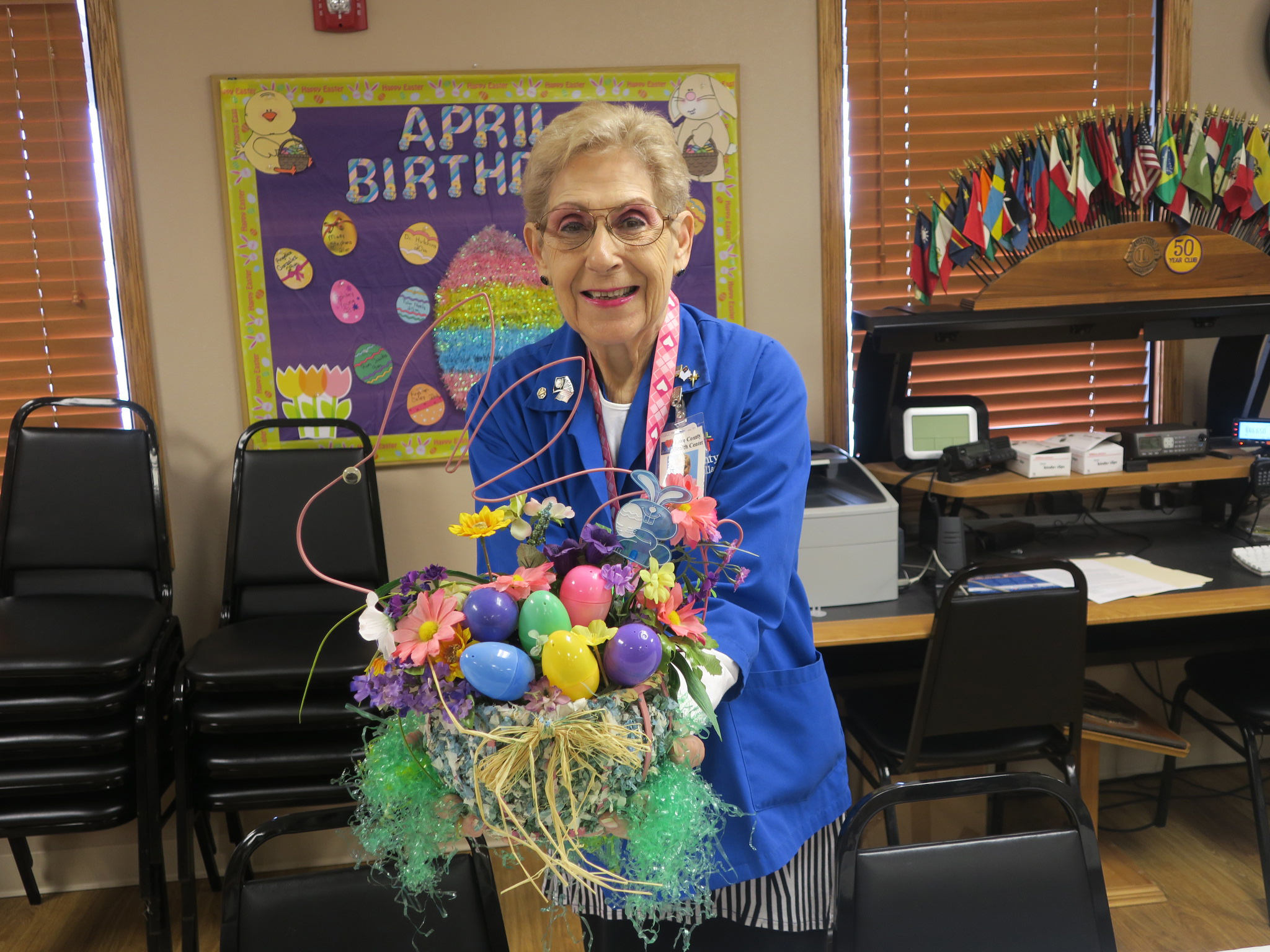 Volunteer Gift, Professionally Done:
Marion Flaherty displays one of many Easter decorations
prepared in April. A member of the Hospital Auxiliary
since 2011, the retired florist volunteers monthly to
decorate tables in the community room of the
Therapy Building of Mercy Health/Love County Hospital.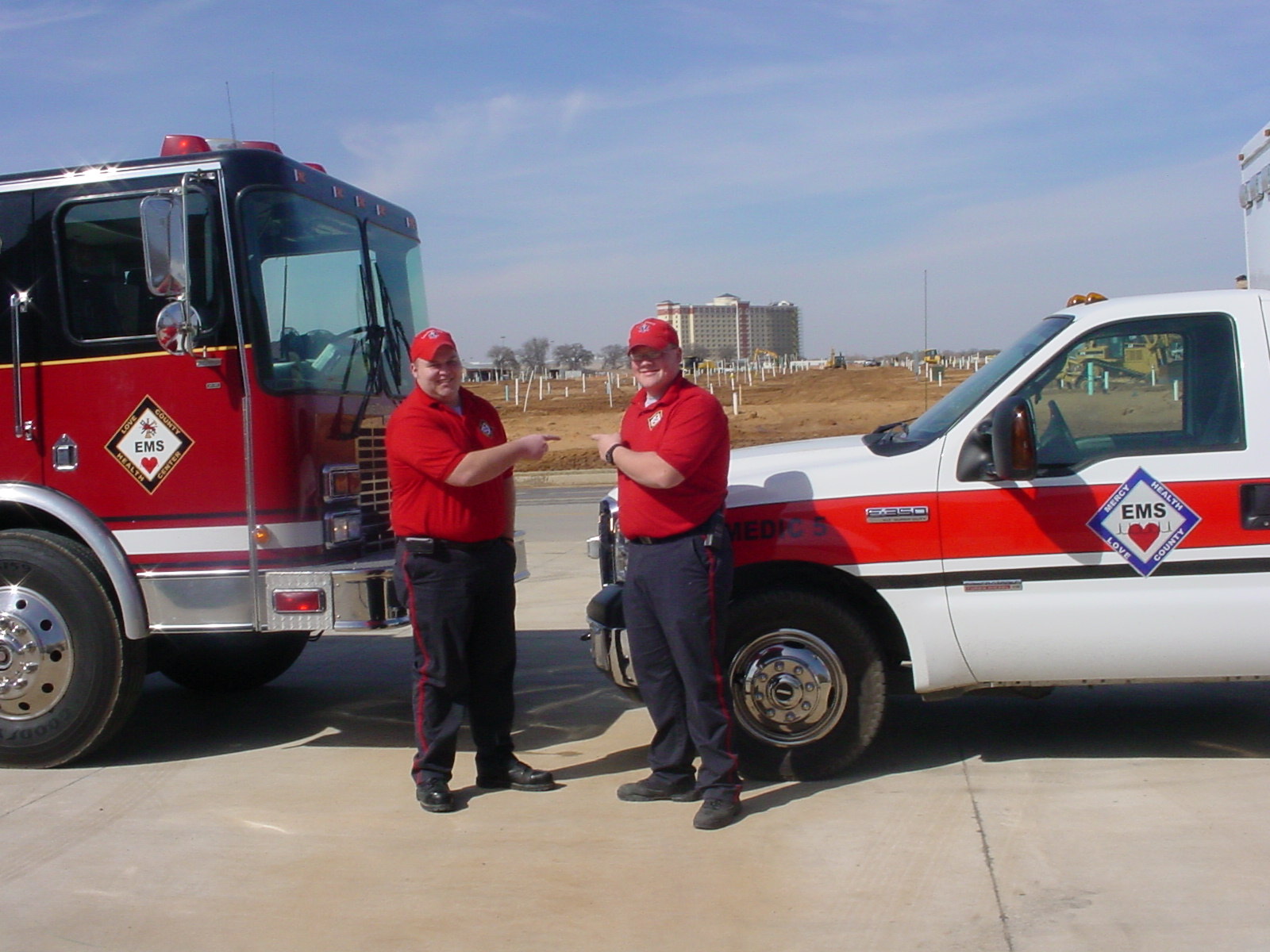 That One's Mine: In this 2009 photo at the newly-
opened Station 2 at WinStar Casino, Scott Neu,
paramedic, (left), pointed to the ambulance he served
on and Adam Zimmerer, firefighter/EMT, pointed to the
fire engine he rode. Love County became the nation's
first hospital-managed EMS to form a fire service.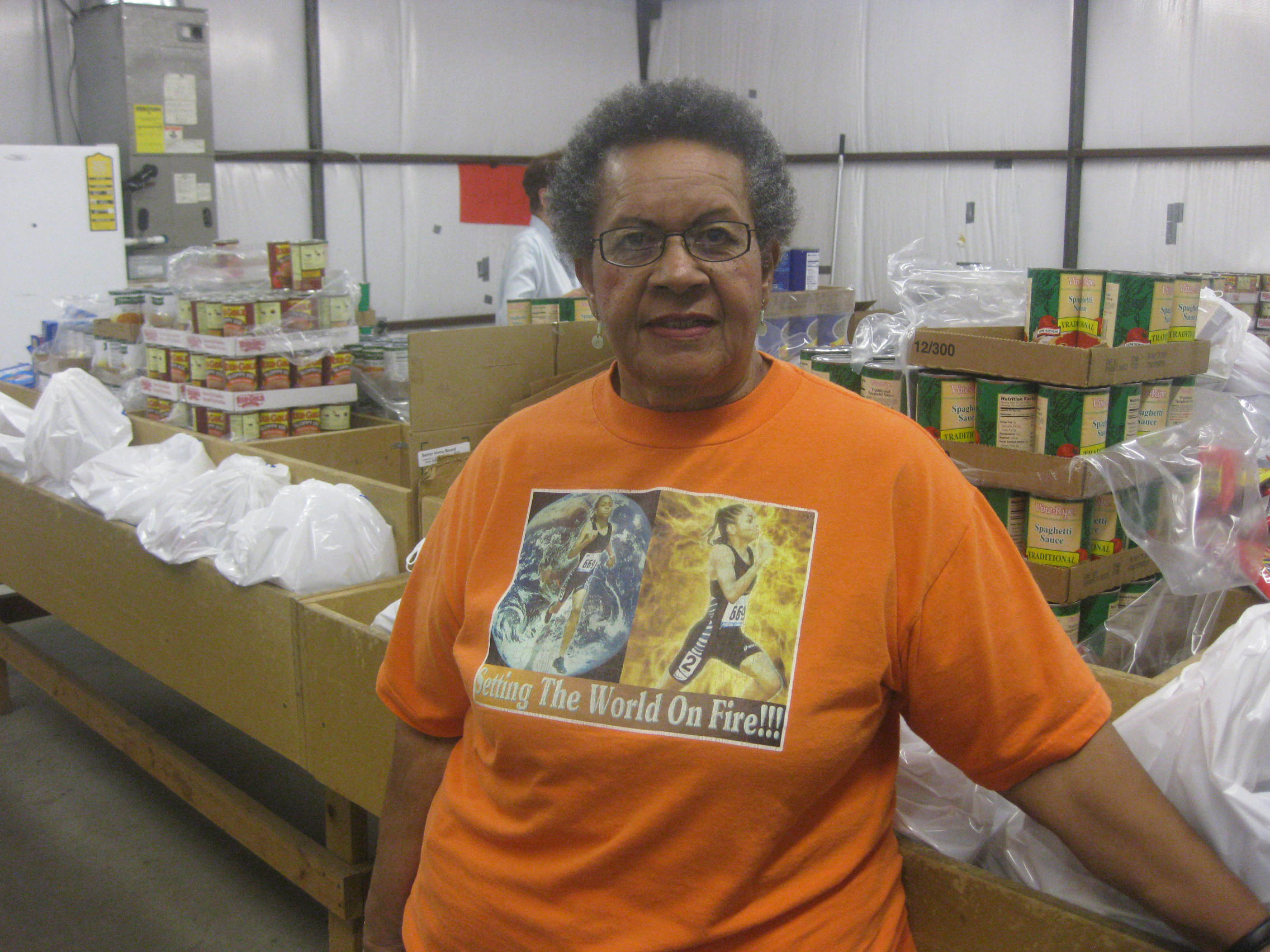 Leading Volunteer: Lula Finch, retired medical
assistant, has been volunteering at the Mercy
Health/Love County food pantry since opening
day in May 2002. She arrives at 7 a.m. each
Tuesday to prepare for the 8 a.m. opening and
remains until 2 p.m., assembling and distributing
food packages to people who are hungry or food insecure.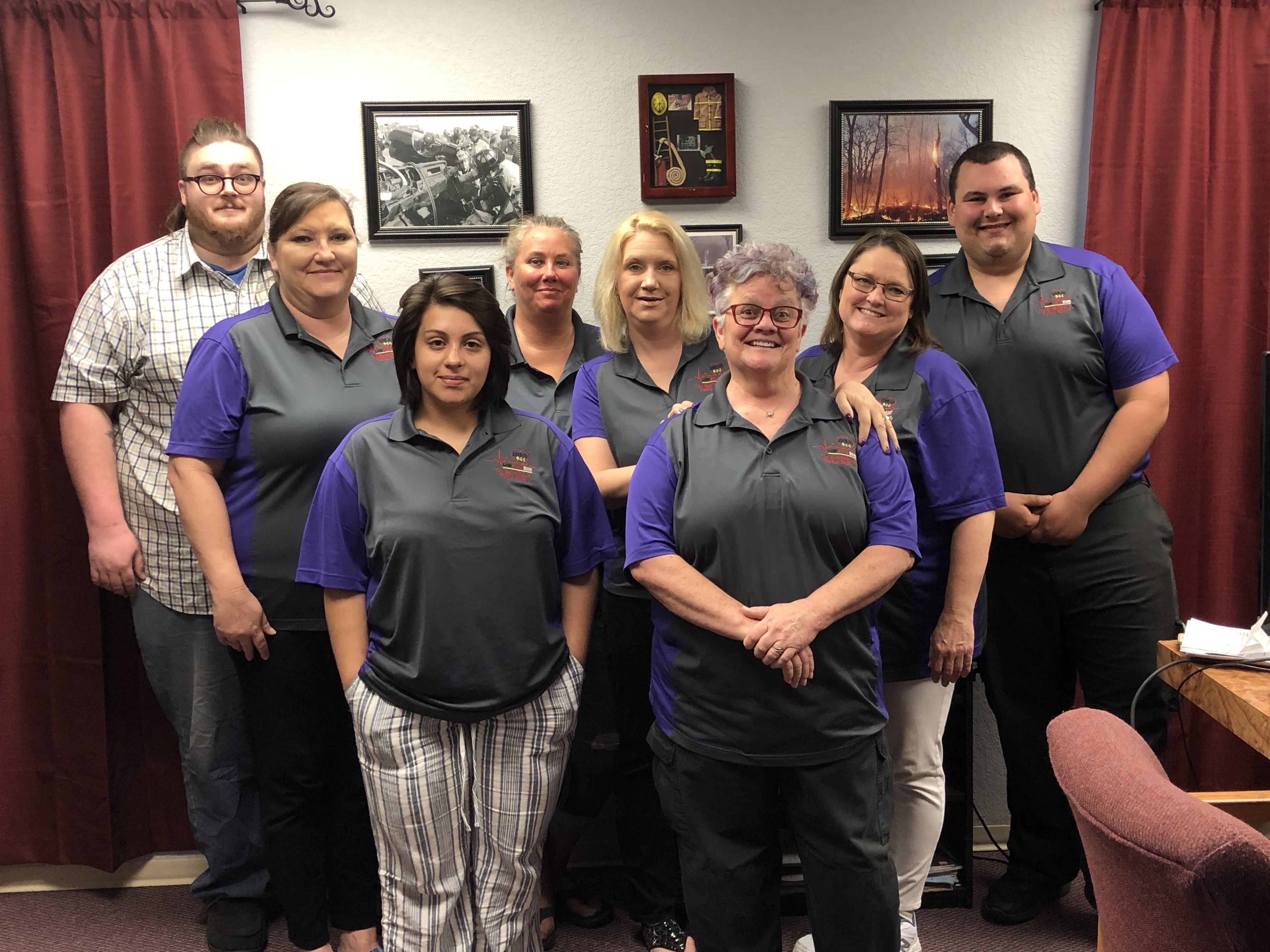 The "First" First Responders: Love County 911 Center
dispatchers gathered for a photograph and recognition
from the Love County E911 Board during National Public
Safety Telecommunicators Week. Pictured are (front row)
Anna Diaz and Coordinator Becky Watkins-Norman;
(second row) Kerri Manning, Wendy Laughlin, and Shelli
Bengfort; (third row) Seth Crockett, Brandy Brawley,
and Zach Aston.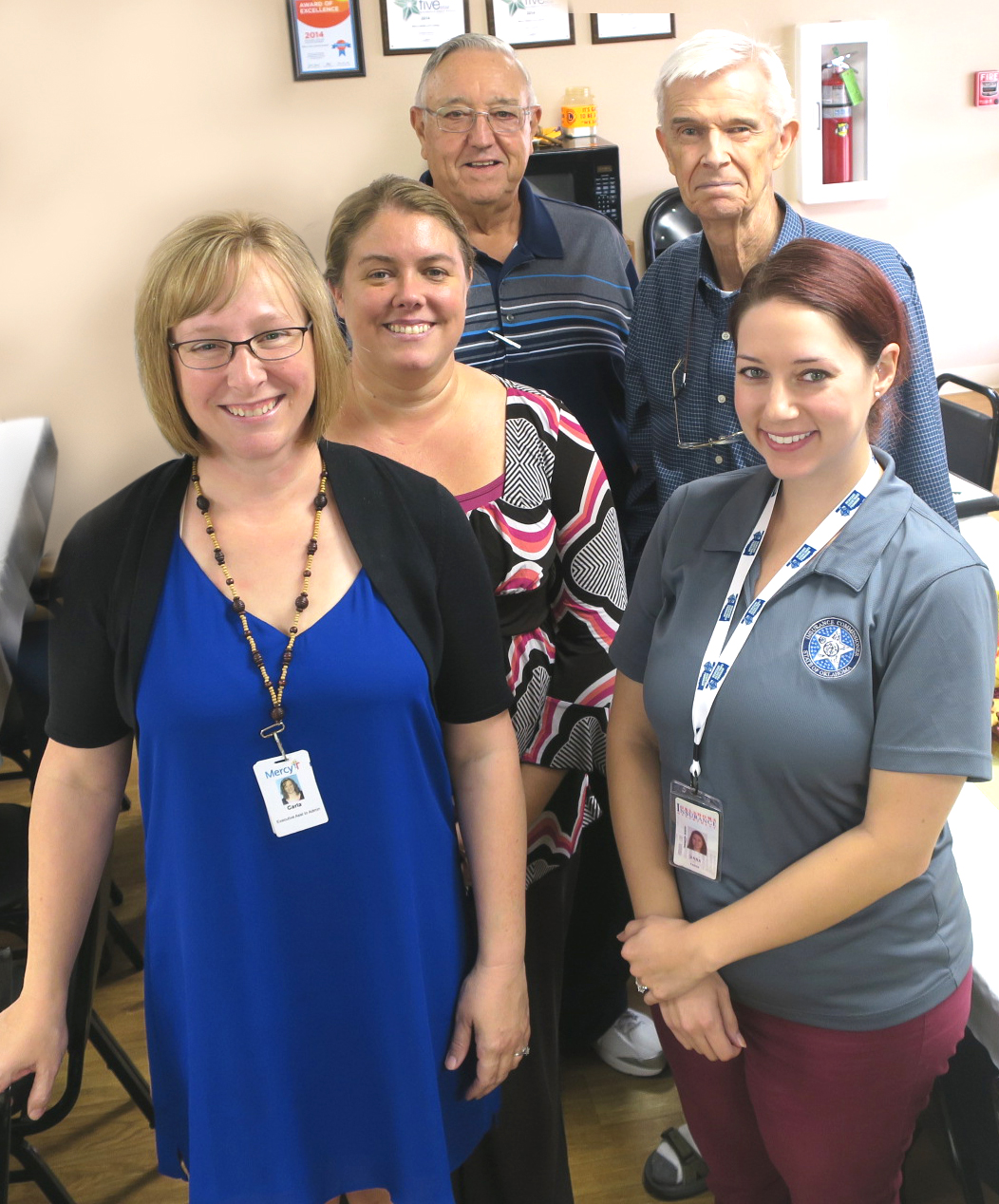 Carla Bolton and Kari VanBeber of Mercy Health/Love County Hospital's
business office, completed certification training as Medicare Assistance
Program counselors. They are currently available to assist people review
their current medication lists to make sure the Part D Prescription Drug Plan
in which they are enrolled is still the best option for them or if a lower cost
plan is available for 2019. Assisting with the new counselors' training were
Anna Farha (right), from the Oklahoma Insurance Department, and Medicare
counselors Jim Thompson (back left) and Don Sessions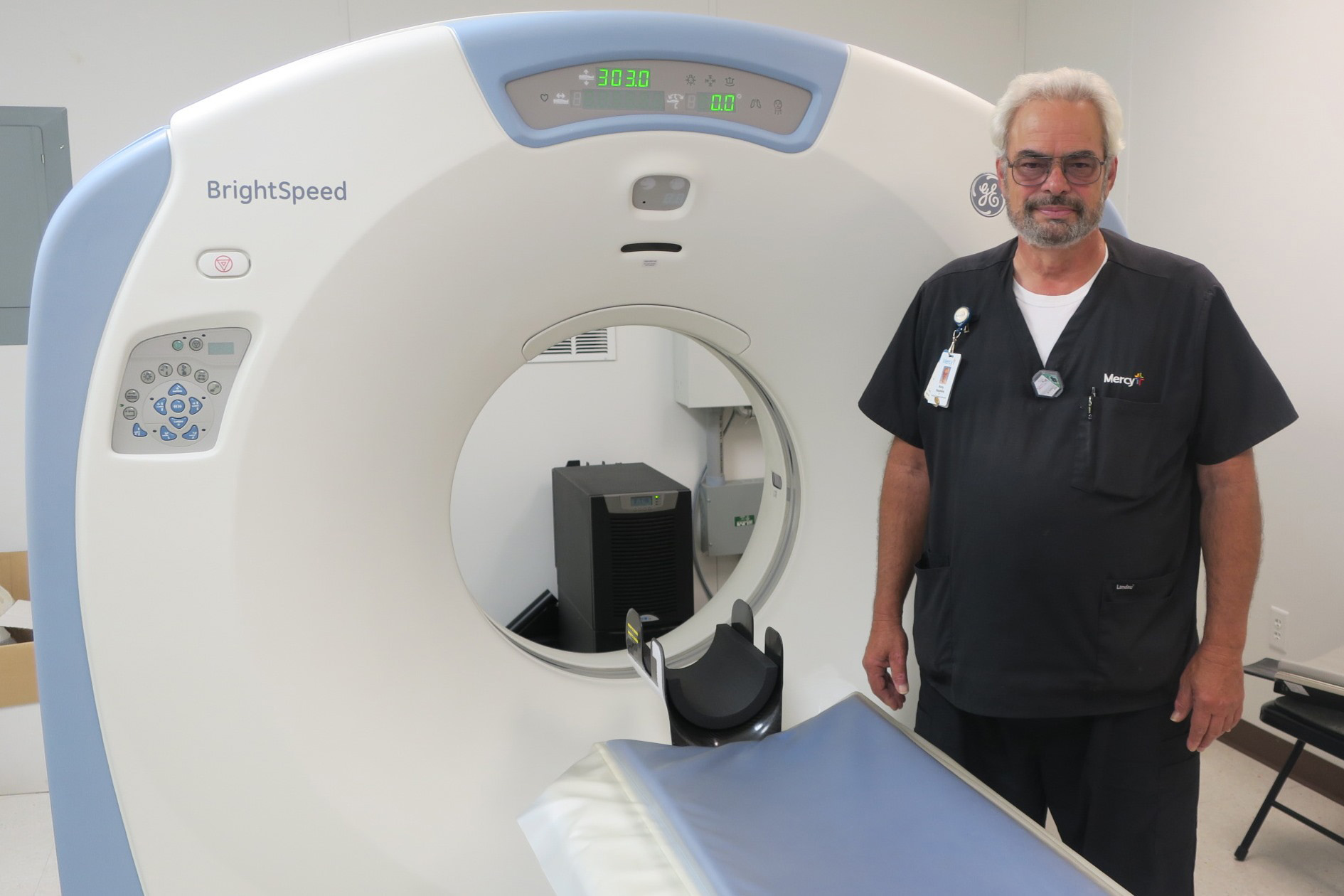 Radiology technologist Rick Stephens shows the hospital's new GE
BrightSpeed 16 slice CT scanner.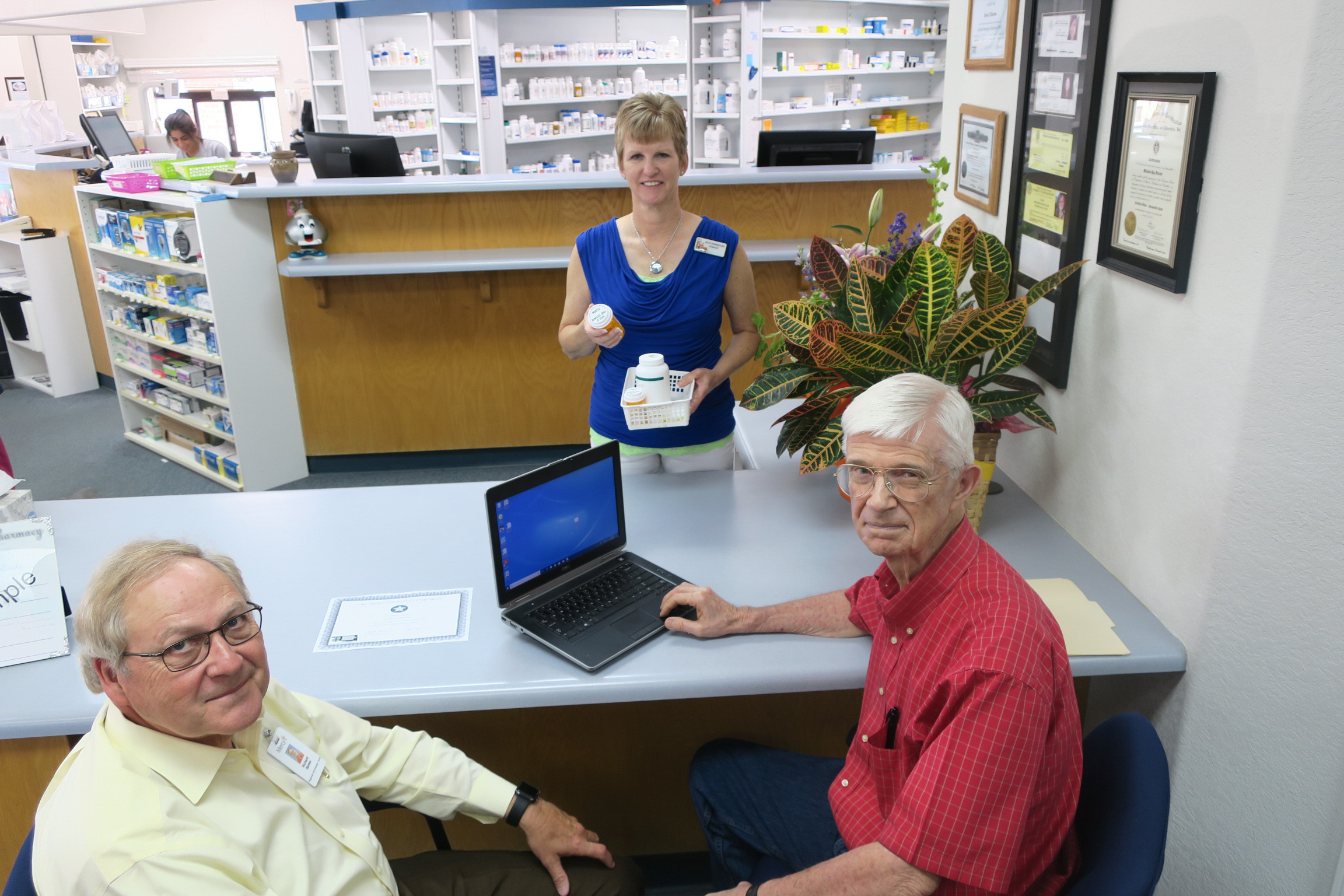 Teamwork Saving Seniors Money on Medicare: Don Sessions
(right) of Falconhead Resort, Burneyville, has been recognized by the Oklahoma
Insurance Department as the state's top Medicare volunteer for 2017. He
meets with seniors to tell them about Medicare choices that can save them
money, especially on prescriptions. As a public service, the Marietta
Pharmacy, represented by pharmacist Jenny Hambrick, provides a
consultation room for Sessions, and Mercy Health/Love County Hospital,
represented by administrator Richard Barker, furnishes a laptop
computer for the room. Since 2008, Sessions has counseled 2,165
people and they saved $1.2 million.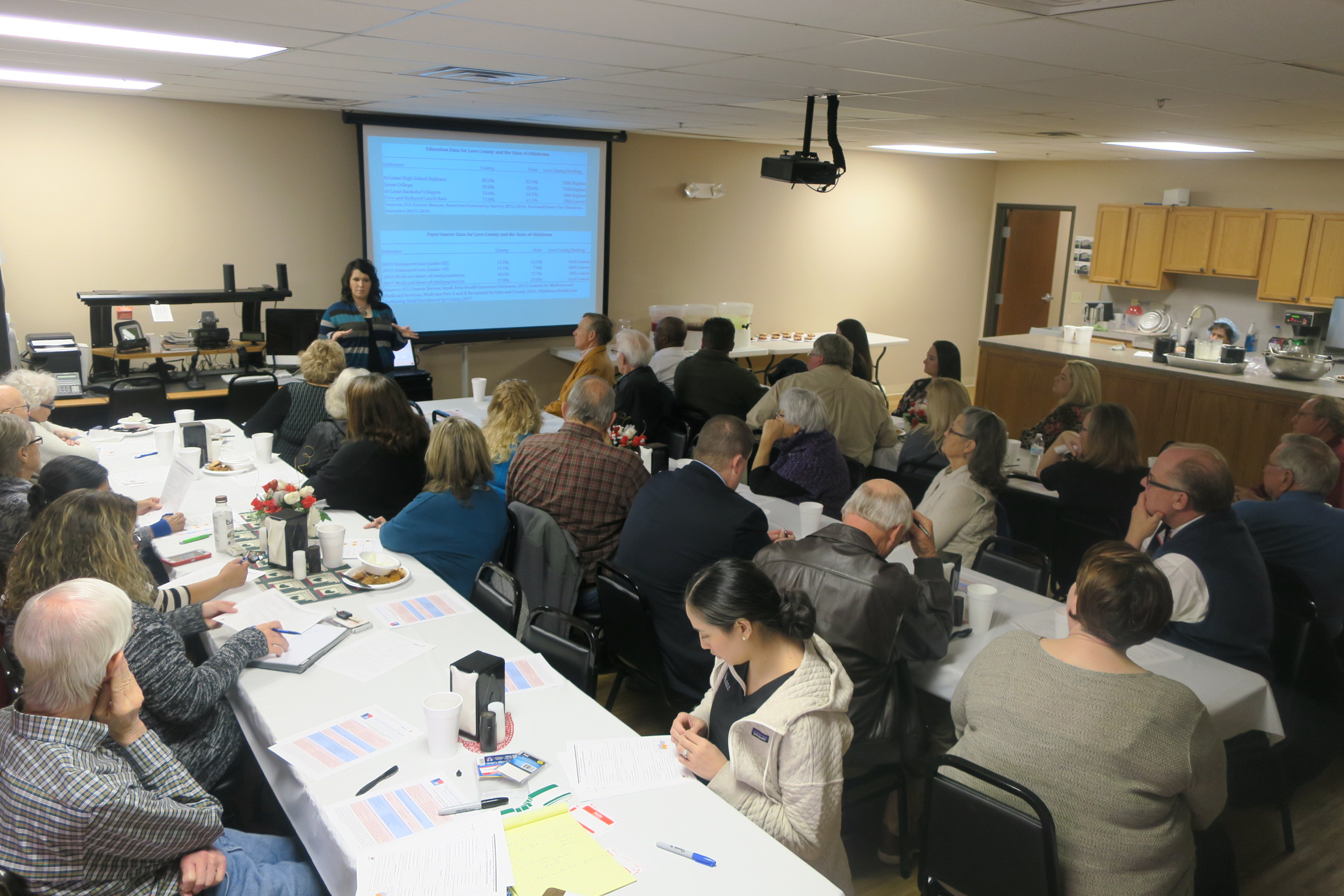 Health Needs Assessment: Citizens and members of the
Love County Community Coalition review local health needs
with Lara Brooks, Rural Health Analyst with the Oklahoma Office
of Rural Health. The hospital and clinic received high ratings on a
public survey conducted during the assessment.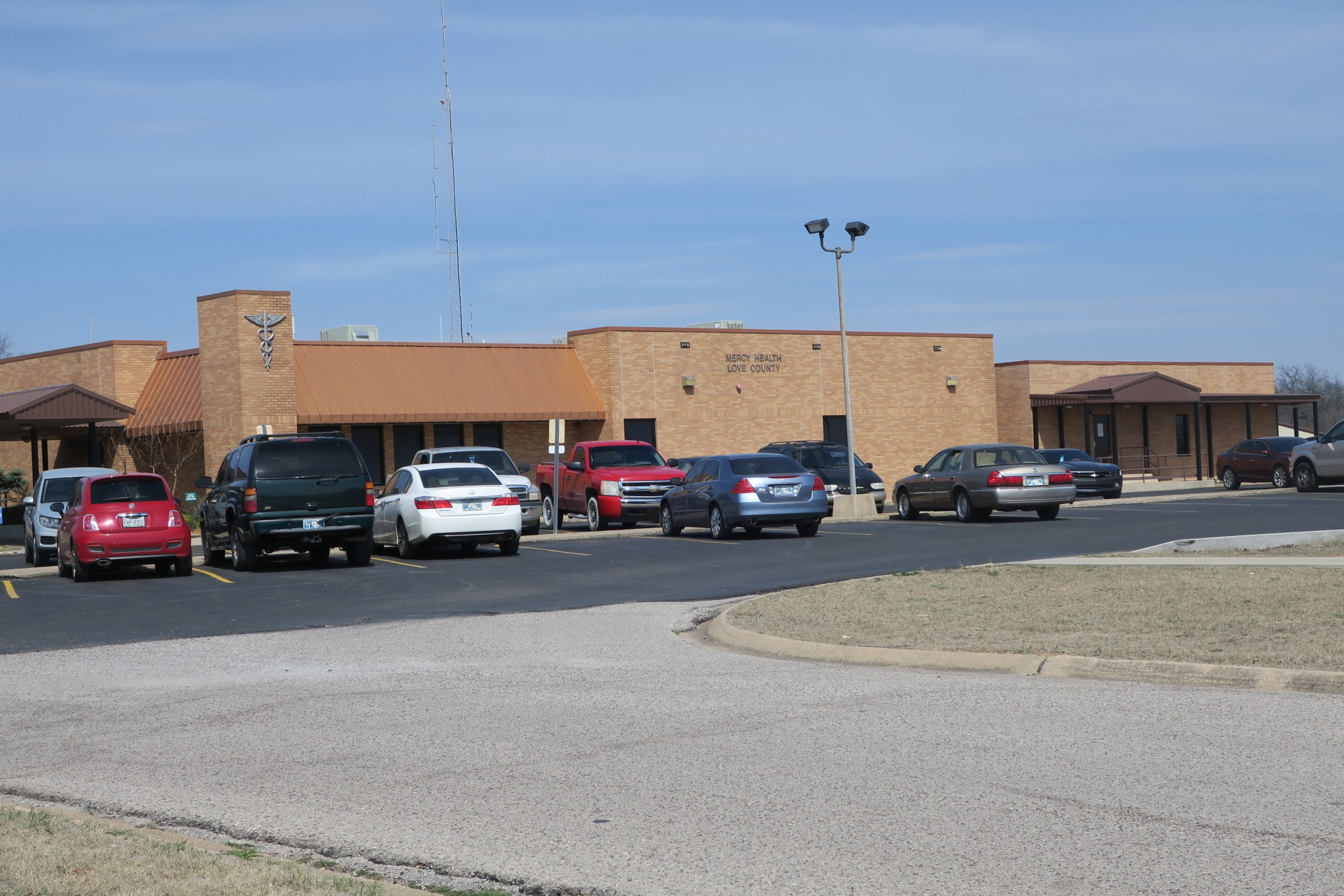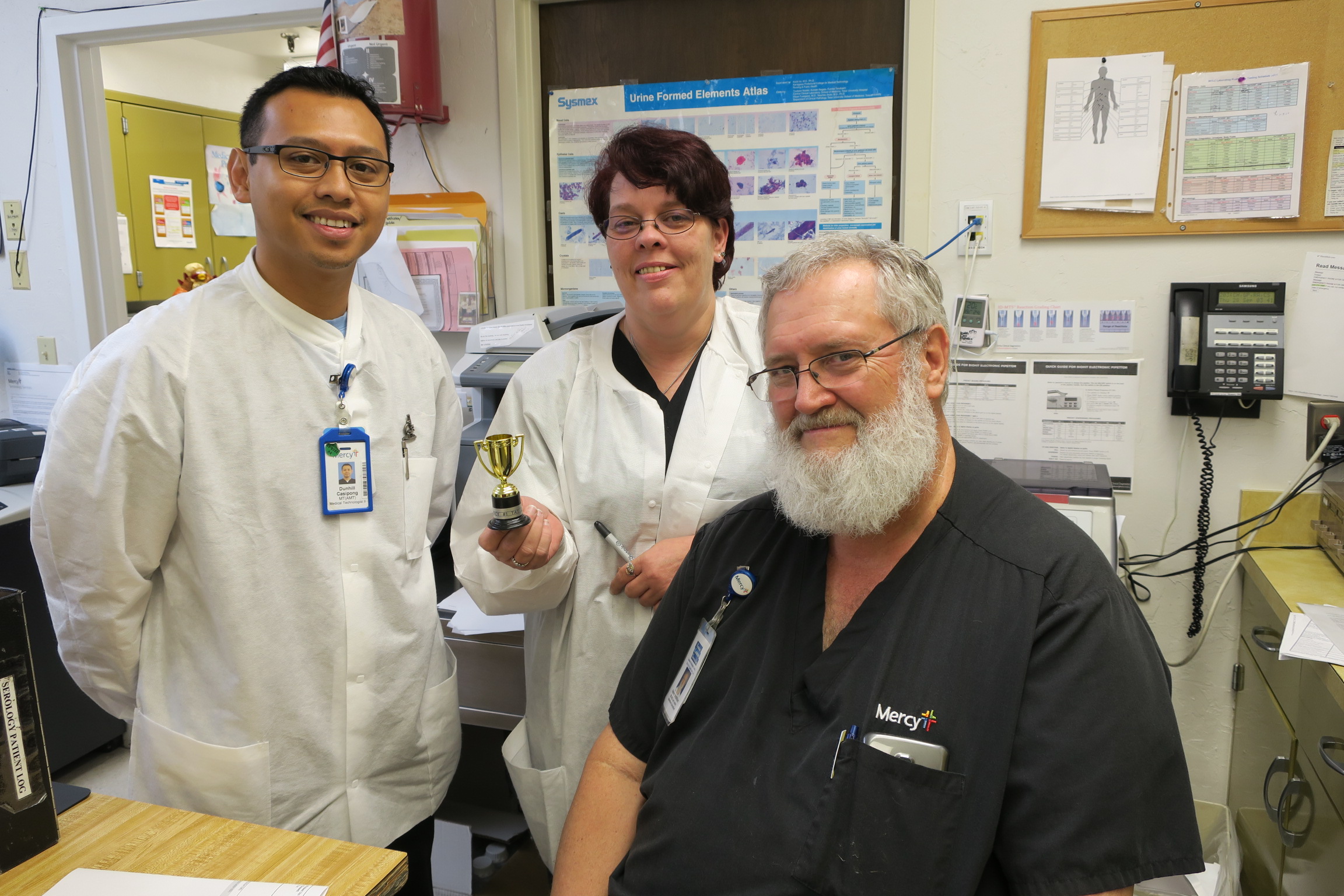 Many Treated at Mock Bioterrorism Exercise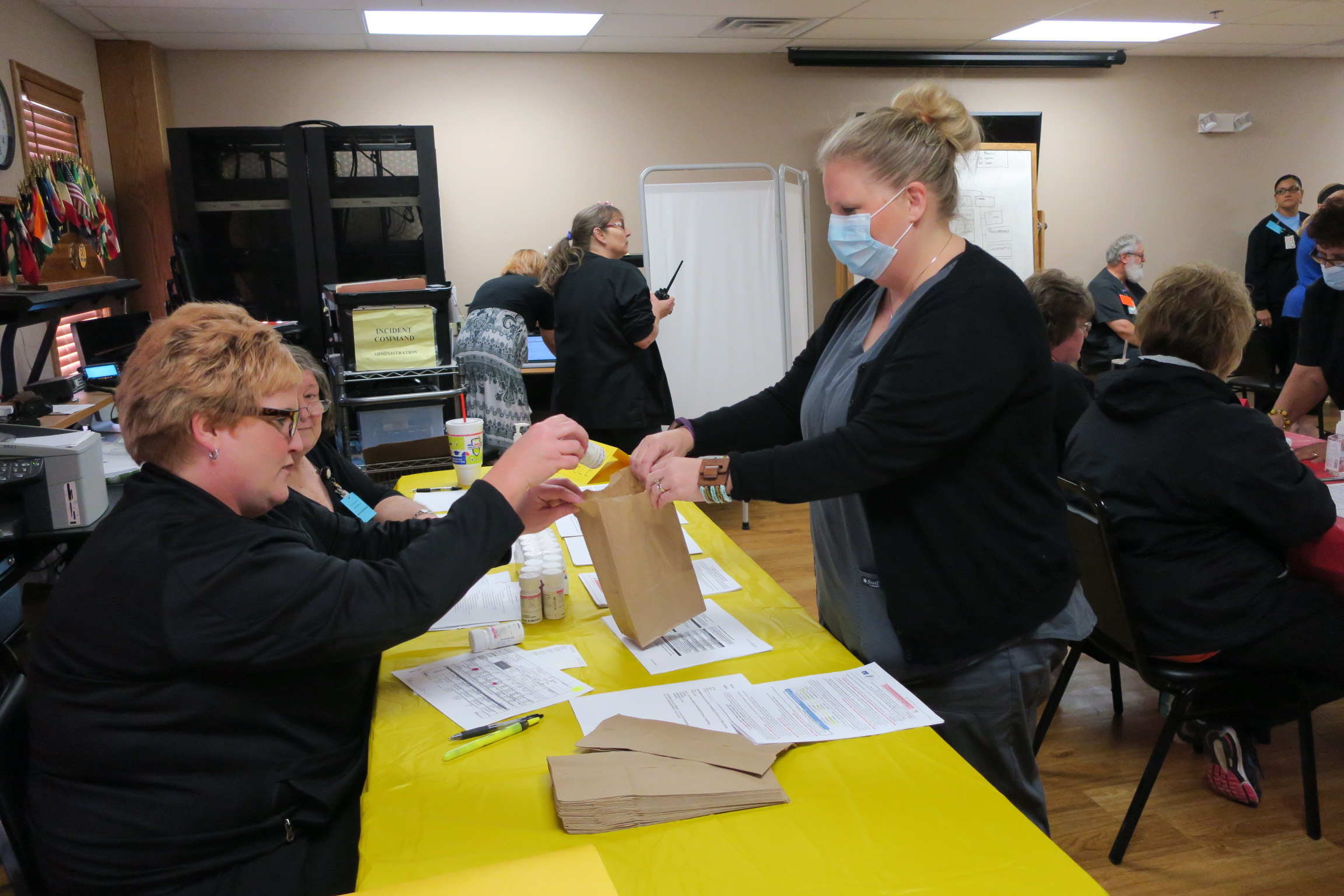 Marietta State Champs Hold Cross Country Meet at Legacy Park
Sales Tax Renewed Overwhelmingly
EMS, Firefighters Await Results of Sales Tax Renewal
Recreational Trail, Growers Market Prepare for Year 2
Swallowing, Speech, Language Therapies Done Here!
UV Light Disenfection Deployed in Hospital Rooms
After Helping Open Legacy Park Trail, Local Racewalker Hits the Bigtime!
Community Welcomes Dr. Joe Witten
Medic Wins International Academic Contest
Nurse Practitioners Building Their Profession

Health Needs Assessment Final Report

Love County Health Center, dba Mercy Health/Love County Hospital and Clinic, is located one block east and one block north of Interstate 35, Exit 15, Marietta, OK, 15 miles north of the Red River Bridge connecting Oklahoma and Texas.
On-site are eight primary care providers and a staff of 135 coworkers. Our diagnosticians make referrals to specialists throughout the area.
Are you looking for a doctor, laboratory tests or radiology tests (including CT)? Visit our clinic, Monday through Friday.
Need physical therapy, occupational therapy, speech therapy, or pulmonary rehabilitation? We have a building devoted to these health services.
For medical emergencies, our emergency room is open 24 hours a day. Our EMS has more paramedics than any other rural county in Oklahoma, and air ambulances are on-call to accident scenes.
Our public hospital has 25 beds and serves acutely ill or injured patients, plus those needing skilled nursing, who qualify for care under our licensure as a critical access hospital.
For adults with dementia or physical limitations needing a day out, there is our adult day center one block south, staffted by our nurses, CNAs, and activities director.
Exercise daily at our recreational trail. Eat healthy through our public growers market, selling fresh fruits and vegetables in season.
Choose from the menu of services of Mercy Health/Love County Hospital, Clinic, and EMS to learn more about what we can do for you!