Emergency Services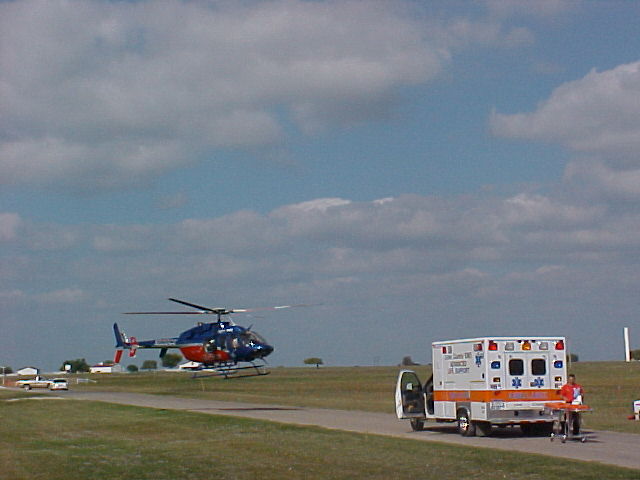 Love County EMS ambulances transport to the hospital emergency room, where physicians or physician assistants stabilize the patient and initiate care. If necessary, the patient is then transferred by ambulance to another health care facility, such as for surgery or intensive care, in Ardmore, Oklahoma City, or elsewhere. The emergency room makes arrangements based on patient needs and desires.
The hospital manages emergency services at the request of Love County EMS. Ambulances are based at the hospital and at WinStar Casinos near Thackerville. Several air ambulance services in Oklahoma and Texas are on-call in the event of head injuries, multiple trauma, cardiac emergencies, and high risk patients.
Love County EMS has achieved paramedic status. This means at least one paramedic goes on every run, and the service is able to take care of higher order emergencies than services with only basic or intermediate capabilities. All ambulances are new or almost new. All have heart monitors, defibrillators, pacemakers, life-saving drugs and intravenous medications on board.
The service responds to a far-flung county covering more than 500 square miles. Included are 24 miles of Interstate 35, more than any county south of Oklahoma County except Garvin County.
The EMS training center offers basic EMT and paramedic training, as well as American Heart Association classes for health professionals and laypersons in the region. The training center also hosts classes for the county's dozen volunteer rural fire departments.
The EMS and hospital train volunteer emergency medical responders for Love County and are partners of Love County Search and Rescue.
The EMS substation at WinStar Casinos also operates a fire brigade for WinStar and for mutual aid of volunteer fire departments in Thackerville and southern Love County.
To learn more about Love County EMS, see www.lovecountyems.net.