Welcome, We Love To Serve You!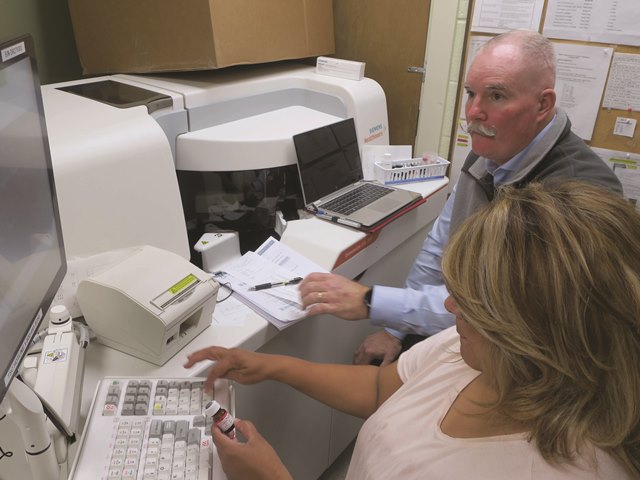 Siemens Technicians Installed a New Testing
Machine and Praised the Laboratory Department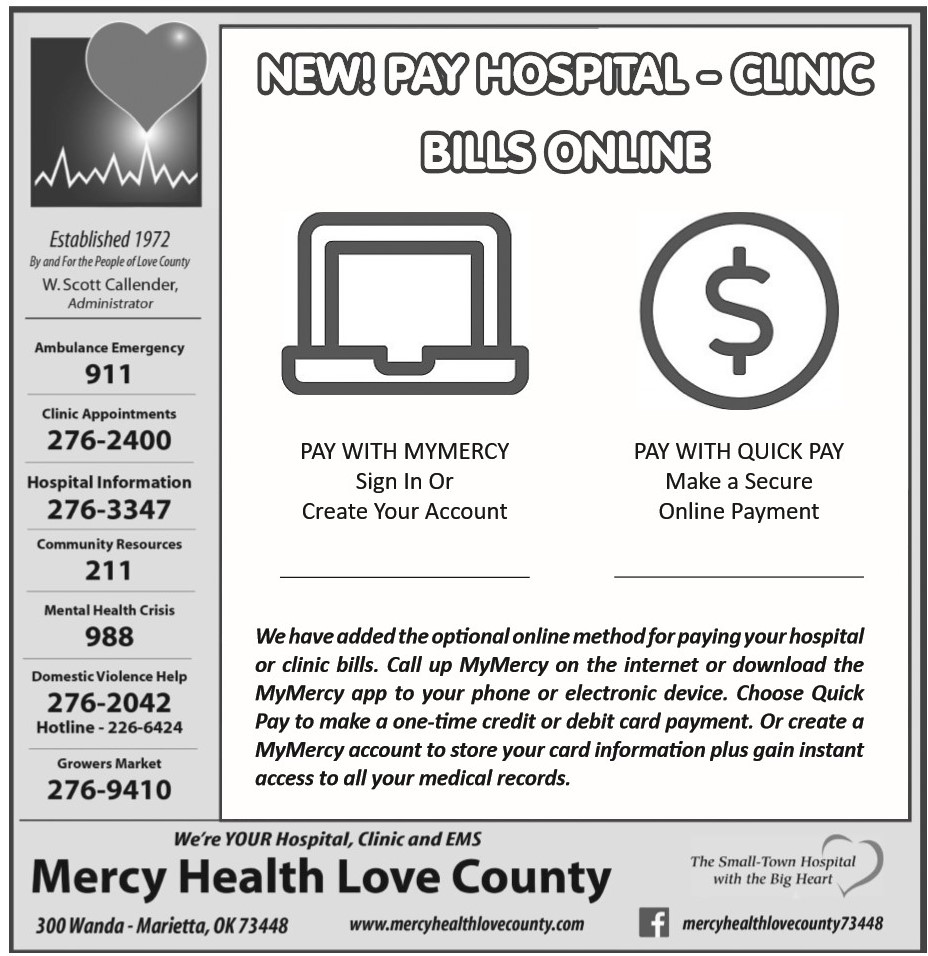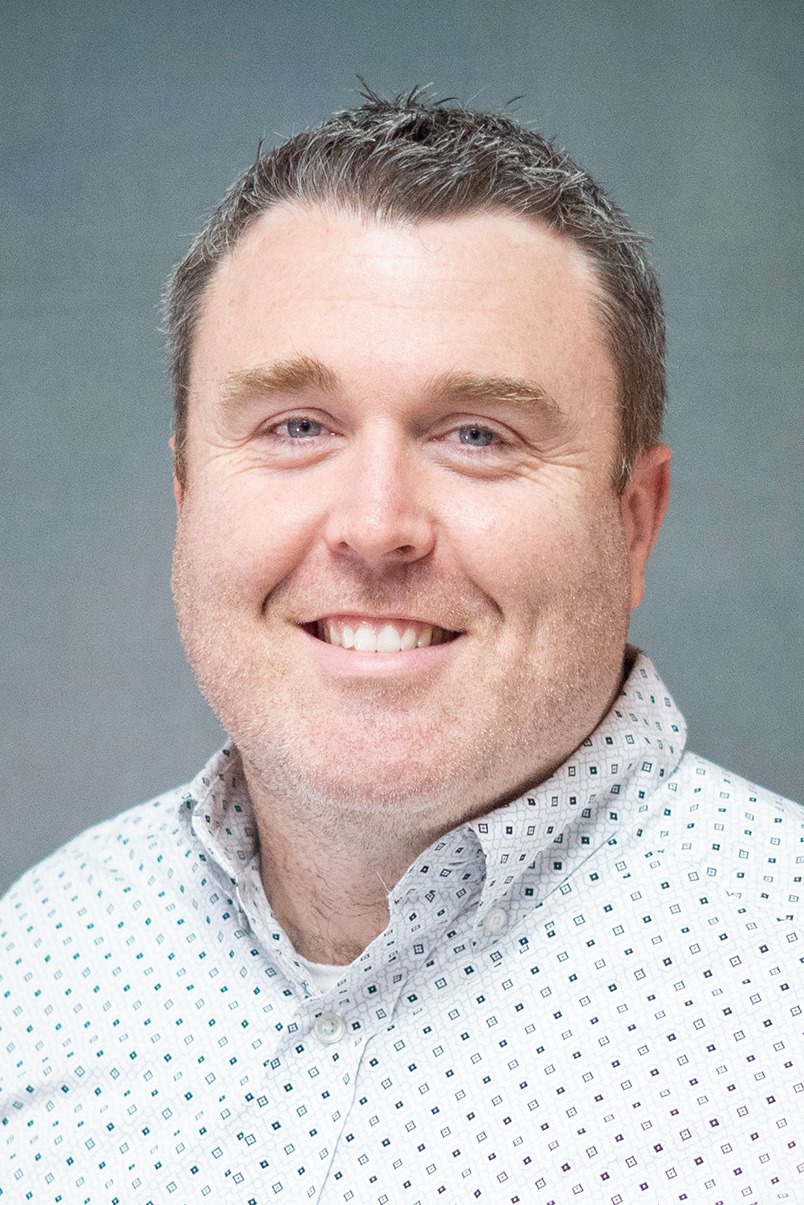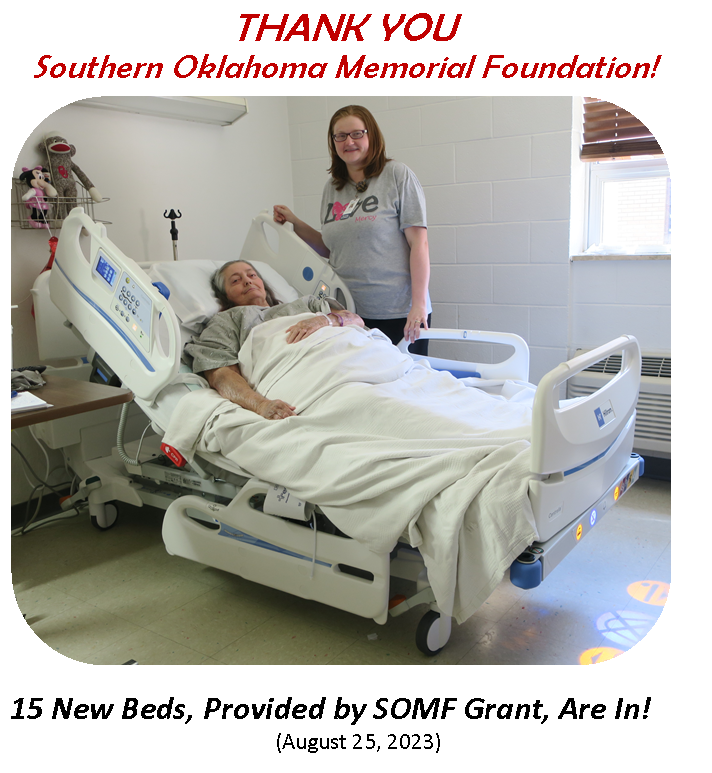 OUR SERVICES ARE EXTENSIVE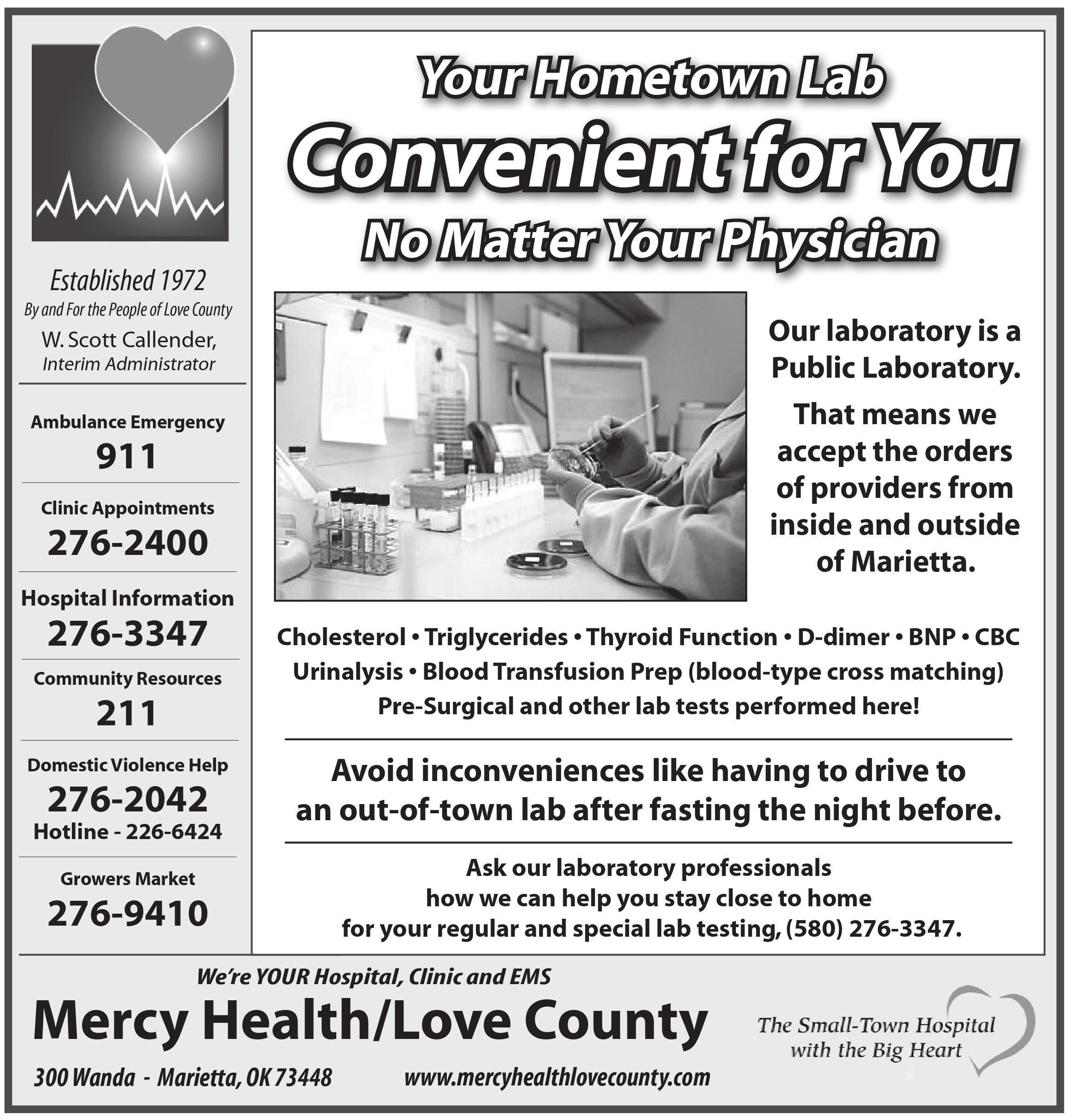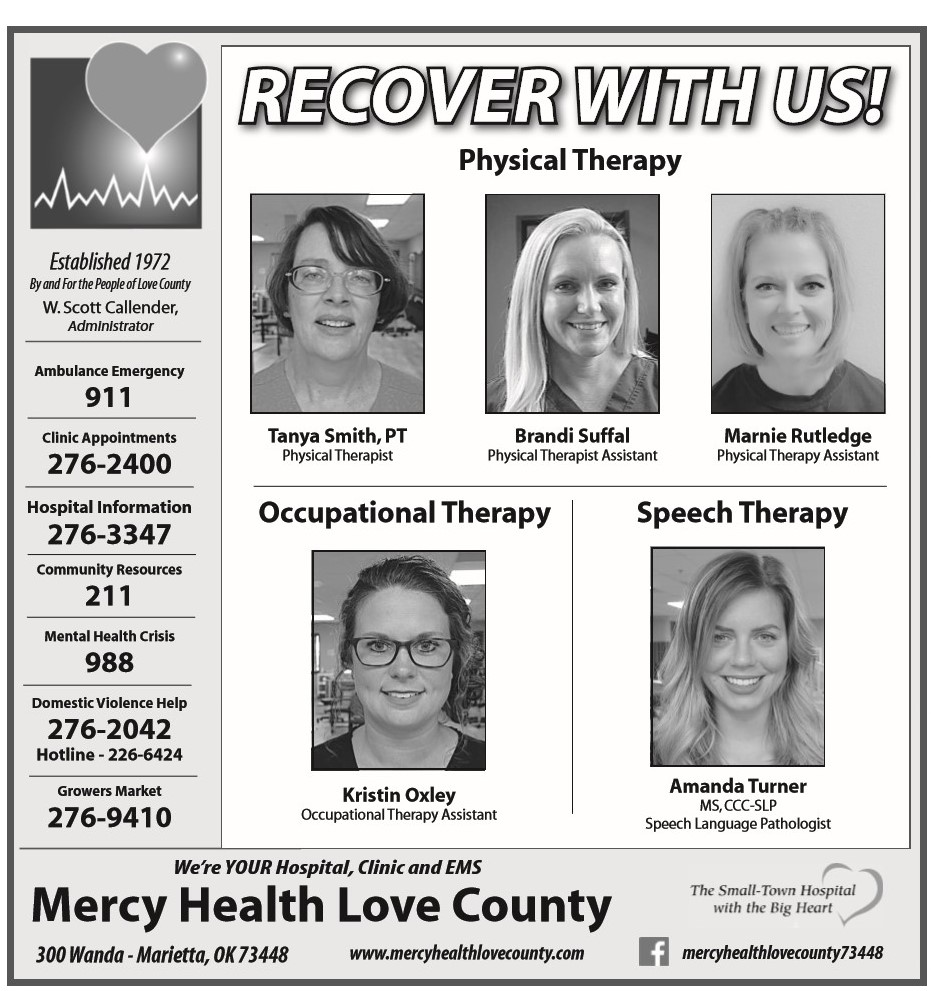 Lab for All Outpatient Therapy for All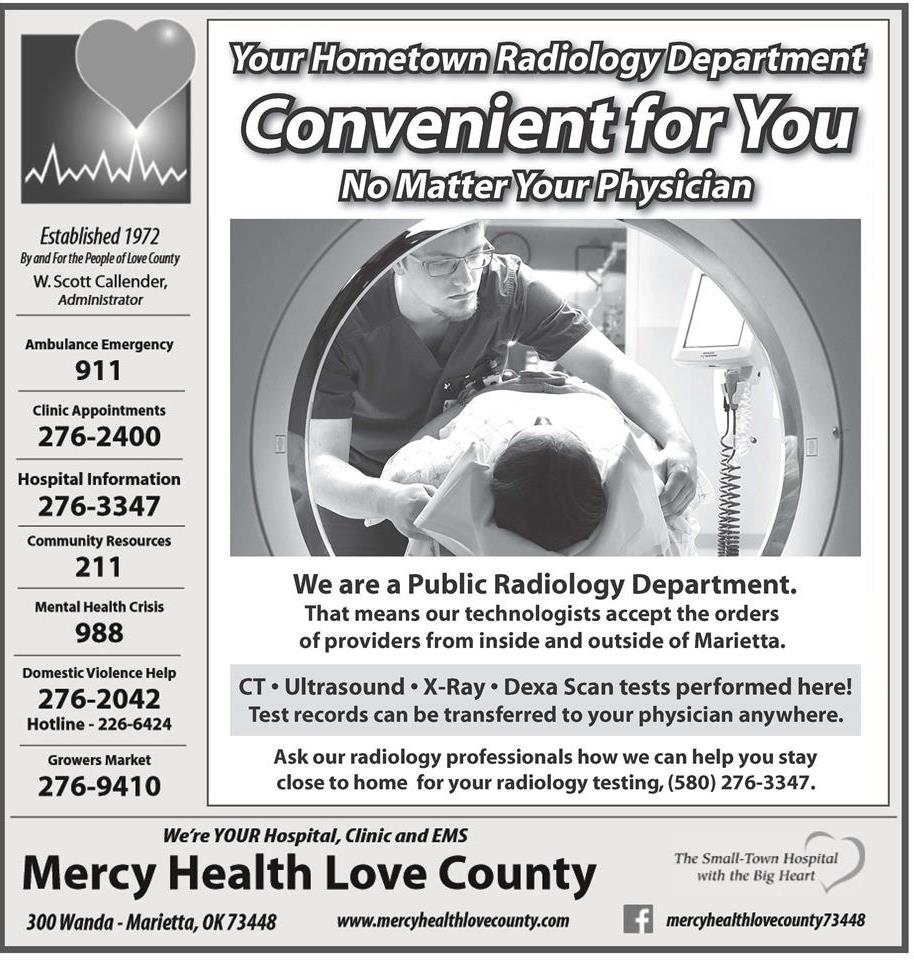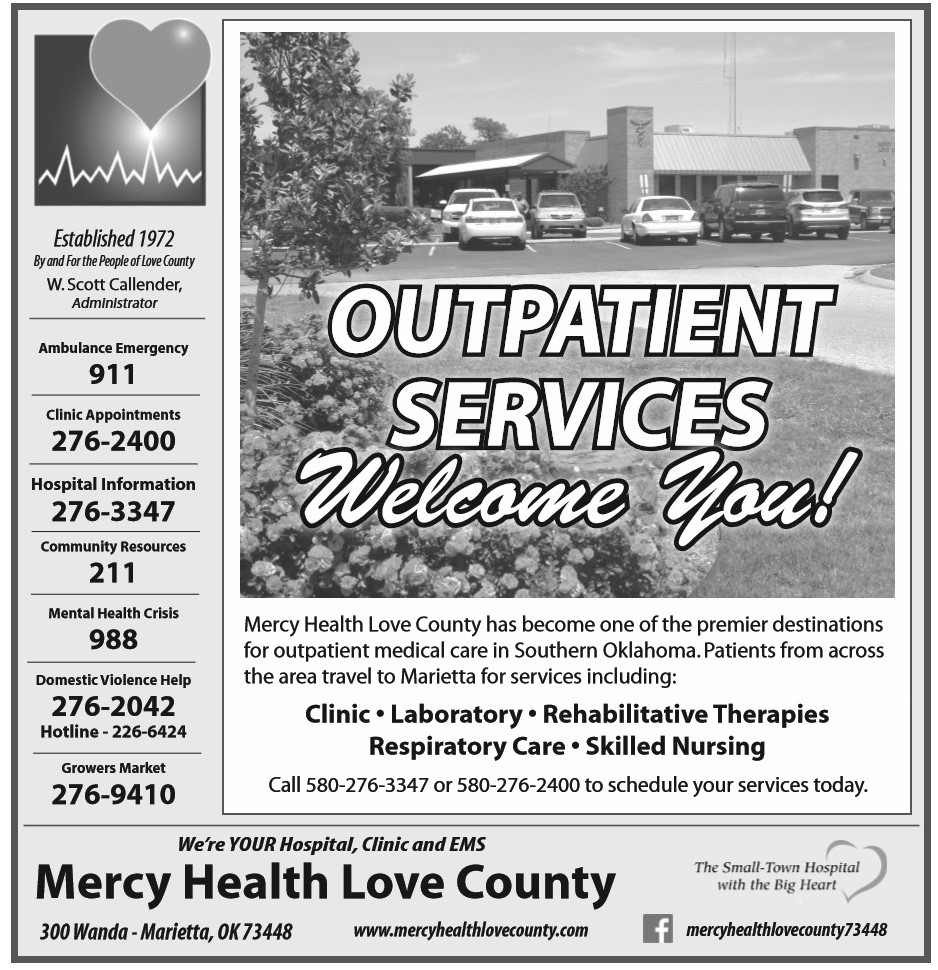 Radiology for All Clinic for All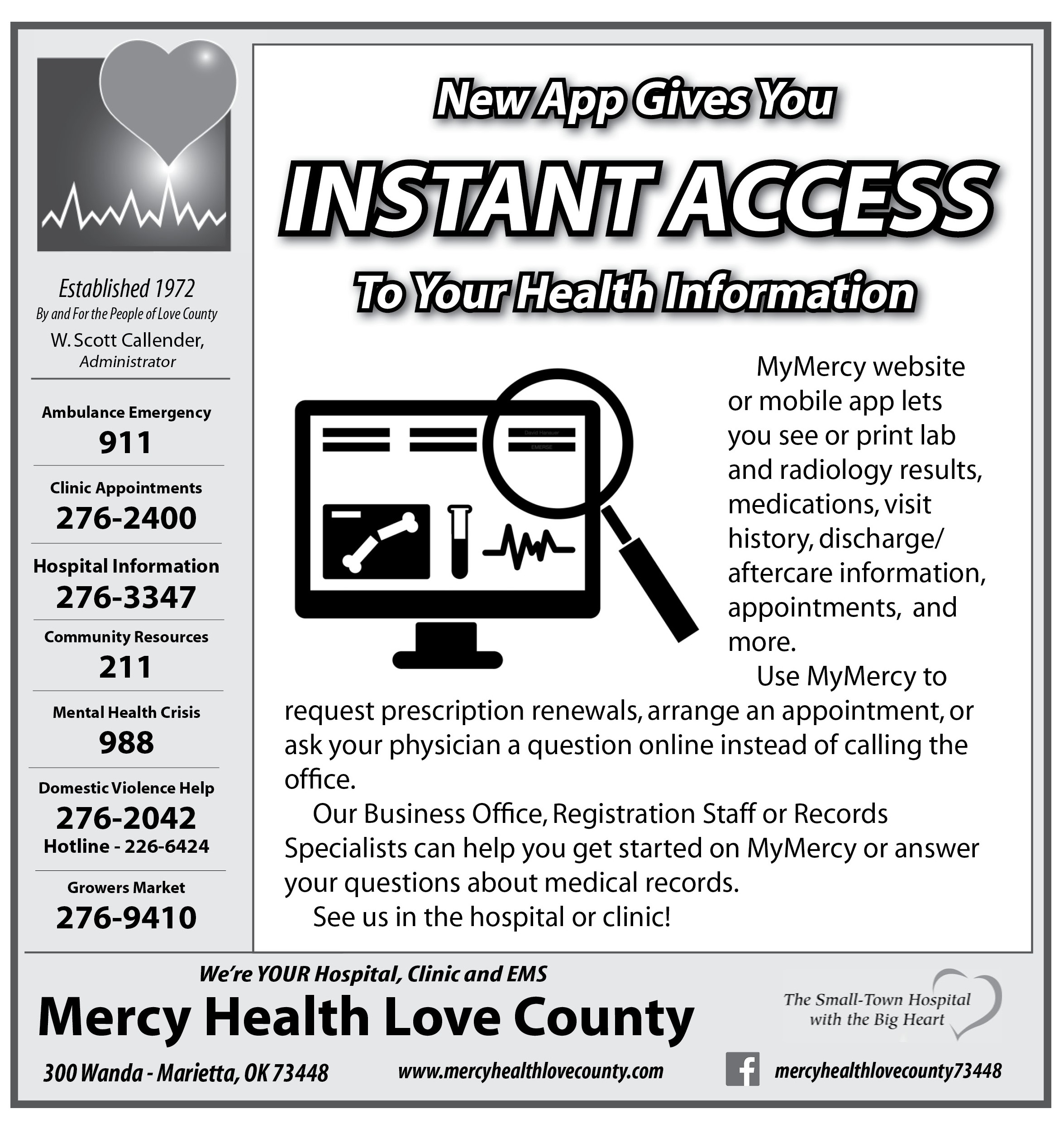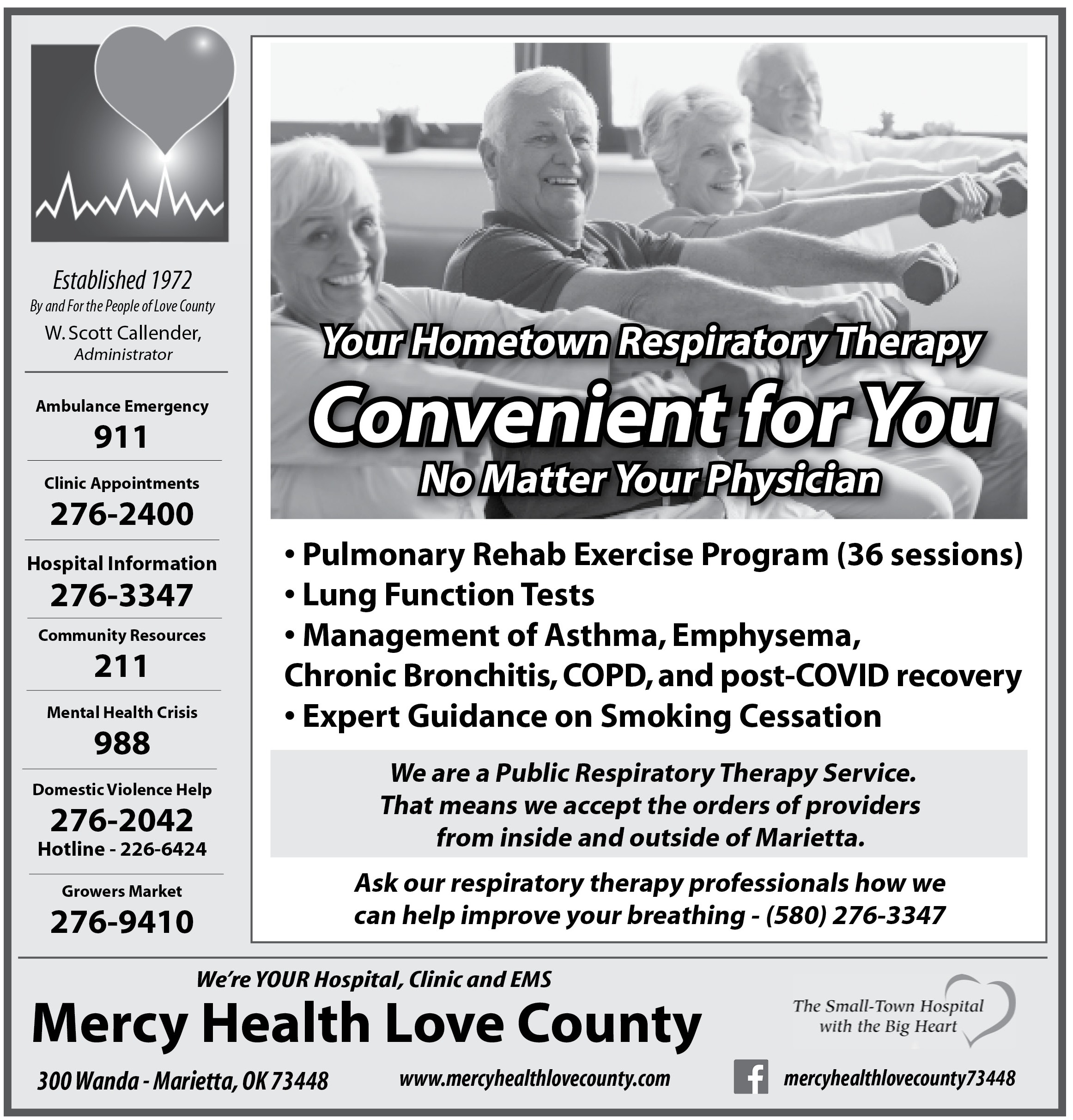 MyMercy Portable Records Pulmonary Rehab Offered Here!

See More Employment on Facebook
Names in the News: Follow These Stories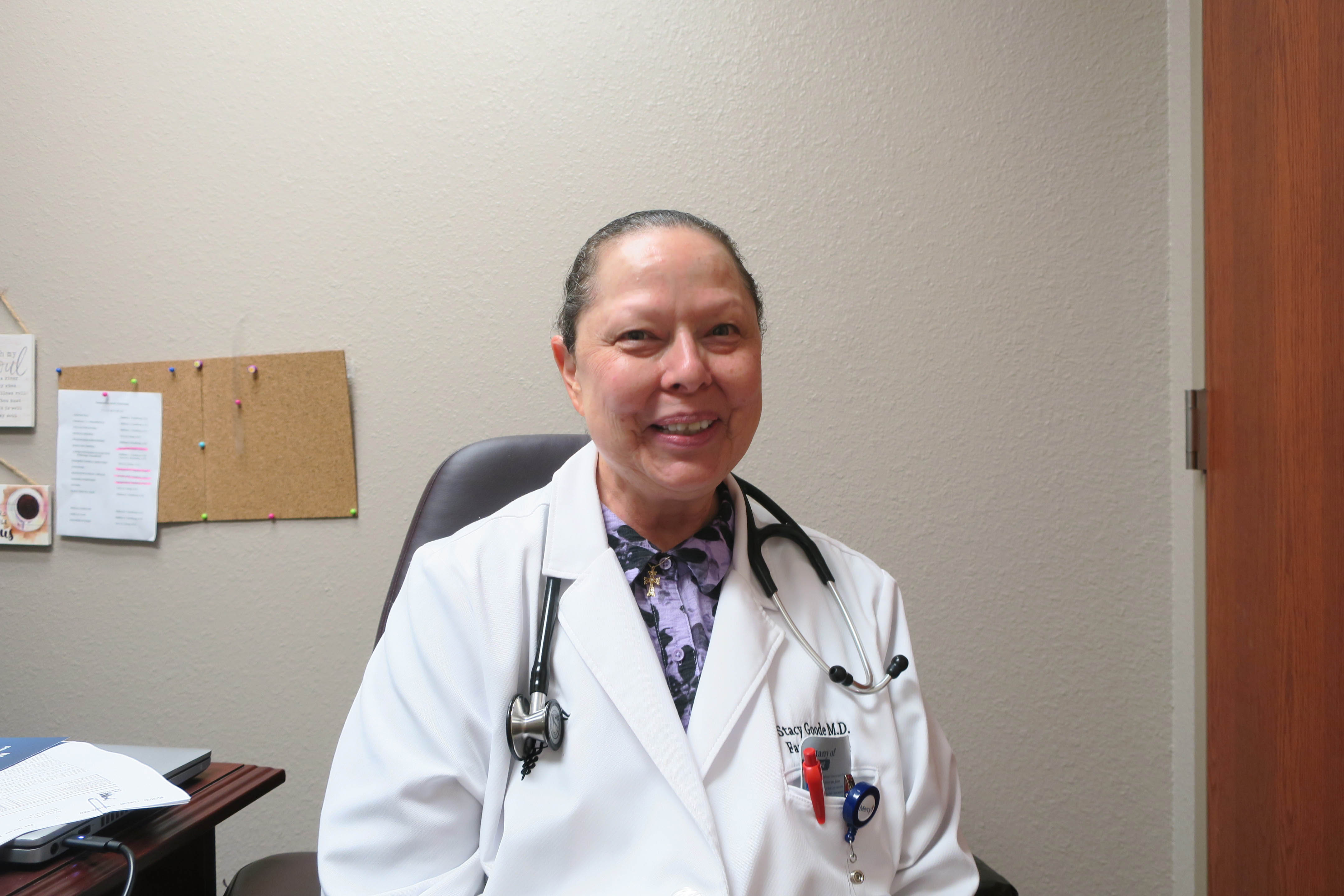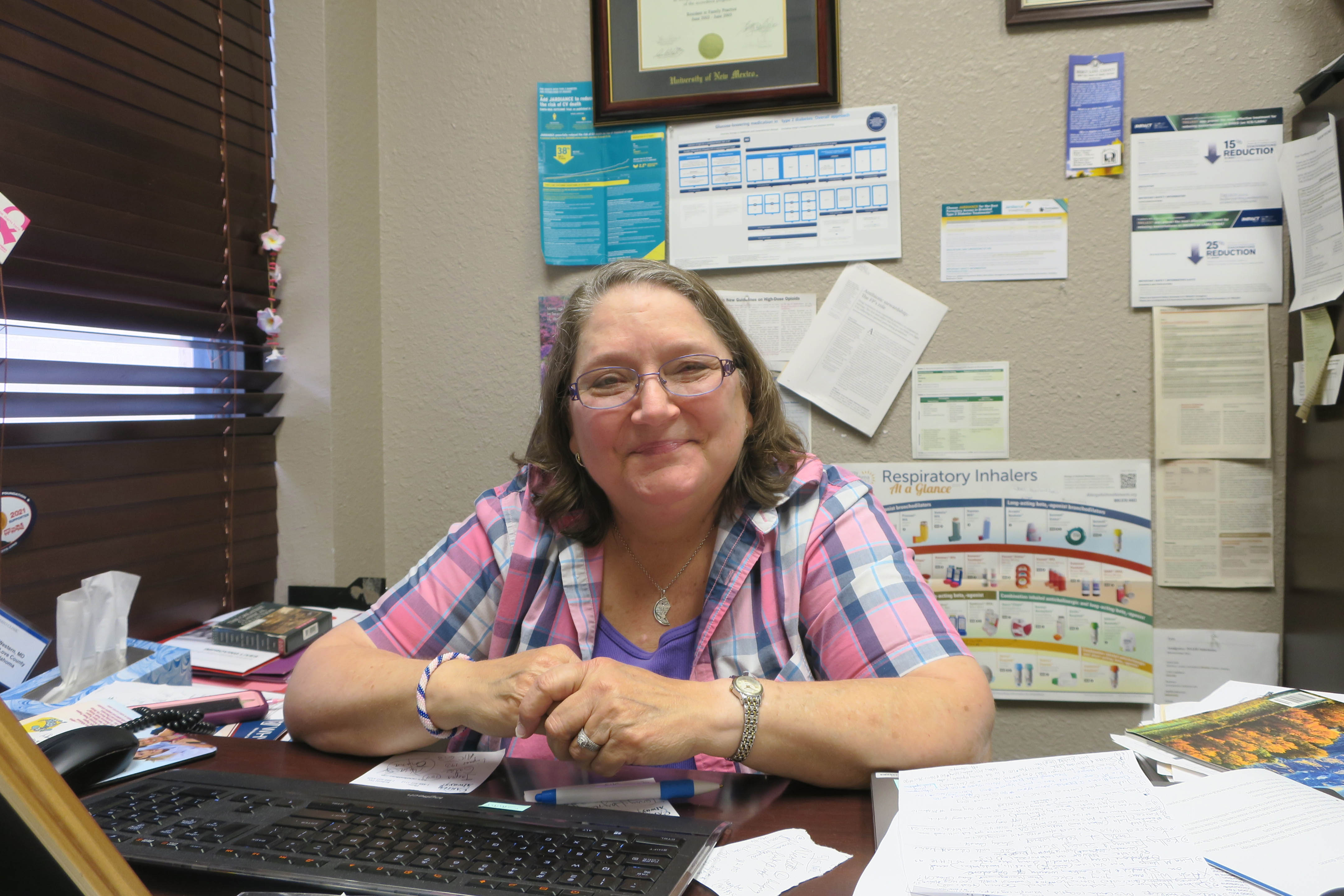 Welcome Dr. Goode Dr. Western Retires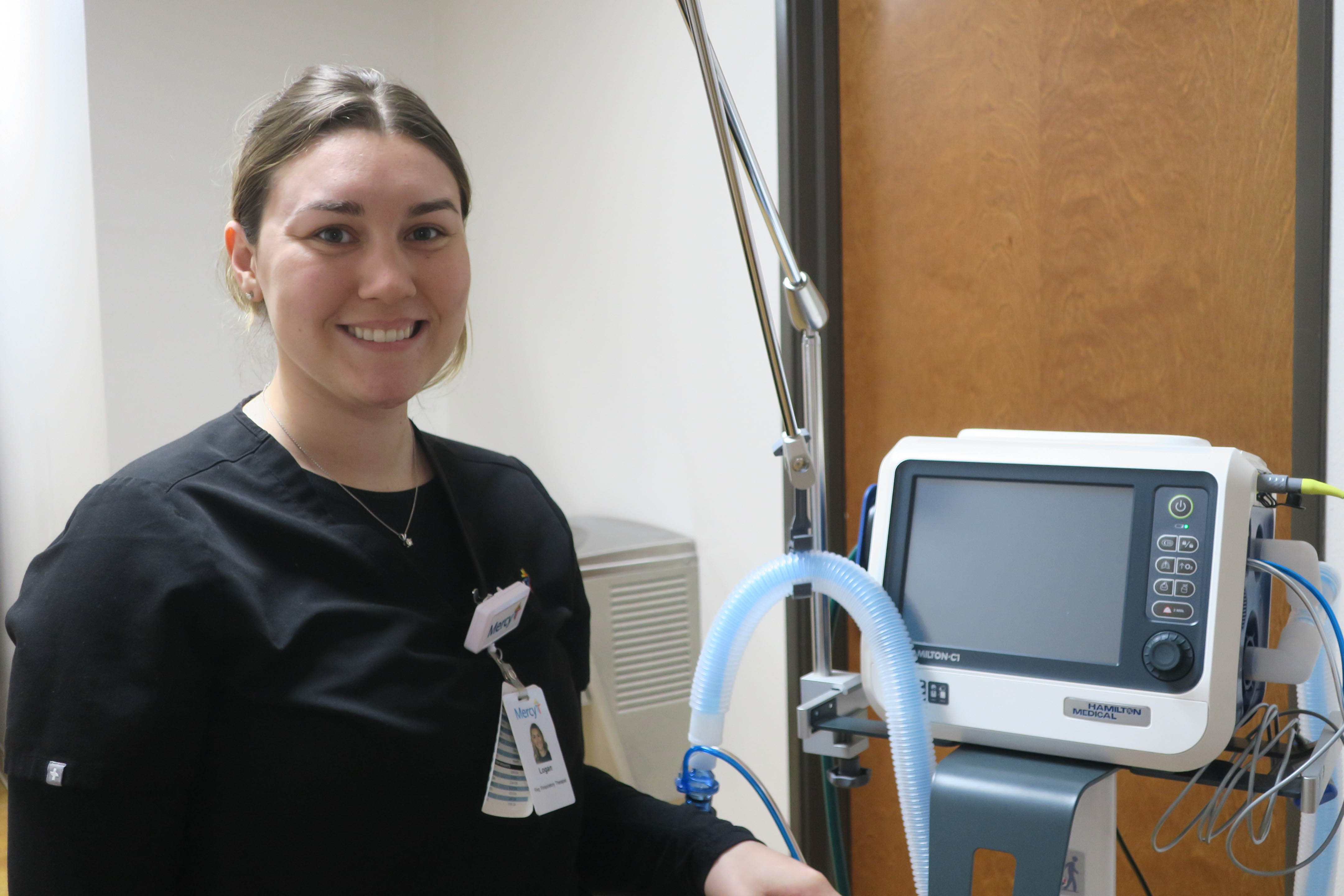 New Respiratory Therapist New Laboratory Director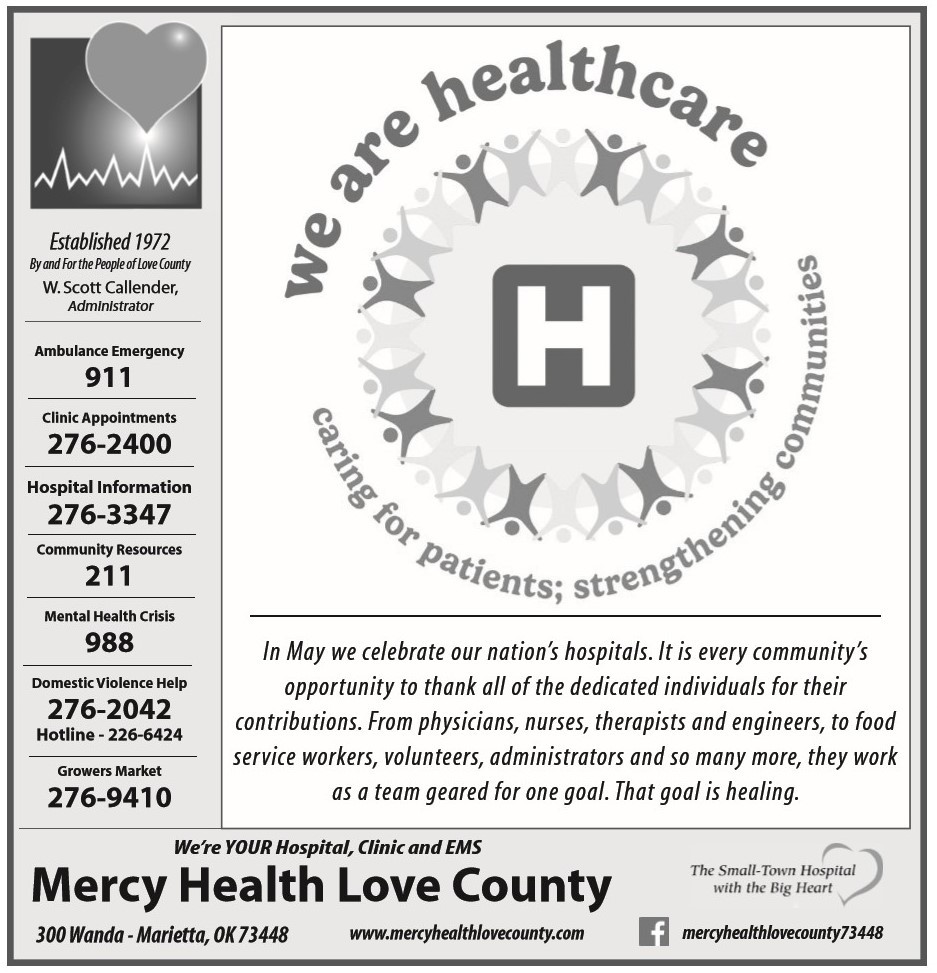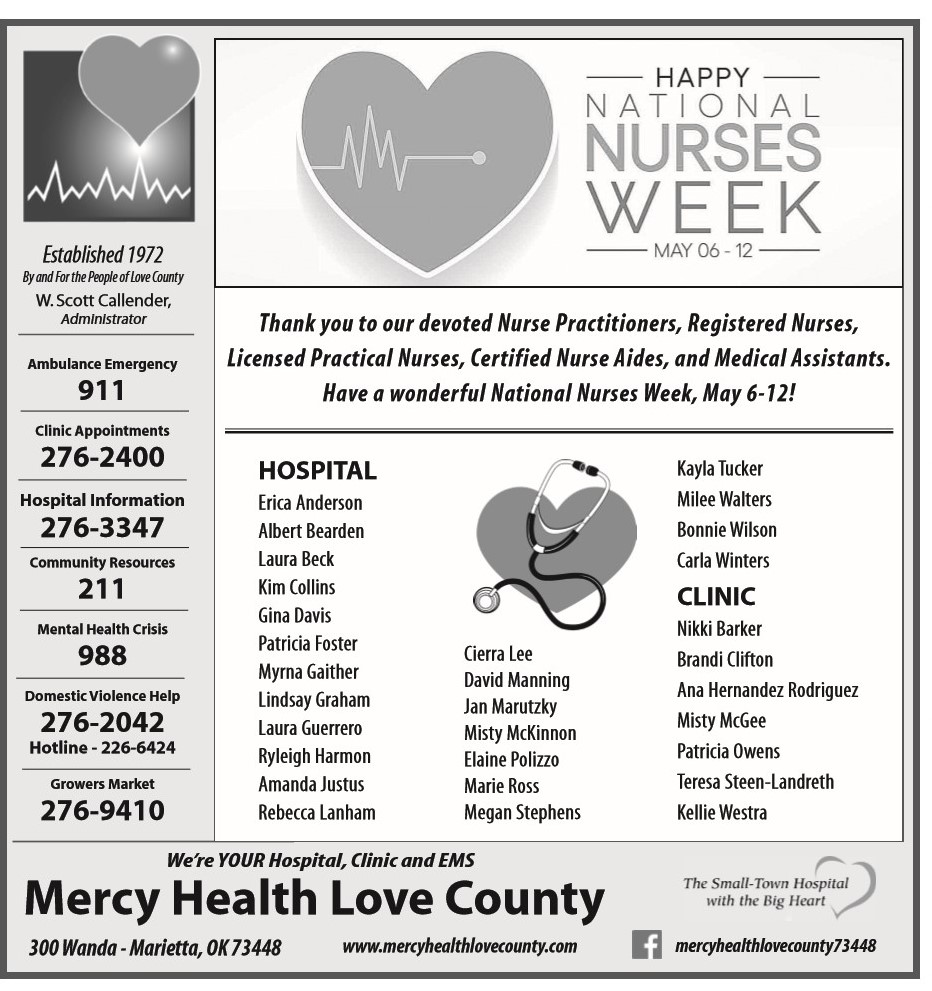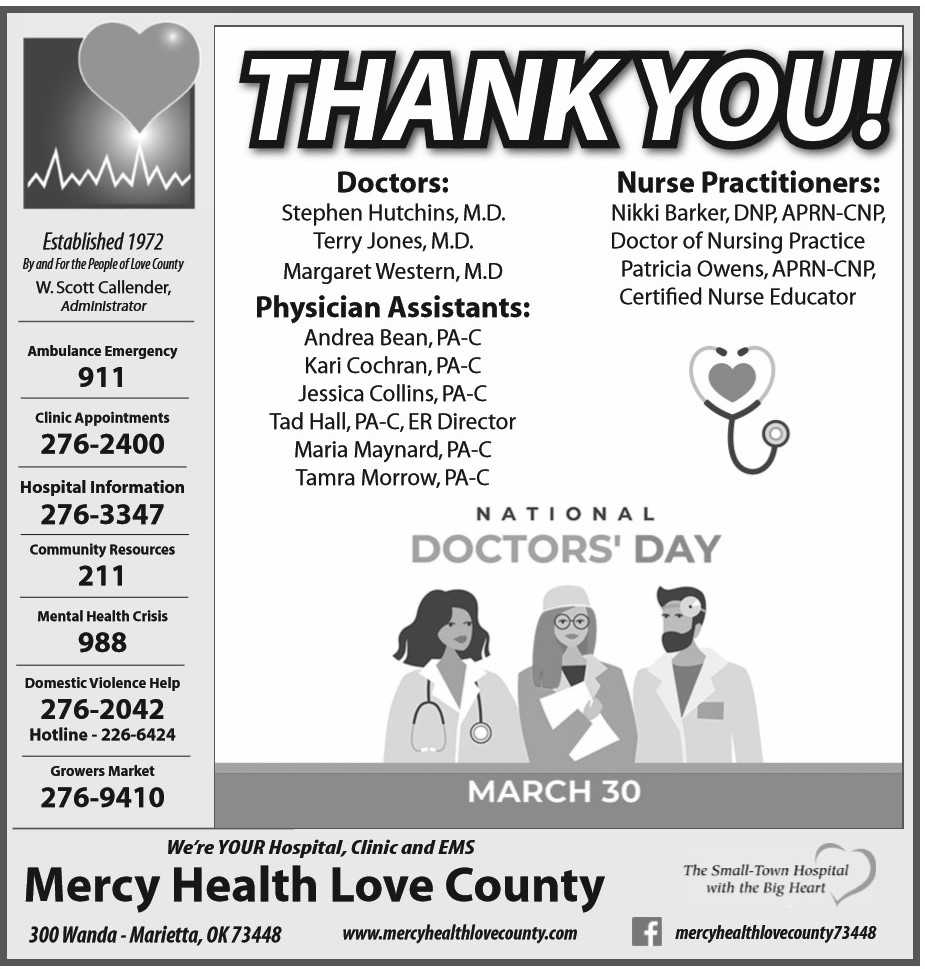 Hospital Wins County Election By 93%
(February 15, 2022) County voters showed love for their hospital on Valentine's Day, February 14. By a 93% margin, they renewed a one-cent sales tax for 10 years to equip and maintain the Love County Health Center.
The results were 335 Yes votes and 23 No votes. The proposition passed overwhelmingly at all 10 voting precincts.
The health center includes the hospital, clinic, and EMS. The tax raises revenue of about $1.6 million per year, according to hospital administrator Scott Callender.
"We are grateful for the support shown for our coworkers and operations. Everyone here is very happy today and appreciative of the patients and other citizens who showed how much they value their local healthcare," Callender said.
Below are election results by precinct:
Precinct 101, Marietta School Auditorium – 52 Yes, 1 No
Precinct 103, Thackerville First Baptist Church – 33 Yes, 6 No
Precinct 204, Marietta First Baptist Church – 43 Yes, 3 No
Precinct 205, Turner School Auditorium – 51 Yes, 3 No
Precinct 206, Leon Community Building – 18 Yes, 3 No
Precinct 207, Rubottom Baptist Church – 27 Yes, 0 No
Precinct 310, Marietta, Love County Fair Building – 36 Yes, 3 No
Precinct 311, Greenville School – 29 Yes, 1 No
Precinct 312, Enville Community Church – 35 Yes, 2 No
Precinct 313, Eastman Baptist Church – 11 Yes, 1 No
TOTAL VOTES – 335 Yes, 23 No
The proposition was last approved on October 8, 2013, by a similar high margin of votes: 540 Yes versus 28 No.
Help In a Hurry Proves Value of Local Healthcare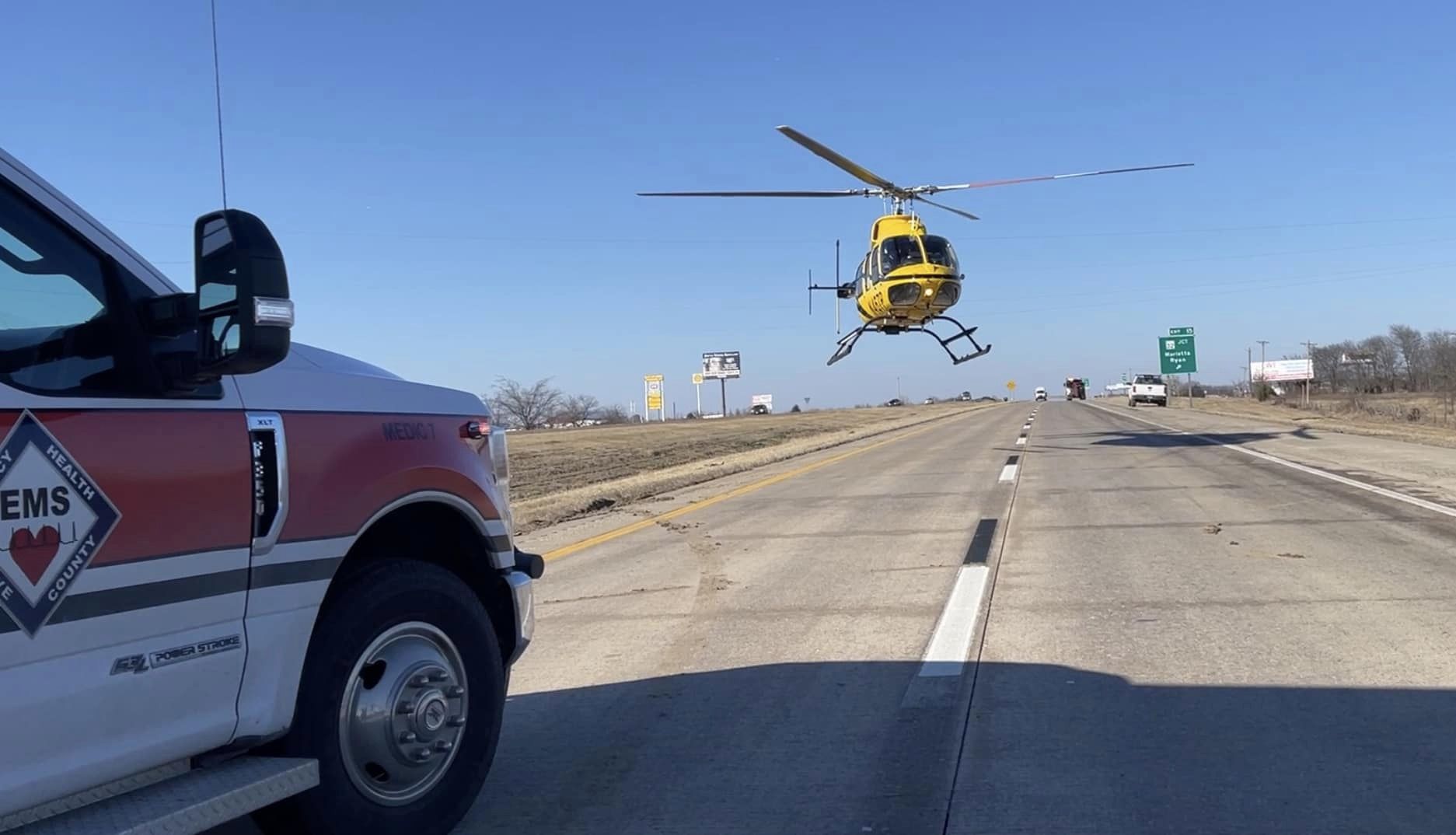 (February 9, 2023) - Travelers on I-35 and local residents can be thankful for Love County emergency response. Area firefighters and hospital medics delivered high-level assistance at pile-ups between the Red River and Marietta last week.
The latest incident occurred Friday afternoon at mile marker 14 on I-35. An RV towing a small sport utility vehicle struck an 18-wheeler that had slowed down for traffic.
The RV was occupied by two people and both required extrication with hydraulic rescue tools. Medics called two air ambulances to the scene to transport the seriously-injured patients. North-bound traffic was backed up all the way to the Red River bridge for several hours. (Continued)
Hospital Administrator Speaks To Penny Sales Tax Election on February 14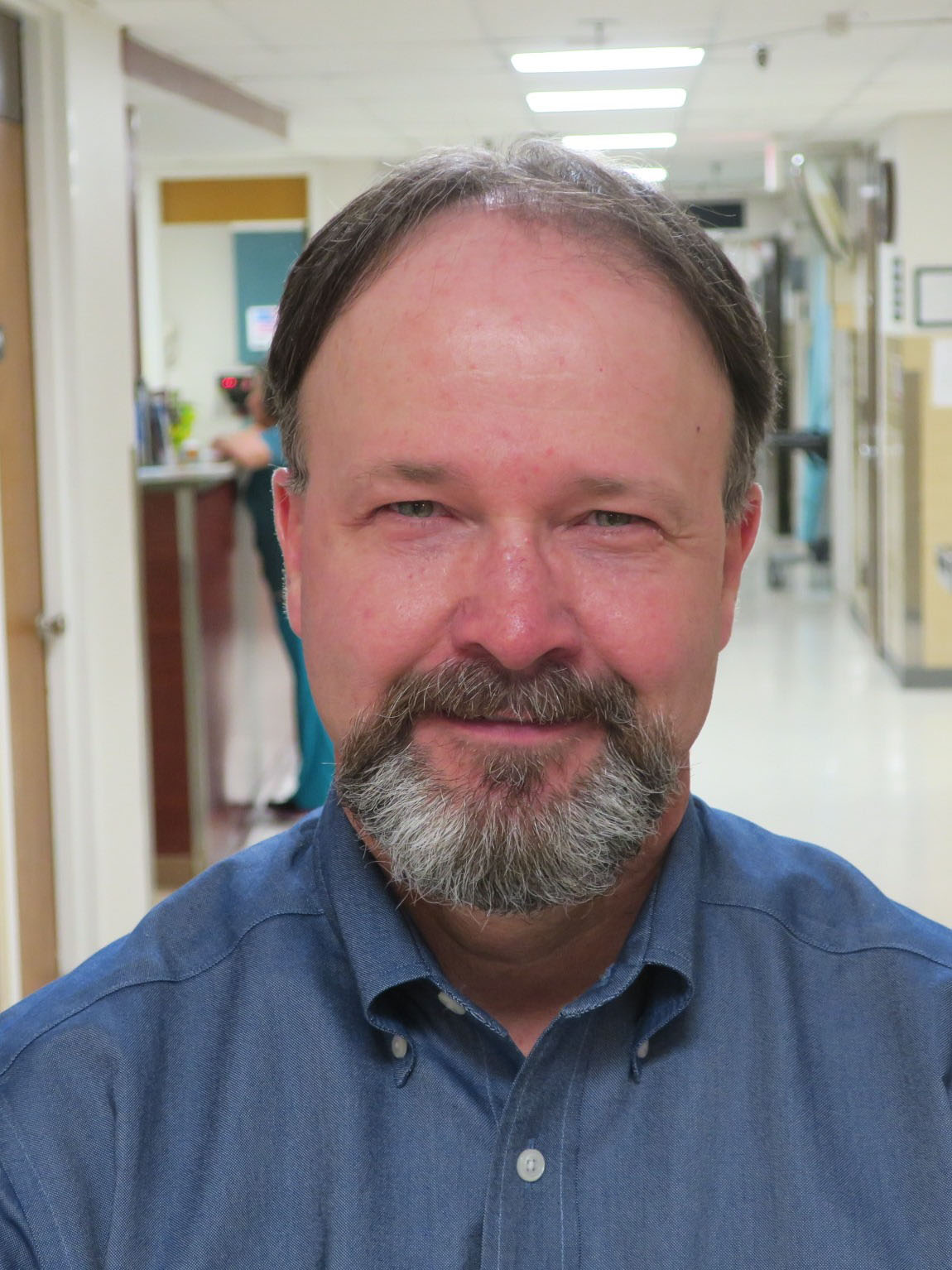 (February 9, 2023) Admininistrator Scott Callender said he is hopeful the voters will turn out on February 14 to renew for the next 10 years a one-cent county sales tax that helps support health center operations. Last year, the tax provided revenue of $1.6 million. "This is a big help," Callender said. The support measure was last approved in 2013.
Public support took on added significance recently as a hospital closure was announced in Clinton. Since December 22, the town of 9,000, located on I-40 about 80 miles west of Oklahoma City, has been without emergency, hospital, or clinic care. The nearest help is 20 minutes away from the city limits.
Eight other rural hospitals have closed since 2016, in Eufaula, Frederick, Hugo (Lane Frost Rehabilitation Hospital), Sayre, Wilburton, El Reno, Enid, and Bristow.
In a Channel 4 interview on February 3, Dr. George Monks, former Oklahoma State Medical Association president, weighed in on the loss of local care. "When you're having a life-threatening condition, it's important you're close by. In fact, studies show that for every five miles of every five minutes it takes to get to the hospital, that may lower your chance of survival by one percent."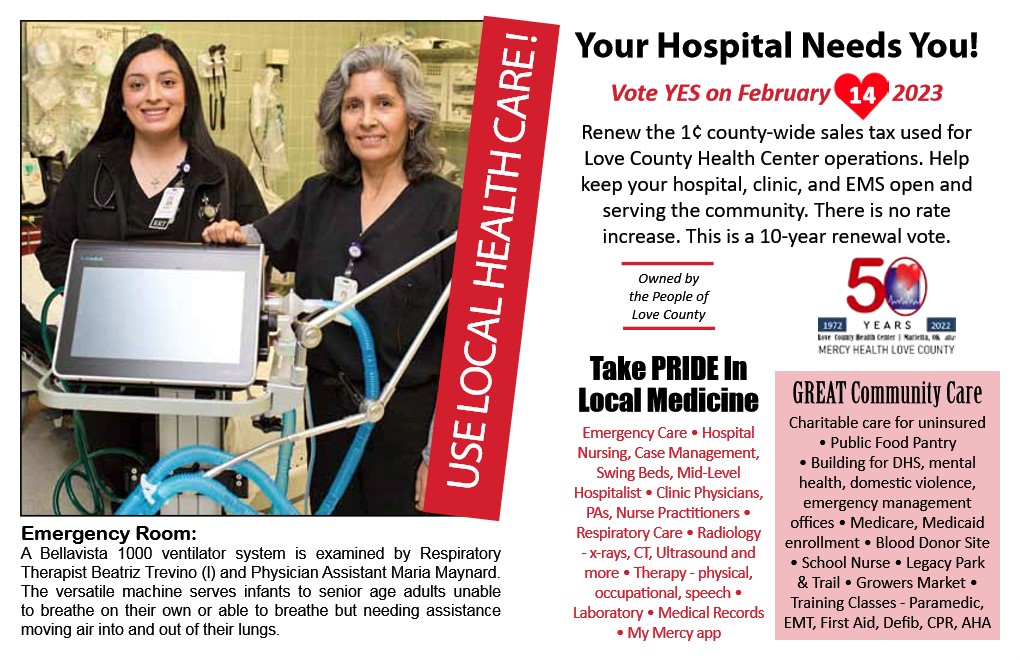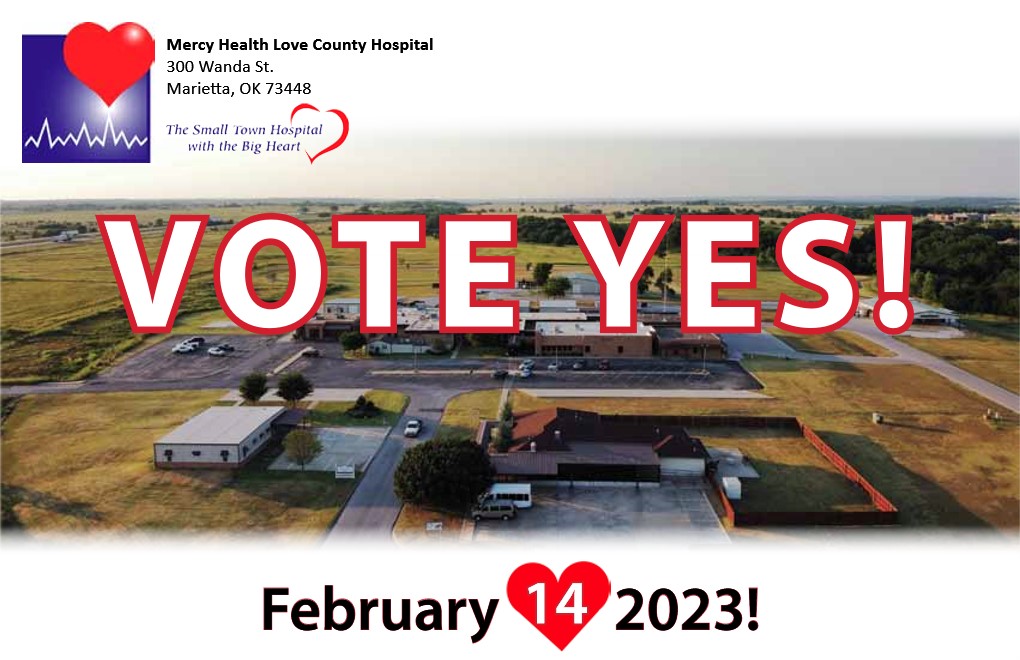 Staffers Add Their Appeal to Voters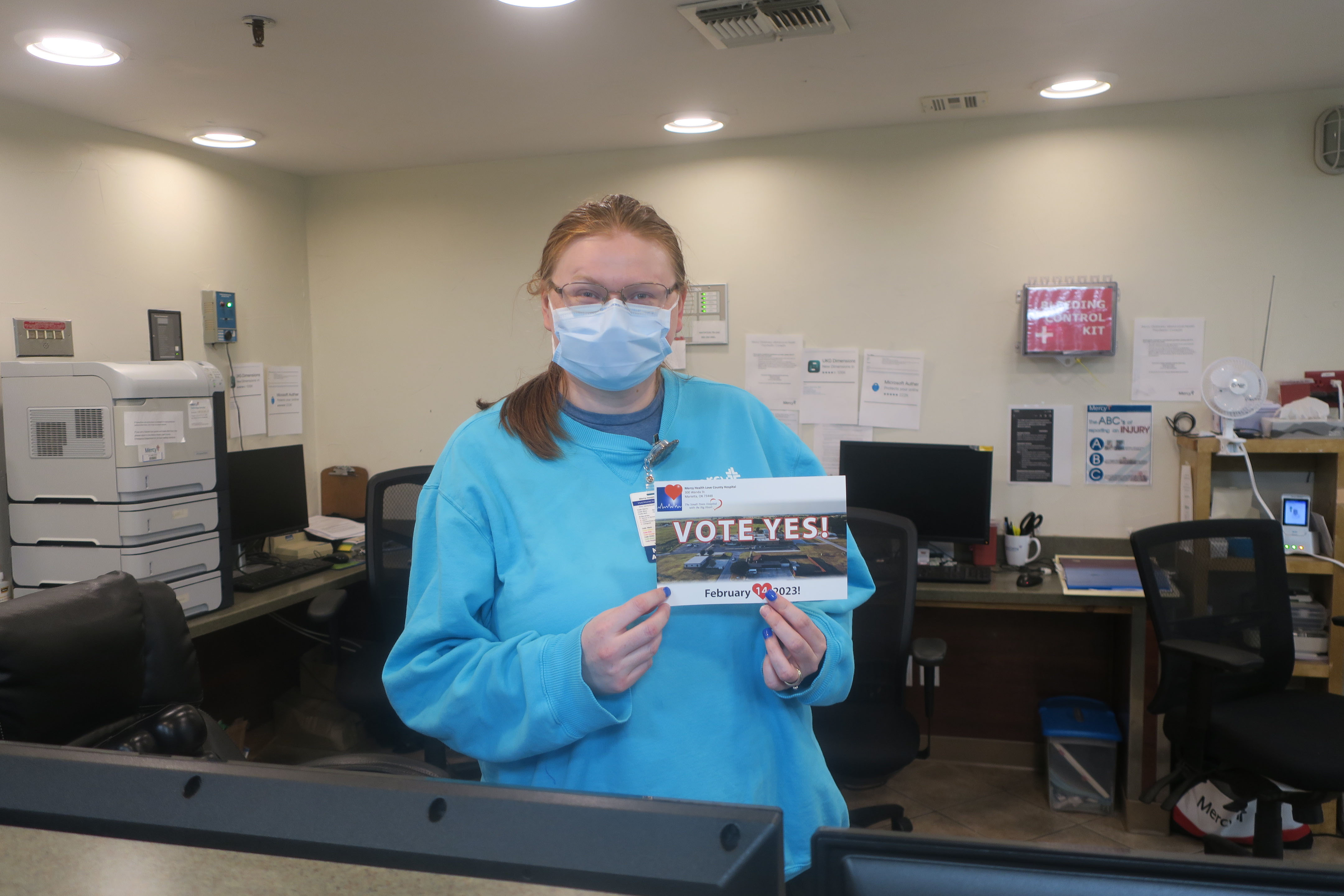 Laura Beck, CNA, on Februrary 8, 2023 urges a YES vote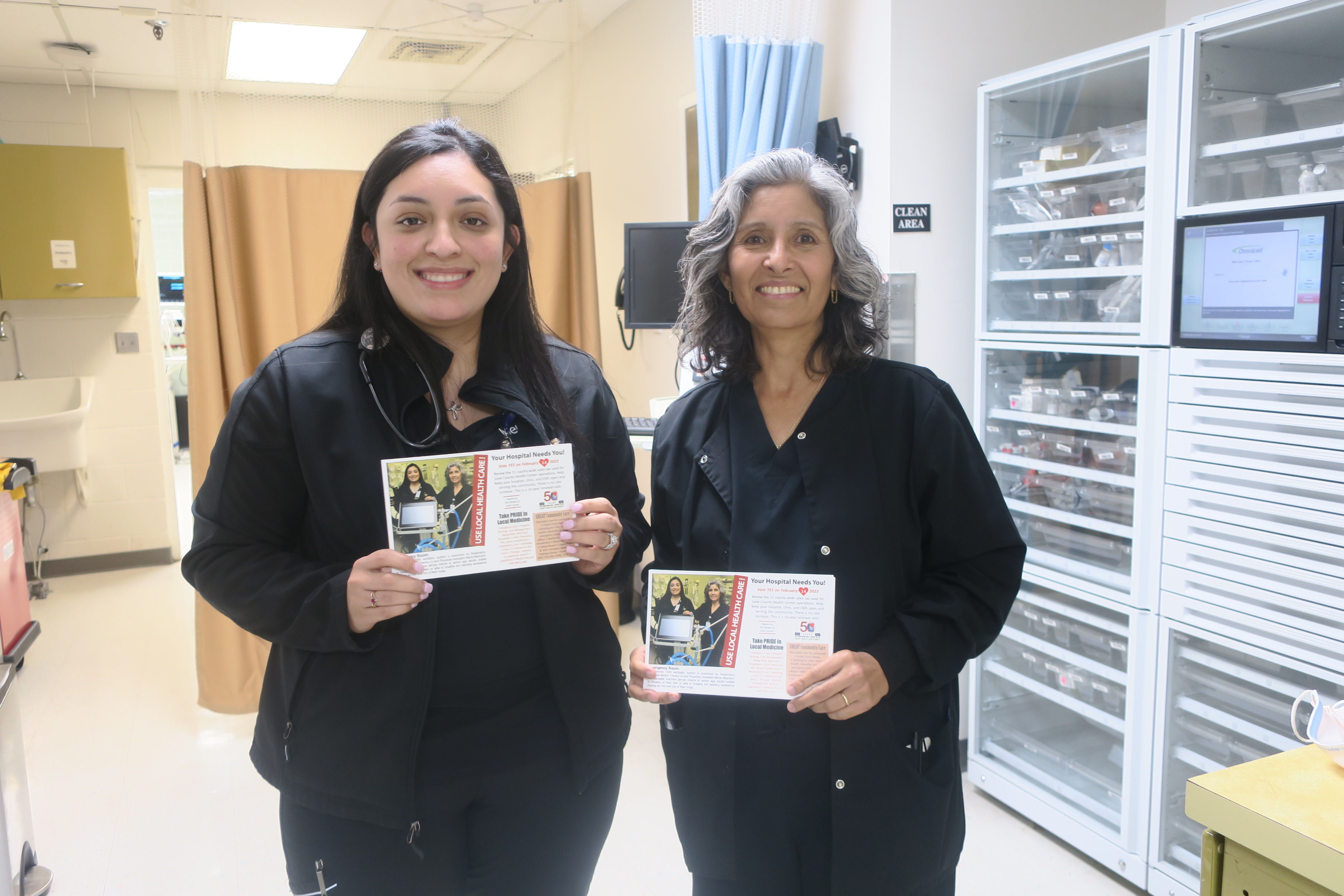 Beatriz Trevino and Maria Maynard pose February 8 with their
photos from the campaign postcard.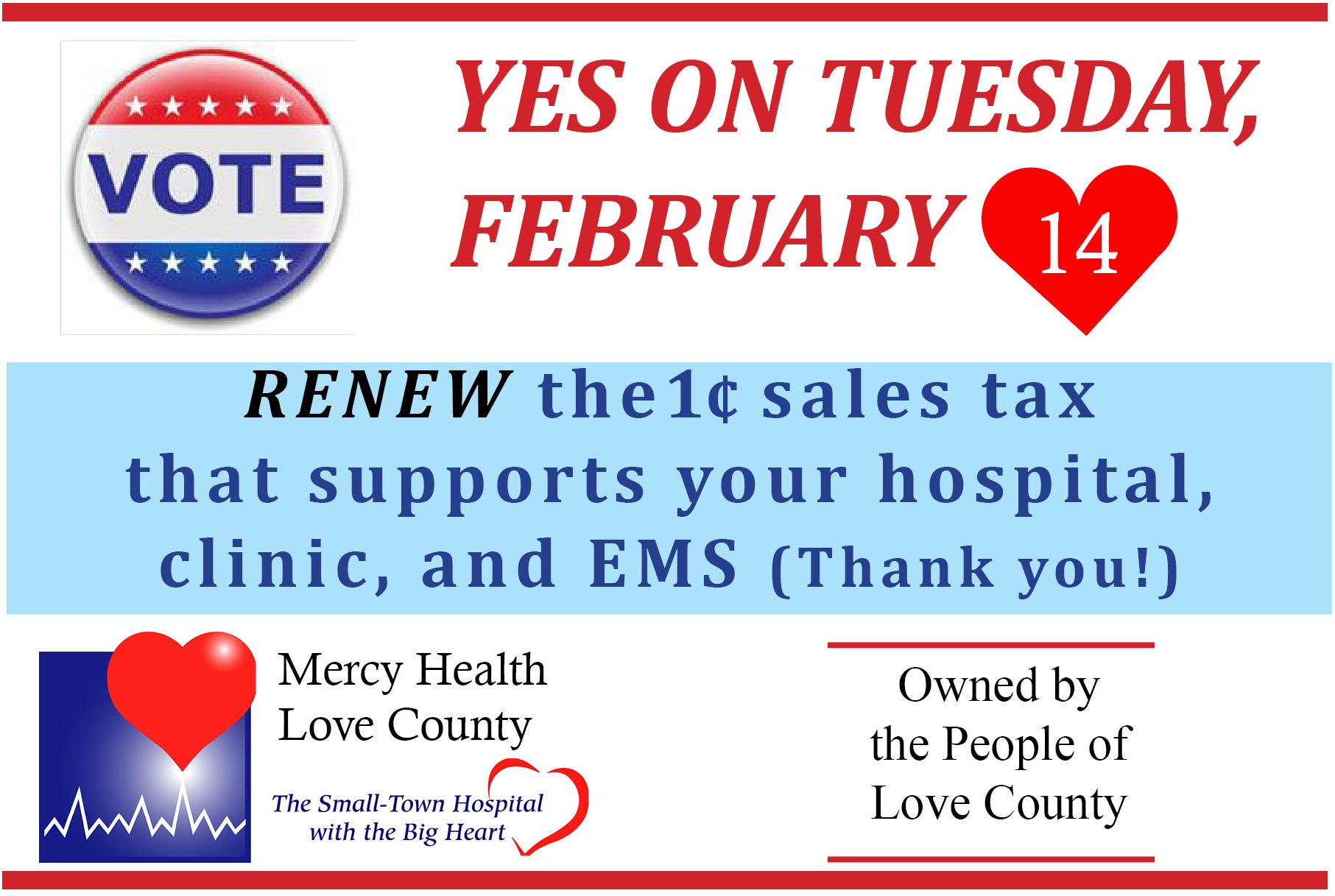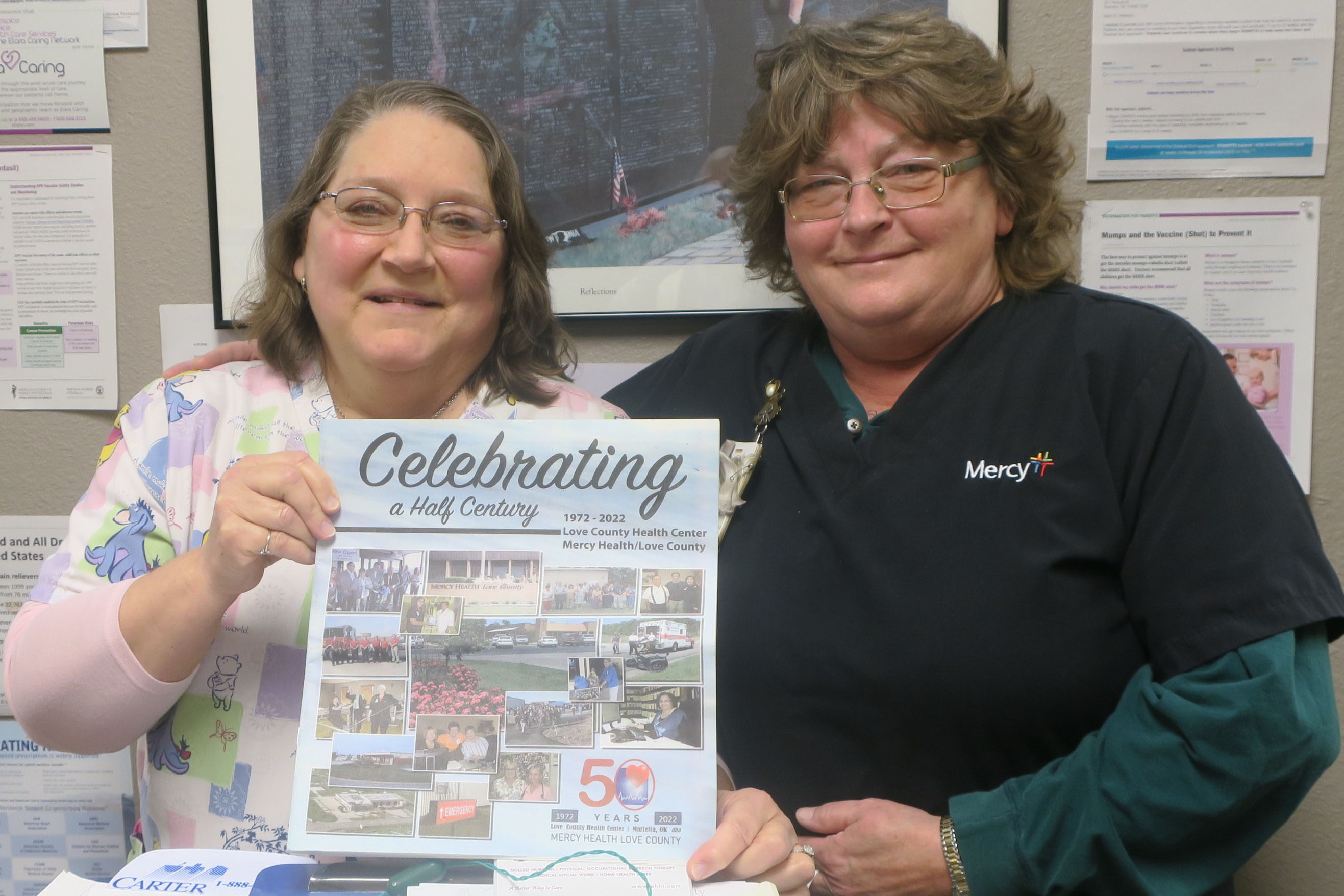 Local Pride: Dr. Margaret Western, M.D., clinic physician, and her office nurse Teresa Steen-Landreth, LPN, looked over the 50th anniversary publication of the Love County Health Center last week. The hospital turned 50 years old on January 30, 2022.
Hospital Winds Down 50th Anniversary Year
December 27, 2022: As the fiftieth year of the Love County Health Center in Marietta wound down this week, coworkers expressed pride and admiration for what the people of Love County have accomplished with their medical facility.
"It has been a privilege and an honor to be here for the 50th anniversary," said hospital administrator Scott Callender. "We want to keep it going and take great care of our patients."
Since opening with a 25-bed hospital in 1972, the county's services have grown to include a clinic, therapy building, expanded emergency room, two ambulance stations, and a health campus consisting of a 10-acre park, hard-surface walking trail, growers market, food pantry, and social services building.
Starting with 25 staff members in 1972, employment rose to almost 150 workers in 2022. About fifty of them are affiliated with a robust EMS in Marietta and Thackerville, the latter of which includes EMTs, paramedics, firefighters, and casino first aid attendants for WinStar Casino.
Around the hospital, staff members offered their thoughts:
See Our 50th Anniversary Publication!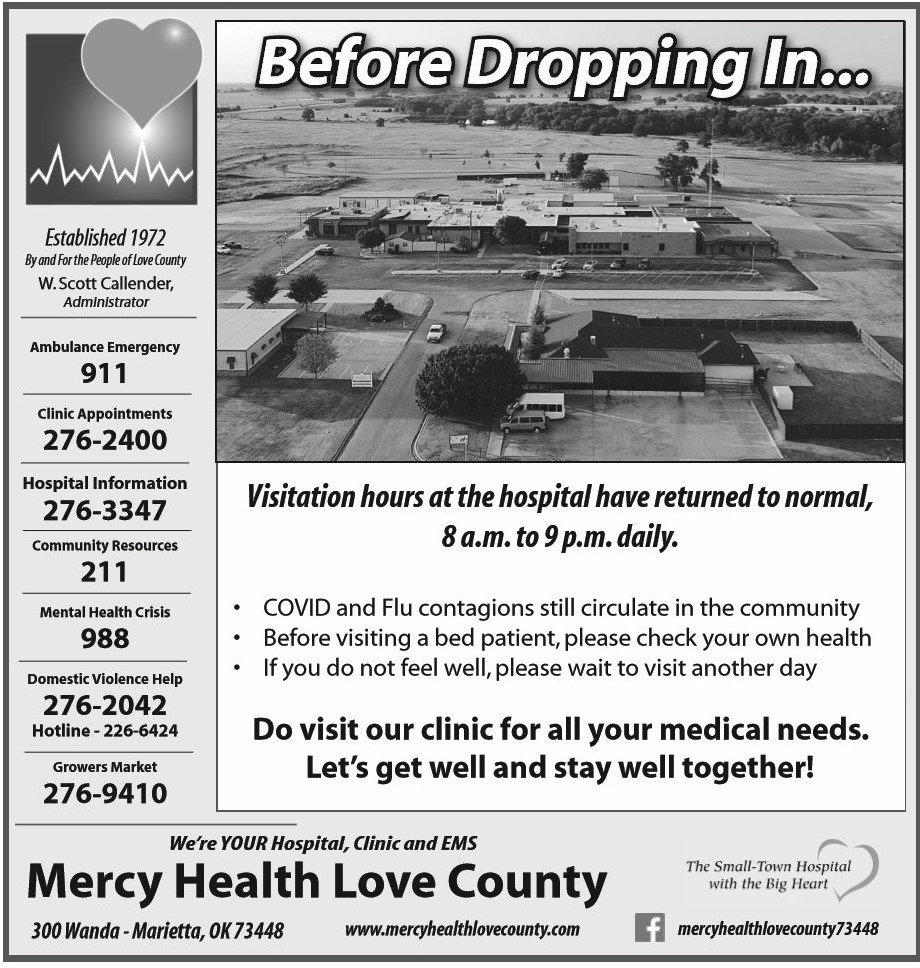 ***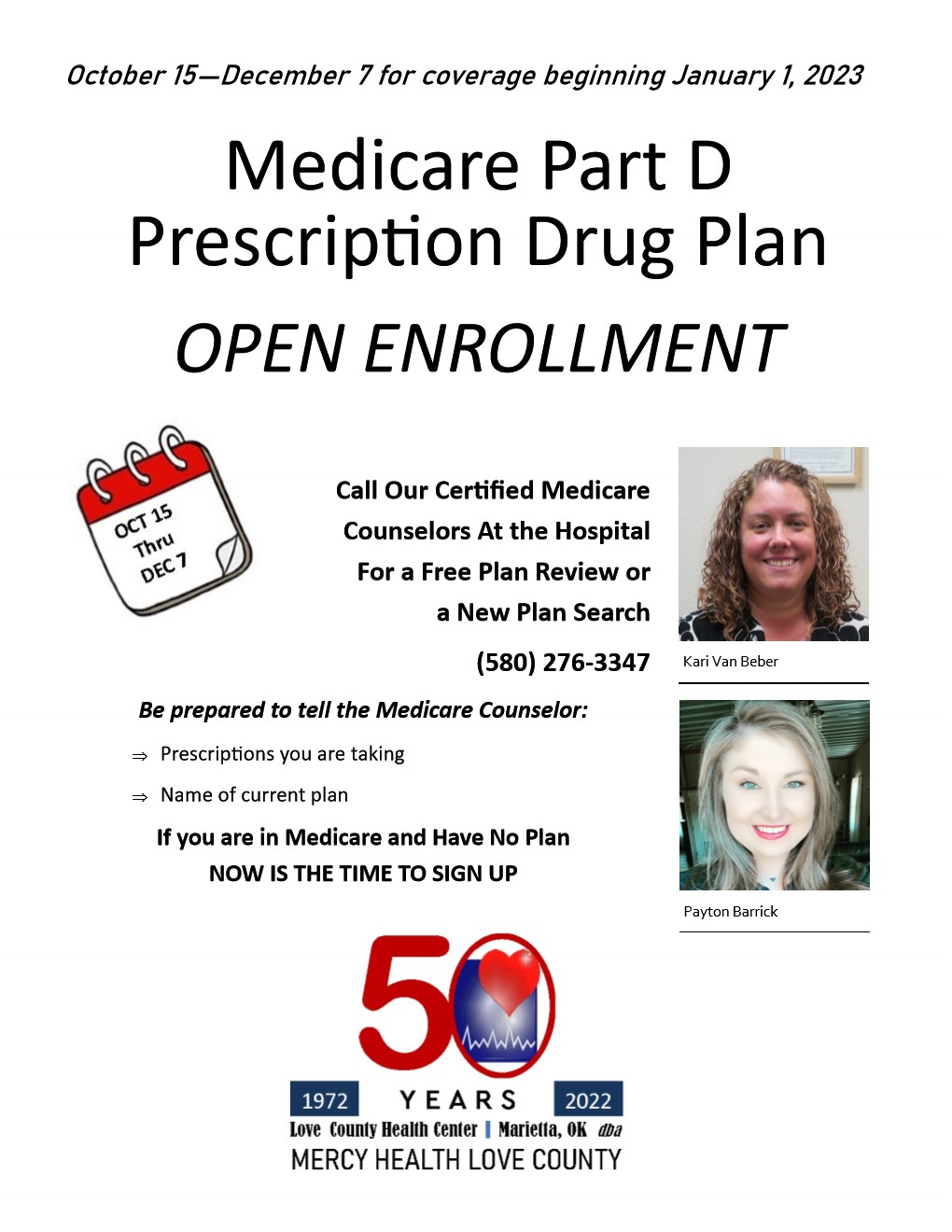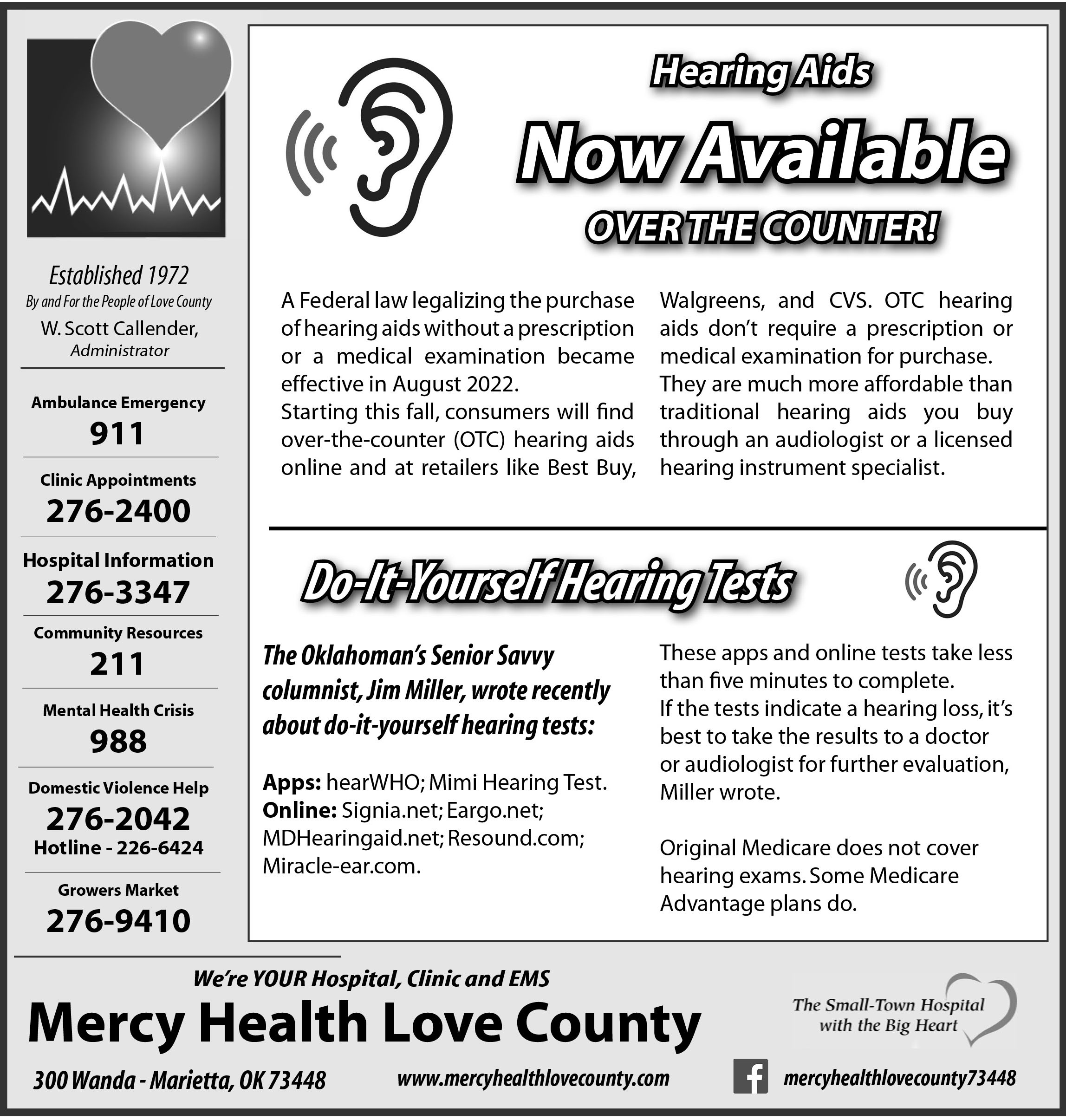 ***
Marneta Dorsey, X-Ray Technician (l) and Marie Ross, RN, Director of Nursing, greeted visitors at the hospital table for the Love County Senior Health Fair on October 1, 2022. Below are some of the information flyers fairgoers could pick up.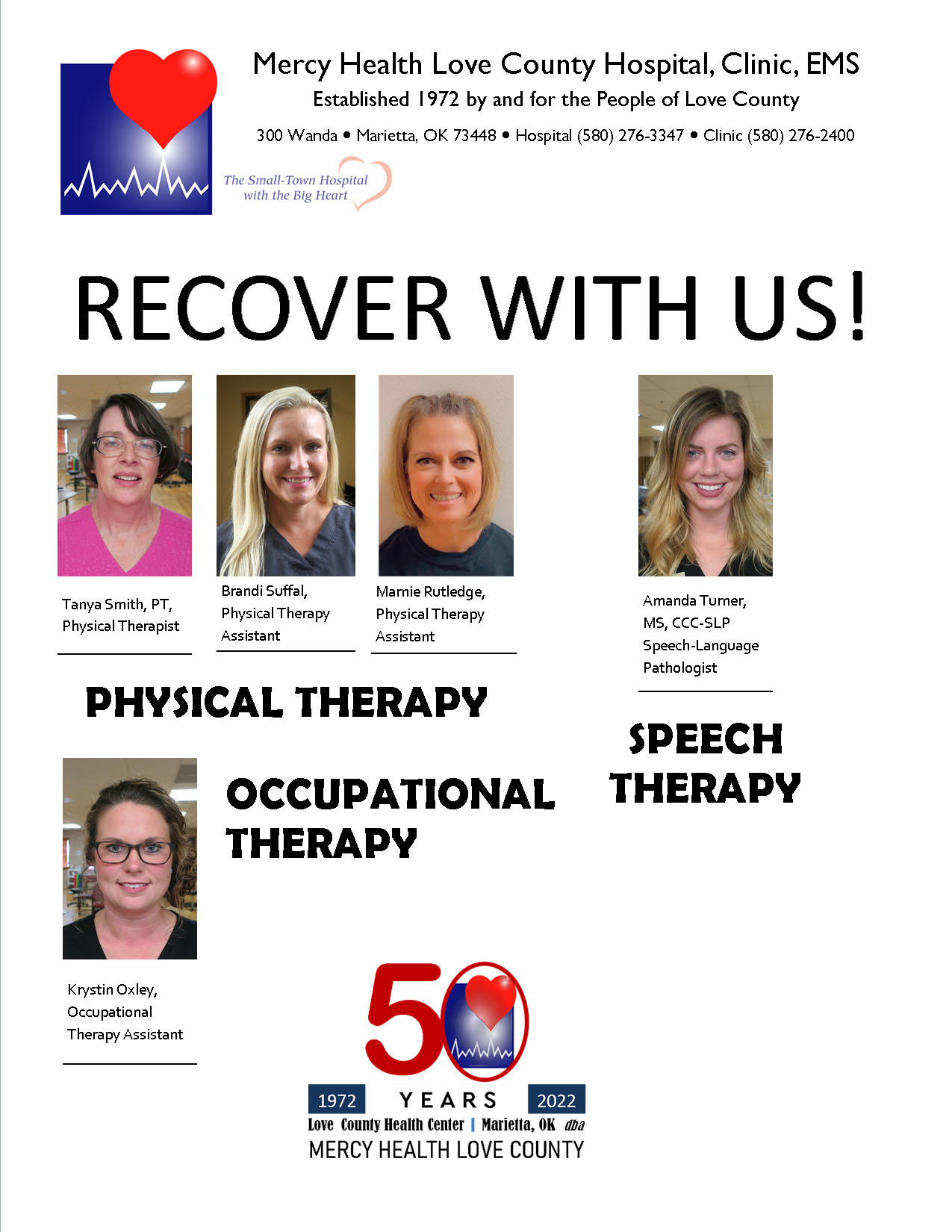 ***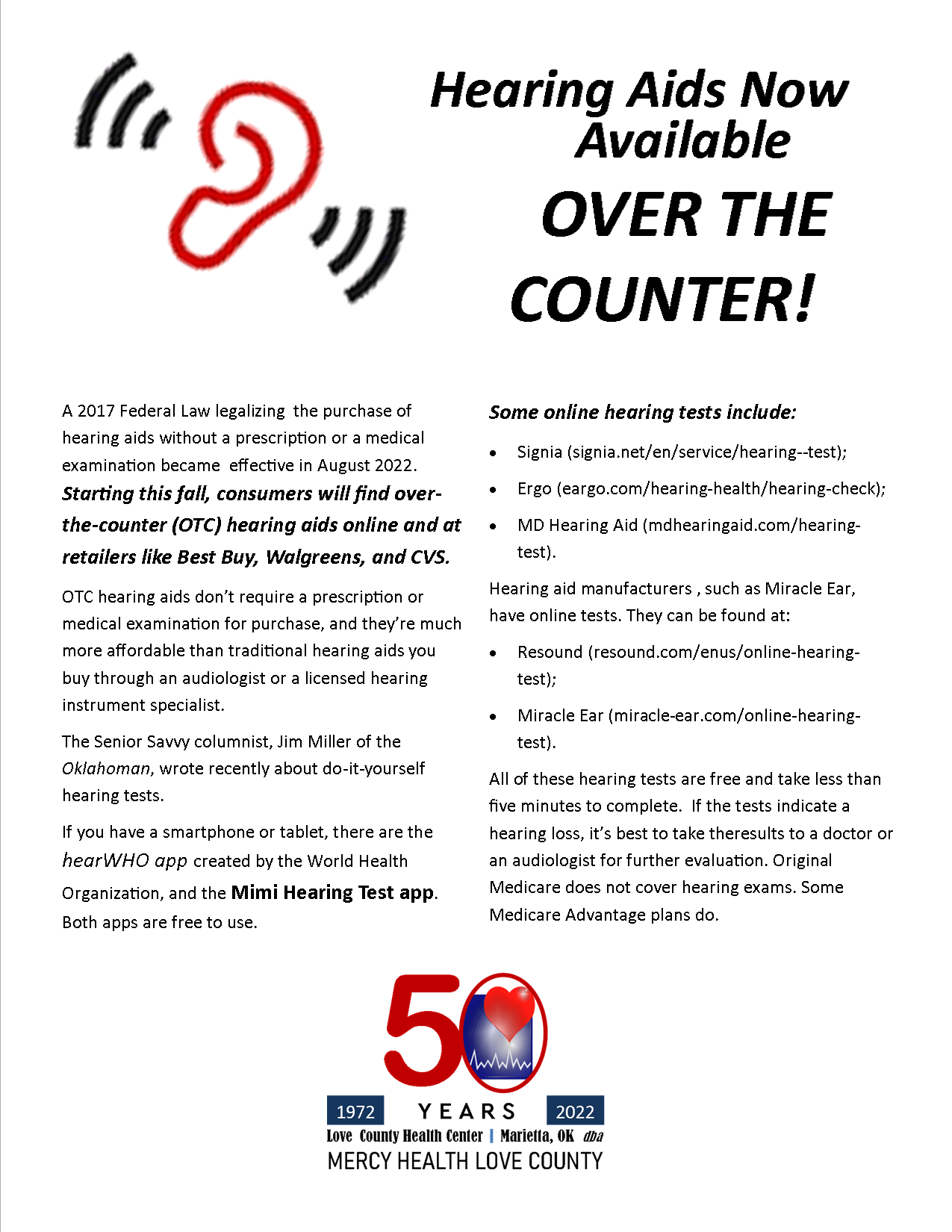 ***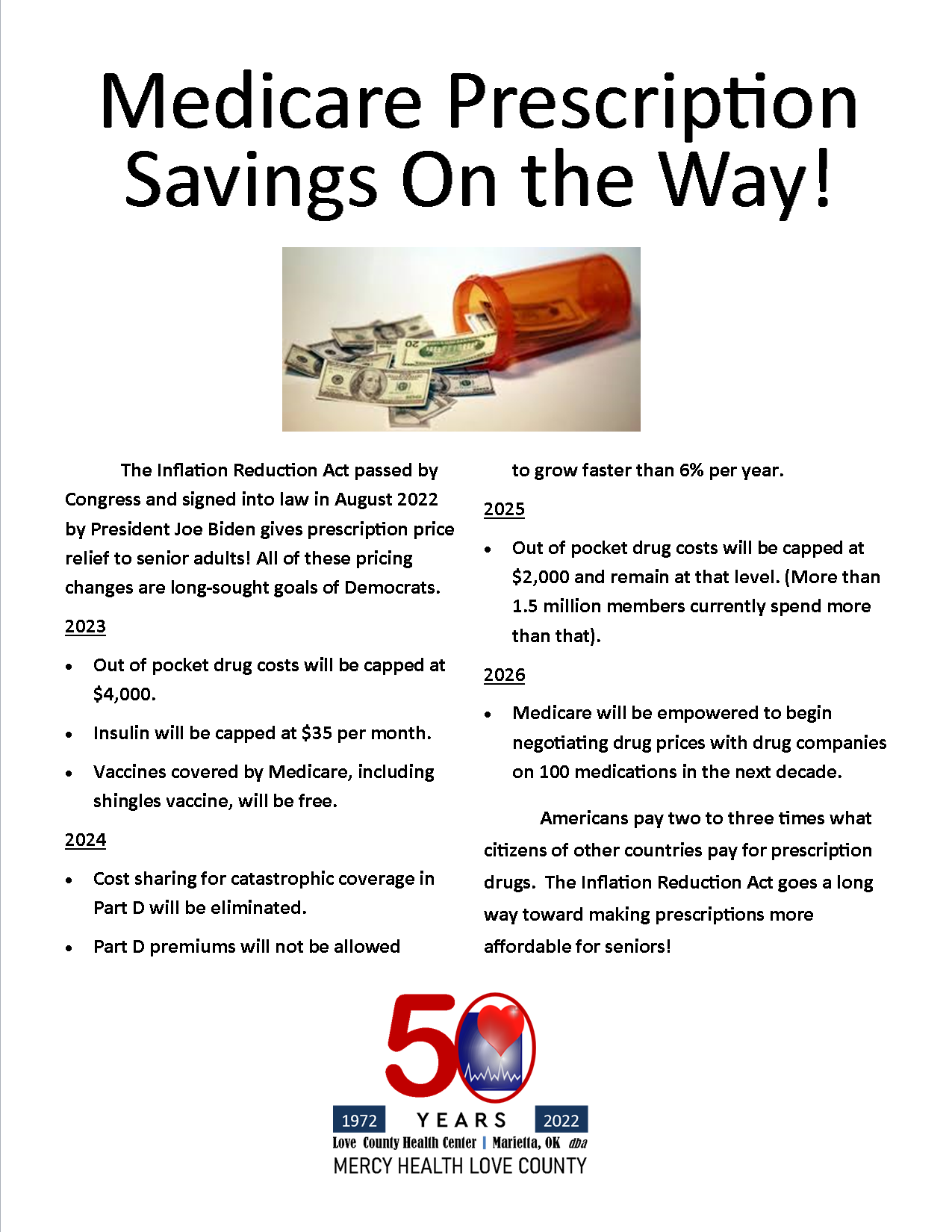 ***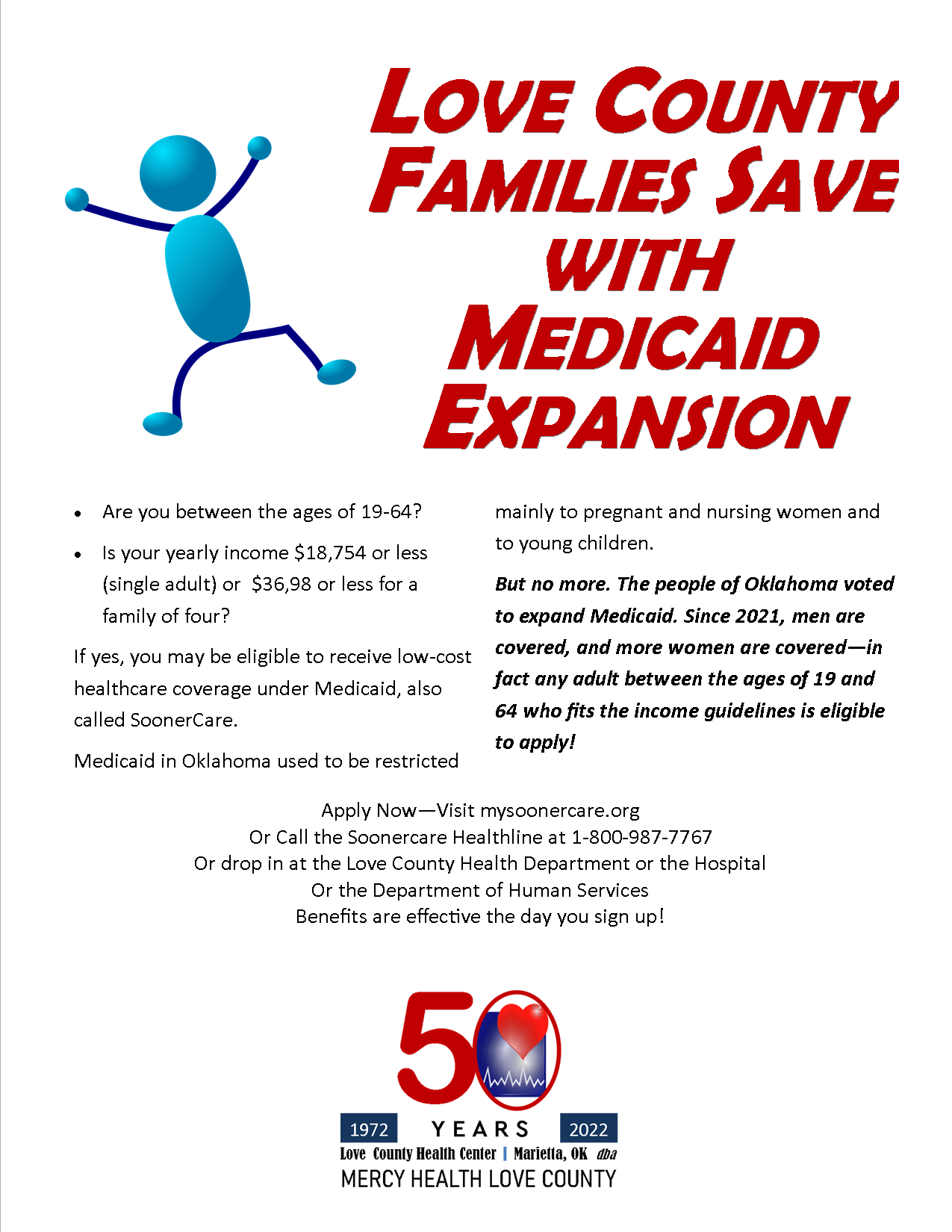 ***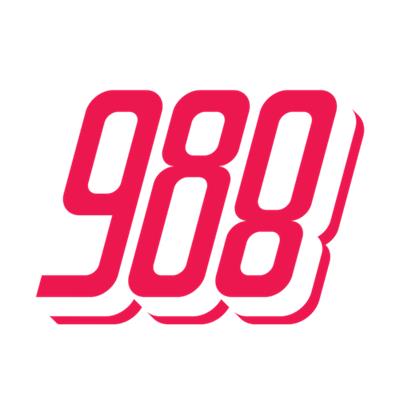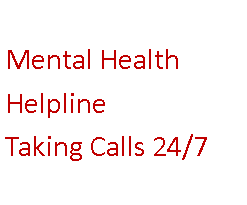 988 is the three-digit phone number to call in a mental health crisis, whether that is thoughts of suicide, substance abuse issues, or other mental health problems, like depression or anxiety.
This Oklahoma helpline is staffed by mental health professionals to answer calls around the clock. Click here for more
Inflation Reduction Act Brings
Down Medicare Prescription Costs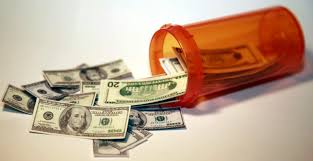 Out of pocket spending on Part D prescription drugs capped at $2,000 per year
Vaccines, including shingles vaccine, free
Insulin capped at $35 per month
Cost sharing for catastrophic coverage in Part D eliminated
Negotiating drug prices by Medicare now allowed!
All of the above are features of the Inflation Reduction Act, approved by Congress and signed into law in 2022 by President Joe Biden. The Act will dramatically lower prescription drug costs for people on Medicare. All of these pricing changes are long-sought goals of Democrats. See the rollout schedule by clicking here.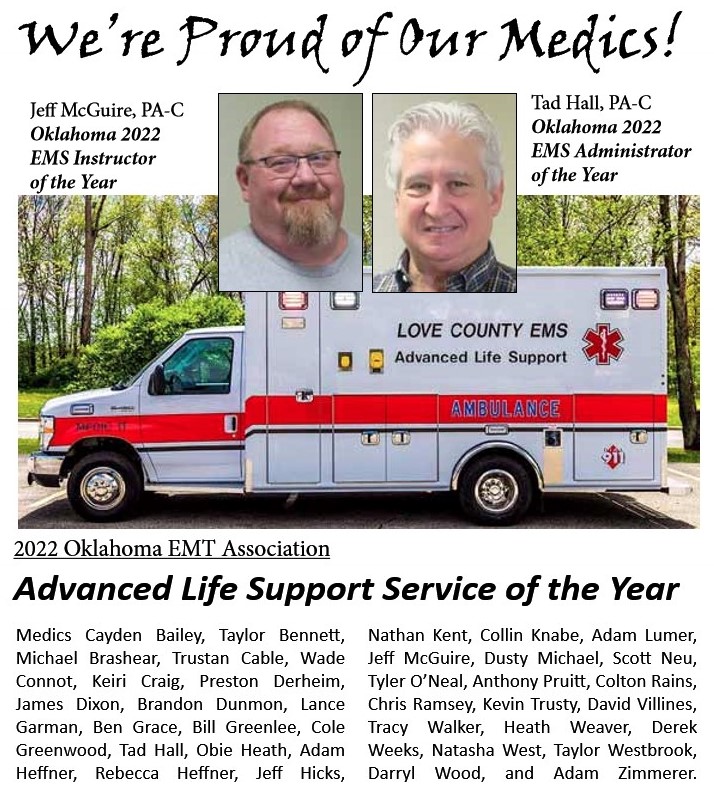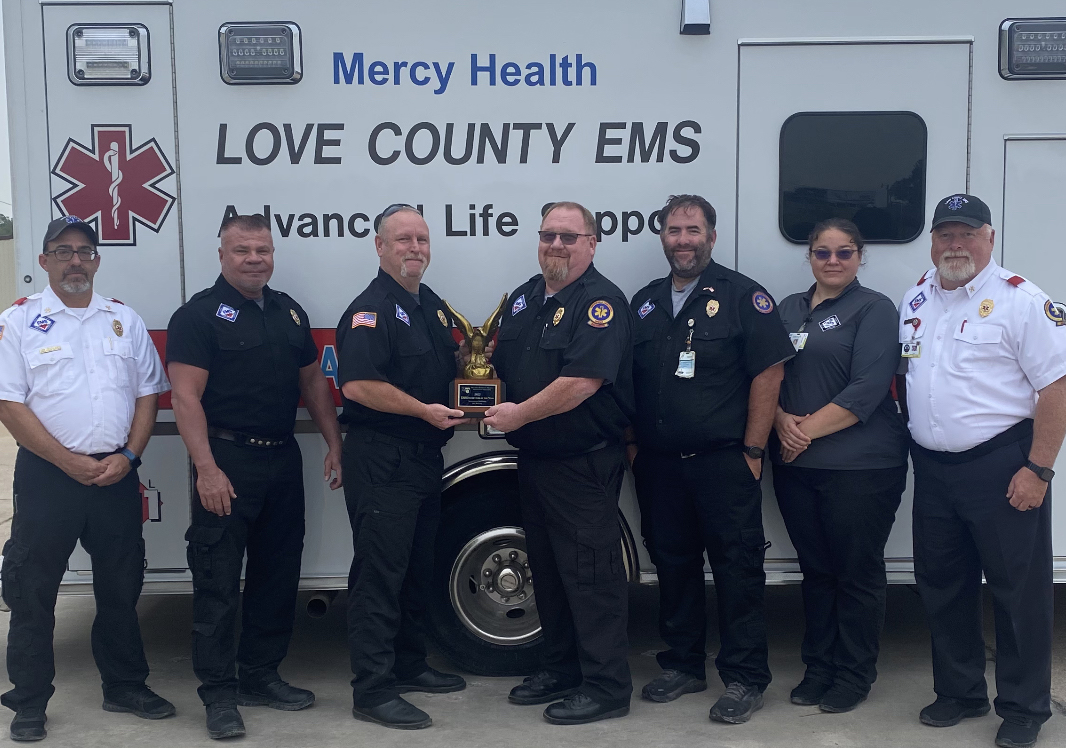 Emergency Services Instructor of Year: Jeff McGuire, PA-C,
fourth fro right, shows his award to crewmembers at Mercy Health-
Love County EMS, (left), Paramedics Obie Heath, Chris Ramsey,
Bill Greenlee, Jeff Hicks, Natasha West, and Tracy Walker.
McGuire also is lead instructor in the EMT Training Program at
Southern Tech in Ardmore.
Veteran Medic Wins Statewide Honor for Teaching
When Jeff McGuire joined the Empire Volunteer Fire Department near Duncan as a young man, the door opened to training as an emergency medical technician. McGuire like it. More schooling followed until he gained paramedic licensure, then he made a decades-long career as an ambulance paramedic.
A high point has been involvement in three cardiac arrest saves in one month. That is bringing back to life patients whose hearts have stopped. "I like helping people and have made a difference for quite a few," he said.
Currently, McGuire is lead paramedic on an ambulance crew at Station 1, Marietta, of Mercy Health-Love County EMS.
For the past three years, he also has been lead instructor in the EMT Training Program at Southern Tech in Ardmore. In July, McGuire was singled out as Oklahoma Emergency Medical Services Instructor of the Year by his peers in the profession, the Oklahoma EMT Association. (Click here to continue)
Clinic Director Loves Serving Love County
Misti Clough Kirk, a true daughter of Love County, readily embraces the legacy of medical care now under her guidance. She recently attained her first anniversary as Director of Mercy Health Love County Clinic. Click here for more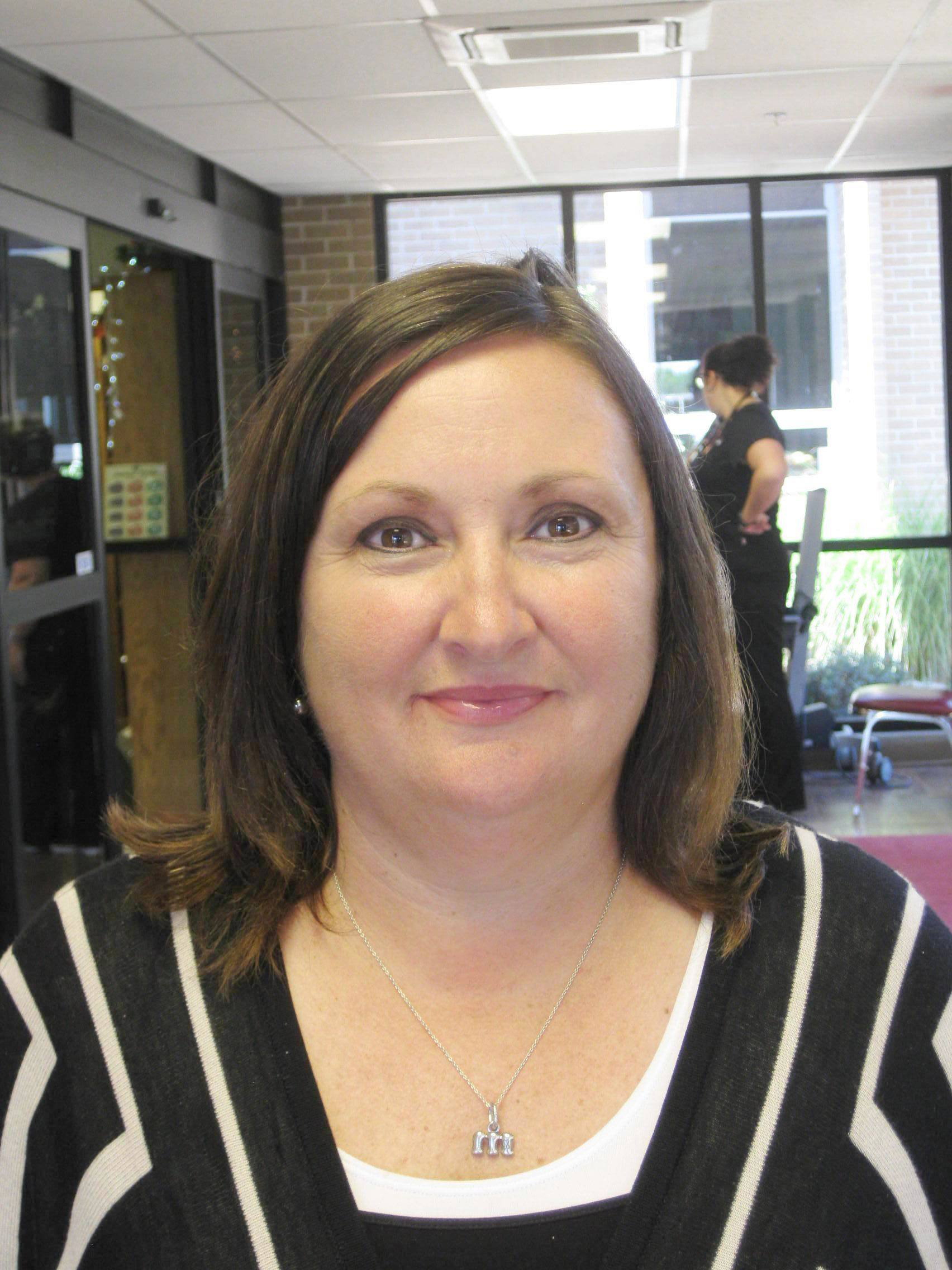 Hospital Manager Grateful for Her Mentor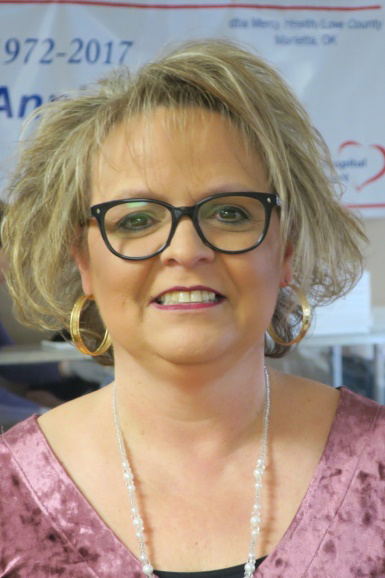 Mercy Health Love County Hospital and its people are near
and dear to Angela "Angie" Lang. She recently attained
her first anniversary as Manager of Health Information
Management (HIM), or medical records.
But she cannot begin to talk about herself without first
remembering her predecessor, Linda Dixon. (Continued)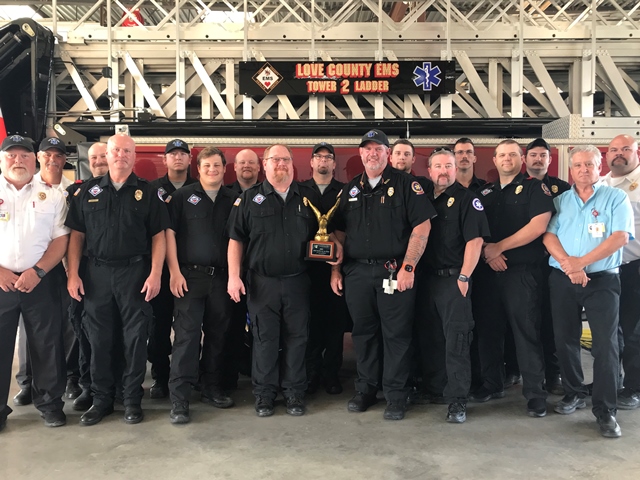 EMS Taking Vaccine to Homebound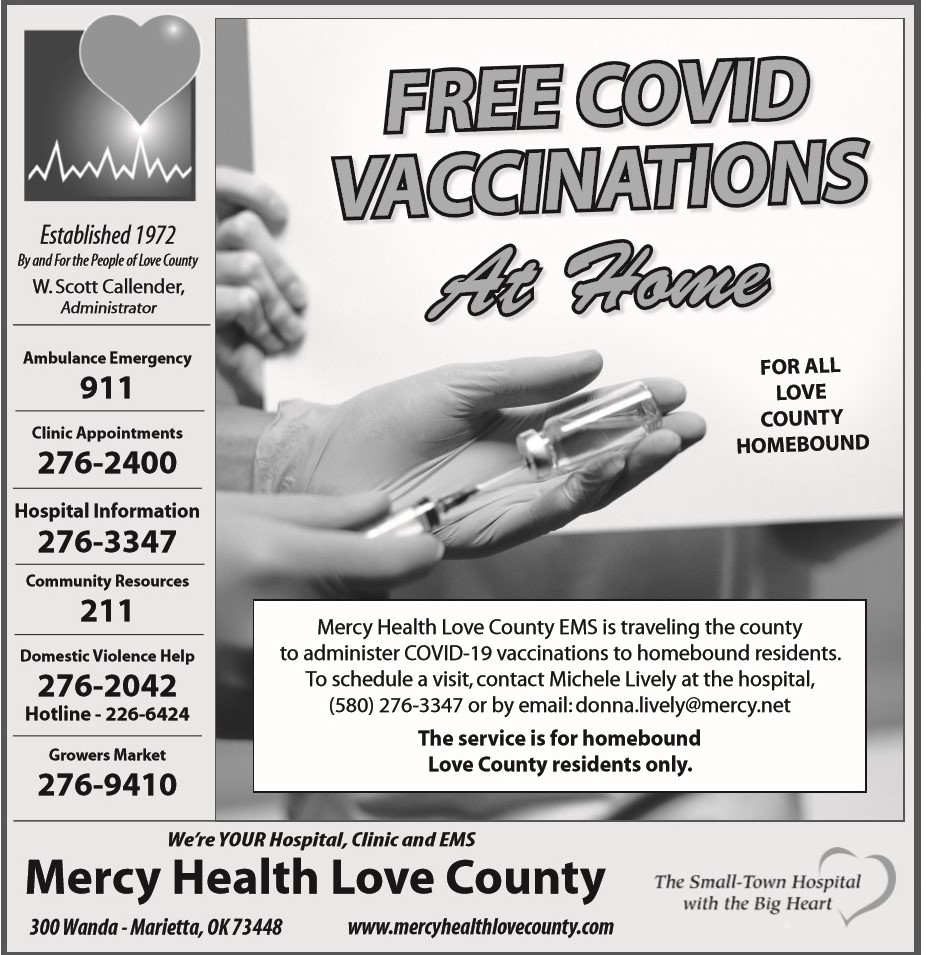 Dr. Witten, 54, Fought Hard for Life
Dr. Joe A. Witten, age 54, a family physician at Mercy Health Love County Clinic, passed away on Thursday, March 31, 2022, in Oklahoma City. He was born September 23, 1967, in Midwest City, OK. Services are pending with Bill Merritt Funeral Service in Bethany, OK. (Continued)

Rev. Lawrence Anderson was among patients and community members driving through the 50th anniversary celebration on January 28, 2022. A hamburger/hot dog lunch and a gift bag of medical and practical gifts were given out by hospital staff, including Angie Lang, Manager of Health Information Services, W. Scott Callender, Administrator; and Kristi Kirk, Clinic Director. (Photo by Nic McMillin)



Sam Barrick, Love County Farm Bureau Agent, assisted by Josh Martin and Nic McMillin cooked the burgers and hotdogs for the anniversary party on January 28, 2022. Wrapping the entrees were Respiratory Director Michele Lively, Nursing Department Director Marie Ross, and Executive Administrator Payton Barrick. More than 300 residents drove through to celebrate with hospital coworkers.
ITS A 50TH ANNIVERSARY PARTY!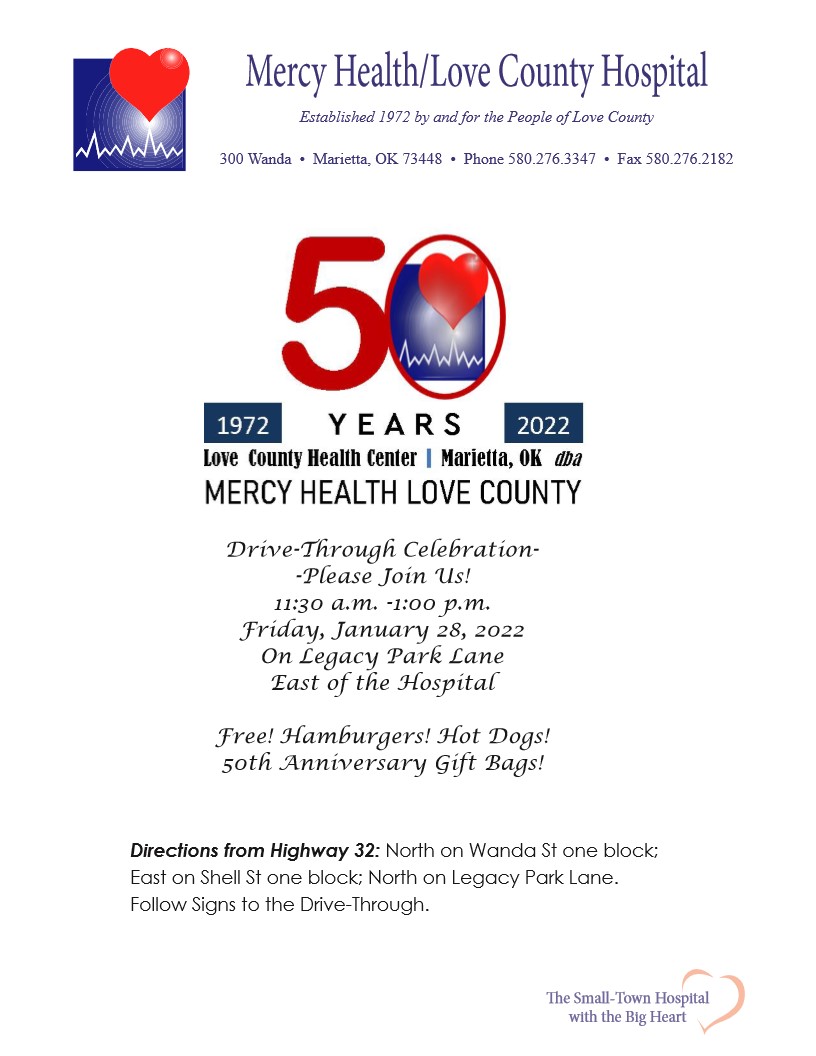 Brannan, Wilkins, McGehee, Shellenberger -Their Good Deeds Live On
Early endowments continue "keeping the hospital open and as good as it can be." Read More
COVID Tests and Vaccine Weekdays at Health Dept.
Hospital Holds Drive in National Blood Donor Week

Nikki Barker, a family nurse practitioner in the clinic, graduated
on Saturday, December 18, 2021, with a Doctor of Nursing
Practice degree from Chamberlain University.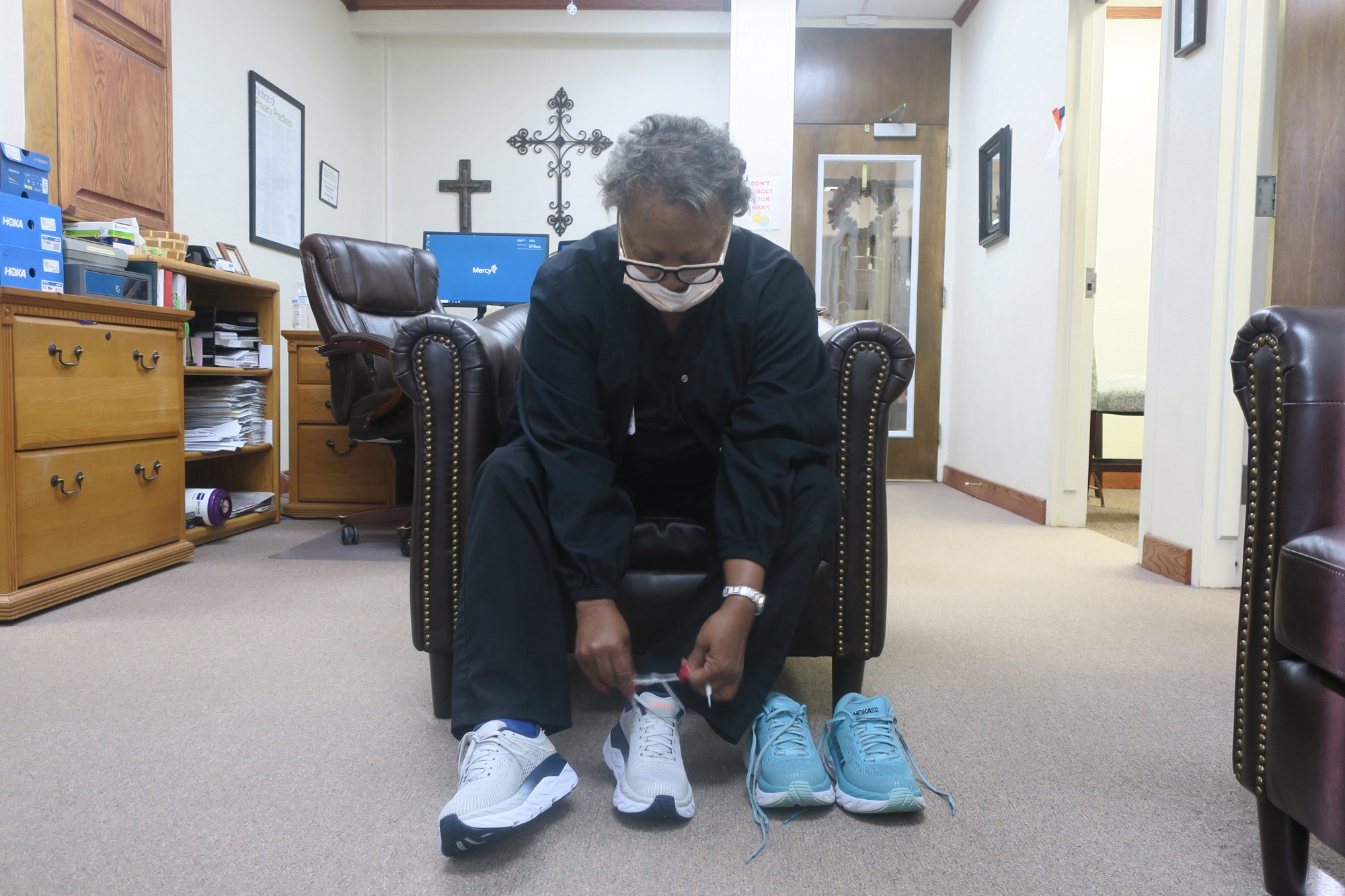 Custom-Fit Shoes: Marneta Dorsey, radiology technician,
tries on her new pair of custom-fit work shoes. They were a gift
from an Ardmore-area foundation that wanted to reward
area medical workers for their dedication during the COVID-19
pandemic. In Marietta, the hospital and Health Department
were recipients. A total of 1,400 pairs of shoes were distributed
in the four-county area.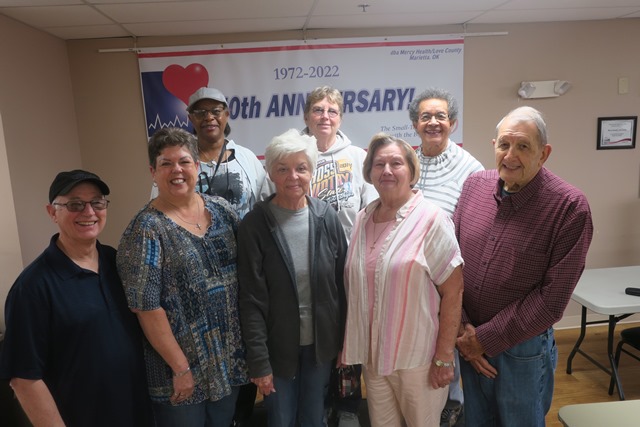 The Love County Health Center Auxiliary organized on November 22, 1971, to be ready for the hospital's opening day on January 30, 1972. Current members marking the anniversary were (front) Roy Jones, Mary Jones, Joanne Coble, Paulette Manning, president, and Ron Jacobs. (back) Naomi Lornes, Bonnie Alexander, and Lula Finch. Not pictured are Sharon Allison, Shirley Clark, Wilma Easley, Carolyn Lucas, and Teresa Travis.The Auxiliary provides hands-on volunteer work on site and raises money to support hospital efforts.
(Marietta, OK, November 2, 2021) Dr. Joe Witten, D.O., is resuming his career at Mercy Health/Love County Hospital and Clinic on Monday, November 8, following a lengthy illness and convalescence. The 53-year-old doctor says he is fortunate to be alive. He credits his coworkers with nursing him back to health during a five-month stay in the Marietta Hospital.
The feeling runs so deep, he refers to coworkers now as "my family," and in a special bond akin to his wife Ann and son Zach, age 11. "They all pulled me along," he said of their concern and support in recovering from an illness that began in December 2020.
Witten was admitted as a hospice patient in February after specialist doctors in Oklahoma City did not believe he could survive needed heart surgery following a massive infection and septic shock. "They saved my life," Witten said about the Mercy Health/Love County nurses and rehabilitation therapists, as well as a clinic colleague, Dr. Terry Jones, who oversaw Witten's care. "Dr. Jones was superb," Witten said.
"When I came here on hospice, Marie (Ross, director of nursing) told me, 'You're not going to die,'" Witten said. Nurse Ross added her own take on things: "We are like a dog with a bone. We are not going to give a patient up without a fight."
Weeks later, Witten successfully underwent heart valve replacement surgery at OU Health in Oklahoma City. He returned to skilled nursing care at Mercy Health/Love County, fragile, weak, and 75 pounds lighter from the ordeal. He spent many hours in physical therapy and occupational therapy, from learning how to sit up to how to dress himself and walk.
"I would get mad sometimes because the therapists would push me. But after I grew stronger from working out, I realized I could push myself to do more. I did not think I would ever walk but I will never sell myself short again. I have come out of this with a much stronger belief in myself," Witten said, adding he has a heightened sense of empathy for patients, especially those with chronic or multiple medical conditions.
After being discharged from the hospital in late June, Witten rehabilitated at home at Falconhead through the summer and fall. Cleared recently by his doctors to return to work, Witten said his surgeon told him, "You are a miracle."
He expressed his family's gratitude "for all the love, prayers, and help our friends, neighbors, and community gave to us during that difficult time. They will hold a special place in our hearts forever."
This week, Witten was in the clinic setting up his office and eagerly awaiting his first official day back. "I am excited about seeing patients, especially patients I have cared for in the past." The doctor joined the hospital and clinic in 2016.
"It means a lot to have Dr. Witten back," said clinic director Misti Kirk. "His patients loved him when he was here." Witten's return brings to six the number of primary care providers. He is rejoining medical doctors, Stephen Hutchins, Terry Jones, and Margaret Western; and nurse practitioners Patricia Owens and Nikki Barker.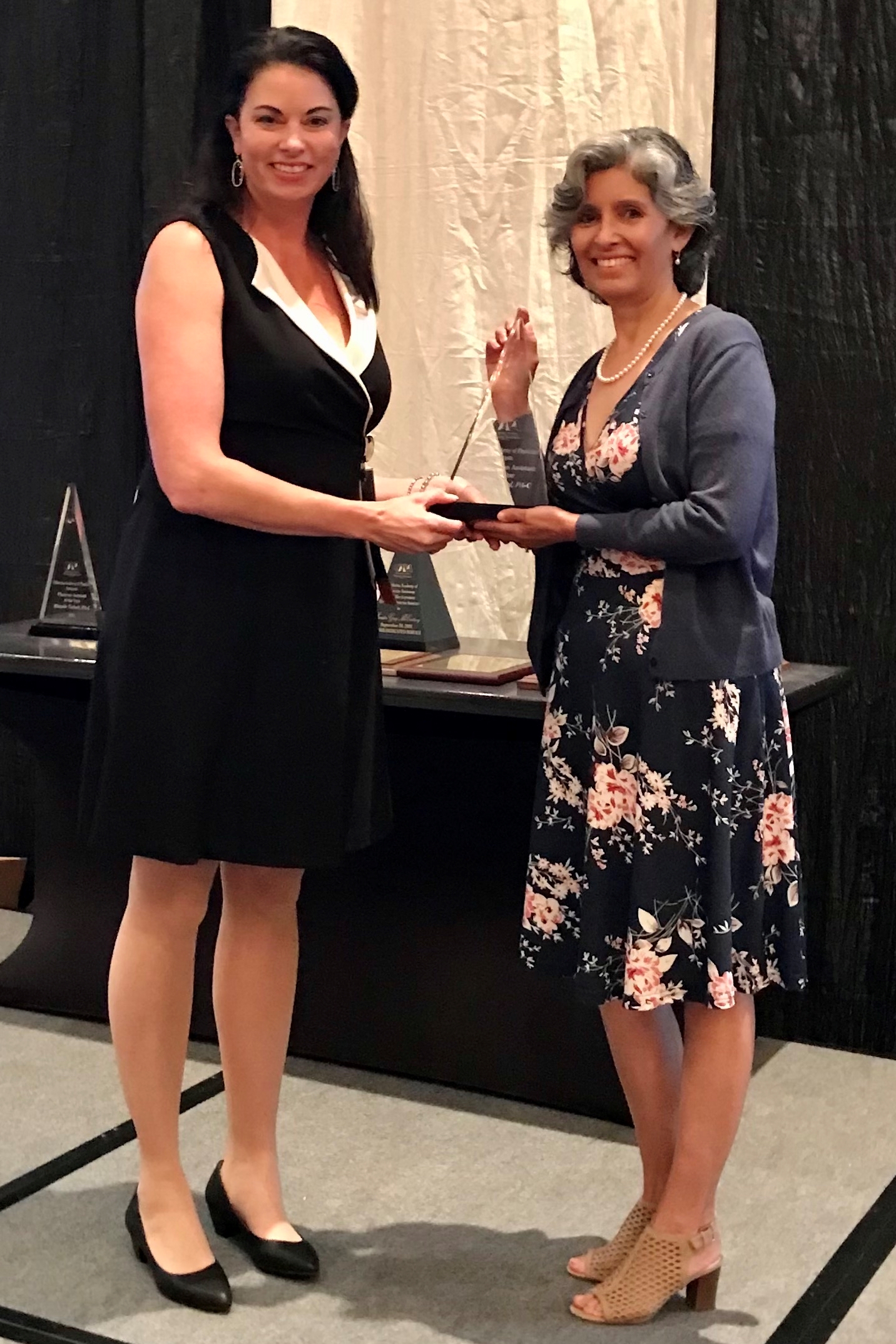 Maria Maynard, PA-C (right), a Mercy Health/Love County
physician assistant, accepts the Rural PA of the Year Award
from Natasha Simonson, PA-C, Board member of
the Oklahoma Academy of Physician Assistants
on September 30, 2021, in Tulsa, OK.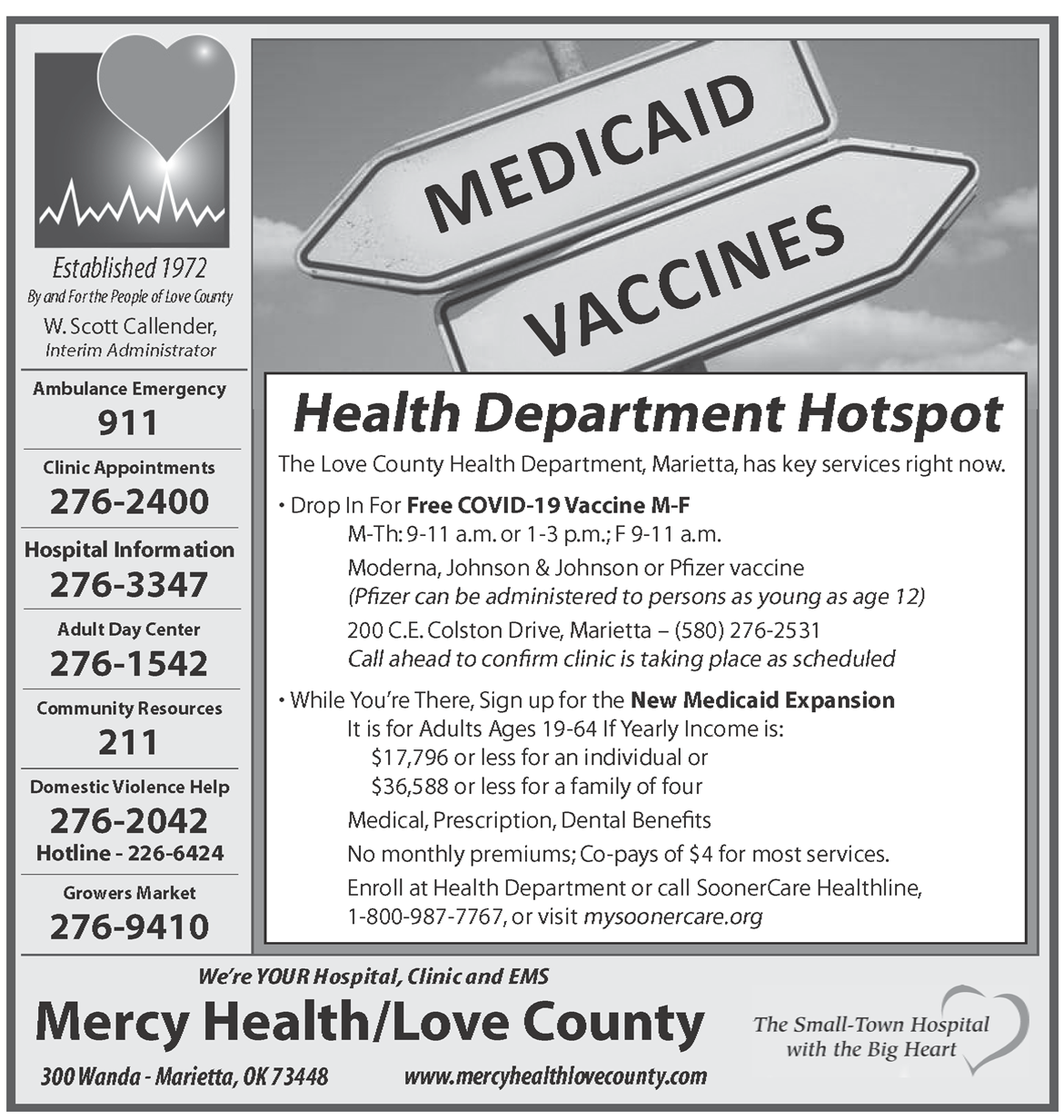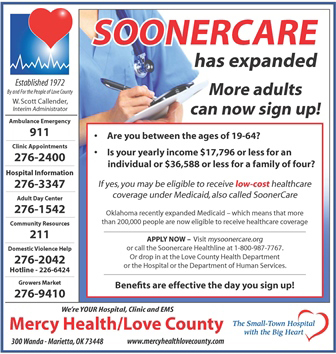 Marietta Monitor Editor Publishes Richard Barker Tribute
"Only in Love County" Column by Willis Choate
June 25, 2021
Reprinted with Permission
To say Richard Barker has been a good hospital administrator is a huge understatement. Under his innovative leadership the Love County Health Center, as it was originally named, has grown and prospered.
The range of services provided today by the hospital and clinic has far exceeded what the founders could have imagined.
One of the intended benefits was to provide medical care for county residents closer to home. Before it opened the alternatives were either Ardmore or Gainesville.
Equally important was shortening the time it took to get a heart attack or accident victim emergency treatment when time was critically important. County people needing immediate treatment were dying in the extra time it took to get them to an emergency room out of county.
There was also a problem with ambulance service. For years it was provided by the owner of the funeral home. When that was no longer feasible, it was set up as a stand-alone serice which was difficult to keep financially afloat. Moving it to the hospital was the only answer and it has worked well.
Back to management - The Health Center got off to a rough start. Within months of its opening, it faced a serious financial challenge tied to an inept administrator. He came highly recommended, but it quickly became obvious he was in over his head.
After being open for more than four months, he had never filed a claim for Medicare or insurance reimbursement for services provided. With almost no income, the hospital ran out of operating money and couldn't pay suppliers or meet payroll. The locally owned bank found a way to help cover the shortfall until the billing problem could be resolved. No employee ever failed to get paid on time.
Once the intial cash flow problem was rectified, it was still difficult at times to stay financially sound. Better management and an affiliation with Memorial Hospital in Ardmore provided the stability needed to sustain the hospital's operation.
What we have today is a direct result of having Barker managing the hospital/clinic. He has provided the knowledge, creativity and tenacity to not only keep the hospital in operation, but growing to provide more and more services. Sure, it has taken a team to get the results we have seen, but a team without a leader lacks a sense of direction.
At a time when many rural health facilities are cutting services, or worse, closing, the Love County Health Center has provided an example of what is possible. There are a number of factors that have contributed to its success, but non more important than leadership like Richard Barker has provided. I hate to see him retire, but he has earned it.


Richard Barker, CEO/administrator; Connie Graham, business
office director; Connie Barker, clinic director.
Three senior members of the leadership team at
Mercy Health/Love County Hospital and Clinic retired
in June. It is hard to imagine the place without them.
The retirees are Richard Barker, the hospital's CEO/
administrator, 48 years of service; Connie Graham, the
hospital's business office director, 28 years of service;
and Connie Barker, the clinic's director, with 40 years
of medical office and hospital experience.
"Those three were the cream of the crop. We could have searched the nation and not found anyone better, not only for their ability, but for their 'people person' part. They truly cared for people," said Dr. Jack Testerman, chair of the hospital's Board of Control. "With them, it wasn't just 'here's your thermometer,' but 'we really want to know what is wrong; we will take care of you and we will help you with your insurance problems.' Their leadership was phenomenal."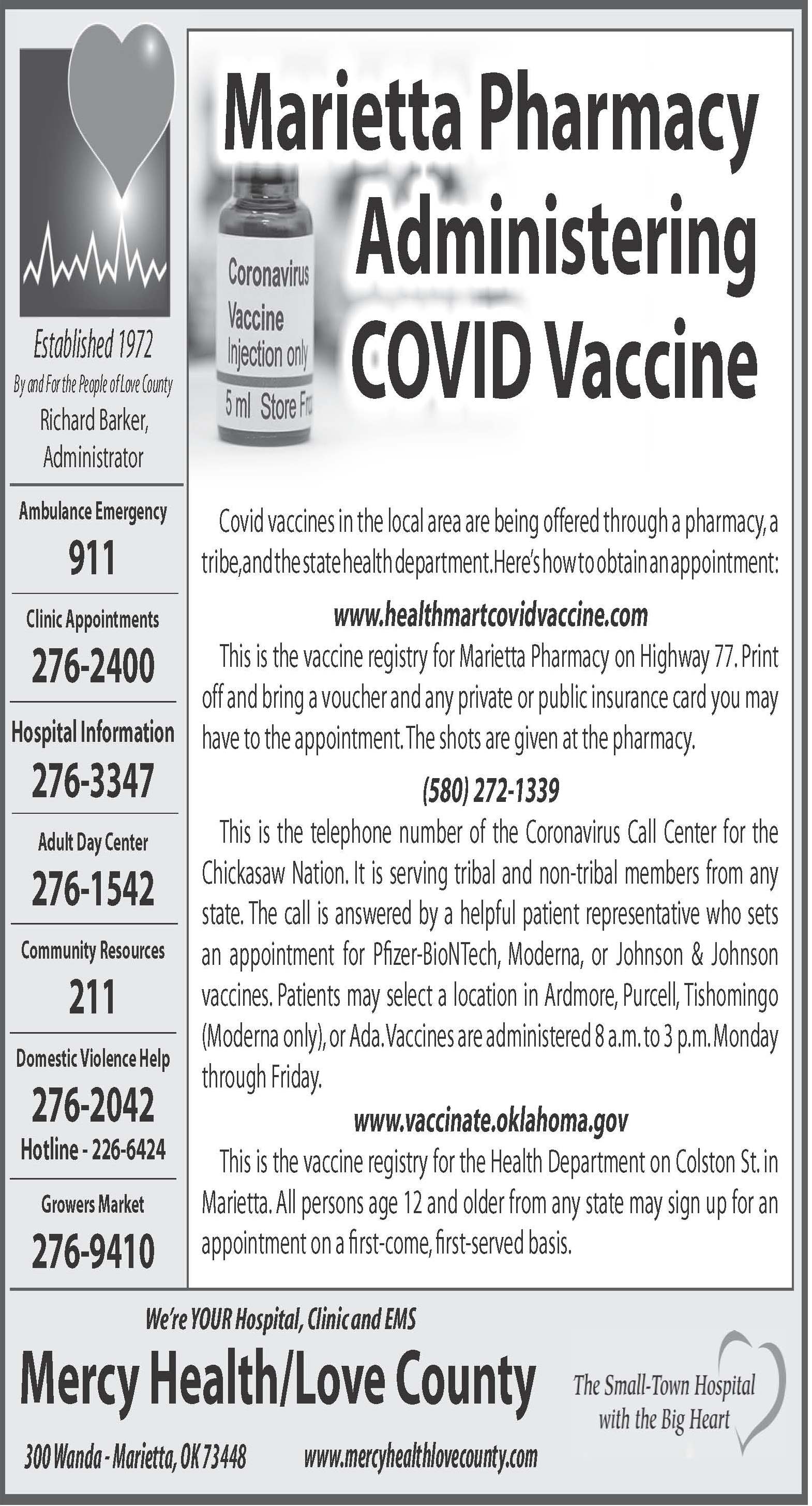 Marietta, OK March 29, 2021 --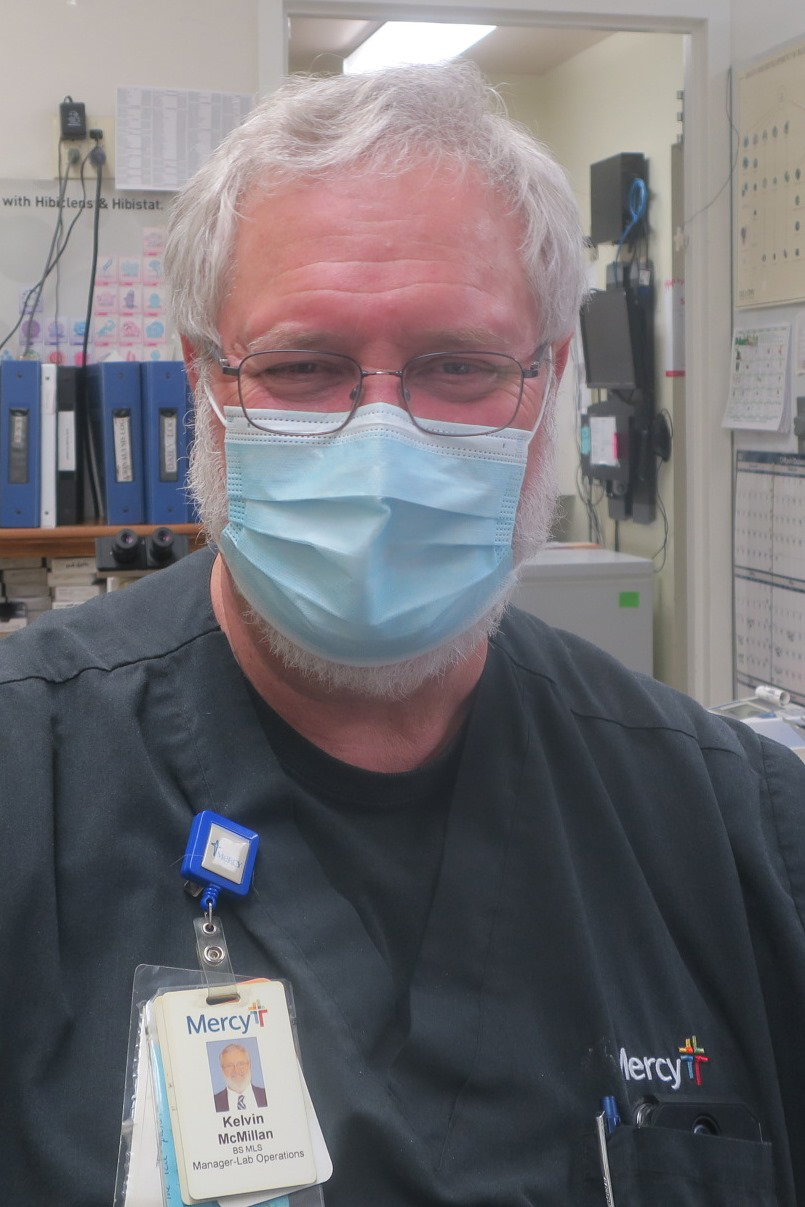 Proud of the Profession: Kelvin McMillan, Laboratory Services Director at Mercy Health/Love County Hospital and Clinic, experienced unprecedented laboratory events during the coronavirus pandemic.
Laboratory scientists have distinguished themselves during the COVID-19 pandemic. Researchers in the profession developed a vaccine in record time. Medical technologists performed laboratory testing at an unprecedented pace and volume to help patients get well.
In Marietta, specialists in Mercy Health/Love County's laboratory labored under intense strain during the peak period of hospitalizations for the 25-bed facility. They performed a record number of diagnostic and other lab tests.
"The second week of January, the lab had never been so busy," said director Kelvin McMillan. "We had the highest volume of tests ever performed here."
Love County experienced 1,000 cases of COVID-19 in the 90 days ending on January 31, 2021. Hundreds of patients sought care through the clinic, emergency room, and hospital, often needing multiple laboratory tests over many days of illness.
"Wing A was full of virus patients, and Wing B still had to be served. We had so many assessment tests for the virus needing to be performed, we had to bring in a second device. One lab technologist spent the day just at that station, McMillan said.
"It was the first time in my (42-year) career to go through a period like this. I was dog-tired at the end of each day, but our team in the lab got the work done. I am most proud that our small group – Gay Galano, Carla Brown, Christa Kirby, Sara Lawson, and Richard Acayan -- rose to the challenge and got results to the doctors in a timely way."
The six technologists have a combined 147 years of experience in the field. "Our laboratory has a good design. The testing stations are set up around a central counter. We're not running into each other, and we are trained to start long tests and then do short tests," McMillan said.
In a normal year, the laboratory would be abuzz with flu tests, but very few cases of "A" or "B" flu were recorded. In February, for example, clinicians ordered 104 flu tests, but only 11 turned out positive. "Either the flu vaccine was very effective this year, or the mask-wearing, hand-washing, and wiping of surfaces that people practiced to avoid COVID-19 worked even better for preventing flu," McMillan said.
Another way of saying that is that COVID-19 by its nature was more contagious than flu and occurred at a higher rate than flu despite the safety measures. "People also got sicker with COVID-19 and were more likely to die," McMillan said.
"My impression of the COVID-19 virus was that when it started, no one in the world was immune. There was zero herd immunity. For other types of viruses in recent years, such as swine flu, children caught it, but older people had antibodies from prior exposure sometime in the past. COVID-19 was absolutely new," McMillan said.
All of which makes the development of an effective vaccine for COVID-19 in just 12 months a point of extreme pride among laboratory professionals. "This was a moon shot," McMillan said of the two fastest vaccine trials in the history of science.
The companies behind the advance were Pfizer-BioNTech and Moderna. The ingenious technology behind the vaccines is known as synthetic mRNA or "modified RNA." These companies worked on the process for 40 years with no approved products.
Then, Moderna, whose name is a conjoinment of the terms "modified" and RNA, partnered with the National Institute of Health in the U.S. and received tens of millions of dollars to develop vaccines against viruses. In 2018, Pfizer signed a deal with BioNTech to develop mRNA for the flu. With the coronavirus outbreak throughout the world, the two companies redirected their flu research to developing the coronavirus spike protein.
One researcher described the vaccine as "the biological equivalent of swapping out a tire." The manufactured RNA fools our cells into making the coronavirus's crown-like "spike protein." Our immune system targets these fake proteins without disabling the mRNA. Later, if the virus reappears, our bodies recognize the spike protein again and attack it, reducing the risk of infection and blocking severe illness.
There will be plenty more virus- beaters developed through RNA technology in the future, McMillan predicted. Already researchers at Yale have patented a vaccine against malaria. Pfizer says it is planning to use it against seasonal flu. BioNTech is developing individualized therapies to teach the body to fight off advanced cancer. Synthetic mRNA therapies have been shown, in mouse trials, to slow and reverse the effects of multiple sclerosis.
"Every drug is examined for its ability to do something for viruses, and everyone has failed. Now the new technology for putting pieces of protein together to attack messenger RNA is the magic bullet. This is like landing on the moon," McMillan said.
On the way to herd immunity for the coronavirus, McMillan issued a caution to those not yet vaccinated. They are at risk from vaccinated persons. "People who have been vaccinated can still be infected by the coronavirus and spread the virus. They are just protected from getting sick from the exposure. Unvaccinated people are unprotected."
Under recently-issued guidelines from the CDC, mask wearing is still advised when in crowds or in confined areas. Vaccinated persons in the company of other vaccinated persons are safe to unmask.
Eligibility for COVID-19 Vaccine
Expands in April 2021 To Cover
Persons Age 16 and Older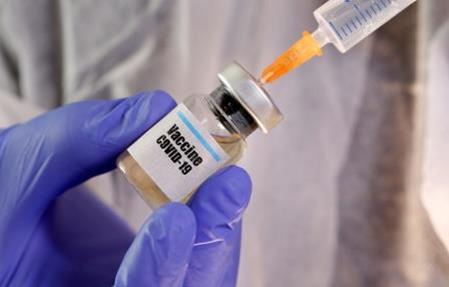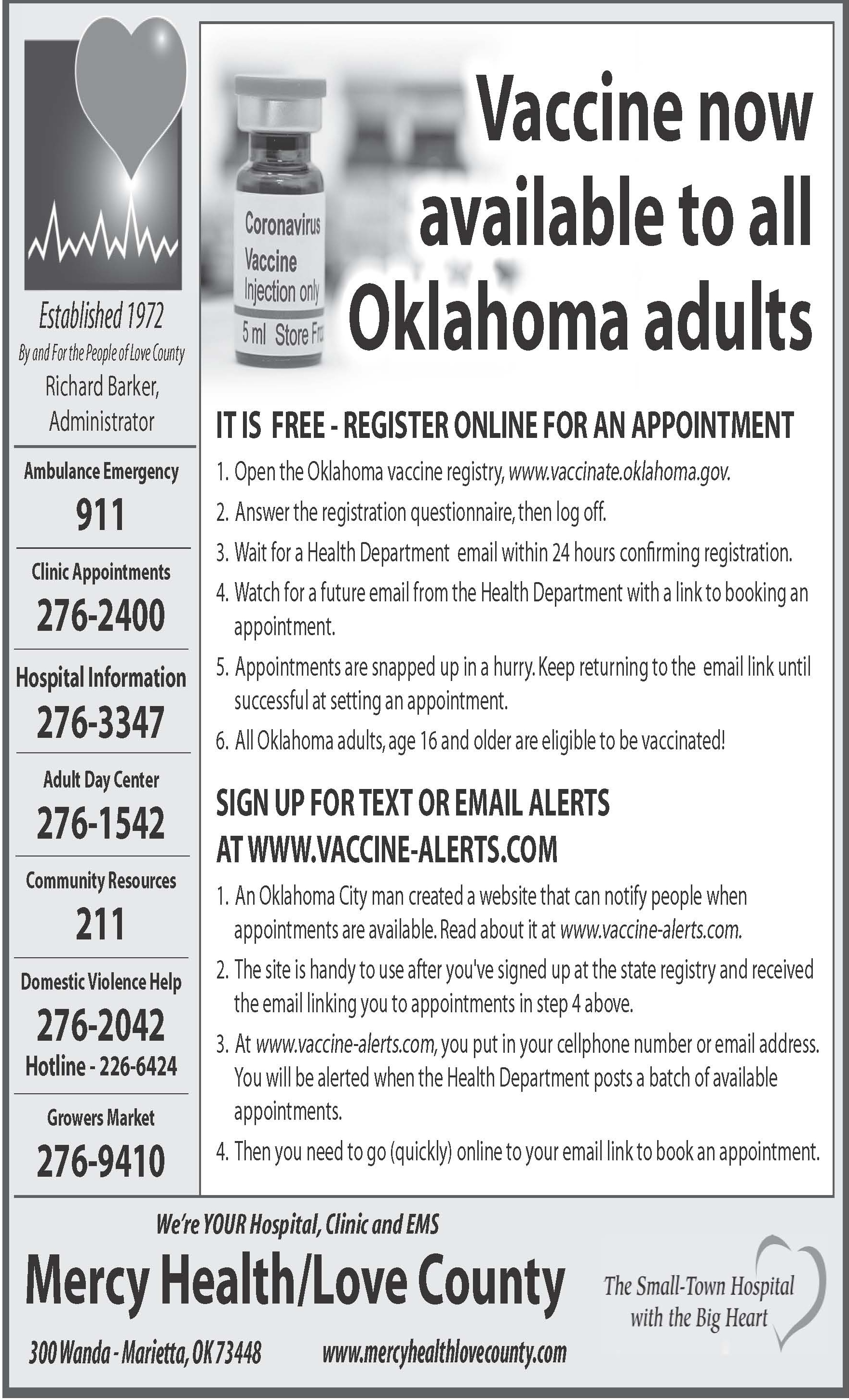 FREE COVID-19 TEST
The Love County Health Department provides free COVID-19 testing. Call ahead for an appointment at (580) 276-2531. The address is 200 C.E. Colston Dr., Marietta, OK.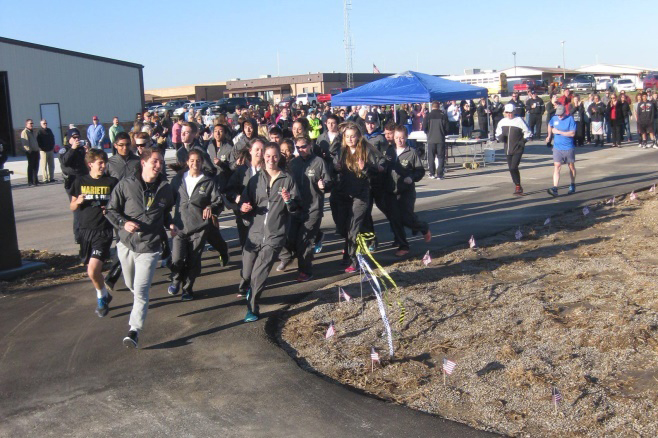 Honorary Lap Leaders: The state champion Marietta High School girls and boys cross country teams, led by All-State seniors Ethan Vinson and Abbie Winchester, round the flag-lined first turn. They are followed by senior marathoner Arthur Rickets and speed walker Rob Robertson on the ceremonial first lap around the Legacy Park Recreational Trail on March 21, 2016. (Photo by Don Sessions)
County Records 1,000 COVID Cases in 90 Days
(January 31, 2021) Post-holiday surges of COVID-19 took a terrific toll in Love County. Testing showed 1,000 persons became infected in the 90 days following the Halloween, Thanksgiving, Christmas, and New Year's celebrations, according to the Health Department.
While 342 Love County citizens had ever tested positive for COVID-19 up to November 2, 2020, the number of positives rose sharply to 1,342 by January 27, 2021, an increase of 1,000 infectious patients.
On that date, a total of 1,235 patients were presumed to have recovered from the disease (14 days had passed since the beginning of their symptoms) and eight residents had died. The county's first confirmed case of COVID-19 was reported on March 15, 2020.
January had the most new infections -- 436 cases -- of any month to date. A wing of Mercy Health/Love County Hospital was devoted to COVID care for patients too ill from the flu-like virus to be at home. Hundreds more visited the clinic and emergency room for diagnosis and treatment. Cases began to taper off by the end of the month.
The state epidemiologist stated on January 31 that the true case count is likely two-three times higher than what is reported through health departments.
Results from a large statewide sample of blood tests for antibodies showed more than one-quarter of the state's population of four million had mounted an immune response to COVID-19, while only 400,000 cases had been confirmed positive, said Dr. Jared Taylor.
Immunity through exposure and immunity through vaccine ultimately add up to "herd immunity," the point at which the pandemic illness ceases to spread.
In late December, Carter-Love Health Department began receiving Pfizer and Moderna vaccines for COVID-19 and administering them at no charge in two-dose increments at the convention center in Ardmore.
The priority group eligible for the shots currently are health care workers, first responders, and Oklahomans age 65 and older. They are scheduled online at the Health Department site, www.vaccinate.oklahoma.gov. Testing for COVID-19 is free at the Health Department and arranged by calling (580) 276-2531.

The Health Department currently has no
telephone enrollment available.


David Manning, RN, administers the Pfizer-BioNTech
vaccine for prevention of COVID-19 to
emergency room Physician Assistant Kari
Cochran on December 17, 2020.

After a significant uptick in local COVID-19 cases in the past two weeks, Mercy Health/Love County Hospital administrator Richard Barker pleaded with the public on Monday, Nov. 16, to take seriously the basic health measures known to slow the rate of infection.
"Wear a mask, be careful to keep your distance in any gathering, and wash your hands frequently," Barker said. "The coronavirus situation in Love County is getting very dangerous."
After the pandemic started in March, it took until September for Love County to record its 100th case. Then the infection rate grew by 100 new cases a month in September and October, reaching a total of 301 cases by November 3. Since then, the increase has been to 100 new cases every two weeks, reaching a total of 431 cases on November 16.
The county's experience mirrors the State of Oklahoma as a whole, where COVID-19 hospitalizations are up and intensive care beds are in short supply. On the verge of the flu season, Barker anticipates a strain on hospital resources. "We are doing everything humanly possible to meet the needs of our residents, but we need the community's support more than ever. COVID-19 is real and it's here. Please wear a mask and socially distance."

This Thanksgiving, Remember the 4W's
W ashington, George, U.S. general and first president, established Thanksgiving.
W ash your hands.
W atch your distance.
W ear a mask.
Please give thanks and follow health measures that can reduce the spread of COVID-19.
Mercy Health/Love County Hospital, Clinic and EMS, Marietta, OK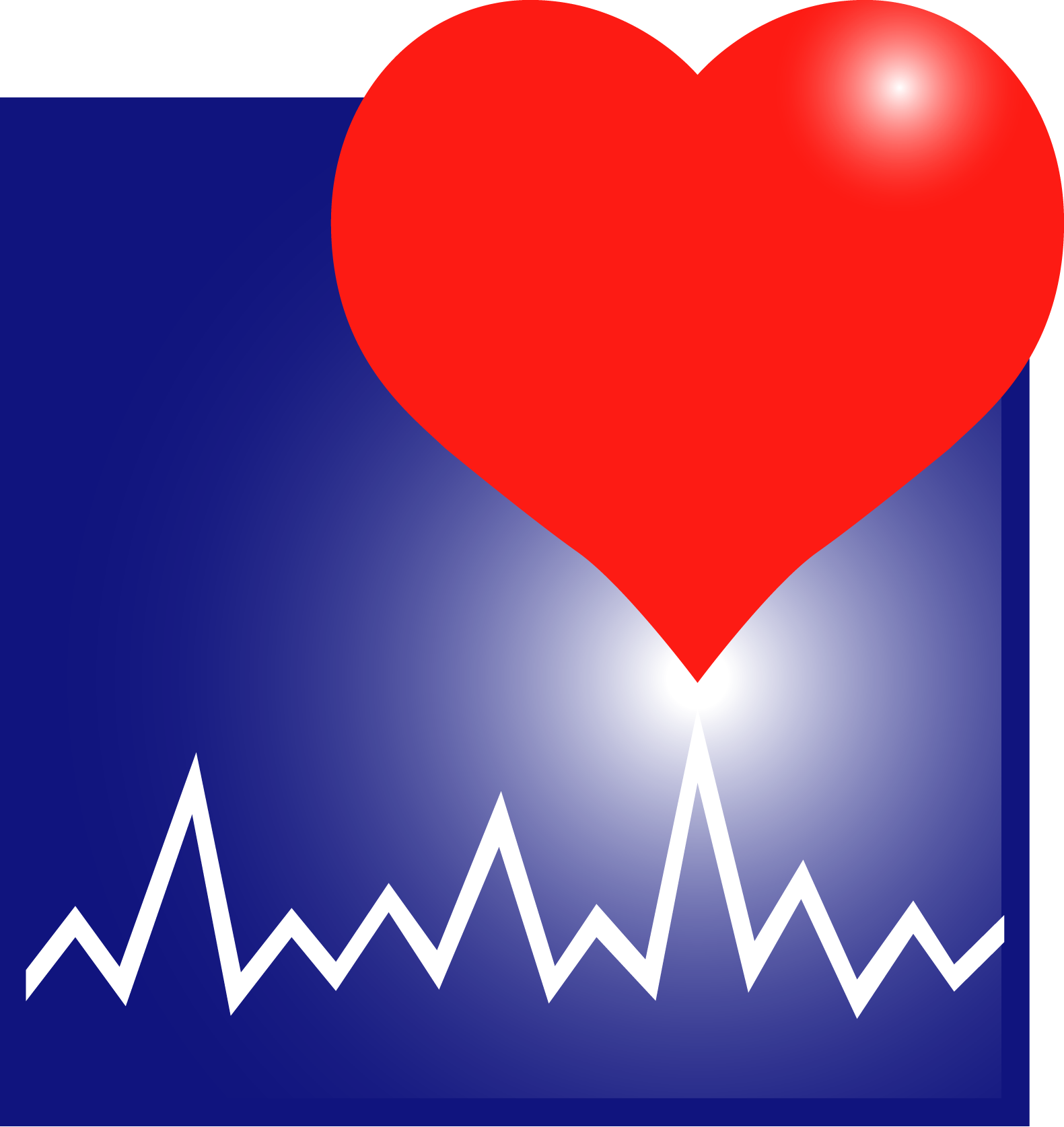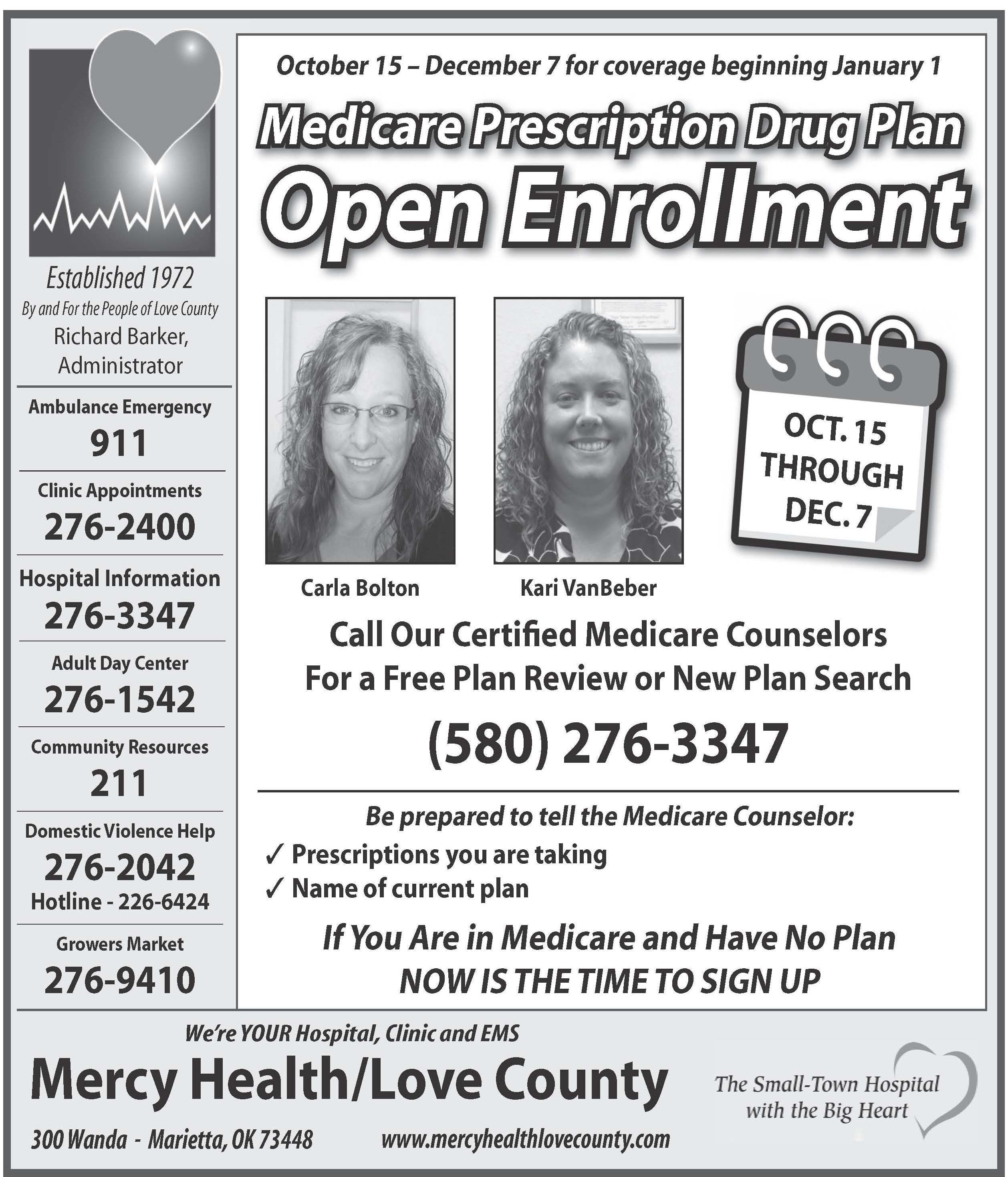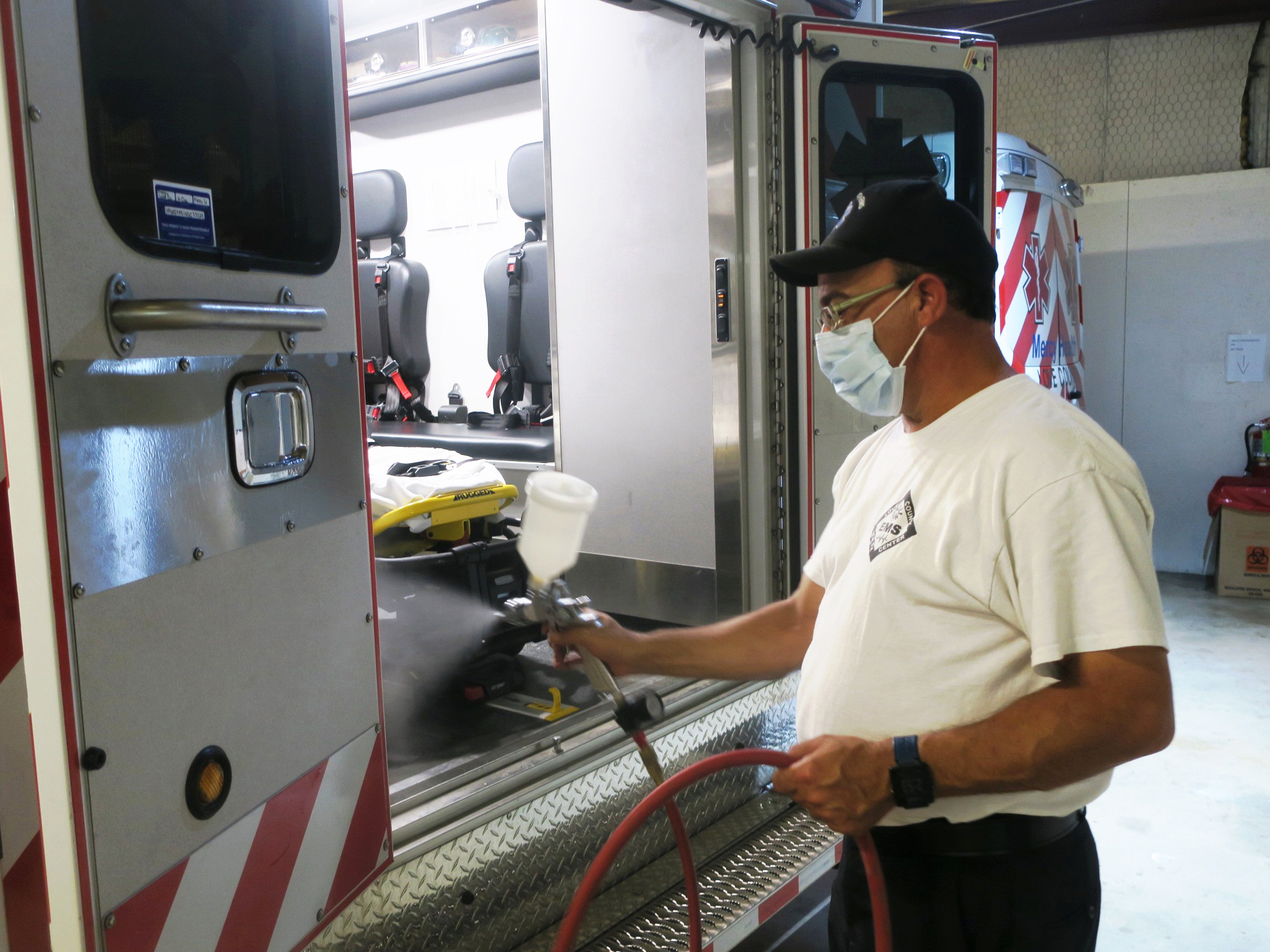 Advanced Sanitation: Operations Chief William "Obie" Heath
applies a coronavirus disinfectant spray in the back of a
Love County ambulance.
Love County EMS/Fire Brigade has a new cleaning spray to help combat the spread of COVID-19. Medics and firefighters are regularly spraying the solution inside the ambulances. It is supplementing normal cleaning procedures.
The active ingredient is hypochlorous acid. The Tulsa Fire Department came up with the solution six months ago and other emergency services agencies around the state and nation have been securing large quantities of the acid donated by TFD.
Hypochlorous acid is on the list of U.S. Environmental Protection Agency-approved disinfectants for use against the coronavirus. "It has been used in the food processing and medical industries for years," said Tad Hall, PA-C, the Love County EMS Manager.
Hall mixes the ingredients for local use in a compressed-air sprayer system. "It smells like chlorine," said Operations Chief Obie Heath, while spraying down the back of an ambulance. "It's safe to apply around people."
The acid is not preventive, meaning it will not linger after it is sprayed on. "It's wet long enough to kill pathogens on contact," Heath said.

Light Up: Megan Stephens, RN, illuminates
blood veins in her hand with the hospital's new vein-finding tool.
Do you have trouble having blood drawn for a lab test? Have you had to undergo multiple needle sticks in a vein? Your discomfort may be over.
Mercy Health/Love County Hospital has a new device, "AccuVein," for casting light on blood veins, even those deep below the skin. That helps the nurse or "phleblotomist" quickly locate the target vein and evaluate its condition before making a first attempt at penetrating the vein wall with a needle for collection.
Departments throughout the hospital have started using AccuVein. The handheld wand can be mounted on a floor stand and rolled from laboratory to clinic, to ER, to hospital bedside as needed.
AccuVein casts near-infrared light about 5mm deep. Hemoglobin in the veins absorbs the light and forms a dark contrast to skin tissue. The machine's sensor detects the reflected light and captures an image that is projected onto the surface of the skin. The visual gives the phlebotomist more information about veins than touch alone could provide.
Registered Nurses Marie Ross and Megan Stephens alternately placed their hands or arms beneath the AccuVein for a recent demonstration. Instantly a "map" of underlying veins came into view The detail was exceptional.
"The phebotomist has help finding the straightest, largest, most accessible vein to stick first," Stephens said. "They are not having to work strictly by feel."
Reducing the first needle-stick failure rate makes everyone happier. "We are lessening discomfort for the patient and the staff member," Stephens said.
According to academic research, collecting a blood sample by penetrating a vein's wall with a needle happens more than one billion times a year in laboratory testing around the world. Imagine that: A billion needle sticks.
A lab phlebotomist typically applies a tourniquet to the arm and slightly taps the site at the front of the elbow to stimulate the target vein and be able to locate it. The aim is to enter the vein and avoid the arteries and nerves.
Ross said the most likely candidates for AccuVein application at Mercy Health/Love County Hospital are patients who express discomfort with needles or prior difficulties with vein puncture. The device is also likely to be deployed for children and infants and patients with dark skin or thick skin or with dehydration. All of those cases make veins harder to analyze without the illumination AccuVein now provides.

Richard Barker, FACHE
CEO/Administrator


Hospital Preparing
For Possible
COVID-19 Surge
Mercy Health/Love County Hospital is adapting
several of its buildings to be able to add surge
beds temporarily in case COVID-19 brings
a sudden influx of patients.
Contractors will be working on weekends
during August and September to make the
changes to portal entries without interfering
with normal operations. Affected are the main
entrance, clinic, and physical therapy buildings.
(Continued)

ER Equipped for Breathing Assistance
EMS Manikin Trains Medics in Rescue Breathing
Airvo 2 Supplies Warm, Moist Oxygen
Airway Device Supports Breath In AND Breath Out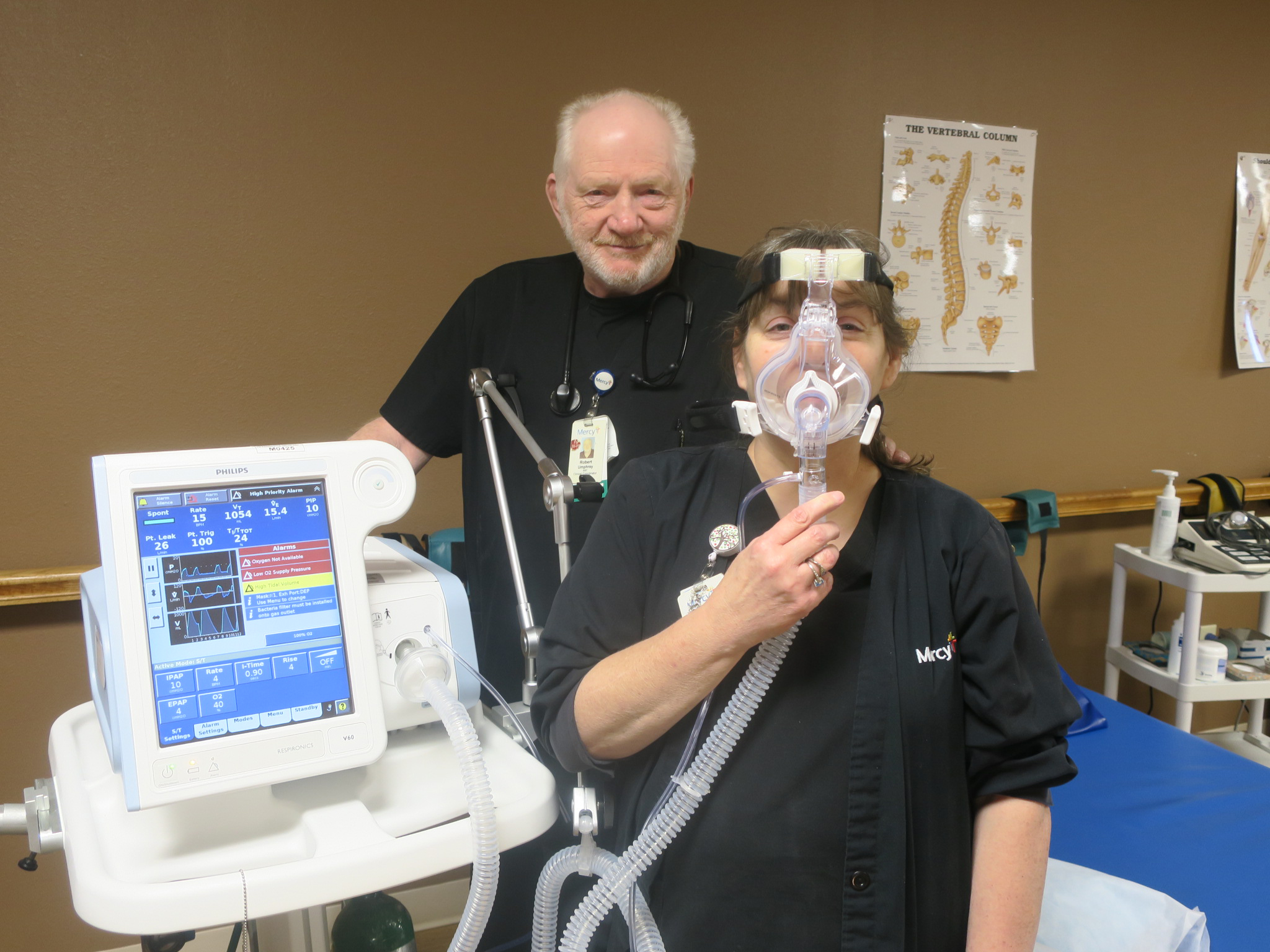 Deep Breath In and Out: Respiratory Therapist Robert Umphrey
and Department Head Michelle Lively demonstrate the setup of
the Emergency Room's Philips Respironics V60 machine. This is for
seriously ill patients who can breathe on their own but need extra
support. It is the hospital's first stand-alone breathing device with
dual (bipap) settings: one for helping air move into the lungs, and
the second for helping air move out of the lungs.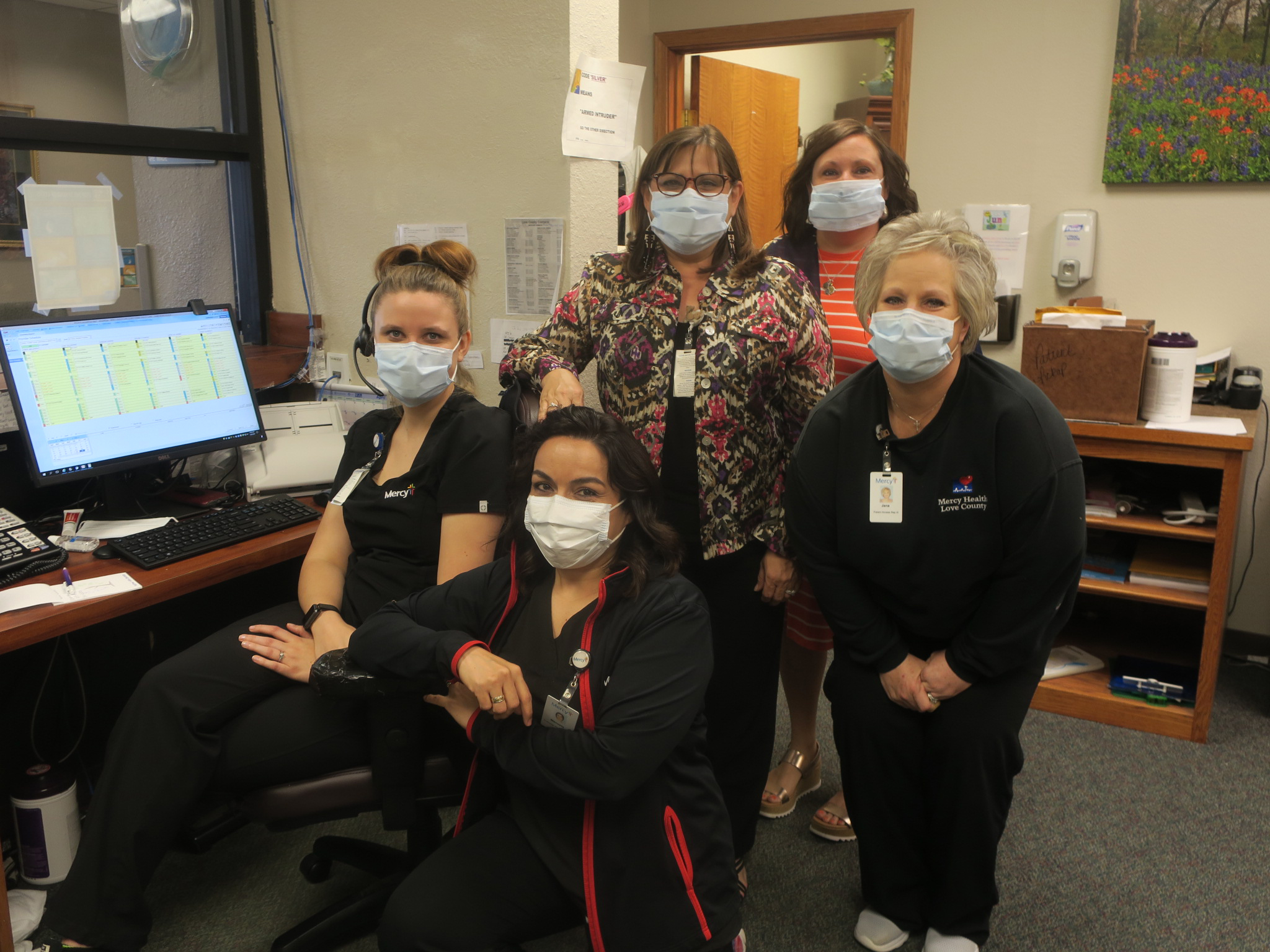 Welcome Back, Patients: Clinic Director Connie Barker, back
left, stresses the medical environment is safe for patients
to resume regular health care visits at this stage of the
coronavirus pandemic. She is joined by Business Office
Manager Misti Kirk, back right, and Customer Service
Representatives Dawn Monetathchi, Manuela Barrientos,
and Jana Brown.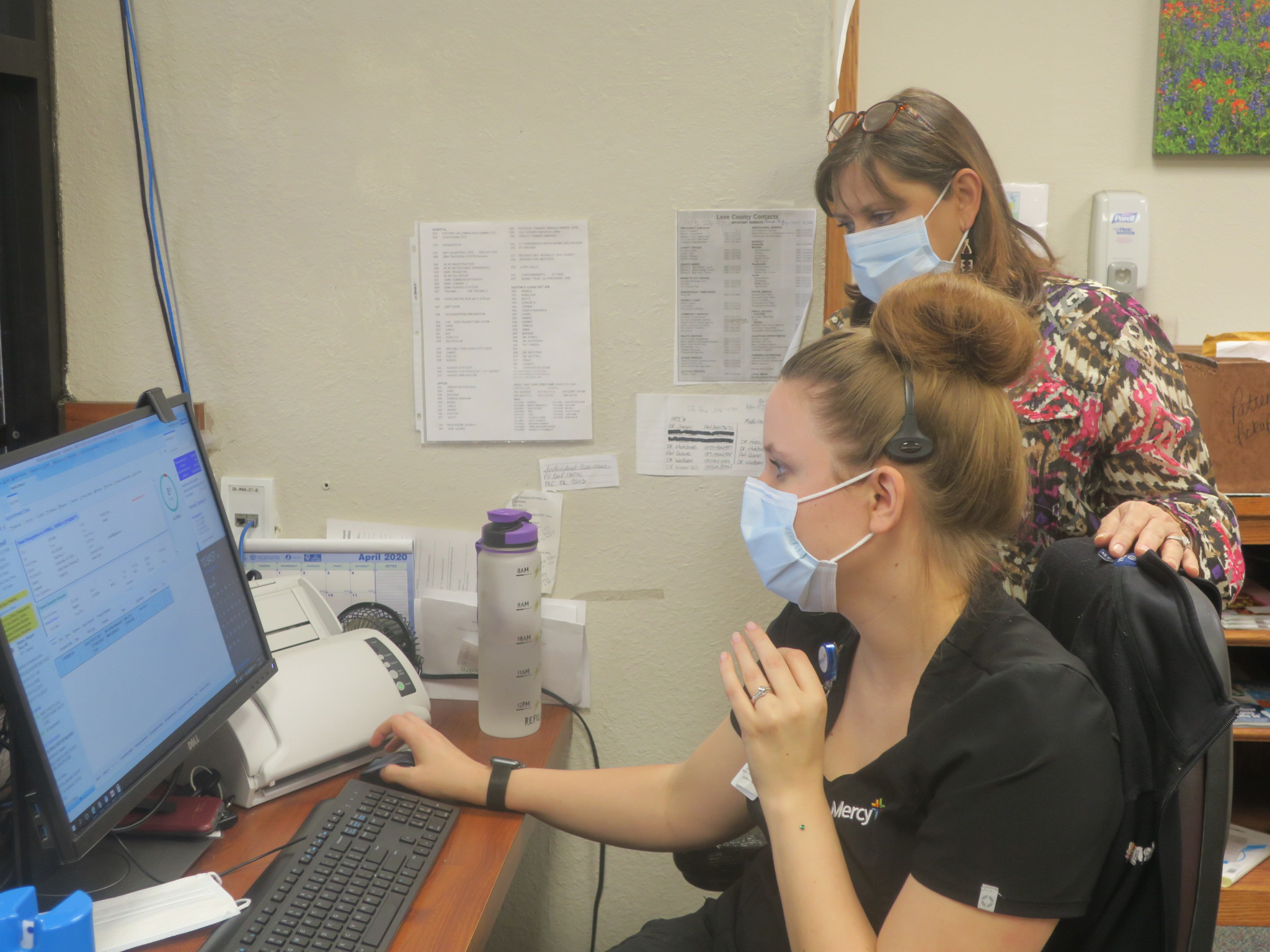 Virtual Visits: Customer Service Representative Dawn
Monetathchi, left, and Clinic Director Connie Barker look
over new software for setting up teleconference visits between
established patients and participating primary care providers
at Mercy Health/Love County. The 'virtual visits' have been
introduced as one way to cope with the coronavirus COVID-19
pandemic. Barker said precautions are in place and medical
environments are safe for in-person appointments.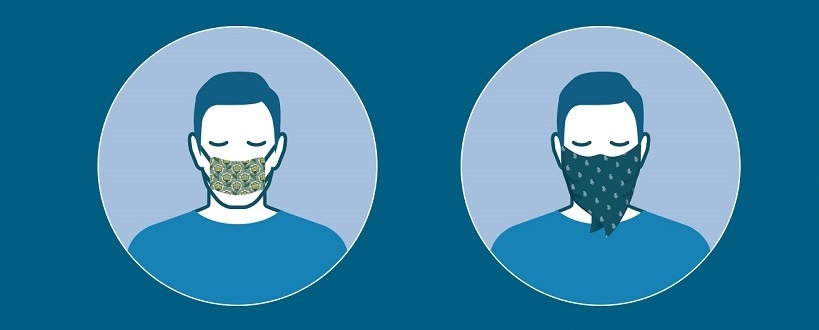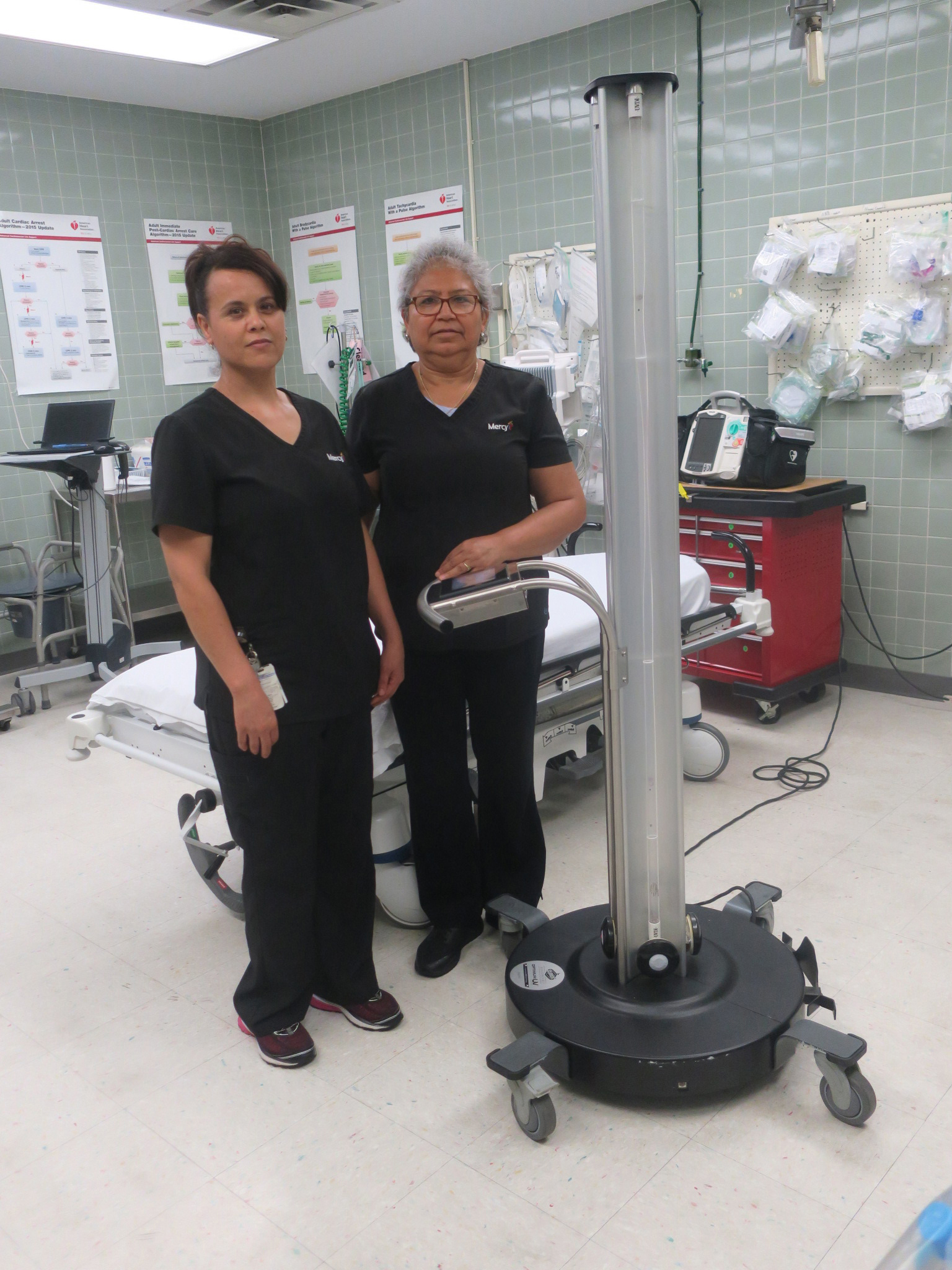 Housekeepers Patricia Salazar and Gabina Bustos program
an ultraviolet light for final sanitizing of the emergency room.
Below a smaller ultraviolet light for killing bacteria and viruses in
clinic pods, back of ambulance and other small rooms. See
press release for more information.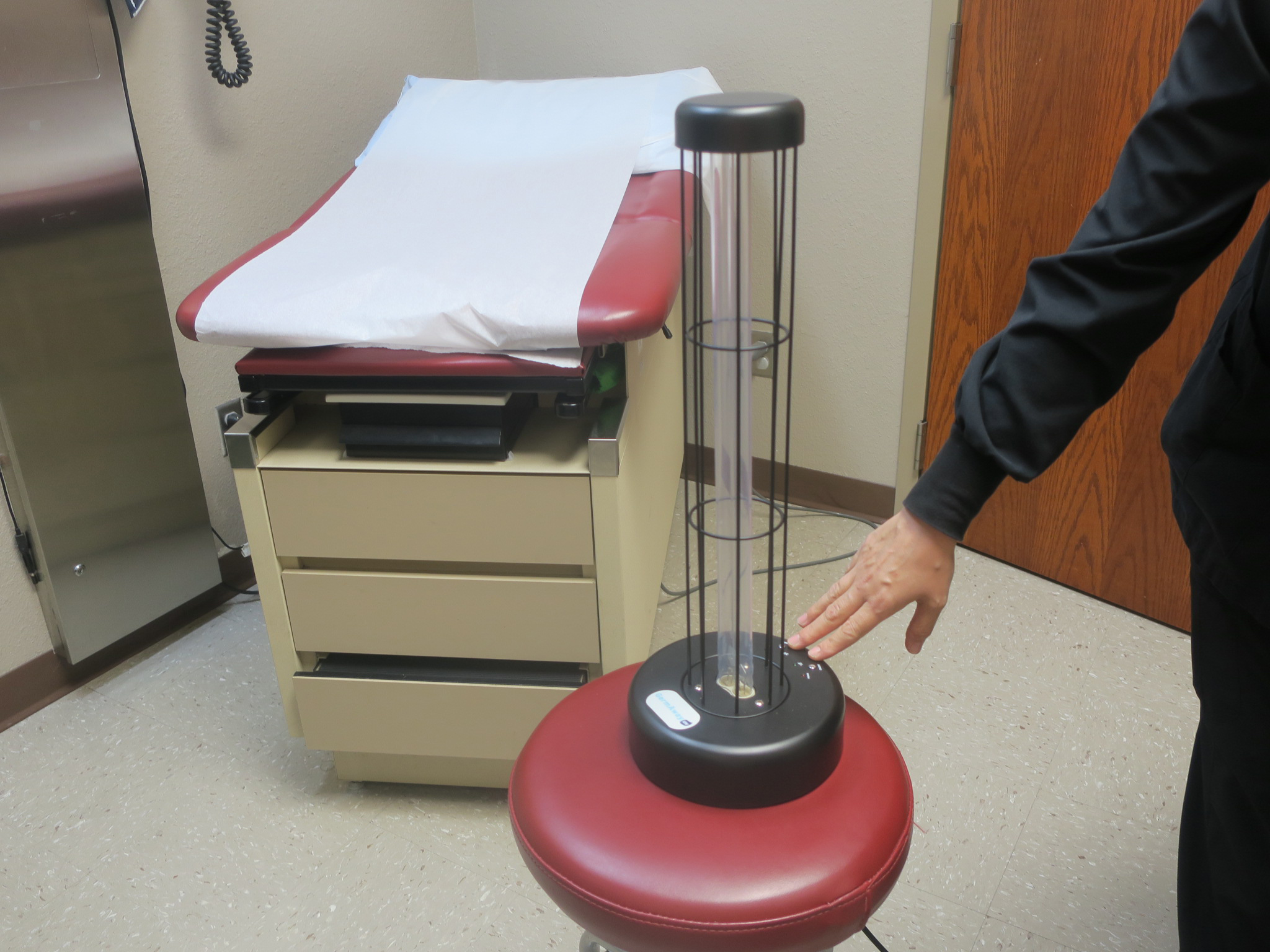 Love County Health Department is now a site for COVID-19
drive-thru testing. Testing is open to everyone. People no longer
need to be exhibiting symptoms in order to be tested for
COVID-19. Testing is by appointment only. Testing is free.
LOVE COUNTY HEALTH DEPARTMENT
What: COVID-19 Drive-Through Testing
How: By Appointment Only
Where: 200 C.E. Colston Dr., Marietta, OK
Contact: (580) 276-2531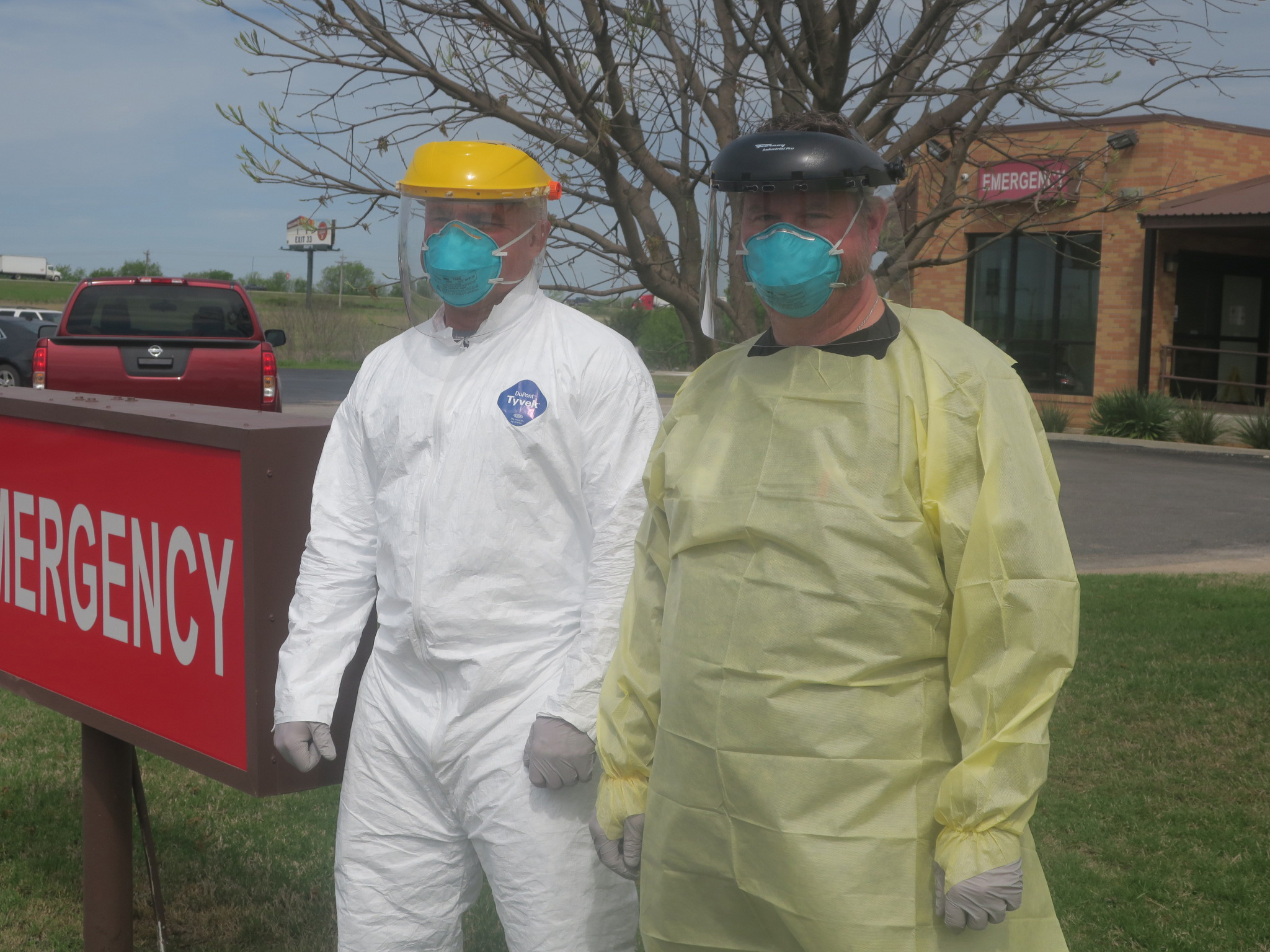 Chris Ramsey, ambulance paramedic (l) and
David Manning, registered nurse, model the
PPE (Personal Protective Equipment) for their
respective departments. Healthcare workers
wear PPE when treating patients
infected or exposed to the coronavirus COVID-19.
See More in Press Release
Legacy Park Open for Exercise During Pandemic
See story and photos in Press Release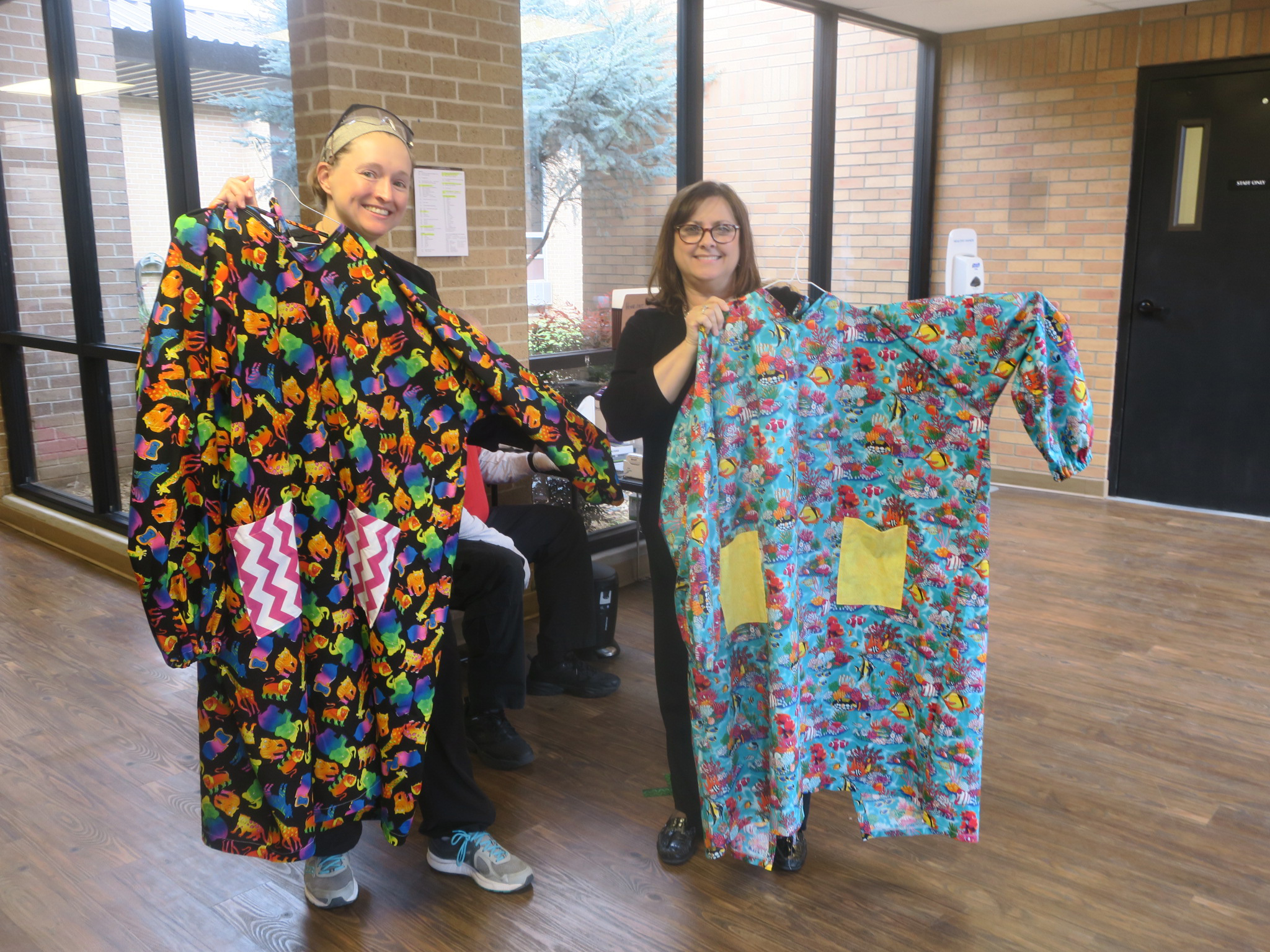 Love County Quilt Guild Sews Colorful Worker Gowns, as
demonstrated by Megan Stephens, RN, and Connie Barker,
Clinic Director on April 8, 2020. See More in Press Release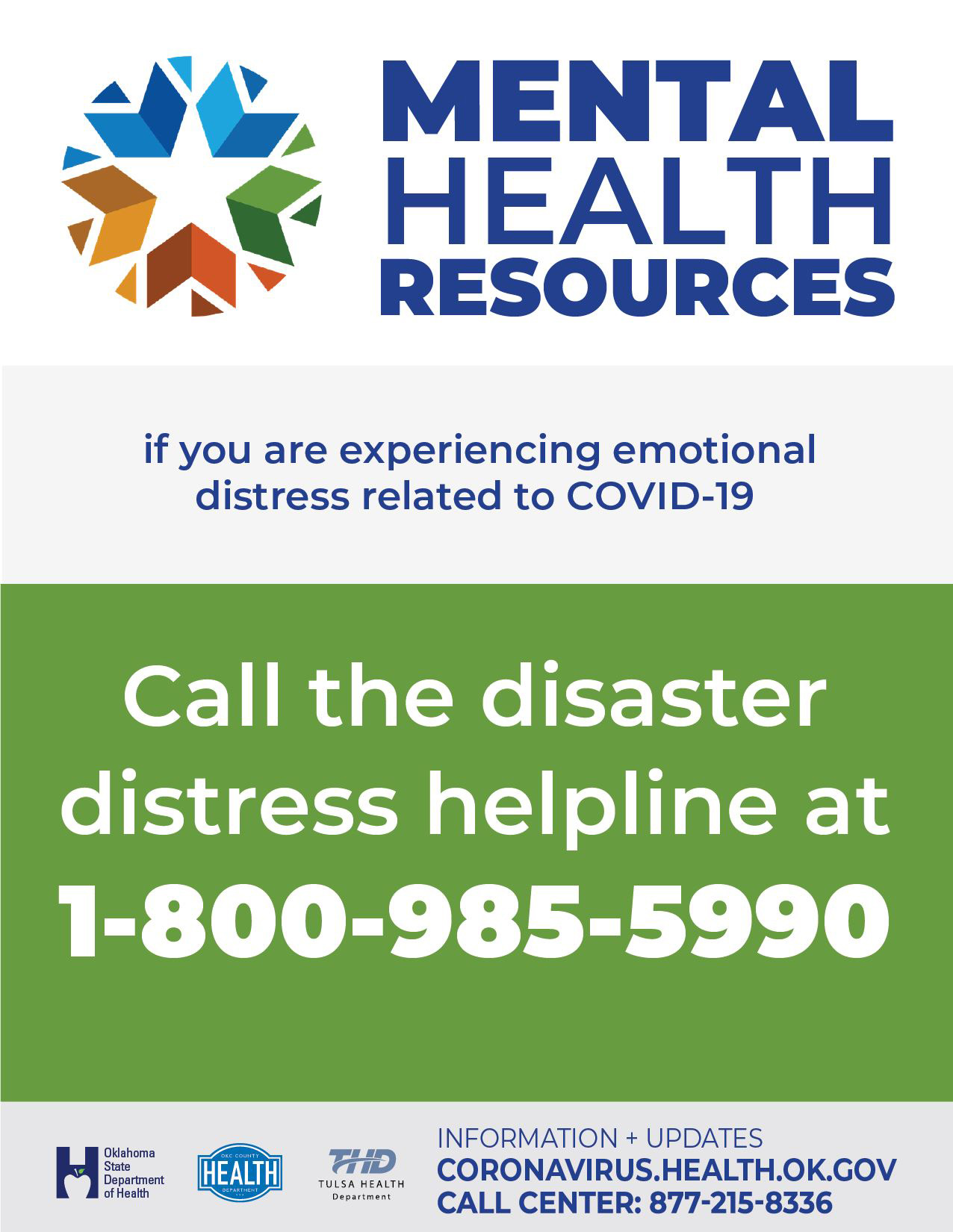 Virus Precautions: On March 17, 2020,
Mercy Health/Love County Hospital and Clinic began
screening all arriving patients and visitors for
symptoms or exposure to the coronavirus, COVID -19.
(Above) Carolyn Gordon answered questions from Laura
Beck, CNA and Curtis Hembree, CNA. She accepted a
mask and applied hand sanitizer that was offered.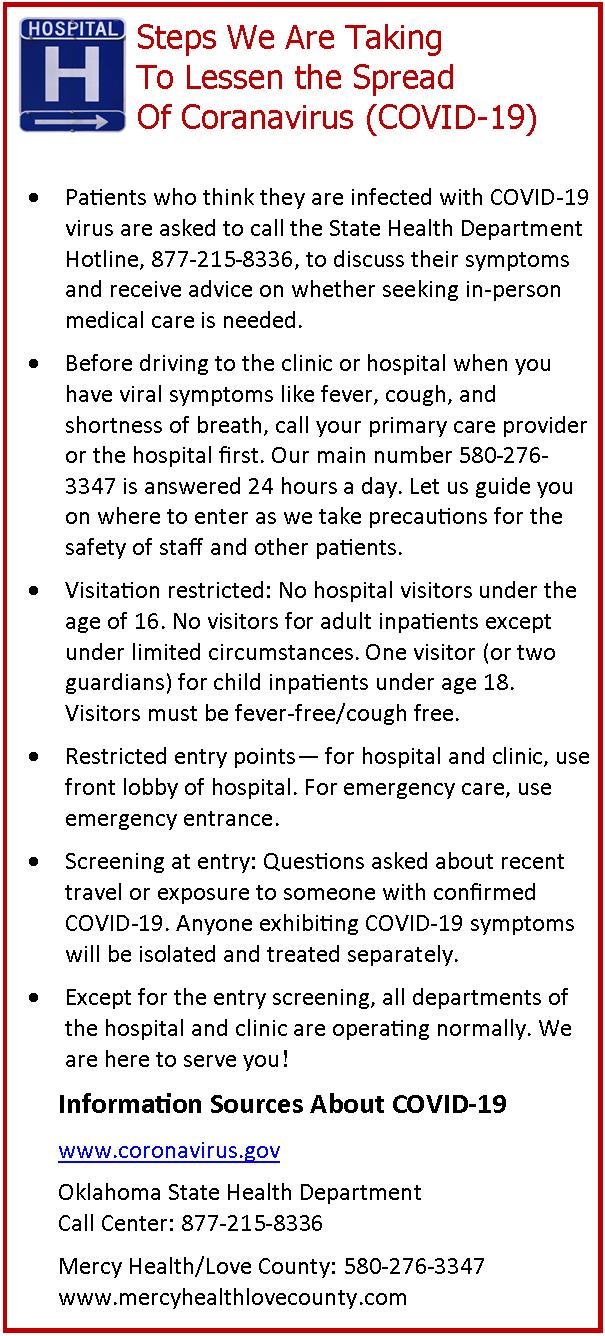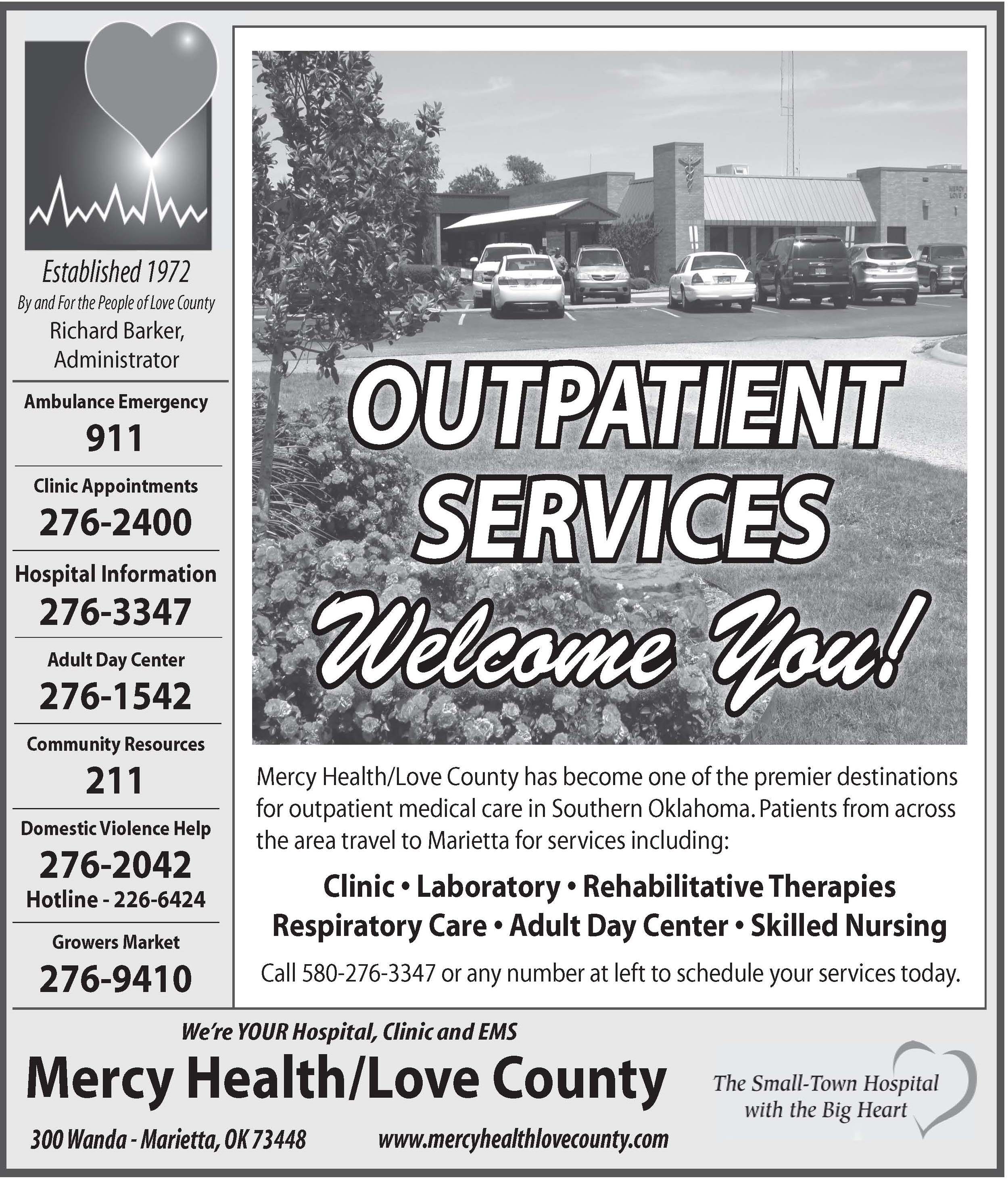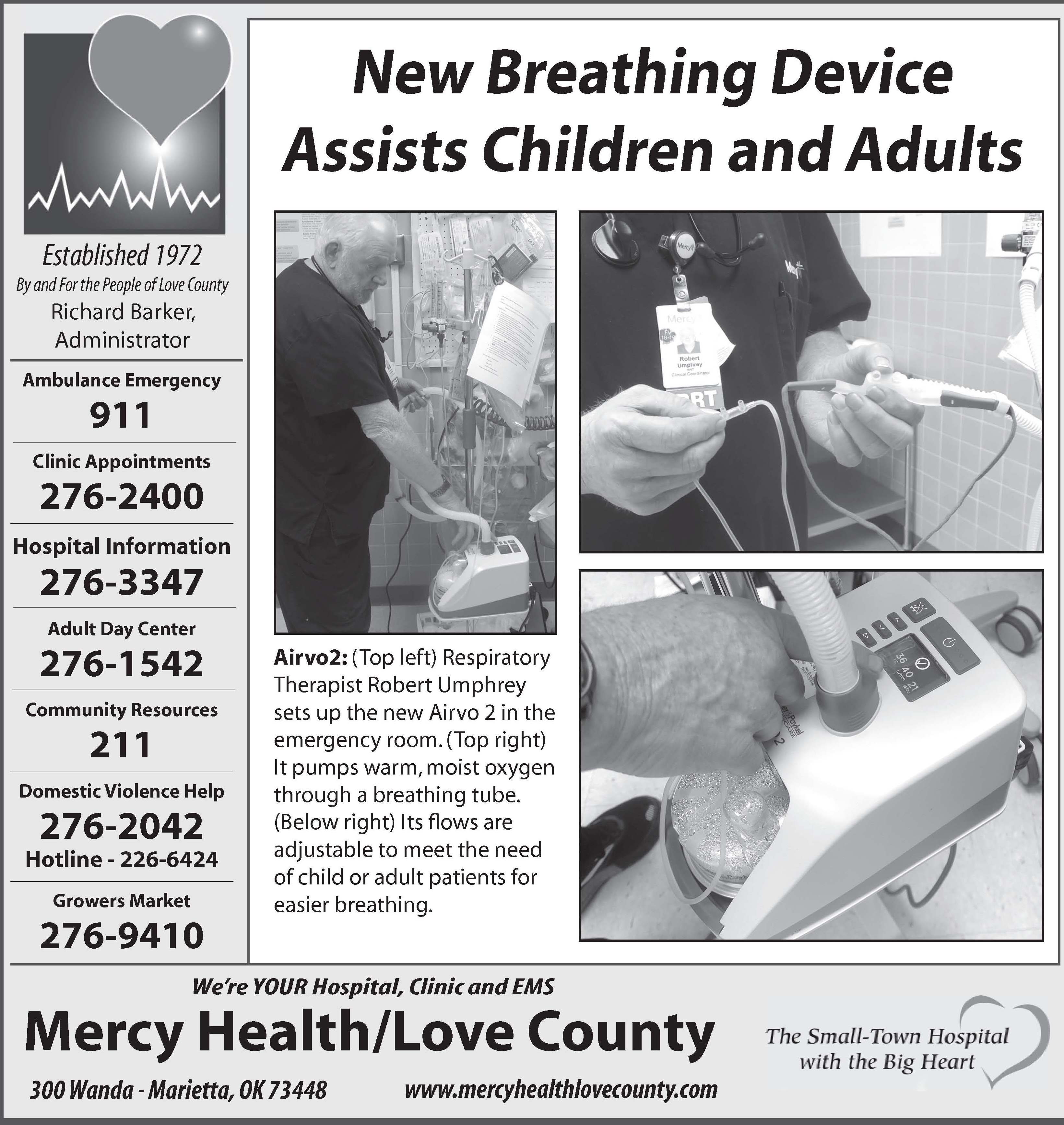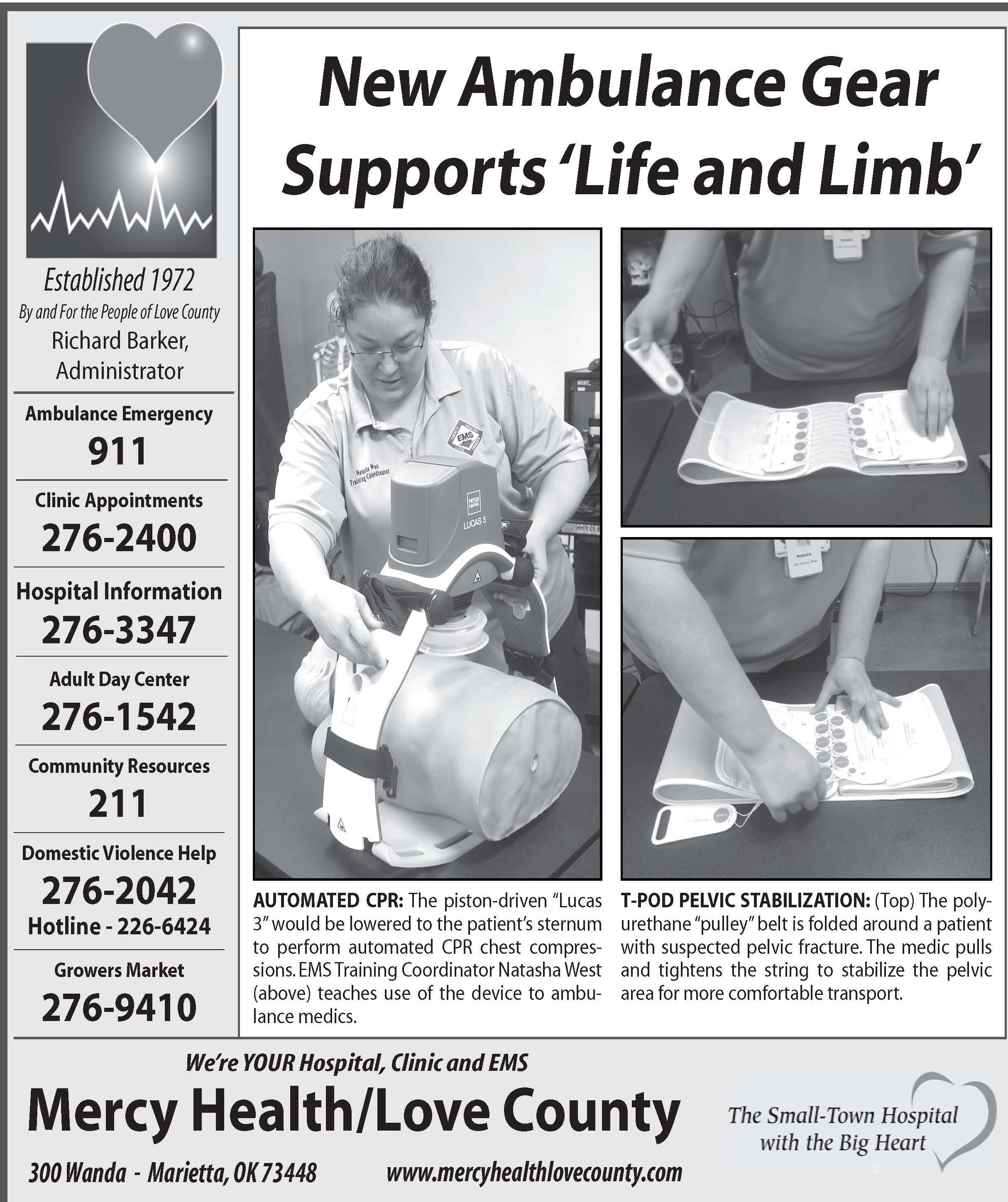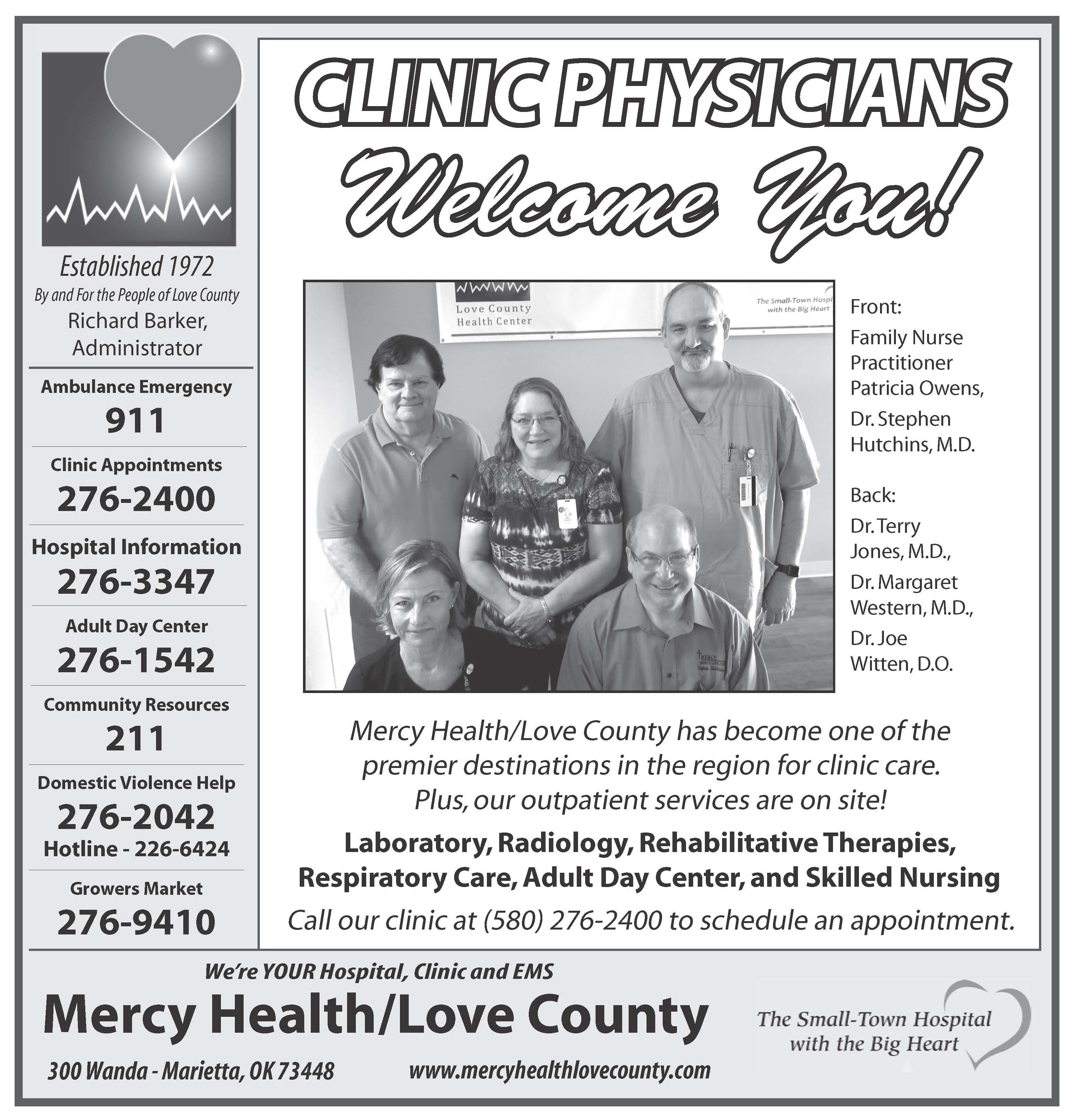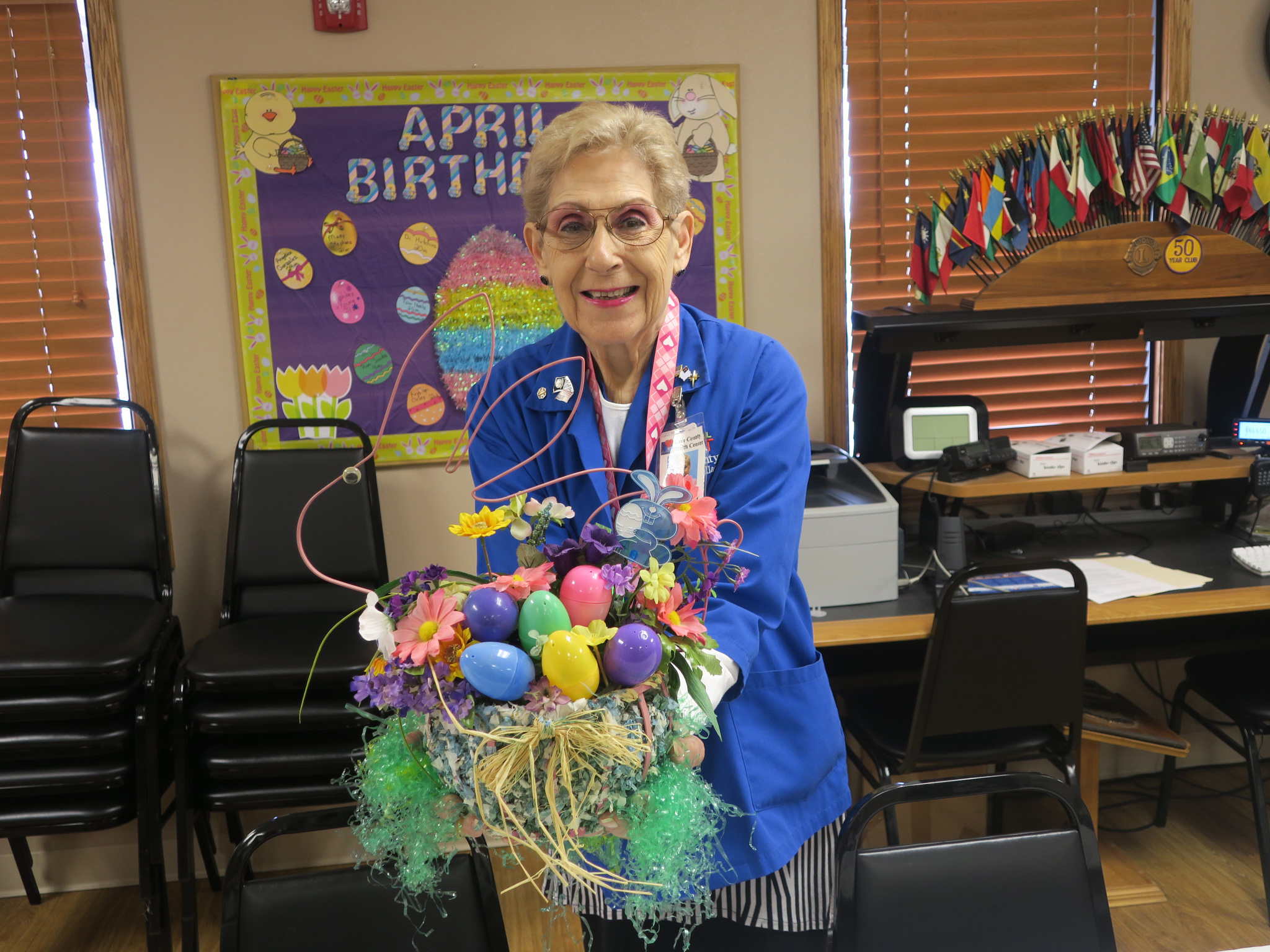 Volunteer Gift, Professionally Done:
Marion Flaherty displays one of many Easter decorations
prepared in April. A member of the Hospital Auxiliary
since 2011, the retired florist volunteers monthly to
decorate tables in the community room of the
Therapy Building of Mercy Health/Love County Hospital.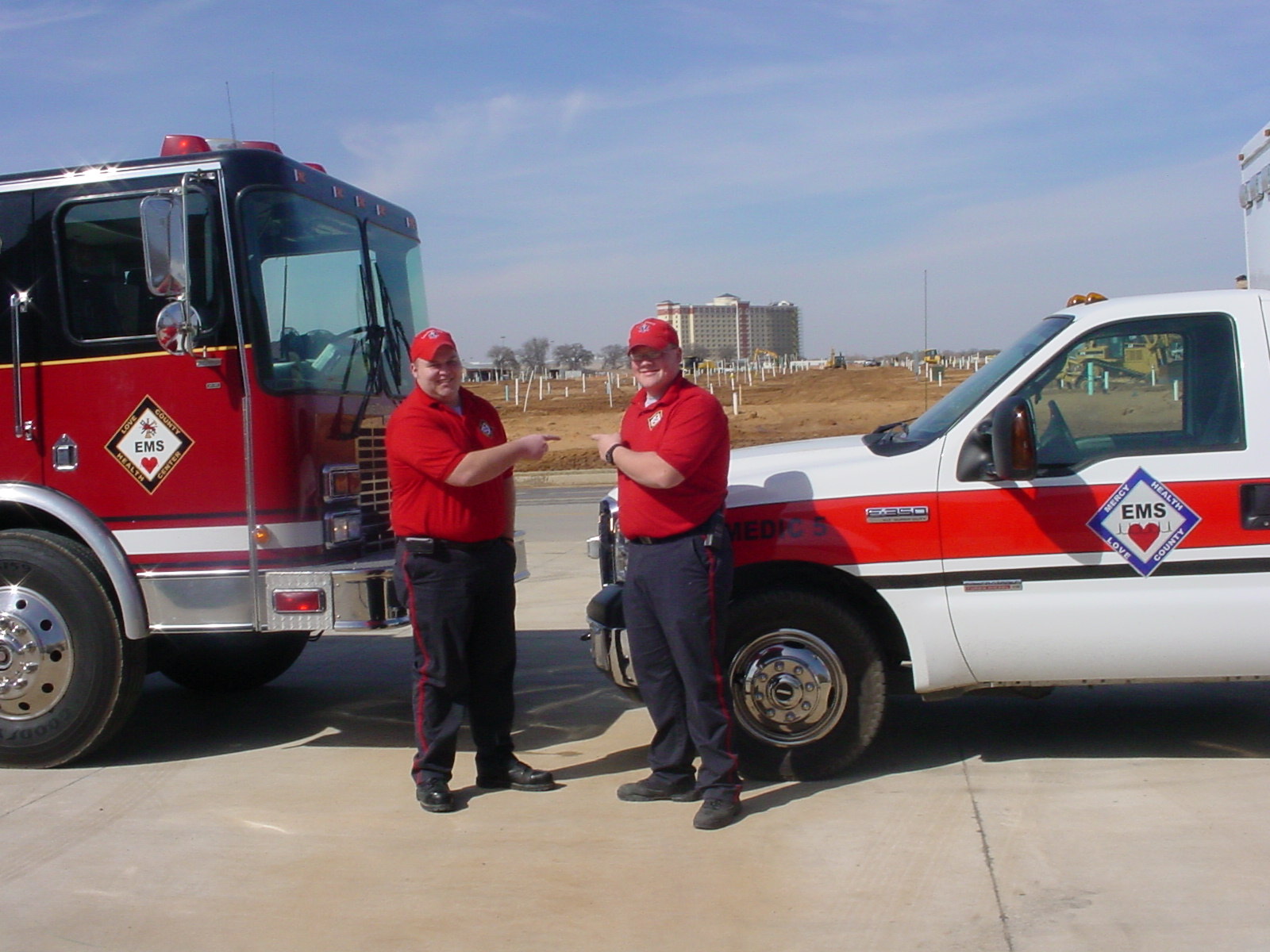 That One's Mine: In this 2009 photo at the newly-
opened Station 2 at WinStar Casino, Scott Neu,
paramedic, (left), pointed to the ambulance he served
on and Adam Zimmerer, firefighter/EMT, pointed to the
fire engine he rode. Love County became the nation's
first hospital-managed EMS to form a fire service.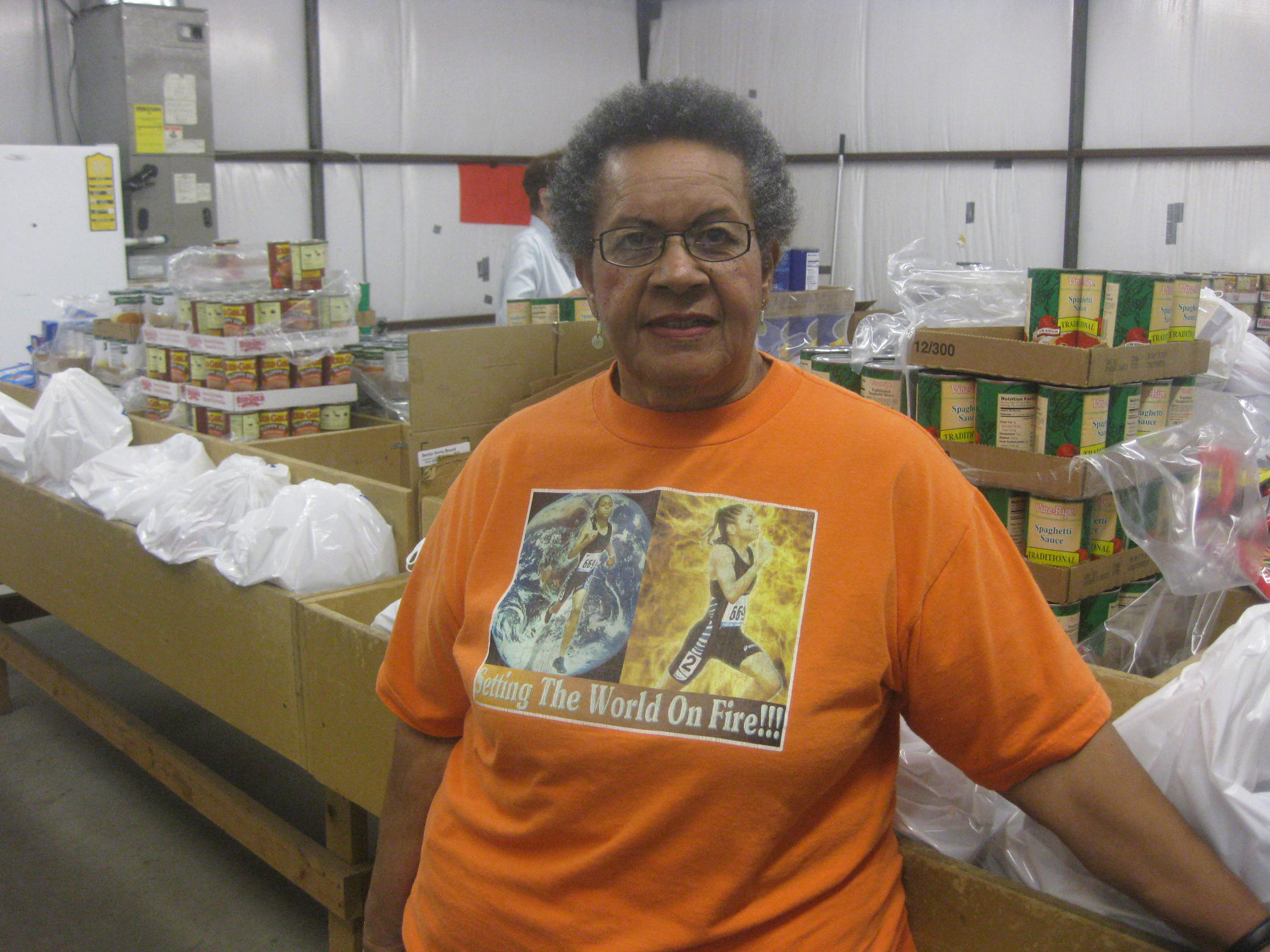 Leading Volunteer: Lula Finch, retired medical
assistant, has been volunteering at the Mercy
Health/Love County food pantry since opening
day in May 2002. She arrives at 7 a.m. each
Tuesday to prepare for the 8 a.m. opening and
remains until 2 p.m., assembling and distributing
food packages to people who are hungry or food insecure.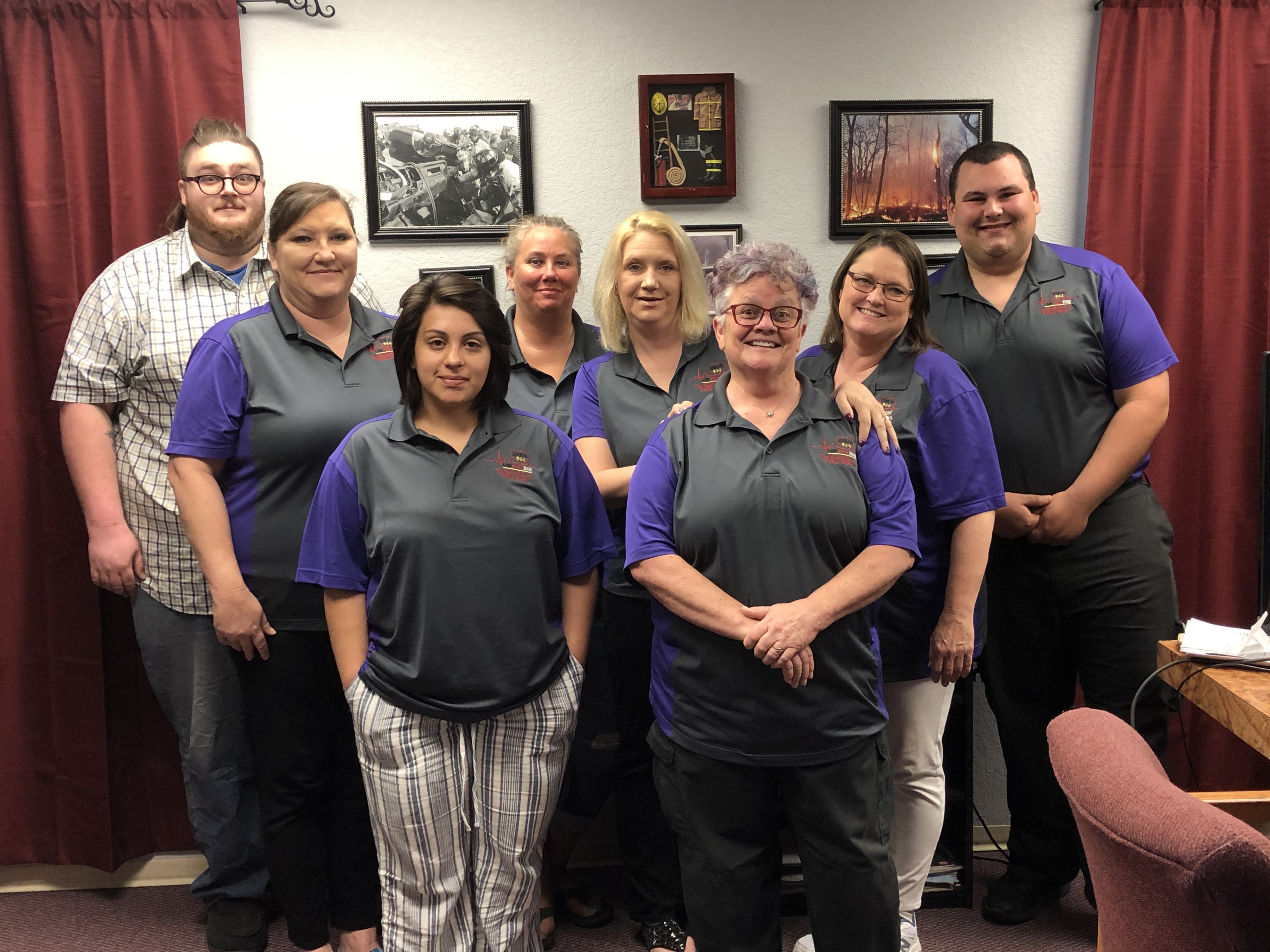 The "First" First Responders: Love County 911 Center
dispatchers gathered for a photograph and recognition
from the Love County E911 Board during National Public
Safety Telecommunicators Week. Pictured are (front row)
Anna Diaz and Coordinator Becky Watkins-Norman;
(second row) Kerri Manning, Wendy Laughlin, and Shelli
Bengfort; (third row) Seth Crockett, Brandy Brawley,
and Zach Aston.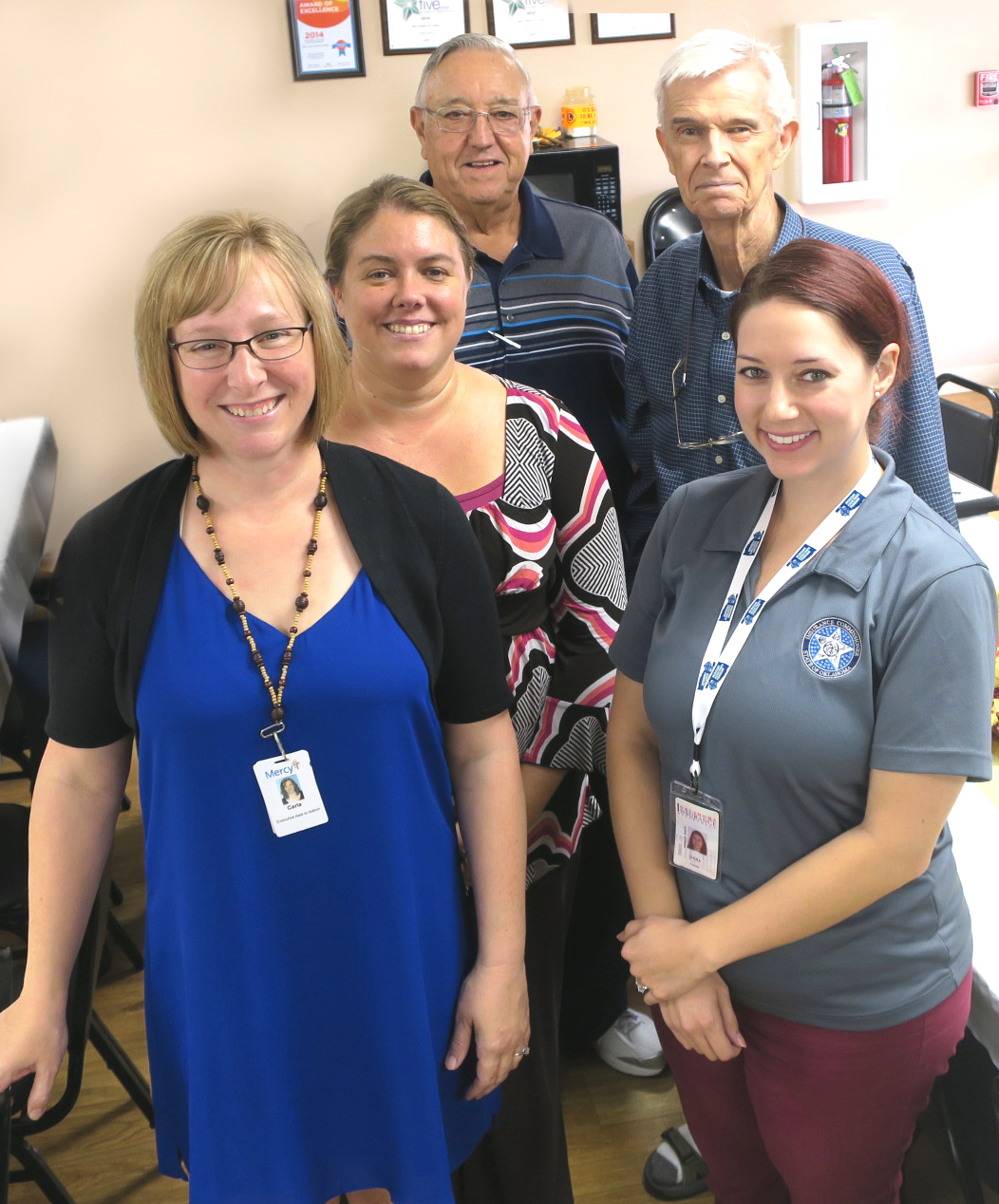 Carla Bolton and Kari VanBeber of Mercy Health/Love County Hospital's
business office, completed certification training as Medicare Assistance
Program counselors. They are currently available to assist people review
their current medication lists to make sure the Part D Prescription Drug Plan
in which they are enrolled is still the best option for them or if a lower cost
plan is available for 2019. Assisting with the new counselors' training were
Anna Farha (right), from the Oklahoma Insurance Department, and Medicare
counselors Jim Thompson (back left) and Don Sessions
Radiology technologist Rick Stephens shows the hospital's new GE
BrightSpeed 16 slice CT scanner.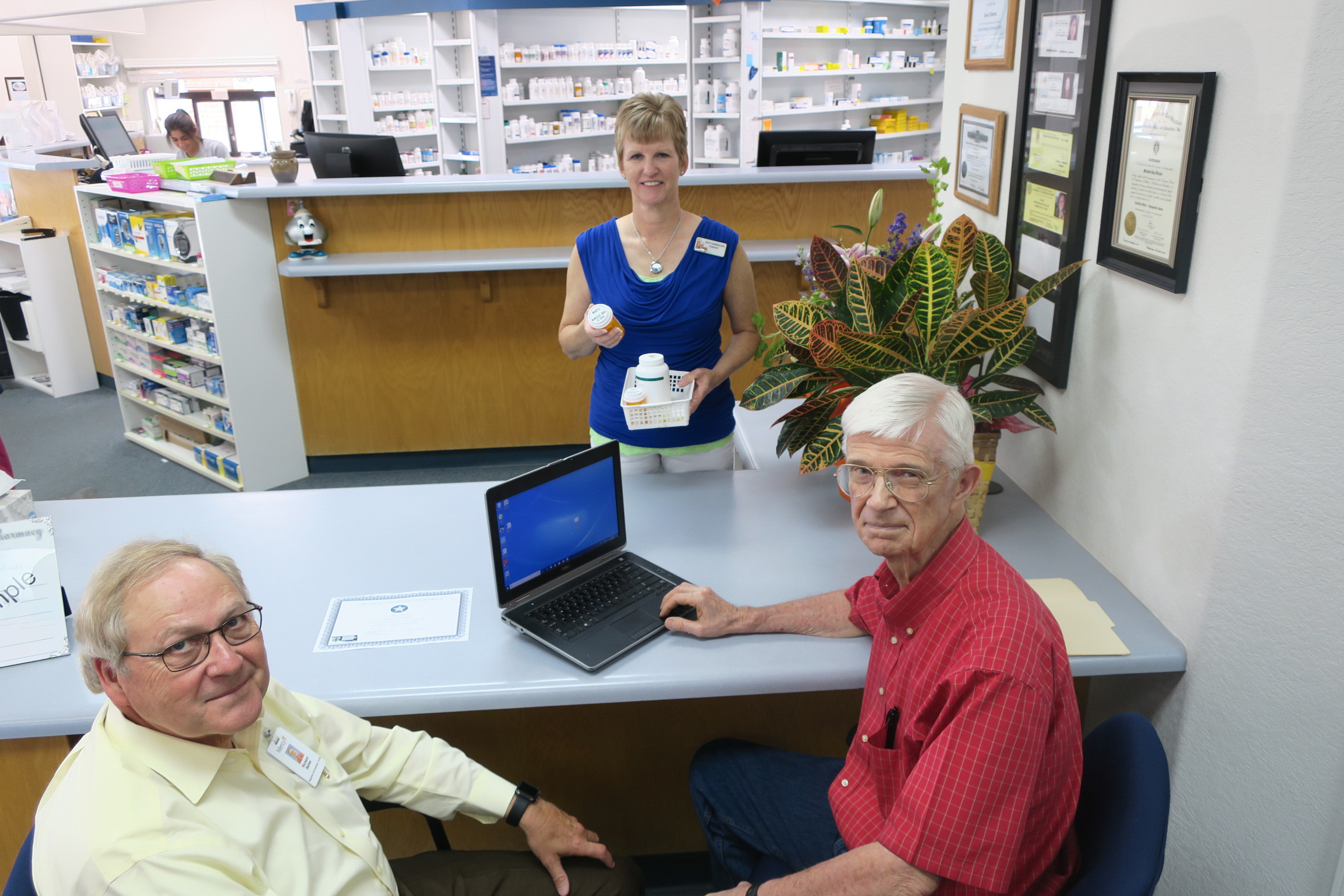 Teamwork Saving Seniors Money on Medicare: Don Sessions
(right) of Falconhead Resort, Burneyville, has been recognized by the Oklahoma
Insurance Department as the state's top Medicare volunteer for 2017. He
meets with seniors to tell them about Medicare choices that can save them
money, especially on prescriptions. As a public service, the Marietta
Pharmacy, represented by pharmacist Jenny Hambrick, provides a
consultation room for Sessions, and Mercy Health/Love County Hospital,
represented by administrator Richard Barker, furnishes a laptop
computer for the room. Since 2008, Sessions has counseled 2,165
people and they saved $1.2 million.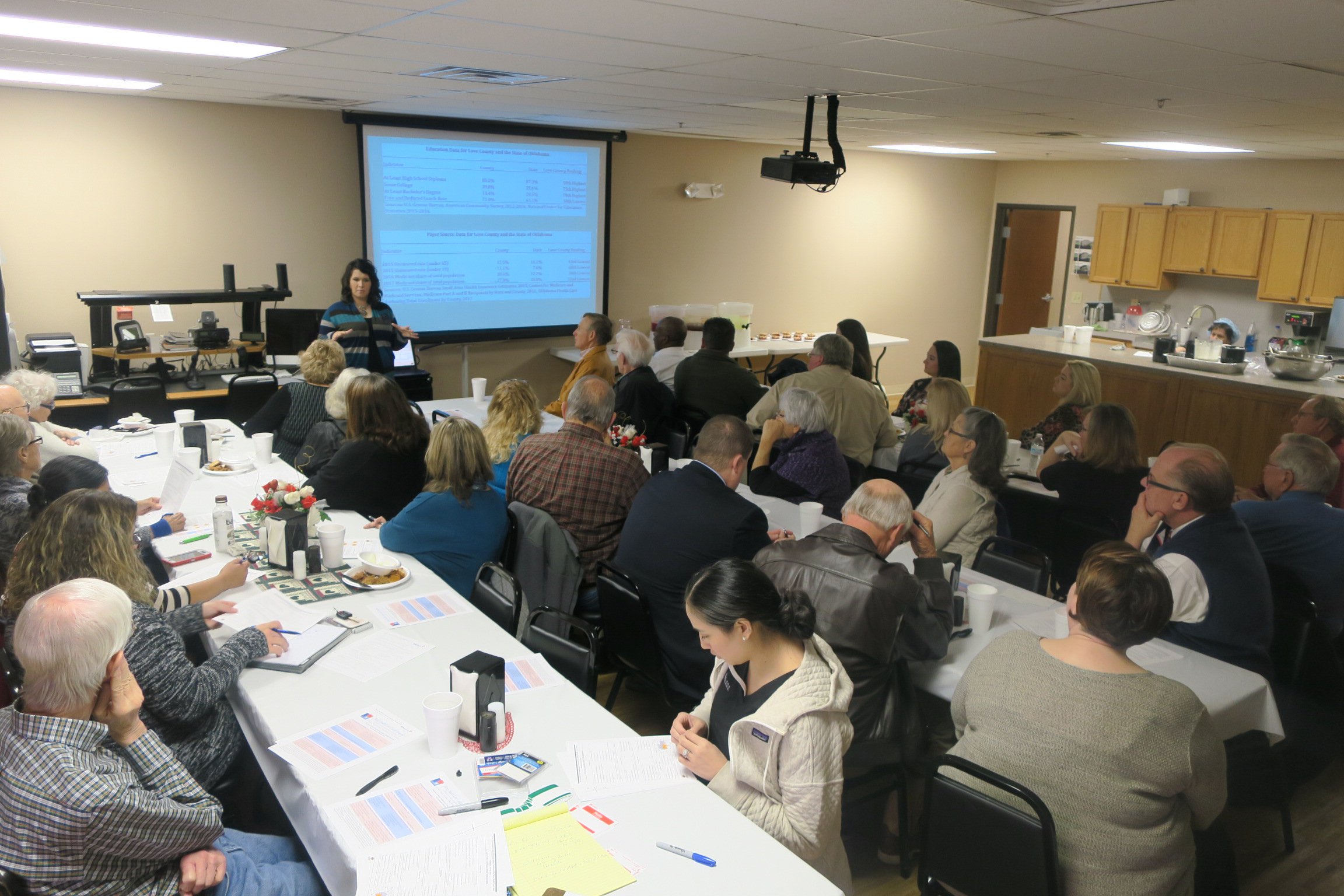 Health Needs Assessment: Citizens and members of the
Love County Community Coalition review local health needs
with Lara Brooks, Rural Health Analyst with the Oklahoma Office
of Rural Health. The hospital and clinic received high ratings on a
public survey conducted during the assessment.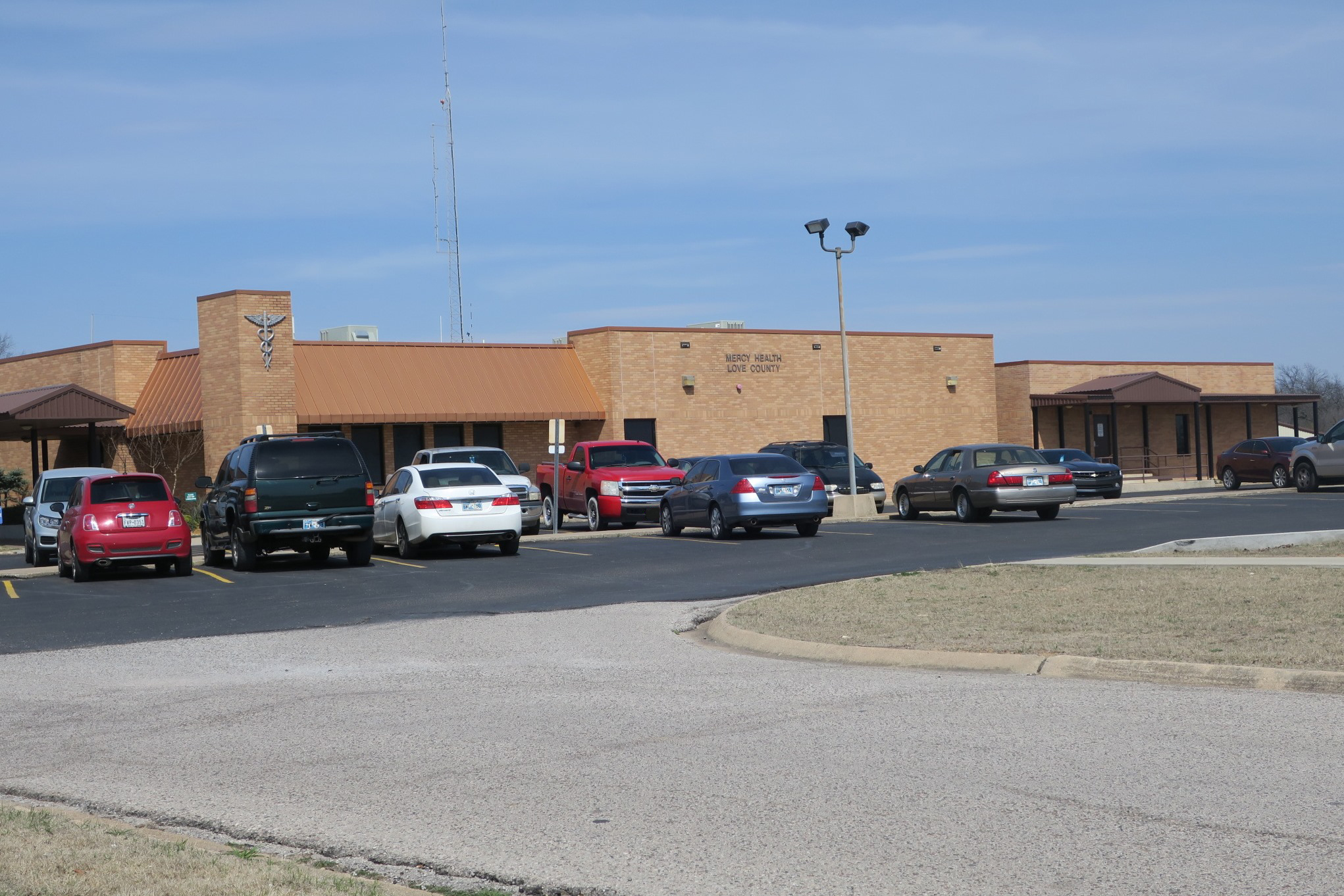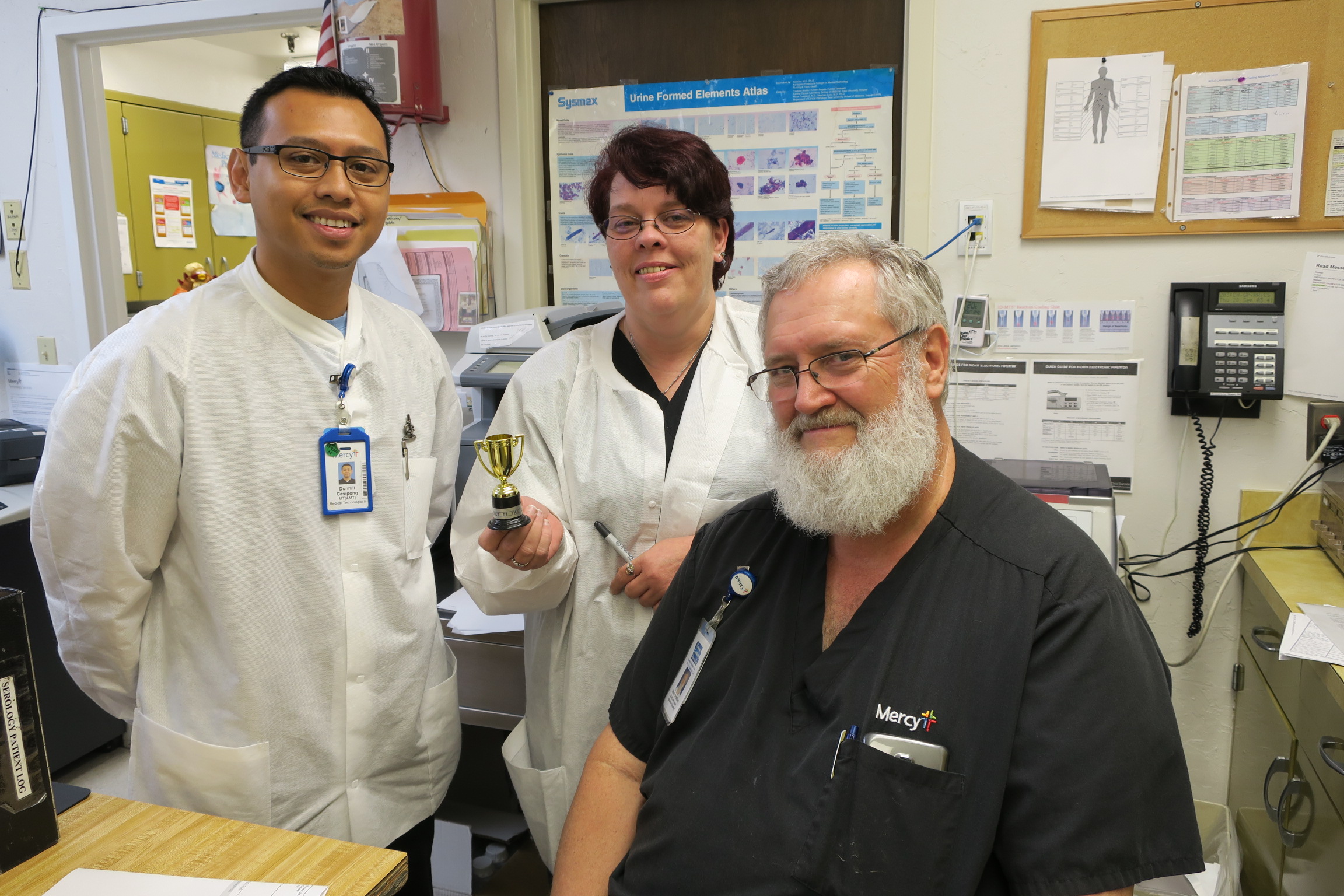 Many Treated at Mock Bioterrorism Exercise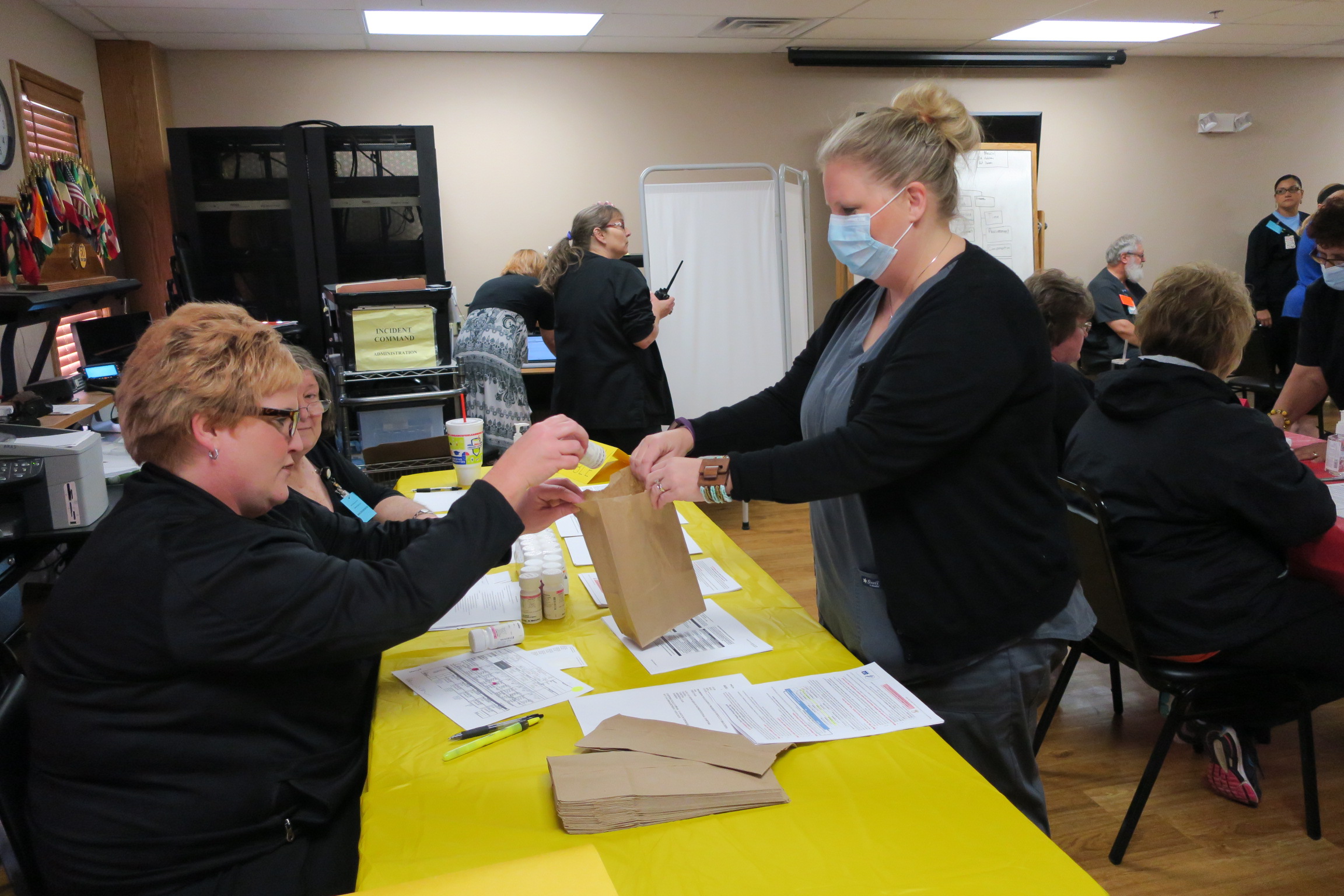 Marietta State Champs Hold Cross Country Meet at Legacy Park
Sales Tax Renewed Overwhelmingly
EMS, Firefighters Await Results of Sales Tax Renewal
Recreational Trail, Growers Market Prepare for Year 2
Swallowing, Speech, Language Therapies Done Here!
UV Light Disenfection Deployed in Hospital Rooms
After Helping Open Legacy Park Trail, Local Racewalker Hits the Bigtime!
Community Welcomes Dr. Joe Witten
Medic Wins International Academic Contest
Nurse Practitioners Building Their Profession

Health Needs Assessment Final Report

Love County Health Center, dba Mercy Health/Love County Hospital and Clinic, is located one block east and one block north of Interstate 35, Exit 15, Marietta, OK, 15 miles north of the Red River Bridge connecting Oklahoma and Texas.
On-site are eight primary care providers and a staff of 135 coworkers. Our diagnosticians make referrals to specialists throughout the area.
Are you looking for a doctor, laboratory tests or radiology tests (including CT)? Visit our clinic, Monday through Friday.
Need physical therapy, occupational therapy, speech therapy, or pulmonary rehabilitation? We have a building devoted to these health services.
For medical emergencies, our emergency room is open 24 hours a day. Our EMS has more paramedics than any other rural county in Oklahoma, and air ambulances are on-call to accident scenes.
Our public hospital has 25 beds and serves acutely ill or injured patients, plus those needing skilled nursing, who qualify for care under our licensure as a critical access hospital.
For adults with dementia or physical limitations needing a day out, there is our adult day center one block south, staffted by our nurses, CNAs, and activities director.
Exercise daily at our recreational trail. Eat healthy through our public growers market, selling fresh fruits and vegetables in season.
Choose from the menu of services of Mercy Health/Love County Hospital, Clinic, and EMS to learn more about what we can do for you!