New Doctor Enjoys Healing Field, Outdoor Life
Posted on Friday, July 3rd, 2015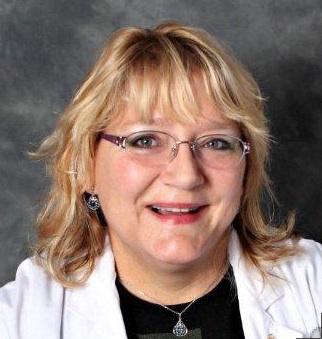 Dr. Margaret Western
A new doctor, Margaret Western, M.D., joined Mercy Health/Love County Hospital on June 1.
"She is personable and approachable. These are great qualities to have in the clinic," says clinic director Connie Barker about the newest staff member.
Before accepting a position in Marietta, Dr. Western practiced medicine for 10 years in New Mexico. She speaks Spanish as well as English.
The family physician is accepting patients of all ages. She is on duty in the clinic weekdays and also will be seeing patients in the hospital and from the emergency room.
"I am impressed with what I have seen of the hospital and community and the nearby Mercy resources in Ardmore. I have been wanting to find just the right small practice setting, and I don't plan on going anywhere else," Western said.
Western grew up near Houston and acquired her M.D. degree from Texas Tech University School of Medicine in 2002. She completed a family practice residency at the teaching hospital of the University of New Mexico in Albuquerque in 2005.
"Family medicine is appealing because you take care of the person not just the disease, as in internal medicine," Western said. Her varied practice in New Mexico involved patients in clinics, hospitals, nursing homes, urgent care, assisted living, and prison.
Marietta is not too far from Western's two children and five grandchildren. Son Brad handles machine rentals for a Warren Caterpillar dealership in Abilene. Daughter Andrea is a registered nurse in Houston.
Western enjoyed a 39-year marriage to her husband Gary. Gary passed away in 2012. The couple shared a love for the outdoors, including fishing, hunting, and camping. Western was a certified hunter safety instructor in Texas.
"I know I will enjoy the lakes. Right now, I'm living temporarily in my RV near Lake Murray and looking around for a permanent home," Western said.
Medicine is a second career for Dr. Western. She spent 18 years in the oil industry in Houston before fulfilling her lifelong dream of becoming a doctor.
She was a chemical technician for Exxon Oil and a post-production specialist for Shell Oil. She holds a bachelor's degree in industrial hygiene.
"God put it in my heart to be a healer," Western said of her decision to leave a successful career and take on the rigors and expense of medical school.
"My mother and sister wanted to be doctors. They did wind up as a pharmacist and a medical technician. My grandmother in Puerto Rico was a 'curandera' (folk healer)."
Western said she is proud that her own daughter, who recently changed careers to become a nurse, makes the fourth generation of women in her family in the medical field.
The clinic building adjoins the hospital. The telephone number is 276-2400.