County's Top Runners, Walkers Stepping Out At Trail Dedication
Posted on Saturday, March 12th, 2016

Rendering of future phase of Love County Legacy Park in Marietta. The
park's Recreational Trail opens officially at 8:30 a.m. Monday, March 21, 2016.
After a 10-day weather delay, the Love County Legacy Park Recreational Trail in Marietta will open Monday, March 21. Running and walking events for all ages will follow a ribbon cutting at 8:30 a.m.(See Schedule)
Some of Love County's top runners and walkers will lead participants and spectators on the honorary first lap around the 1/2-mile loop. They include the state champion cross country teams (girls and boys) from Marietta High School, distance walker Rob Robertson, and senior marathoner Arthur Rickets.
The ribbon that is cut to open the trail will be Marietta school colors black and gold to recognize the historic dual championships brought home by the cross country teams.
The trail entry is at 466 Legacy Park Lane, east of Mercy Health/Love County Hospital. Hospital administrator Richard Barker has guided the project.
"It will be a great day to celebrate fitness through walking or jogging. We have even more participants scheduled than before the rain postponement," Barker said. The first 500 visitors to the park will receive a commemorative souvenir. The Love County Senior Volunteers Program will serve free bottled water and fruit.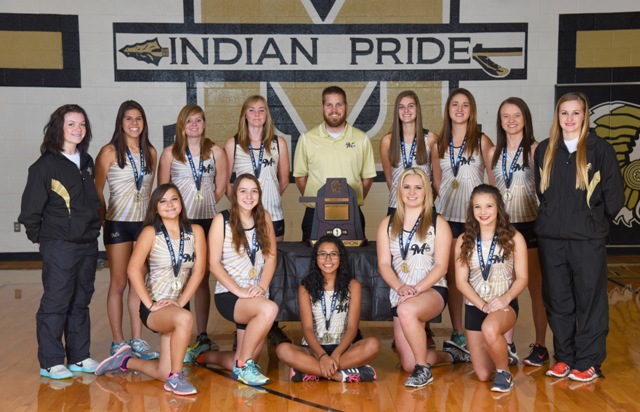 Marietta Lady Indians Cross Country Team
2013, 2014, 2015 Class 3A State Champions
Front row: Michaela Rule, Cynthia De La Torre, Alexandria Spiers, Marissa Fincher. Back row: Logan Willis, Gracie Cain, Jaime Alexander, Victoria Vinson,
Coach Matt Appelman, Abbie Winchester, Hannah Taylor, Landry Willis, Bailey Sykora.
Marietta Girls Cross Country Team. The Lady Indians are Class 3A team champions of Oklahoma for the third year in a row, led by seniors Abbie Winchester, Jaime Alexander, Victoria Vinson, and Landy Willis.

Winchester was state runner-up and junior Gracie Cain placed ninth, to secure All-State honors. Willis followed in 18th place, and Alexander was 22nd overall. Promising sophomores Cynthia De La Torre and Hannah Taylor came in 19th and 26th, respectively.

Rounding out the championship team are Michaela Rule, Bailey Sykora, Logan Willis, Alexandria Spiers, Marissa Fincher, Robyn Moore, and Monica Salazar.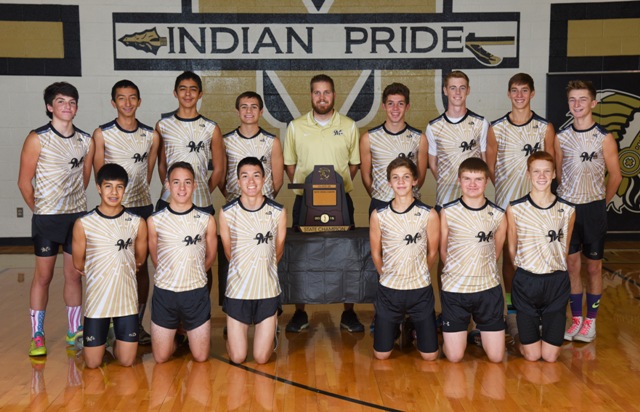 Marietta Indians Cross Country Team
2015 State Champions
Front row: Alex Sanchez, Chase Waterhouse, Jayson Fraire, Connor Vinson, Daniel Brock, Trace Stewart. Back row: Garrett Vinson, Jesus Fernandez,
Antonio Valenzuela, Jesse Scott, Coach Matt Appelman, Ethan Vinson, Bolton Fortune, Zane Nutter, Tyler Smith.
Marietta Boys Cross Country Team. A young but very talented team brought home Marietta's first Class 3A team cross country championship in 2015, after finishing third at state last year. Top 10 finishers at state earn All-State honors. Marietta had four: senior Ethan Vinson, third overall, followed by underclassmen Bolton Fortune, eighth, Chase Waterhouse, ninth, and Zane Nutter, tenth.

Jason Fraire, Jesus Fernandez, and Trace Stewart placed in the top 20. Others on the championship team are Jesse Scott, Tyler Smith, Alex Sanchez, Garrett Vinson, Daniel Brock, Antonio Valenzuela, and Connor Vinson.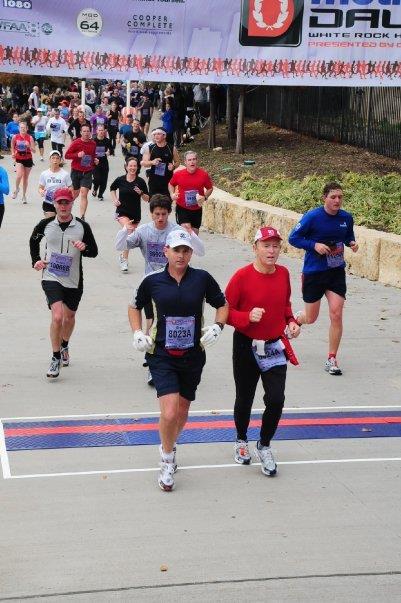 Senior Marathoner
Arthur Rickets (r) competes in the senior division of a White Rock Mrathon in Dallas,
one of three marathons he has run. Drew Rickets (l), completed the 26.2 mile course alongside
his father.
Senior Marathoner Arthur Rickets. At age 76, Rickets is proving that running is a lifetime sport. "I was 40 when I took up the sport. I started out jogging in my pasture in work boots. I continued to jog for health, weight maintenance, and pleasure several times a week. It was 15 years later before I entered a 5k footrace. I got hooked because I medaled in my age group," he said.

Many more medals would follow in the 5 kilometer, half-marathon, and marathon (26.2 mile) distances. Rickets has speed and stamina. He ran a 4:06 in the 2008 Boston Marathon, which is open only to the fastest age-group qualifiers. He still runs the 5k in under 28 minutes. In 2014, at age 74, he was the oldest male in the A2A 5k race in Ardmore yet finished 63rd out of all 435 competitors.

Rickets is an insurance agent and serves as chair of the Love County Health Center Foundation.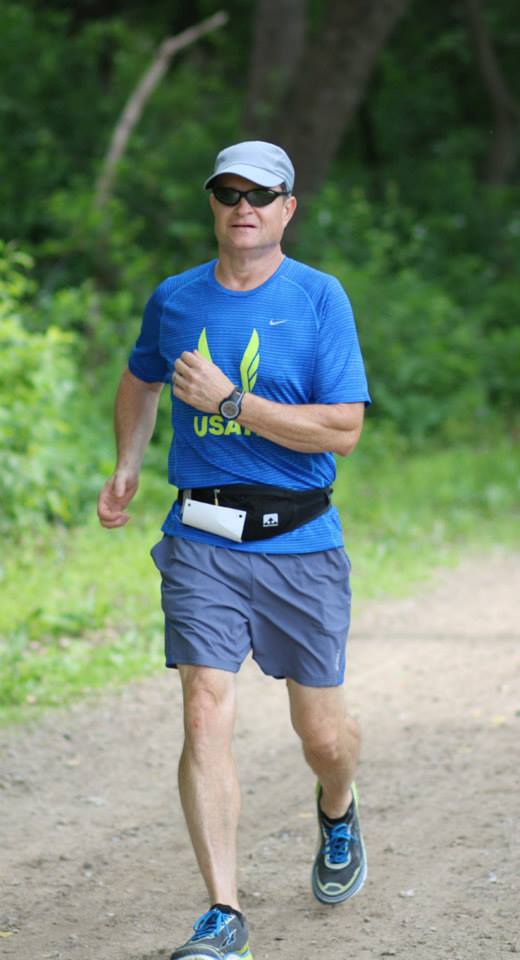 Distance Walker
Rob Robertson became American Centurion 78 after walking 100 miles in under 24 hours. He
covered the distance in 22 hours, 37 minutes, 49 seconds in the FANS 24 Hour race in Fort
Snelling, MN in 2015.
Distance Walker Rob Robertson. Robertson also came to his sport later in life. He stepped out of his house on Turner Circle at Falconhead on January 1, 2013, to walk the .8-mile loop as a way of getting back into shape in time for his 50th birthday.

One step led to another and before long, he was speed walking half-marathon and marathon road races. Then came ultra-distance competition with 12 hour and 24 hour events. In 2015, in the FANS 24 Hour race in Fort Snelling, MN, Robertson walked 100 miles in 22 hours, 37 minutes, 49 seconds, making him United States Centurion 78.

He followed that up with another 100-mile walk at the Ultracentric 24 Hour in Grapevine, TX, last fall.

Robertson is turning his attention to international competition, with centurion races in Australia in April and England in August, followed by the American Centurion Qualifier in Oswego, NY, in September.

"I will have three 100-mile centurion races in 23 weeks on three continents. Whew, big year, going to be fun! I average 70 miles per week walking. As of March 1, I had totaled 913 days, 6,643 miles, and lost and kept off 55 pounds," Robertson said.

His daily practice still takes place on the .8-mile loop in his neighborhood. Robertson is vice president of Robertson Hams.


Marietta Coach Matt Appelman. In only his fourth year at Marietta High School, Appelman has produced three state championship girls cross country teams and the school's first state championship boys cross country team. Coach Appelman will have the honor of counting down and firing the starter's pistol to launch the honorary first lap on the Legacy Park Recreational Trail.

After their lap, the honorary runners and walkers will remain on the trail to offer encouragement and advice to anyone wanting to learn about their sports.
Throughout the morning and early afternoon, the county's four public schools will have runners on the trail competing to set age-group records in the 1/2-mile run or walk.

Open trail periods from 11 a.m.-noon and 3 p.m.-dusk will welcome walkers, runners, bikers, skaters, and wheelchair users of all ages for recreational use. The trail is 10 feet wide and has asphalt paving.
It describes a gently rolling 1/2-mile loop that roughly follows the perimeters of the hospital complex.

The regular hours for Legacy Park will be dawn to dusk. Park restrooms are on the north side of the Growers Market at the trailhead.
The market, a 4,200 square foot building and 2,400 square foot awning for selling fresh fruit and vegetables, was the first Legacy Park installation, last fall.

Together, the growers market and the trail complete Phase I of Legacy Park.

"These elements of Phase I come out of community health assessments in which the public is asking for access to facilities to be able to exercise and find healthy foods. This is all about improving the community's health," Barker said.

County Commissioner District workers constructed the recreational trail from landscape architectural plans drawn up in January 2013.
Sources of financial support included a $160,000 recreational trail grant from the Oklahoma Department of Tourism and Recreation, coupled with in-kind contributions from each of the Love County Commissioner Districts and from Mercy Health/Love County Hospital.
Possible projects identified for Phase II of Legacy Park include one or a combination of exercise stations, disc golf, horseshoes, ropes course, children's playground, or splash pad.
Phase III entails the extension of the recreational trail to Shellenberger Park on the east and Lake Country Nursing Center on the west.
As in Phase I, the availability of grants and community support will drive the completion of future projects.
A public fundraising drive to purchase trees and shrubs to beautify and shade the recreational trail is underway, under the direction of the Love County Senior Volunteers Program. Director Eyvonna Lemons said donations would be accepted at the opening day events on March 21, or by mail to Legacy Park Fund, P.O. Box 375, Marietta, OK 73448.
Collaborators in the Legacy Park project have included Love County Board of Commissioners, Mercy Health/Love County Hospital, Love County Community Coalition Health & Fitness Committee, Love County Senior Volunteers Program, and Love County Master Gardeners.
The Legacy Park Mission Statement is:
Create opportunities for the people of Love County to engage in regular physical activity and to find and consume healthy foods.
Help patients of the hospital/clinic prevent or cope with chronic illness by becoming more fit and healthy.
"We call it Legacy Park because it is dedicated to all the people of Love County," Barker said.