Opening Day Photos
Posted on Wednesday, March 23rd, 2016
Legacy Park Opens With a Flurry!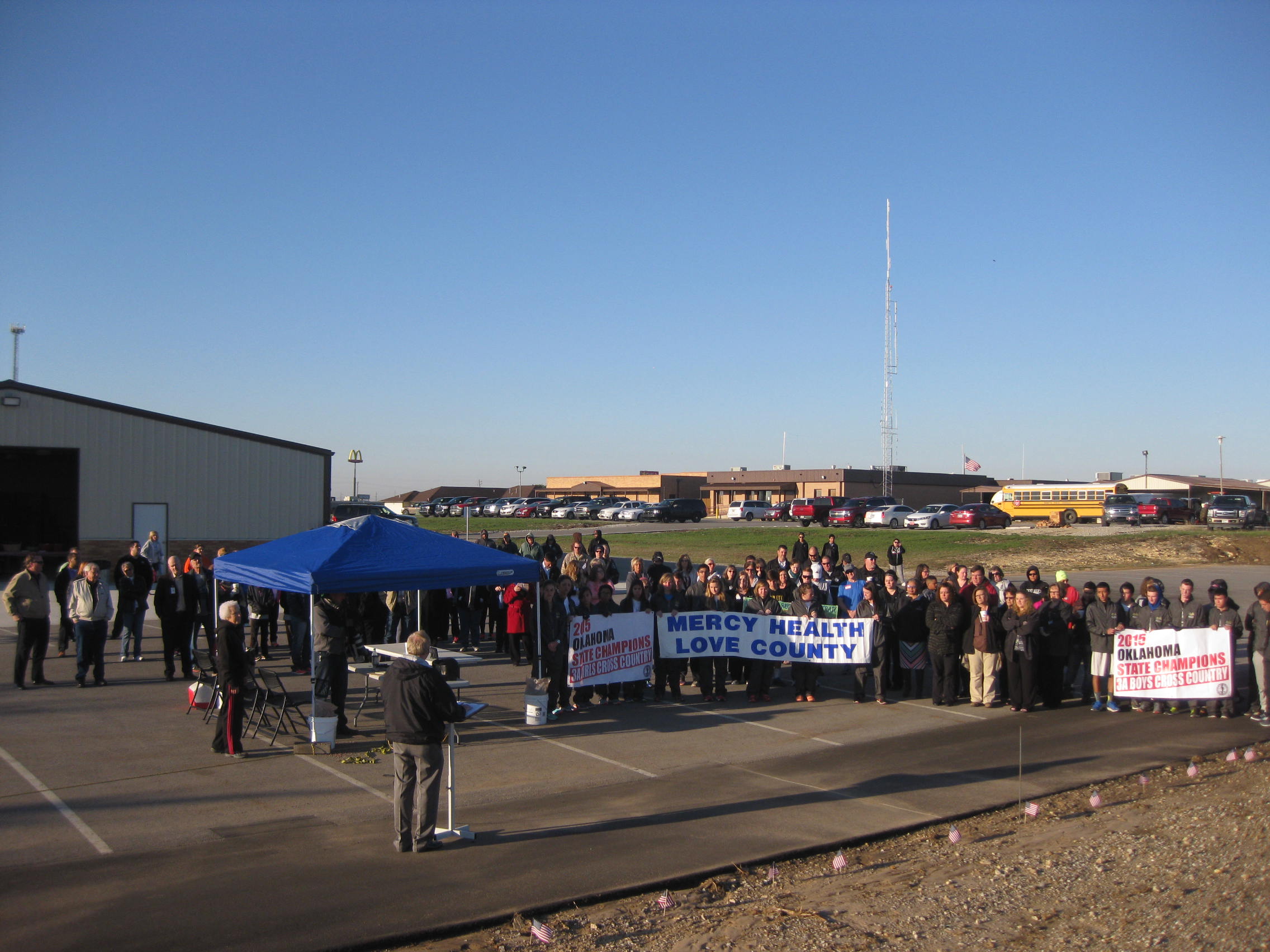 Legacy Park Recreational Trail Grand Opening: Hospital
Administrator Richard Barker addresses the audience at the grand
opening of Legacy Park Recreational trail, northeast of Mercy
Health/Love County Hospital, on March 21. An estimated 650 people
visited the opening day festival from 8:30 a.m. to 3 p.m. (Photo
by Don Sessions)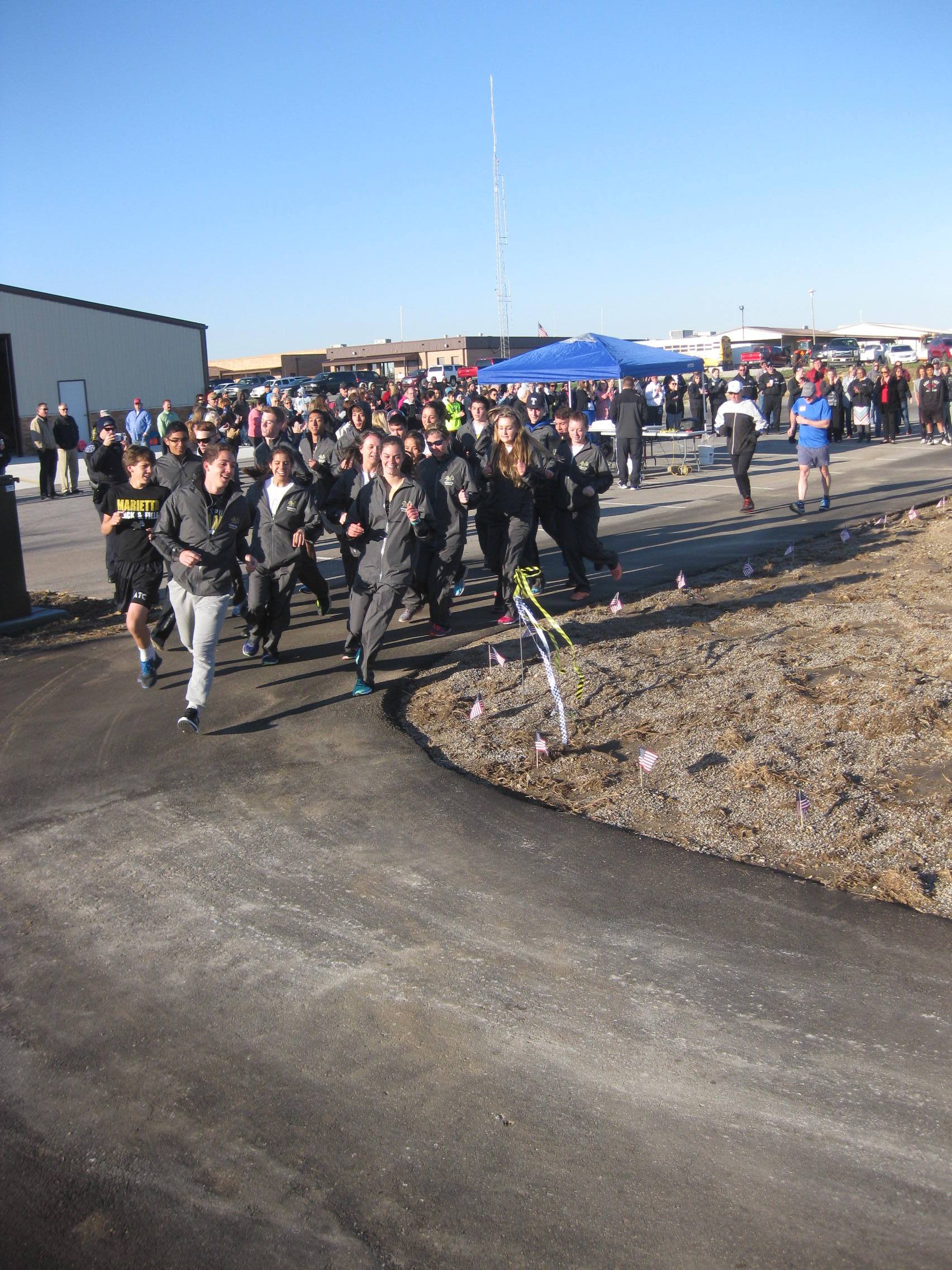 Honorary Lap Leaders: The state champion Marietta High School
girls and boys cross country teams, led by All-State seniors Ethan
Vinson and Abbie Winchester, round the first turn. They are followed
by senior marathoner Arthur Rickets and speed walker Rob Robertson
on the ceremonial first lap around the Legacy Park Recreational Trail
on March 21. (Photo by Don Sessions)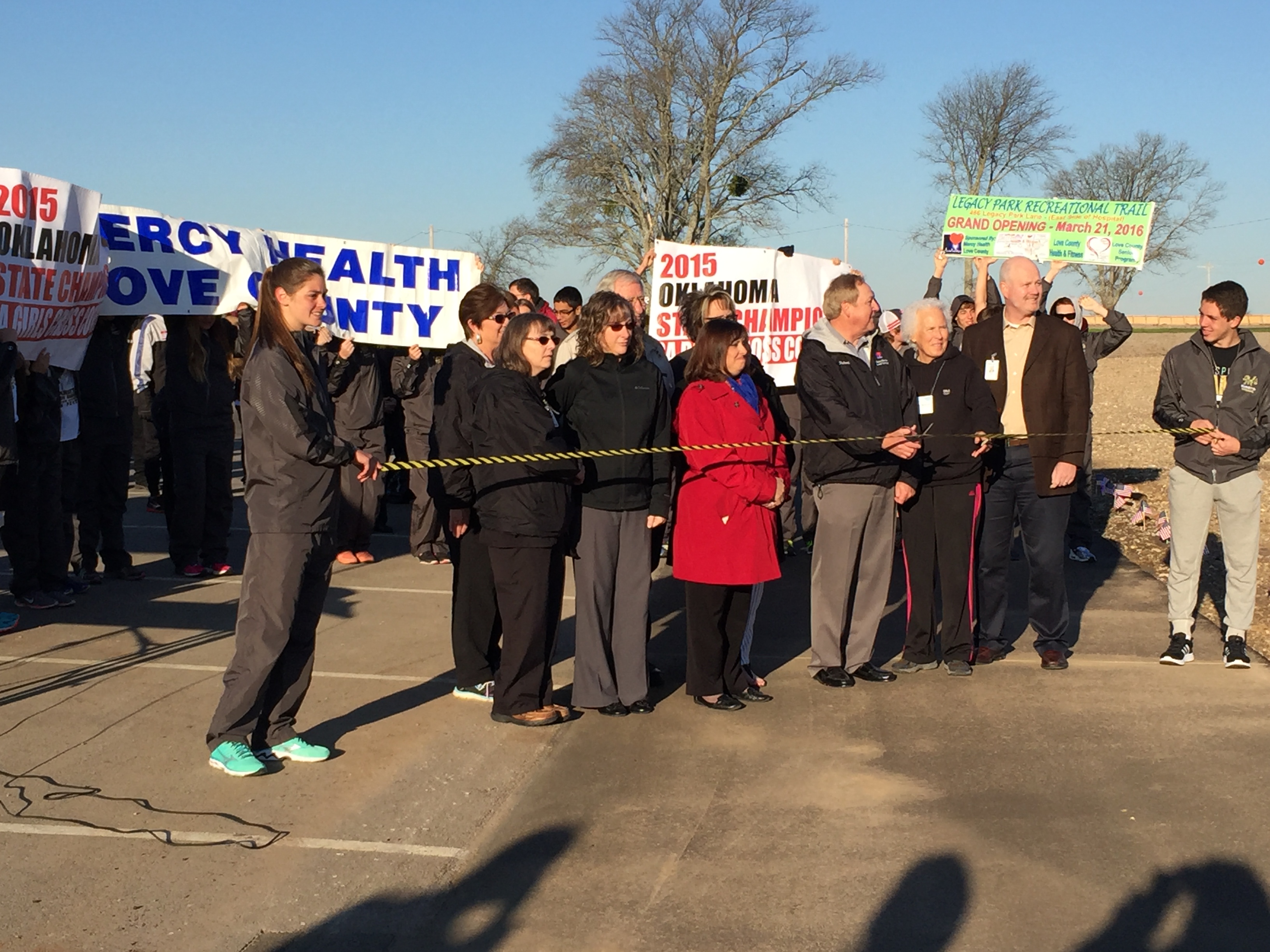 Cutting the Black and Gold Ribbon: The hospital honored the state
champion Marietta cross country teams by cutting a black and gold
ribbon, held by All-State seniors Abbie Winchester (far left) and
Ethan Vinson (far right) to open Legacy Park Recreational Trail on
March 21. Barbara Sessions (third from right), chair of the Love County
Community Coalition, was extended the honor of cutting the ribbon.
She is flanked by Daryle Voss (second from right), CEO of Mercy
Hospital Ardmore, and Richard Barker, CEO of Mercy Health/Love
County. Hospital board chairman Dr. Jack Testerman is back row
(second from left). Others pictured are hospital 'mission team' members
(front row) Michelle Lively, Carla Bolton, and Connie Barker, and
(back row) Connie Graham and Angie Lang. (Photo by Randi McCann)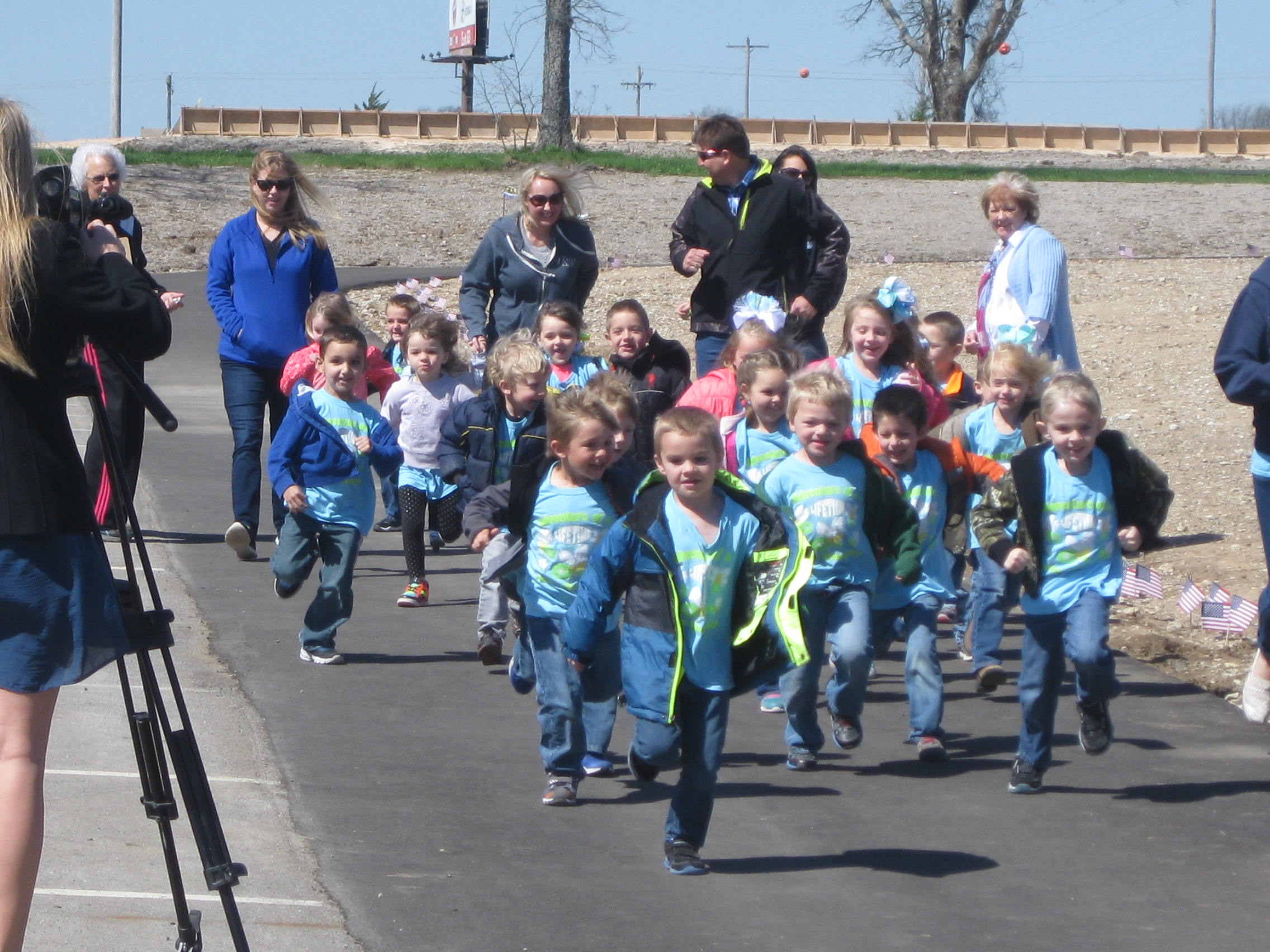 Leader of the Pack: Lance Stinley, age 6, takes an early lead in the
Turner School pre-kindergarten foot race around the 1/2-mile
recreational trail at Legacy Park on March 21. All four Love County
schools sent runners to establish age-group records on opening day.
A total of 650 visitors joined the festivities.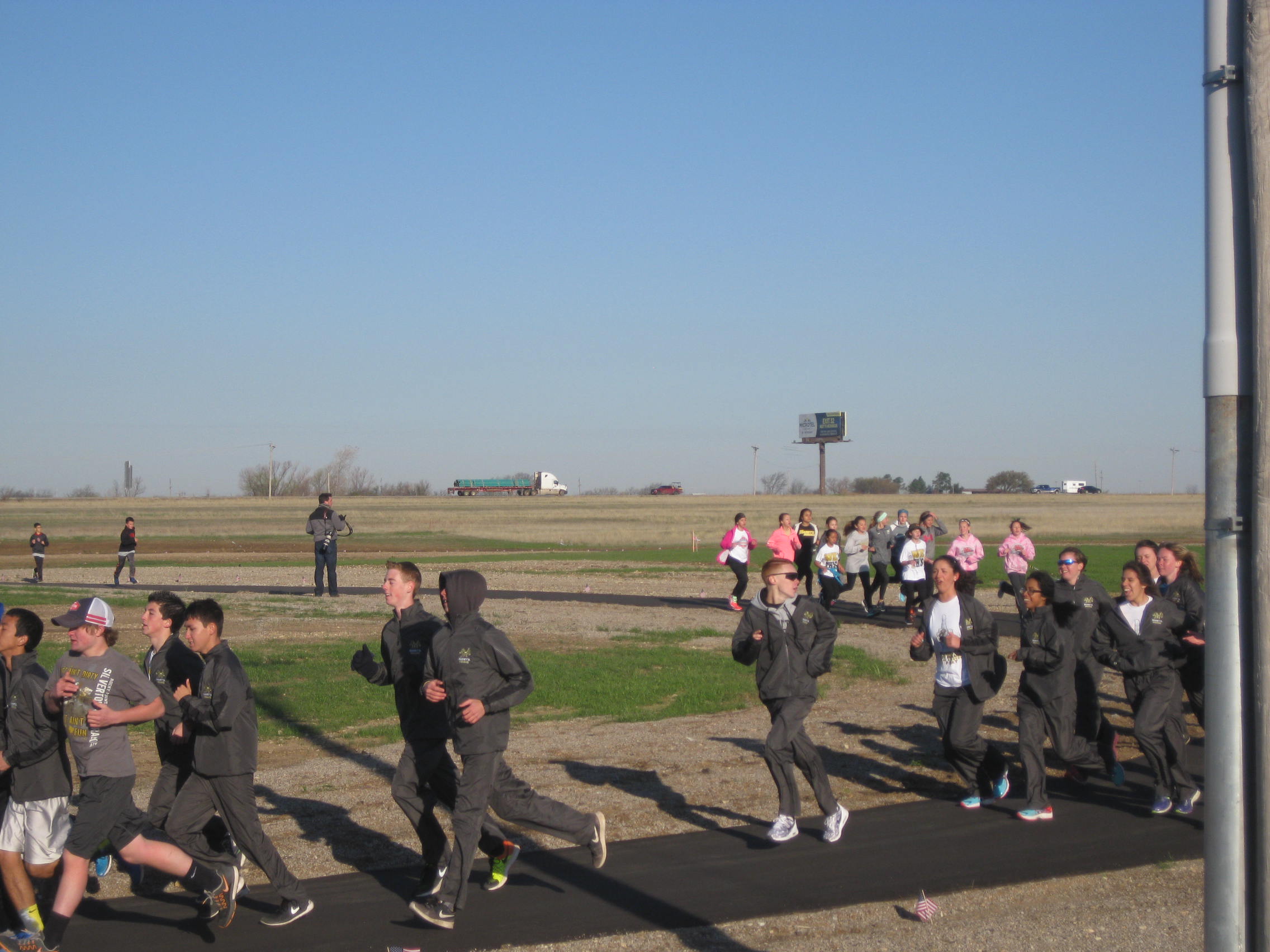 Visible from I-35: The first lap runners round the final turn, with
trucks visible from I-35 in the background. The trail describes
a 1/2-mile loop that follows the perimeters of the hospital complex.
The trail entry is at 466 Legacy Park Lane on the east side of the
hospital.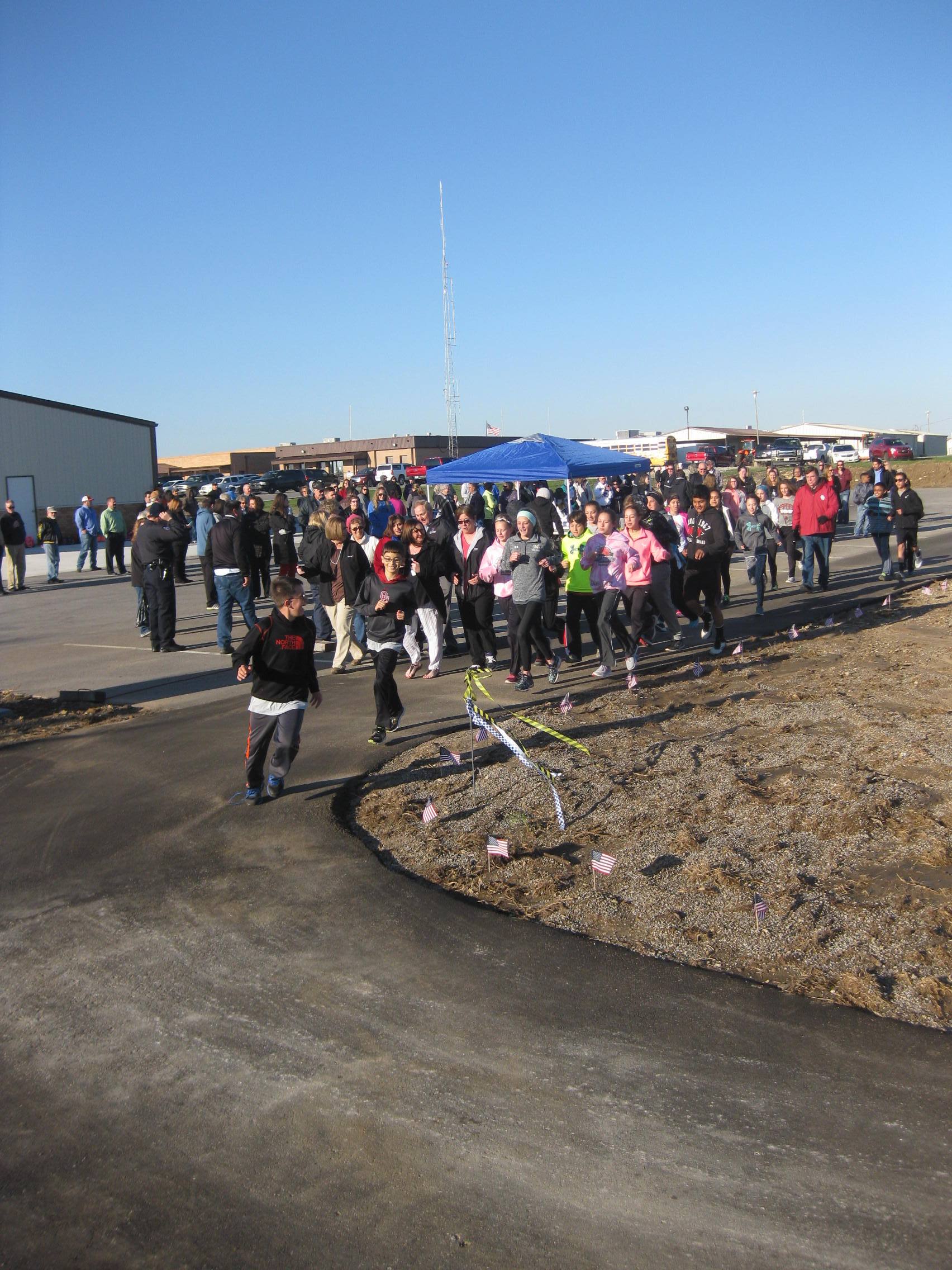 The People Follow: Spectators at the Legacy Park Recreational
Trail ribbon cutting fall in behind the leaders on the honorary
first lap around the 1/2-mile trail.