Nurse Practitioners Building Their Profession
Posted on Tuesday, June 14th, 2016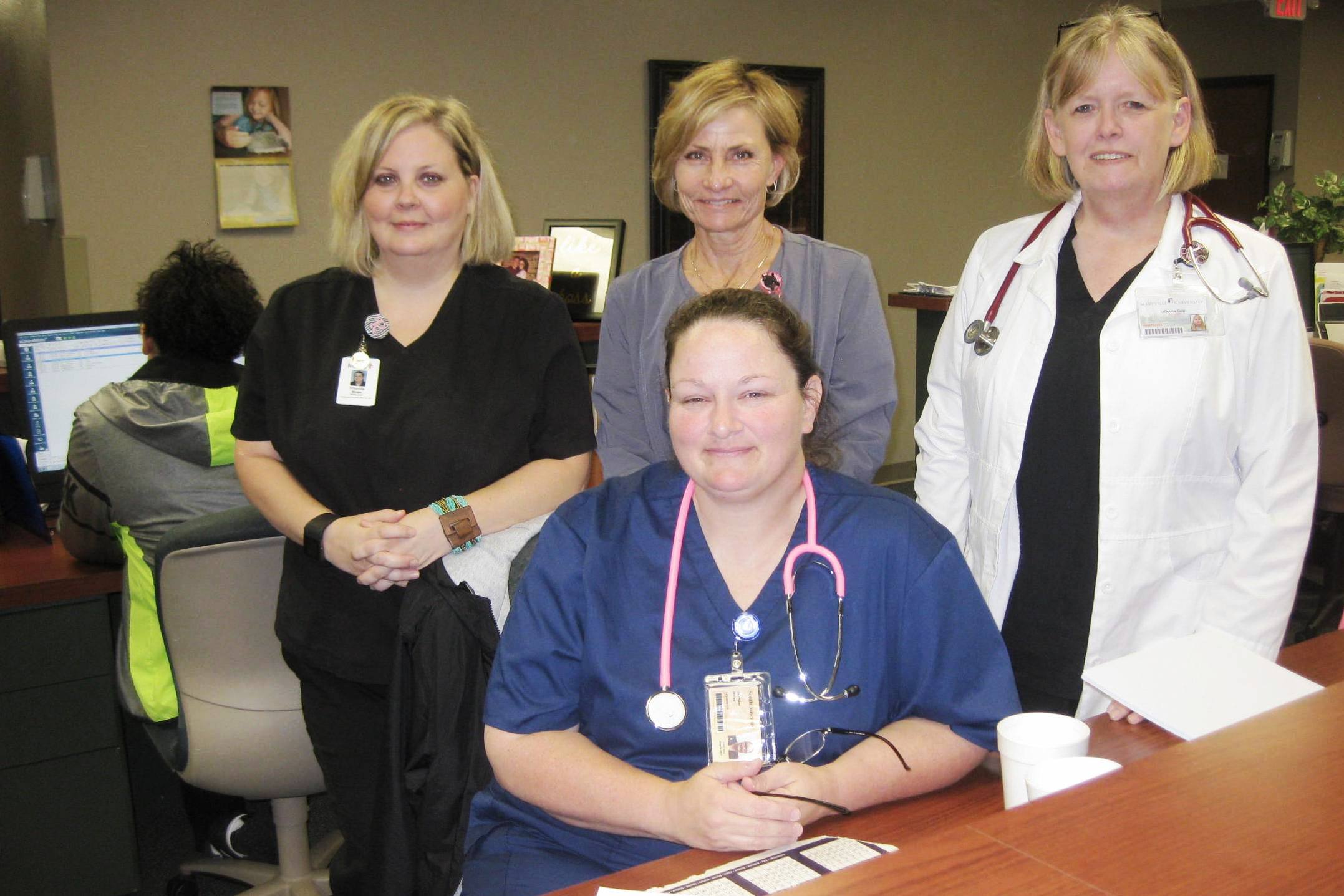 Follow Me: Nurse practitioners Rhonda Mose (standing
left) and Pat Owens are sharing their clinical knowledge
as preceptors to student nurse practitioners LaDonna
Culp and Jennifer Hicks (seated) in the clinic of
Mercy Health/Love County Hospital.
Patricia Owens, family nurse practitioner, is popular with patients in the clinic of Mercy Health/Love County Hospital.
But she may be an even bigger champion to registered nurses studying to become nurse practitioners.
For 20 years, Owens has volunteered as a clinical "preceptor." Nearly every semester, she welcomes one to three graduate-level nurses to observe and engage in her practice.
Those student practitioners say the "hands-on" experience in the clinic that is offered by Owens and nurse practitioner Rhonda Mose (who was mentored by Owens, among others) is exceptional.
"They're so welcoming here, you forget you're a student. The whole office makes you feel part of the team. Some other places, you might be doing more observing than doing, or you might be fearful of making an error, but here, you're the one doing the examination and diagnosis and treatment plan, and then they talk you through it and show you where you're right or wrong," said LaDonna Culp.
There is plenty of room for comparison, as the students may spend time in four or five different medical clinics in Oklahoma and Texas completing the 600 hours of experience needed to graduate as nurse practitioners.
The students must find their own preceptors for needed rotations in family practice, adult-geriatrics, pediatrics, neonatal, and women's health or psychiatric/mental health.
Culp says her recent rotation through family practice with Owens has redirected her thinking about a future career.
"Before coming here, I didn't see family practice in my future. In 23 years as a nurse, I had only emergency room, hospital, and medical/surgical experience. But my 80 hours of practicum with Pat, watching her with her patients, has caused me to believe I can make my most impact in family practice. She showed me how you can piece together the whole picture of the patient to help them obtain optimum health," Culp said.
Owens says an attraction of mentoring is learning from her students. "I learn from teaching. I learn from the questions they ask. Many of them come here as seasoned nurses and knowing so much. They help me in my practice, because by the end of their practicum, they have advanced from student to peer."
Mose signed on as a preceptor shortly after joining the clinic as a beginning adult-geriatrics nurse practitioner in 2014.
"Finding a mentor can be difficult, but so many mentors have been influential in my career that I want to give back and do what I can to sustain the profession and welcome others," she said. "You're also a better practitioner when you get into coach mode. Students help me stay on my toes and keep my knowledge freshened."
Besides Culp, local area nurses Lorie Anderson, Melissa Hallum, and Jennifer Hicks are being mentored in the Marietta clinic on their way to graduating from their respective universities as nurse practitioners.
Most carry a heavy load of 25-30 hours per week of studying and practicums on top of their work as fulltime registered nurses.
Culp is director of nursing at Mercy Hospital, Tishomingo.
Anderson is a traveling nurse who works various shifts in intensive care units at Mercy Hospital, Ardmore, and other hospitals in Oklahoma and Texas.
Hallum started her career at Mercy Health/Love County and more recently has been a supervising hospital nurse in Ardmore and Madill.
Hicks is a pharmacy nurse at Mercy Health/Love County.
It is the drive to do more that prompts many nurses to pursue a path from registered nurse to nurse practitioner. Nurse practitioners have greater autonomy.
Like physician assistants, they are given generous privileges of practice and can diagnose illness, manage treatments, and prescribe medications.
But nurse practitioners also bring the habits and traditions of nursing to their practices.
"We spent so much time bedside as nurses, urging on progress and dealing with the large and small issues of patient care, that we continue to call upon those nursing assessment skills when we become practitioners," Mose said.
Owens opened a practice in the clinic in 1995 and has been a preceptor to student nurse practitioners since 1996. She earned her master's degree and certification as an advanced practice registered nurse (APRN) from the University of Texas-Arlington in 1994.
Prior to the clinic, she spent 18 years as a registered nurse in the hospital, rising to director in 1990. From 1979-1981 she served on the ambulance as an emergency medical technician.
Owens capped her lengthy education in nursing in 2007 with a post-master's certification in nursing education from the OU College of Nursing. At graduation, she won recognition for both academic achievement and professional service.
"Pat's a wonderful educator," said Anderson, who wound up 11 weeks with Owens' practice in May.
"Family practice is not like the acute care in the ICU where you solve a problem and pass the patient on. Pat taught me to care about the patient's life. She makes sure I understand and the patient understands the rationale for their treatment plan. She is a great encourager."