Clinic Staff Looks Back on Memorable Moving Day
Posted on Friday, March 23rd, 2018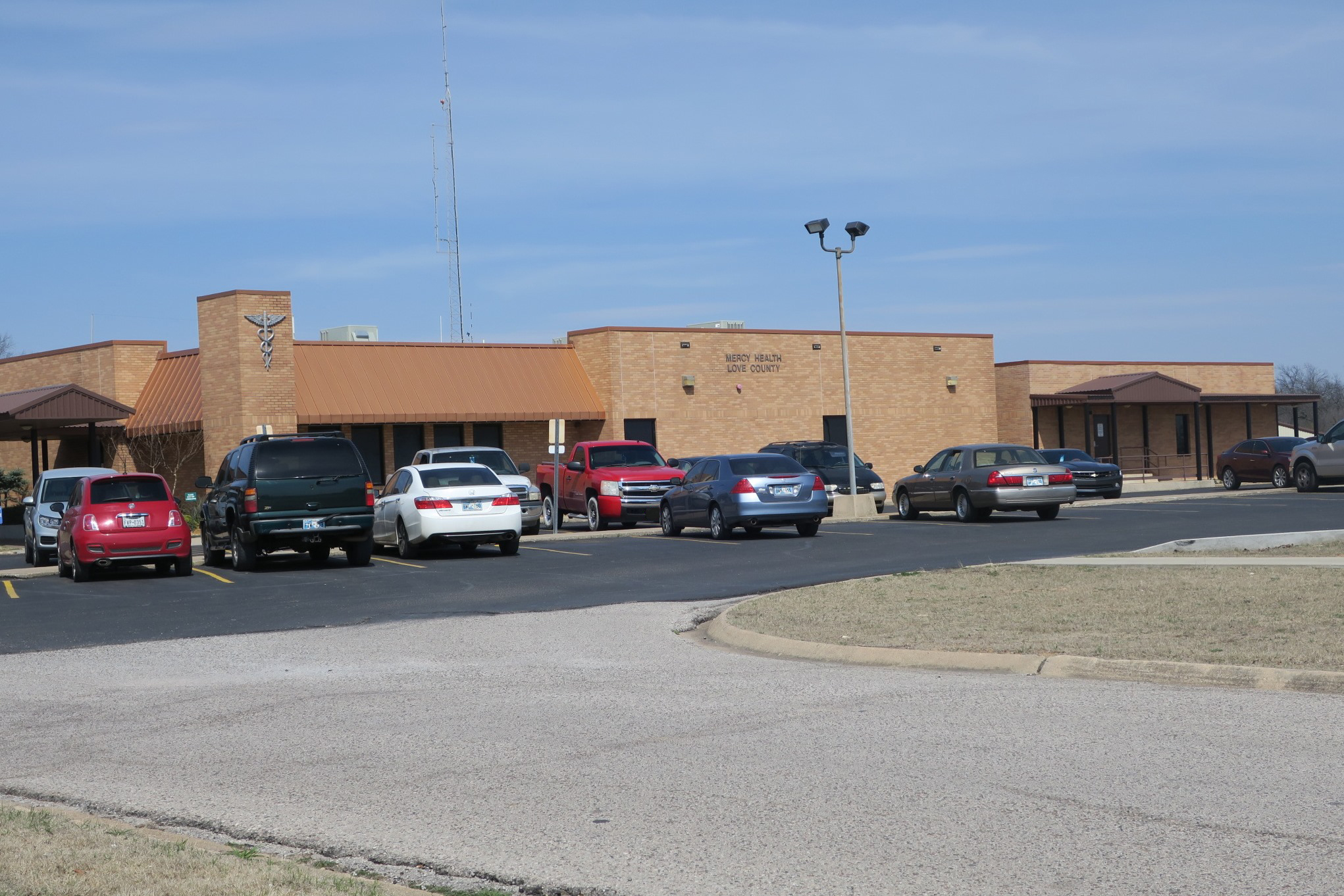 Clinic Building Doing Its Job -- The Mercy Health/Love County
rural health clinic celebrated 20 years in its own building on March 22.
Shown is the original building that opened in 1998 adjoining the hospital
plus a 3,000 square-foot expansion on the right that opened in 2011.
It was one of the most awaited moving days in local memory.
The distance covered was 150 feet plus a world away from congestion.
That was the scene on March 22, 1998, when a dedicated clinic building opened
alongside the hospital at 301 Wanda St.
Doctors and family nurse practitioners had a place to practice outside of the cramped hospital wing they had called home since 1990.
The original 6,000 square-foot medical building was expanded to add eight more treatment rooms and additional offices in 2011. It is served today by the largest staff of medical providers in clinic history.
They include Dr. Stephen Hutchins, M.D.; Dr. Terry Jones, M.D.; Dr. Margaret Western, M.D.; Dr. Joe Witten, D.O; Patricia Owens, APRN-CNP, Family Nurse Practitioner; and Rhonda Mose, APRN-CNP, Adult Nurse Practitioner.
"The significance of our building 20 years ago was that we had space to grow," said Connie Barker, clinic director since 1990. "We had been treating patients on the A wing of the hospital. We were severely limited on space for charts and personnel. Now 20 years later and with 9,000 square feet of space, we are able to treat our patients in comfort."
Over 20 years, Barker estimates the growing staff has cared for 300,000 patient visits. The original providers in 1990 were Hutchins, Dr. Vergil Smith, and Dr. J.T. O'Connor, Jr. Others who served along the way were Dr. Larry Powell, M.D., Dr. John Hester, D.O., and Dr. Paul Nioce, M.D.
The clinic makes agreements with medical specialists to travel to Marietta. Currently, Dr. Robert Benson, a heart specialist, is seeing patients locally.
"Additional specialty care is the future of the clinic," said Barker. "We also are planning software and hardware upgrades."
The scope of the clinic practice extends to the nursing home, where three of the doctors make visits. Beyond routine care, the clinic performs Department of Transportation employment physicals and provides immunizations.
The clinic, like the hospital and all the other facilities of Mercy Health/Love County, is owned by the people of Love County.
All of the revenues accrue to the institution, with profits going toward new and improved services and facilities. The practitioners and employees are salaried staff members.
They are providing primary medical care to patients from throughout the region, primarily Love County, Carter County, Jefferson County, and Cooke County, TX.
Also on the medical campus are facilities for laboratory tests, x-ray, CT-scan, and other radiology exams, a dedicated building for physical therapy, occupational therapy, speech therapy, and respiratory rehabilitation, a dedicated building for adult day care, a dedicated building for social services, and a dedicated recreational trail and grower's market building for extended heath opportunities.
An expansive hospital emergency department is staffed by still more medical practitioners, including physician assistants Tad Hall, PA-C, Kari Cochran, PA-C, Maria Maynard, PA-C, and Brittany Zimmerman, PA-C.
Inside the hospital are 25 "swing" beds equally available to acute care patients or longer-term stays for skilled nursing. In the service area, only Love County and Healdton hospitals offer skilled nursing care. These additional days are important for post-acute patients who are not yet able to function at home.
Serving in the community from the hospital/clinic staff are two school nurses, Sheila Nipp, R.N., and Paulette Manning, R.N.
Clinic nurses are Melissa Arguello, Laura Guerro, Teresa Logan, Ashley Moody, Teresa Steen-Landreth, and Kellie Westra. In the clinic office are Laura Beck, Jana Brown, Sherry Diaz, Angelica Gonzalez, Amber King, and Misty Kirk.
The clinic is federally licensed under the Centers for Medicare and Medicaid Services as a Rural Health Clinic, meaning it serves a primarily rural area with a mix of physicians and mid-level providers.
The clinic hours are 8:30 a.m. to 5 p.m. weekdays. The telephone number is (580) 276-2400. The clinic welcomes patients by appointment or walk-in.