Hooray for Trees at Legacy Park!
Posted on Friday, March 30th, 2018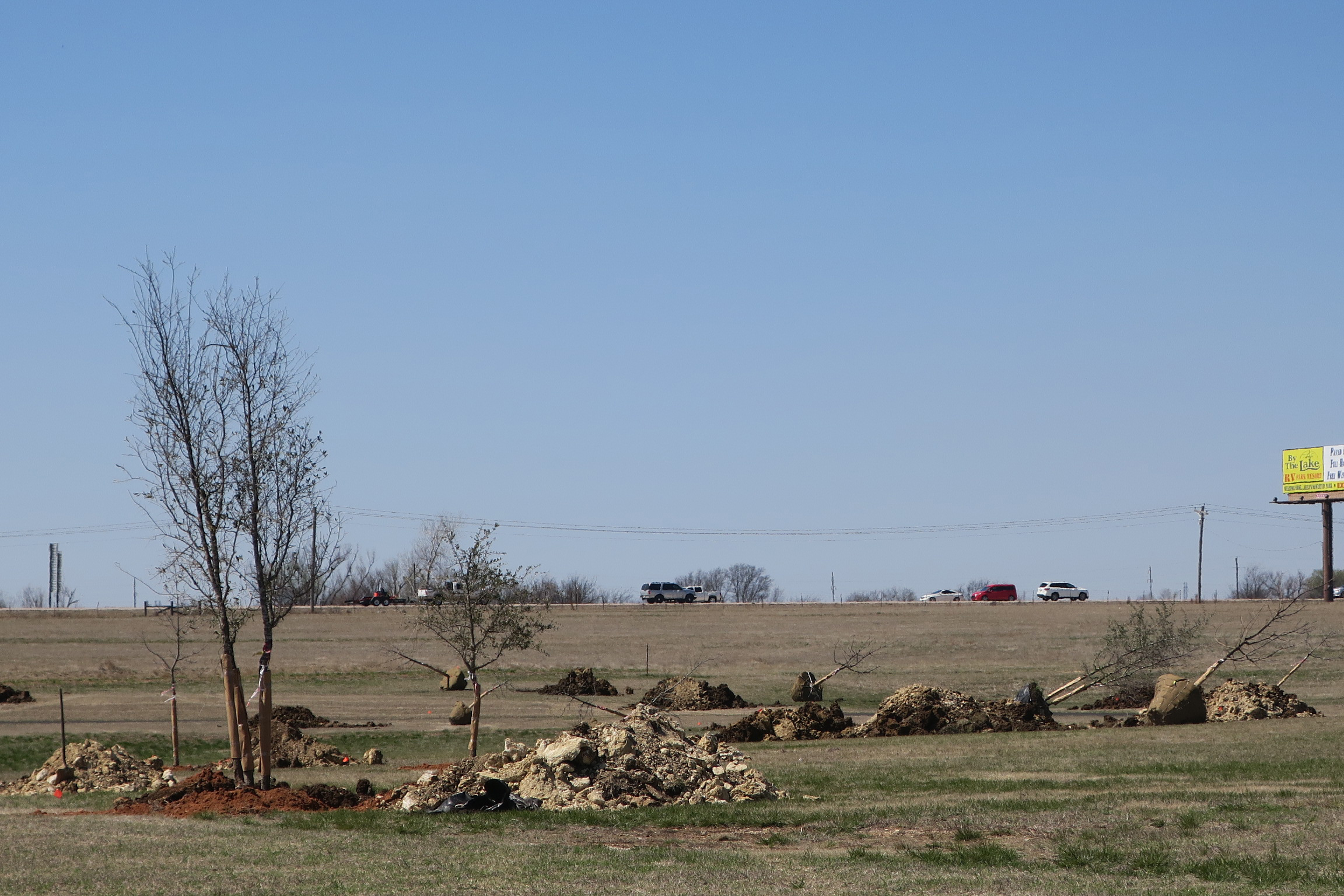 Above & Below: Some of the trees arrayed for planting.
Legacy Park north of Mercy Health/Love County Hospital took a beautiful leap forward on March 20 with the installation of 33 trees donated by Love County organizations and individuals.
Very soon the trees will provide shade to walkers and joggers on the popular ½ mile Legacy Park recreational loop trail that opened in 2016.
Among the Oklahoma native trees planted were bald cypress, Chinese pistache, sycamore, chinkapin oak, live oak, bur oak, and red oak.
"We are so thrilled with those trees. Man, they are pretty," exclaimed hospital CEO Richard Barker, following the busy day of excavating and planting. The park is on land held in trust by the Love County Health Center Foundation at 466 Legacy Park Lane.
Benefactors funding the tree purchase were Mercy Health/Love County Hospital, Love County Senior Volunteer Program, the Rose Garden Club, Love County Library Book Club, and the families of Claudell Higgins, Delores and Don Harvey, Paulette Manning, Ron Jacobs, Barbara and Don Sessions, and Eyvonna and Bud Lemons.
All purchasers will be recognized with tree plaques. A new fund has been started for additional tree purchases. Interested organizations and individuals may contact the Senior Volunteer Program at (580) 276-9410 to donate. Each tree costs $200.
Eyvonna Lemons, seniors' director, leads the park beautification project. She pointed out that volunteers contributed their time, labor, and machinery to install the trees.
They included Woody Alexander and Allen Woody of the Burch Brothers American Legion Post of Marietta; Grover Herndon, Terry Looney, Rhett Rogers, Michael Strohl, Jimmy Rowe, Tom McCurdy, Kenny McKinzie, Lyle Just, and Stephanie Coleman of the OG&E volunteers' club; Mike Steele of OSU Extension, and Jim Lemons, Bud Lemons, Gary Presley, Lee Hallum, and Neil Robnett. Directing the installation was hospital maintenance engineer Clancy Hallum.
The trees were purchased from Landgraf Tree Farm of Madill.
"I hope everyone will come see what's new at Legacy Park," Lemons said. These volunteers showed up on a very cold Tuesday to plant 33 beautiful trees. I can't wait until they all leaf out and we have some much needed shade for our walkers."