Citizens Impressed with Love County Health Care;Want More
Posted on Friday, April 13th, 2018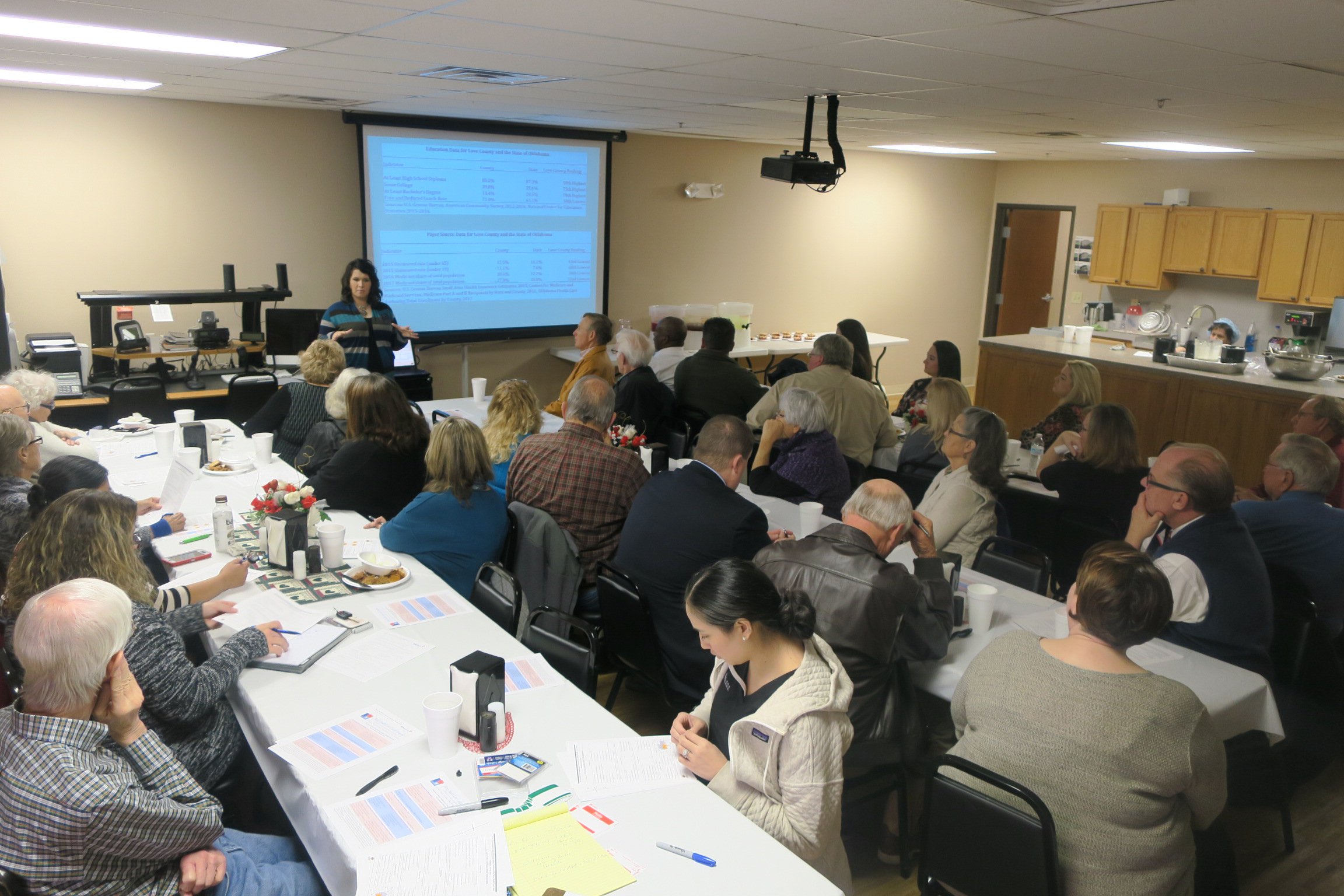 Health Needs Assessment: Citizens and members of the Love County
Community Coalition review local health needs with Lara Brooks,
Rural Health Analyst with the Oklahoma Office of Rural Health.
Mercy Health/Love County Hospital, Clinic, and EMS services are highly regarded, with 9 out of 10 patients reporting satisfaction with the care received.
The overall results among 193 patients surveyed was a 99.3% favorability rating for the doctors, family nurse practitioners, and physician assistants, and 95.4% satisfaction for the hospital overall.
The ratings were gleaned from a written survey conducted during a recent health needs assessment.
The study was conducted by citizens and members of the Love County Community Coalition in cooperation with the hospital. The purpose was to evaluate current care and define priorities for additional health services. Topping the list of community needs were:
• Dental care – including care for patients who do not have coverage and an awareness campaign to remind parents that children enrolled in Sooner Care are covered for dental care.
• Mental health services – especially more inpatient psychiatric care for children, and drug counseling for young people.
• Specialist visits to Marietta. Suggested specialties were obstetrics, surgery, and ophthalmology. (The clinic already has a cardiologist who travels here).
• Exercise facility for all ages, to include weight room and indoor pool.
• Transport to the clinic, grocery, store, hospital food pantry, and other health and social services.
• Summer feeding program.
From comparative health data provided to participants, Love County's population ranked 28th best of the state's 77 counties in overall health.
The health sector of the county (hospital, clinic, EMS, nursing home, pharmacies, dentist, etc.) provides direct and indirect employment to 343 people with an economic impact to the community of $17. 3 million per year, the assessment group learned.
Guiding the study and the survey were consultants Lara Brooks and Corie Kaiser from the Oklahoma Office of Rural Health. Brooks remarked on the high level of recognition among patients randomly surveyed of the existing community programs offered by Mercy Health/Love County.
Patients were able to cite the food pantry, growers market, Legacy Park, Love County Senior Program, Adult Day Center, teen health conference, health seminars and meetings, the EMS training centers, the Love County victim advocate, the food backpack program, the Social Services Building housing the Department of Human Services and the mental health agency System of Care, the ambulance service, and charity care.
"This is the biggest list of community programs of any survey we have ever conducted," Brooks said. She reminded participants the hospital was commended on National Rural Health Day in 2015 as a "Community Star" for building the "health campus" of services to address the overall well-being of the citizens of Marietta and Love County.
Nonprofit hospitals conduct a health needs assessment every three years. The last such assessment in Love County was in 2015. Assessment participants met three times from February-April to complete their study. They included:
Lawrence Anderson, Connie Barker, Richard Barker, Sam Barrick, Carla Bolton, David Brown, Linda Callaway, Clarizza Carroll, Alice Cochran, Jerry Cochran, Ruanne DiMiceli, Connie Graham, Todd Hicks, Kimberly Honeycutt, Chad Hull, Lorry Hull, Lindsey Humphrey, Dee Dee Hunter, Linda Hyman, Ron Jacobs, Holly Johnson, Pam Kerkstra, Misti Kirk, Eyvonna Lemons, Michele Lively, Thom Maier, Christina Martinez, Randi McCann, Yvone McGinnis, Dale McMillin, Murray McMurray, Linda Moore, Michelle Moore-Rather, Jessica Pfau, Lynn Puckett, Arthur Ricketts, Marie Ross, Don Sessions, Chris Snow, Chelsea Stevenson, Dr. Lauren Storts, Jack Testerman, Penny Tibbs, Betty Sue Tow, Melissa Tunnell, Delona Walker, Robert Wilkins, and Megan Yow.