Hospital Takes On Medicare Counseling
Posted on Monday, October 15th, 2018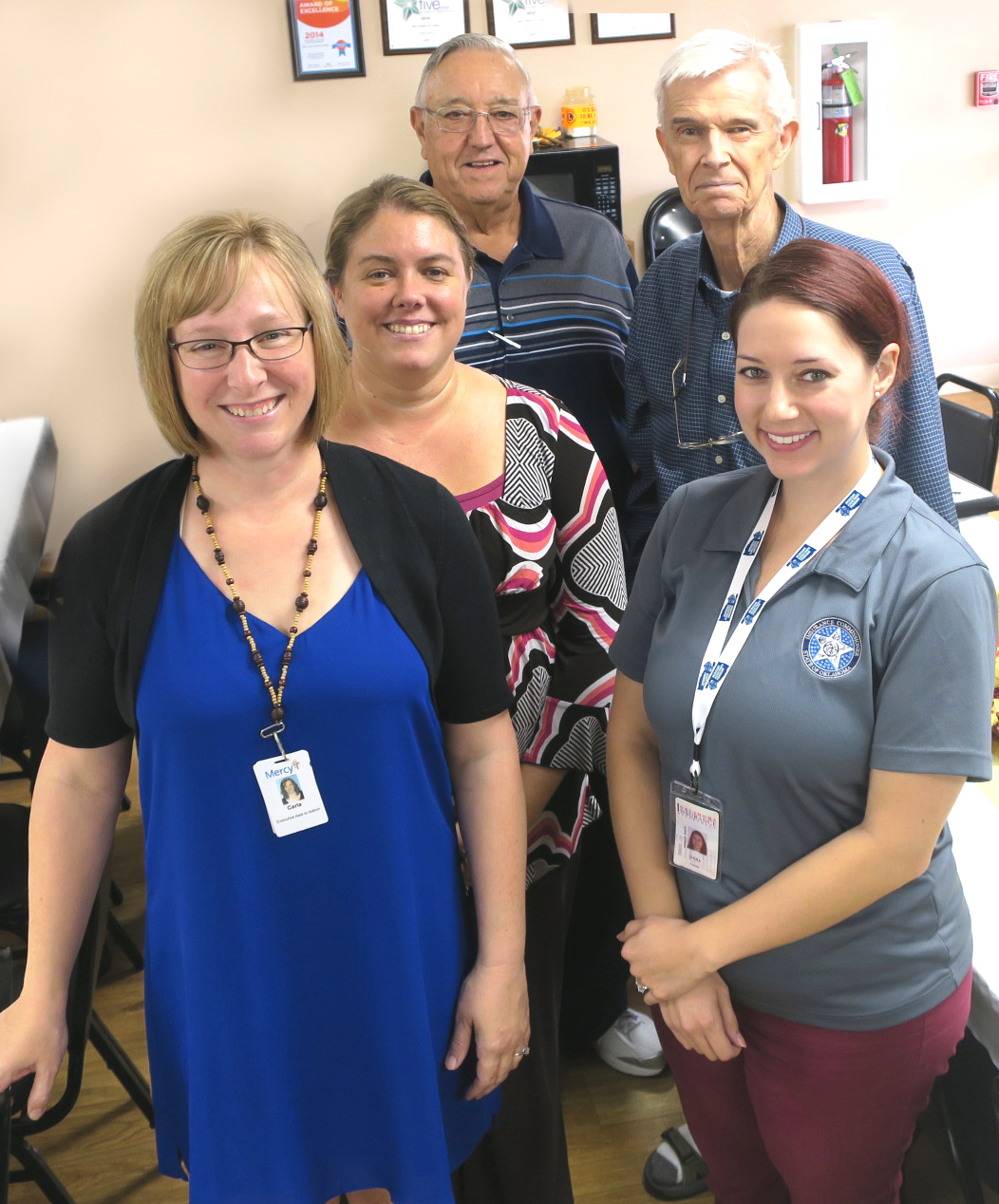 New Medicare Counselors: Carla Bolton and Kari VanBeber of Mercy Health/
Love County Hospital's business office, completed certification training as Medicare
Assistance Program counselors. They are currently available to assist people review
their current medication lists to make sure the Part D Prescription Drug Plan in
which they are enrolled is still the best option for them or if a lower cost plan
is available for 2019. Assisting with the new counselors' training were Anna Farha
(right), from the Oklahoma Insurance Department, and Medicare counselors Jim
Thompson (back left) and Don Sessions.
Don Sessions, Love County's long-time Medicare enrollment volunteer, is stepping down this fall for health reasons. But Mercy Health/Love Hospital and Clinic is stepping forward to take Sessions' place.
Carla Bolton and Kari VanBeber in the hospital's business office will be taking calls from anyone who wants help with Medicare enrollment or Part D Prescription Drug plan searches. There is no charge for this service. The phone number is (580) 276-3347. The hospital is located at 300 Wanda St., Marietta.
They also will assist people with their questions about Medicare supplements, Medicaid, company benefit plans, managed care plans, and the extra-help provision that reduces what low income people pay for Medicare.
In recent weeks, Bolton and VanBeber have trained to become certified Medicare counselors. Assisting in their training were Sessions, Anna Farha, coordinator of Medicare Assistance Program volunteers with the Oklahoma Insurance Department, and Jim Thompson, also a certified Medicare counselor in the area.
October 15-December 7 is the annual "open enrollment" period when Medicare participants can change to a different drug plan if they choose. The change would become effective on January 1, 2019.
Before retiring, Sessions studied the 28 Medicare Part D Prescription Drug Plans to be offered in Love County for 2019. He observed numerous impactful changes for local participants. He encouraged beneficiaries to call the hospital and seek Medicare counseling. "Over half of the 350 people who had their coverage analyzed last year will probably need to change plans to be in the best plan for them for 2019," Sessions said.
Sessions summed up the upcoming plan changes:
• Human Walmart is no longer the lowest-monthly-premium Part D Plan. Its premium is rising to $27.40. For people who take no prescriptions or only an occasional one, the new lowest-monthly-premium Part D Plan is WellCare Value Script (described next).
• WellCare Value Script, a new plan, will cost the least at $15.50 per month. Marietta, Thackerville, CVS, Plaza and several of the independent pharmacies in Ardmore or Gainesville are preferred pharmacies where the co-pay on tier 1 and tier 2 generic drugs will be $0 and $5 per month. At non-preferred pharmacies the co-pay on equivalent generics will be $10 and $20 per month.
• Silver Script Choice prices are going up across the board – premium, co-pays on preferred brand drugs, and increased costs at both preferred and standard pharmacies. Sessions concludes, "It would be very wise for anyone currently enrolled in Silver Script Choice to seek help in determining if you can save money by changing plans for 2019."
• The 'Coverage Gap' is narrowing. In 2019, enrollees will not hit the 'coverage gap' until buying more than $3,820 in 'full cost' drugs. Last year, they entered the gap after only $3,750 in expenditures. Also, co-pays while in the gap are dropping to 25% on brand name drugs and 37% on generic drugs. And, catastrophic coverage, the point at which co-pays drop to their lowest level, will arrive at a much lower spending level than before.
• For Extra Help beneficiaries receiving the "low income subsidy," these seven plans will have a $0 monthly premium in 2019: Aetna Saver, Cigna Secure, Humana Preferred, Silver Script Choice, WellCare Classic, AARP Saver Plus, and CommuntyCare PDP (a new plan for 2019). The plan to get out of because it no longer will have a $0 premium is Blue Cross Basic. Those who had been enrolled in Symphonix Value will be switched automatically to AARP Saver Plus, unless the enrollee takes action to choose another $0 premium plan. Also extra help recipients can change plans at any time, not just open enrollment. (The December 7 open enrollment deadline does not apply to them). That means if they begin to be prescribed drugs not covered by their $0 premium plan, they can change to one of the other $0 premium plans that covers that drug.
• Read the fine print on Medicare Advantage plans. Sessions said, "My experience has been almost entirely associated with helping people get out of such plans and back to 'original' Medicare." That is because, with 'original' Medicare, a participant can use any doctor or hospital in the United States for their medical needs. By contrast, Medicare Advantage plans are networks of doctors or hospitals that a participant must use to receive benefits. In rural areas, finding network coverage is difficult. In recent years, Humana has been the only company in the Love County area to offer Medicare Advantage. In 2019, a new plan, Aetna Coventry, is also being marketed.
Earlier this year, Sessions was recognized by the Oklahoma Insurance Department's Medicare Assistance Program as volunteer of the year. He helped more people in 2017 than any other volunteer in Oklahoma. From 2008-2018, he completed 2,500 Part D Prescription Drug Plan searches. The seniors' compiled savings from changing to lower cost plans amounted to $1.2 million.
Sessions expressed gratitude to the generosity of Mercy Health/Love County for taking over the annual counseling of approximately 400 clients, most of them Love County seniors. As before, there will be no charge to people seeking Medicare counseling.