Hospital Food Pantry Going Strong Since 2002
Posted on Friday, May 31st, 2019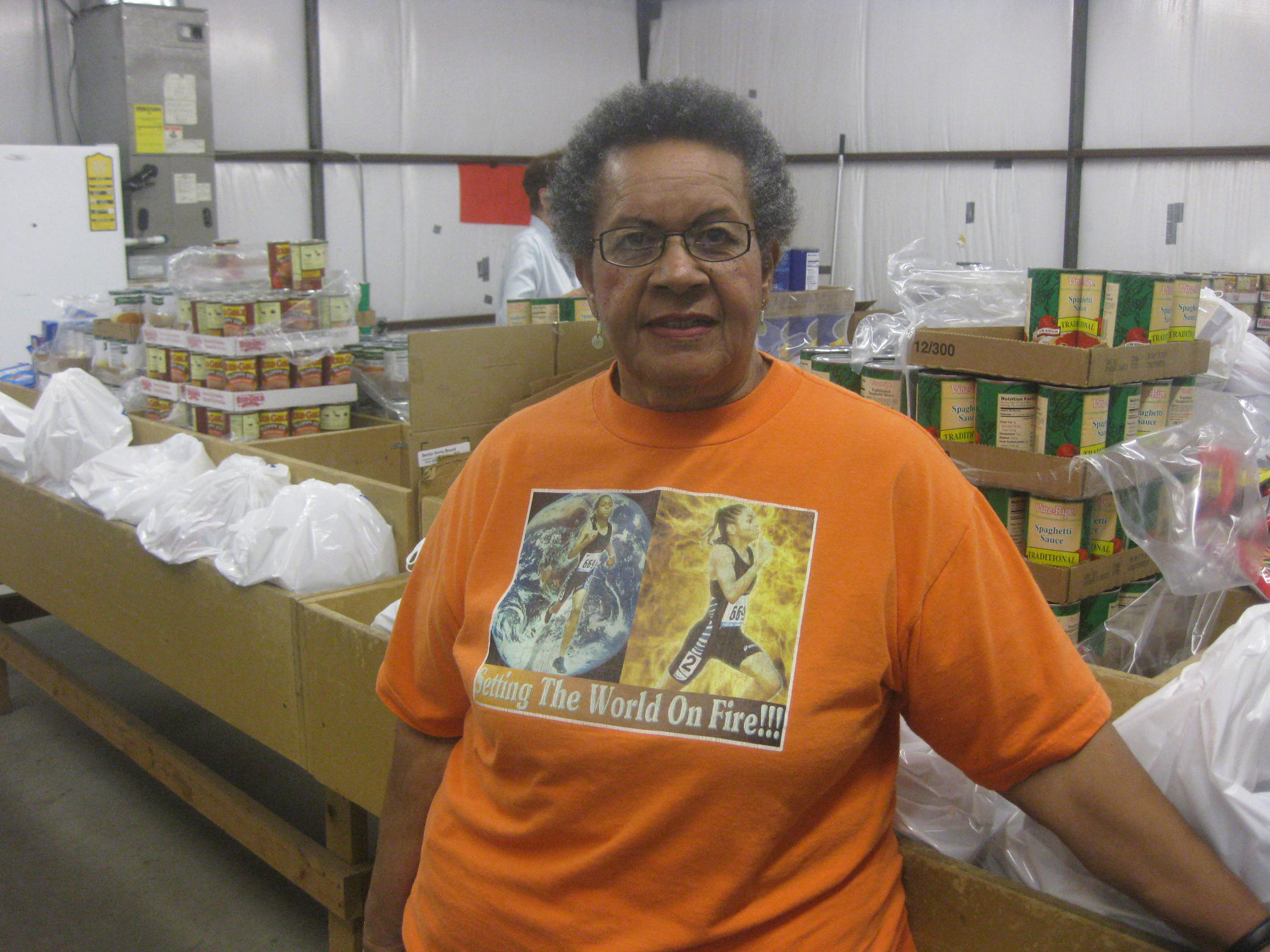 Leading Volunteer: Lula Finch, retired medical assistant, has been
volunteering at the Mercy Health/Love County food pantry since
opening day in May 2002. She arrives at 7 a.m. each Tuesday to
prepare for the 8 a.m. opening and remains until 2 p.m., assembling
and distributing food packages to people who are hungry or food insecure.
Mercy Health/Love County Hospital, Clinic, and EMS has been fighting hunger and food insecurity among patients and other county residents for almost 20 years.
About 300 households or roughly 10% of Love County's 3,100 families benefit from the hospital food pantry every Tuesday from 8 a.m. to 2 p.m. Volunteers assemble and hand out a family food package. Each package contains about 8 canned or dried items, plus items of fresh or frozen meat or vegetables, as available.
In 2018 there were 15,100 food packages given out. Sharing in those packages were 15,600 adults, 3,600 seniors (age 60 or older) and 8,100 children. The number of food distributions has held steady since 2014. As a percentage of households, Love County fares better than the state as a whole where, according to the Regional Food Bank of Oklahoma (RFBO), one in six residents need food assistance.
U.S. Department of Agriculture defines hunger as the physical discomfort of needing food but not having it. And food insecurity is a lack of financial resources for food at the household level, causing the family, at different times, inconsistent access to enough food for an active, healthy life.
At the hospital pantry, a 59-year-old man on disability cited the foods that provide multiple servings, such as bread or cereal or spaghetti, or a sack of potatoes as being especially meaningful to him. "I like it when there is an extra in the bag, like spaghetti sauce or a light bulb," he said.
A homebound food recipient remarked on a pack of gum that had been included in her food package. "The gum was so good," she said. "I hadn't tasted gum in years."
A middle-aged woman said that she became a client of the food pantry following a divorce. "It was a way to make ends meet for me and my kids," she said.
"If I have something left in my bag, I give it to my pastor. He has three kids," said a woman, age 74, who survives on a small Social Security benefit.
The last Tuesday is busier than others as clients run out of money toward the end of the month. A young working mother signing up for a food package for herself and her children said, "This extra food will tide me over until payday."
Other recipients remarked upon unexpected interruptions to income flow, such as car repairs or missed work due to illness for exhausting their food budget.
In 2001, having despaired of seeing patients choose between buying medicine or food, coworkers at Mercy Health/Love County determined to do something about it. They began bringing nonperishable food items to work and dispensing them on a discretionary basis from a former linen closet across from the nurses' station. Their further goal was to serve the hungry and food insecure of Love County close to home. They acquired a charitable feeding program license from RFBO.
The Love County Health Center Foundation, believing the employees' project to be meeting a significant public need, provided $10,000 to construct a 24' x 30' steel building. In May 2002, the charity moved from the linen closet to the new building. Since then the pantry has opened every Tuesday morning to help supply the needs of patients and others.
RFBO in Oklahoma City is a nonprofit organization that acts as a central clearinghouse through which the food industry and the community may donate surplus food and other goods. The products are then distributed to licensed food pantries in 53 central and western counties of Oklahoma. The hospital pantry currently pays RFBO about 21 cents per pound, and it purchases about 200,000 pounds of food per year.
A motivated community helps fund the budget and loyal volunteers assemble and distribute the food packages. Every dollar contributed to the hospital food pantry by the public buys food from RBFO. Every food item collected in community food drives reduces the need to purchase products from RFBO.
Within a few years after opening, RFBO and donors made it possible for the hospital pantry to install refrigeration and freezer units. In 2016, the pantry footprint and the cool storage area expanded to twice their former size. A restroom was added for volunteers and the heating and cooling system was improved.
Other community feeding programs depend on the food pantry for receipt and storage of goods. The Love County Senior Volunteer Program delivers 170 "senior food packages" provided by RFBO to homebound seniors once a month. RFBO's package now includes fresh fruit and vegetables after the Oklahoma City charity learned that the senior volunteers had been delivering items such as those, collected from community donors, since 2011.
Also, on the third Friday of every month, the Love County Senior Volunteer Program participates in the U.S. Department of Agriculture's Commodity Supplemental Food Program. This program currently works to improve the health of 150 low-income persons age 60 or older with nutritious USDA foods. Commodities include quantities of fruit, protein foods, dairy, grains, and vegetables. Boxes of commodities are distributed from the hospital's Growers Market building east of the pantry.
The senior volunteers also deliver a "backpack" package to 100 schoolchildren at Marietta, Thackerville, and Turner Schools. The package contains food items for the children to eat on the weekend.
Lula Finch, age 76, a retired medical assistant in the Mercy Health/Love County clinic, began volunteering at the pantry on opening day in 2002. As lead volunteer, she arrives at 7 a.m. to prepare for the 8 a.m. opening and remains until 2 p.m., assembling and distributing food packages.
"I love what I'm doing because people get so much out of it. I love seeing the smiling faces and hearing the 'thank you.' We witness genuine need but sometimes people just want to talk more than they have a need for food. To know someone is listening is enough," Finch said.
"We don't turn anyone away," Finch added. "Richard (Barker -- hospital administrator) says if they come they have to be in need. It's not our place to judge. That's between the person and God. We don't turn anybody down."
Pantry volunteers undergo civil rights training and periodic compliance review. The pantry building is accessible to the disabled. On days the pantry is not open, emergency food packages are available at the nurses' station at the hospital, 24 hours a day.
The pantry retains client registration forms and records the monthly totals for households served, adults served, children served, cost of food, and pounds of food. RFBO audits the records and performs a site inspection every six months.
Other current volunteers are Shirley Clark, Naomi Lornes, Jim Shreve, Carolyn Lucas, Judith Marshall, and Teresa Travis.
Barker said the hospital views the food pantry as part of an overall health and wellness responsibility to the people of Love County. Also, during recent Community Health Needs Assessments, participating citizens requested the hospital to undertake facilities for the public to be able to exercise and find healthy foods in order to improve the county's overall health ranking. As a result, in 2016, Mercy Health/Love County opened two new sites, the Growers Market and the Recreational Trail, both on hospital grounds.
To inquire about volunteering or donating food items or funds to the pantry, contact the hospital's business office at 276-3347. To inquire about volunteering or participating in the commodities and other senior feeding programs, contact the Love County Senior Volunteer Program at 276-9433.