Retired Florist Makes Beautiful Displays for Hospital
Posted on Wednesday, August 21st, 2019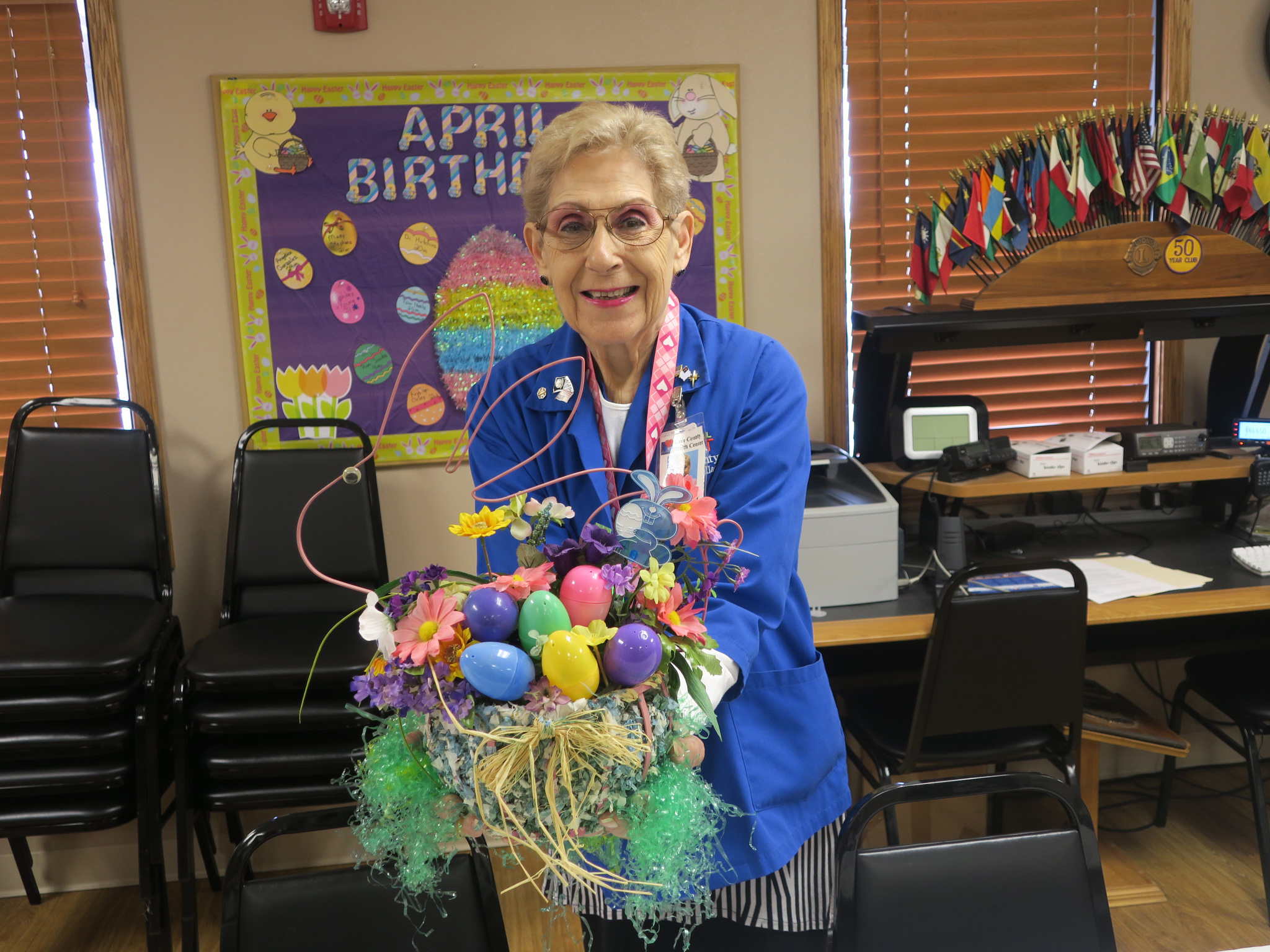 Volunteer Gift, Professionally Done - Marion Flaherty displays one of
many Easter decorations prepared in April. A member of the Hospital
Auxiliary since 2011, the retired florist volunteers monthly to
decorate tables in the community room of the Therapy Building of
Mercy Health/Love County Hospital.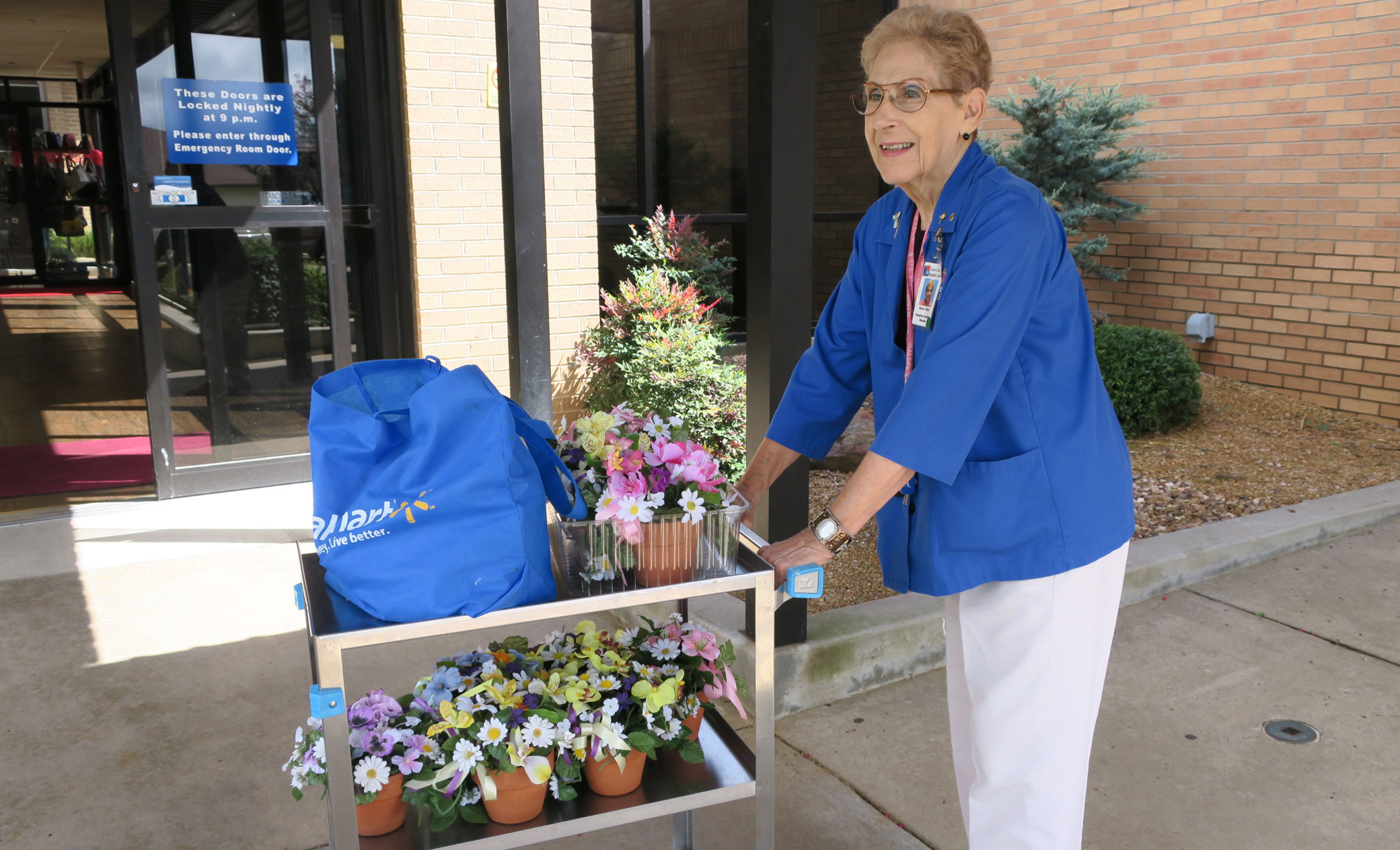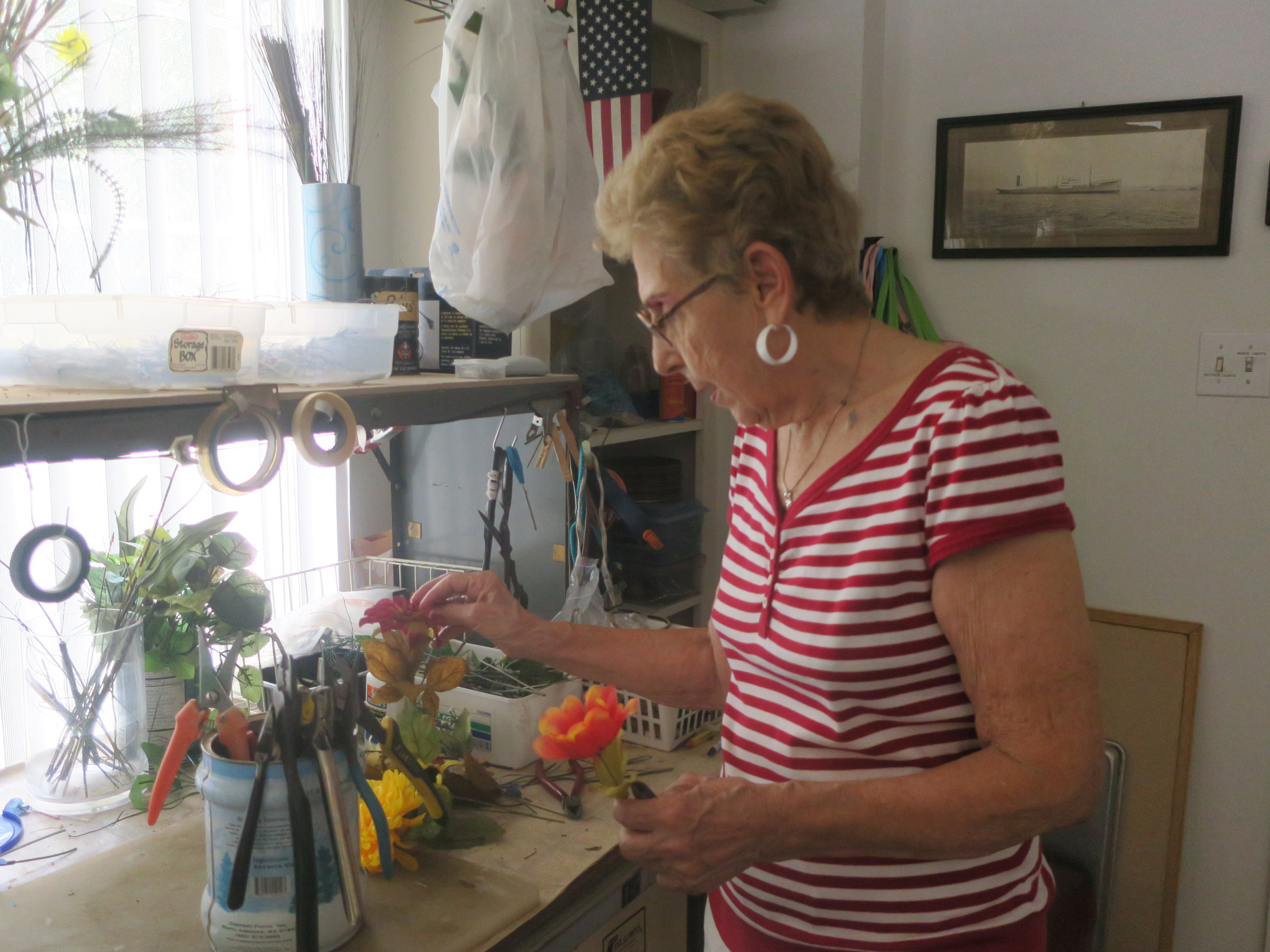 Distributing potted flowers at the clinic and hospital. Starting a flower
arrangement at her home workbench.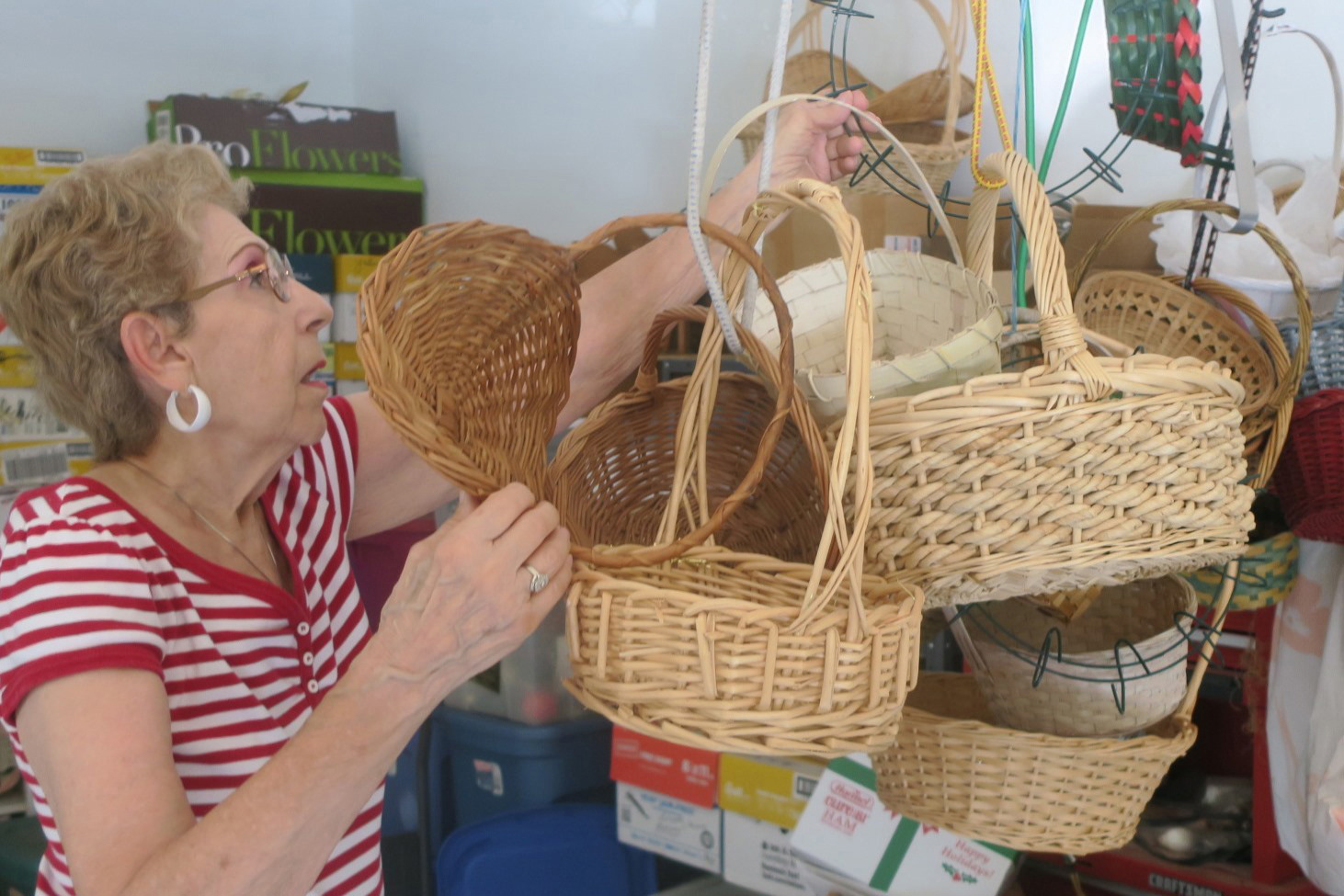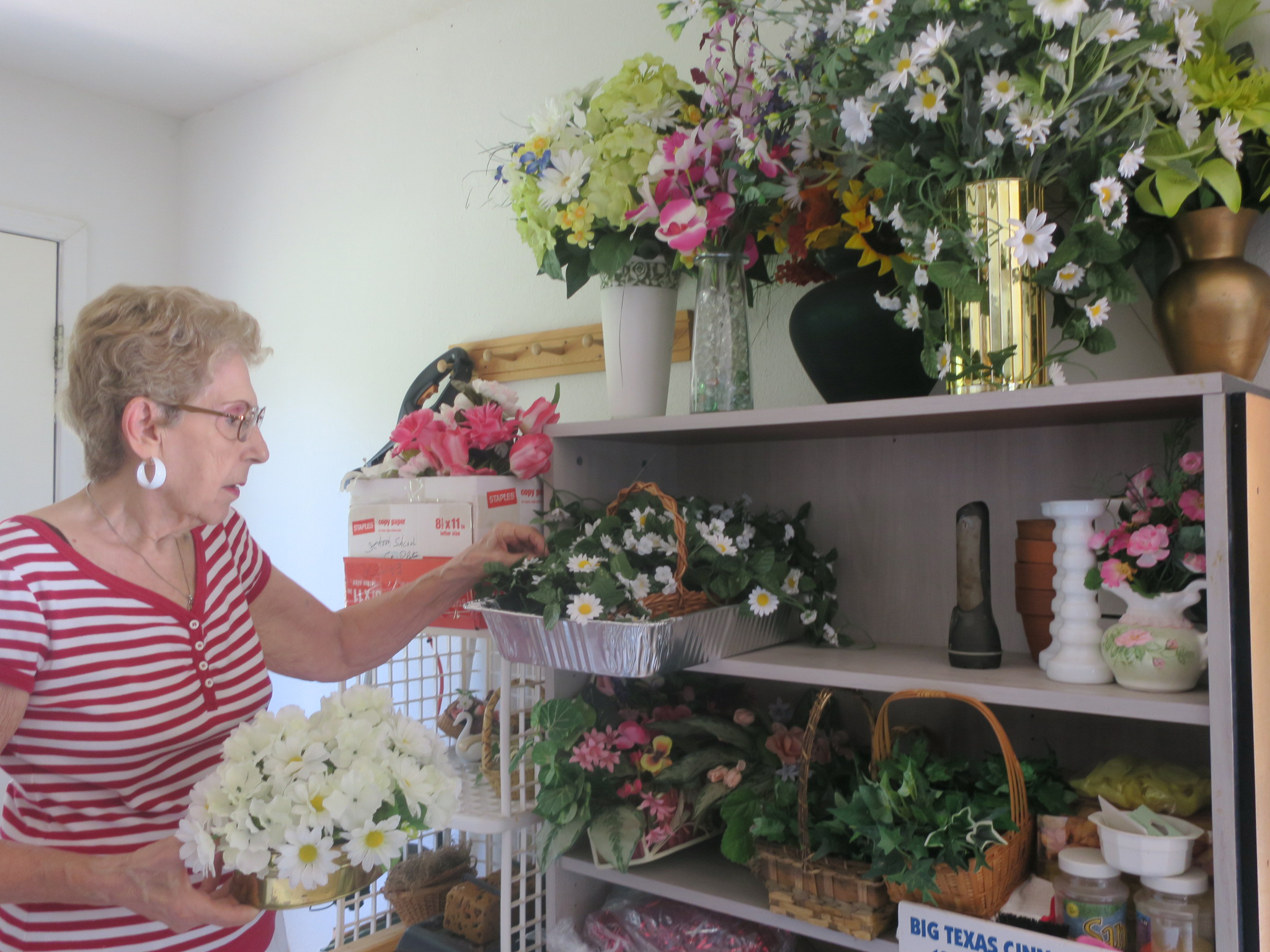 Selecting a basket. Taking flowers from a shelf.
"It's my joy," says Marion Flaherty about her volunteer service decorating tables in the community room of Mercy Health/Love County Hospital's Therapy Building. She arranges artificial flowers, greenery, and decorative items in vases or baskets.
They catch the eye of hospital/clinic staff and patients, as well as community groups that hold seminars and trainings there.
Flaherty once ran a flower shop on the east coast. One of her specialties was banquet decorating.
When she and her husband George A. Flaherty moved to Love County 20 years ago, Marion brought the contents of the flower shop with her. She boxed and labeled everything neatly then stored it in their two-car garage, attic, and backyard shed.
She and George enjoyed retirement together in Burneyville, building a home next door to their daughter, Danise Balog and her husband Ron, and their grandson, Marcus, born in 1998. A son, George M. Flaherty, lives in Pennsylvania and has four children.
The couple was married for 62 years. After George died in 2011, Marion joined the Hospital Auxiliary to help occupy her time. Out came the floral accessories. "I thought I would decorate the tables for our monthly luncheon. At my first one, Halloween was coming up. I went with that theme and decided to leave the displays out on the tables for the nurses to enjoy."
Flaherty has been coming up with new displays every month since. "I just think like a florist," she replied when asked about the inspiration for each different design. So organized are the supplies, she does not have to move far from her garage workbench to produce results.
Labeled bins contain artificial roses, carnations, and numerous other flowers by the dozens. On hooks hang Christmas wreaths, greenery, and baskets of every shape and size. There are shelves of finished arrangements, ceramic figurines, vases, pots, and other decorations.
Using the tools of her trade – clippers, wire, tape, ribbon – Flaherty performs her artistry.
"My fingers lock up, and I am not able to use some of these tools as well as before," she said. But, turning age 90 in December, Flaherty is still doing her own lawn mowing and just about anything else she wants.
A few years ago, Flaherty took a tumble from the attic stairs while carrying down some decorations. Feeling no pain, she got up and went back in the kitchen to finish preparing decorative serving trays for a hospital staff luncheon the following day.
"I asked my daughter to drive me to the emergency room, just in case I had injured myself, but I told her first to help me load these trays to take with us," Flaherty said.
The trays stayed put in the community room, but Flaherty was transported on to Mercy Hospital Ardmore for hip surgery. She spent part of her rapid recovery back home in the Marietta hospital's skilled nursing wing, receiving care from the staff she admires and serves in a beautiful way every month.
Flaherty also prepares bouquets for weekly services at Falconhead Chapel where she attends, and from-time-to-time helps design bulletin boards at the school where her daughter works.