Hospital Administrator Sets State Record for Service
Posted on Thursday, August 29th, 2019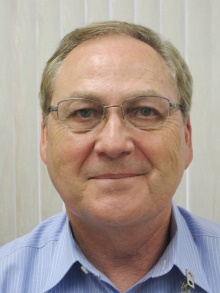 Richard Barker is Oklahoma's longest-serving hospital administrator. He is in his 29th year as administrator/CEO of our hospital. The value of leadership shows as Mercy Health/Love County ranks among the most successful 25-bed facilities in the nation according to cost reports filed with the federal Centers for Medicare and Medicaid Services.
The hospital has steadily built capacity in skilled nursing, screening, testing, rehabilitation, and emergency services. It also has a medical clinic and an adult day center, both of which are drawing customers from surrounding counties. On hosital grounds, Legacy Park and a large all-season Growers Market are building community health through exercise and nutrition. A social services building houses the Department of Human Services and visiting counselors. The hospital trains aspiring EMTs and Paramedics onsite, and there is a scholarship program for coworkers seeking advanced degrees.
"Keeping the educational pursuit alive and well is key for the hosital," Barker said. We need to be lifelong learners in order to help at each higher level the community requires."
Barker reports to the Hospital Board of Control, the Health Center Foundation Board, and the EMS (ambulance) Board. Each Board is made up of Love County citizens, appointed by the elected Love County Board of County Commissioners. Outside of the county, under the hospital's management agreement, Barker is a Mercy Regional Director.
From 1979-1990, Barker was the hospital's respiratory therapist and manager of preventive medicine and ambulance service. Earlier in his career, he worked as an EMT and ambulance driver, a Sheriff's deputy and a Gainesville police officer. He was a sergeant in the U.S. Marine Corps and served in Vietnam.
Barker graduated from Thackerville High School in 1969. His hospital service dates to 1973. He is licensed in long-term care administration and respiratory therapy (RRT). He holds master's degrees in healthcare administration and in business administration. He earned undergraduate degrees in hospital services management and in cardio-pulmonary studies. In 2012, he earned certification as a Fellow of the American College of Healthcare Executives (FACHE).
In the community, Barker is an elected member of the Marietta City Council and is a member and past president of the Love County Chamber of Commerce. He is a representative of Love County on the Big 5 Community Services Board of Directors.