Legacy Park Open; Trail Users Staying Safe Distance Apart
Posted on Monday, April 13th, 2020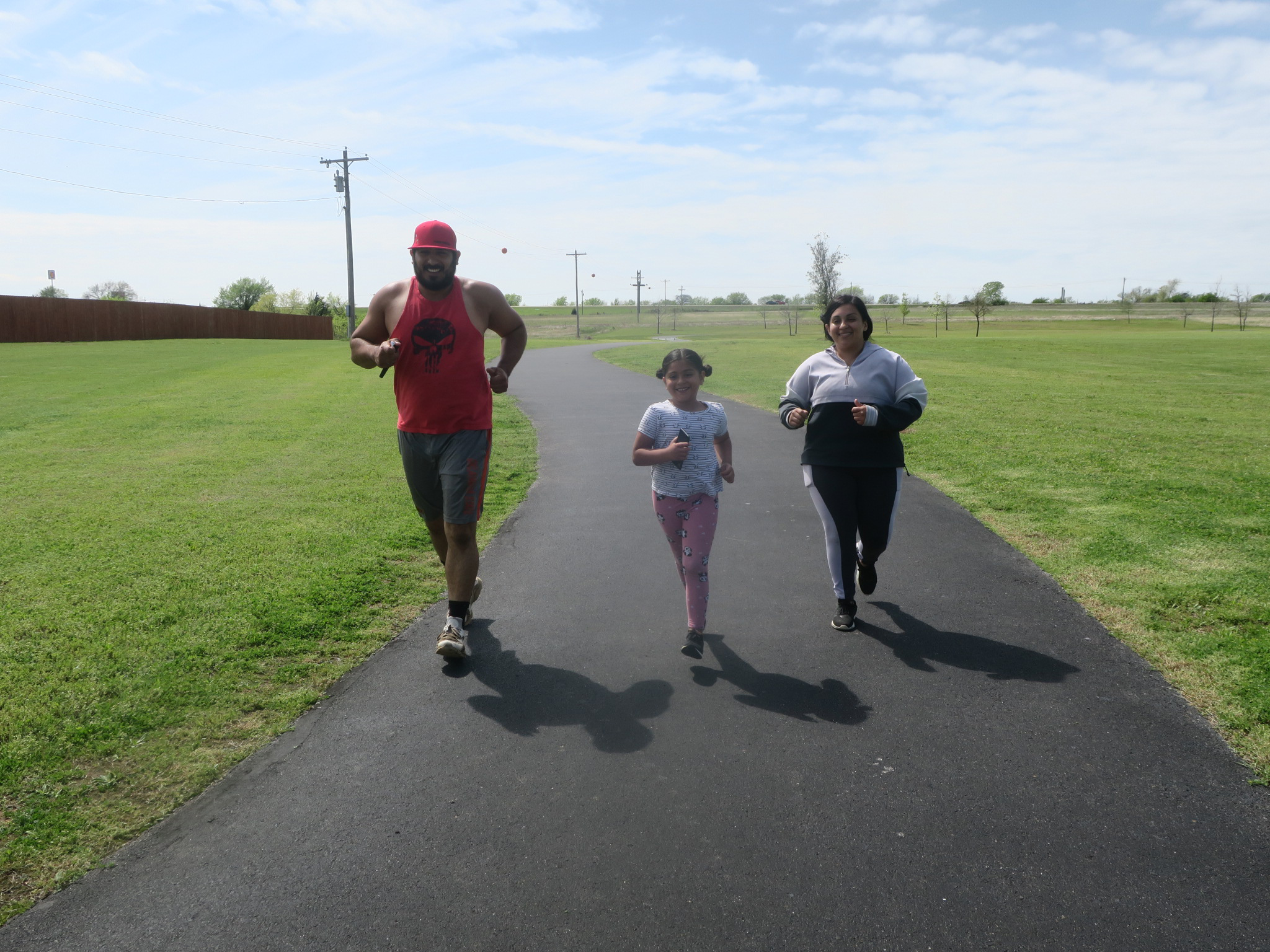 Antonio Flores and Anna Diaz and their daughter, Avah, age 7,
have been jogging at Legacy Park on hospital grounds in Marietta
since opening day in 2016. Legacy Park remains open during the
COVID-19 pandemic, but visitors are cautioned to keep a safe
distance apart to help stop the spread of the virus.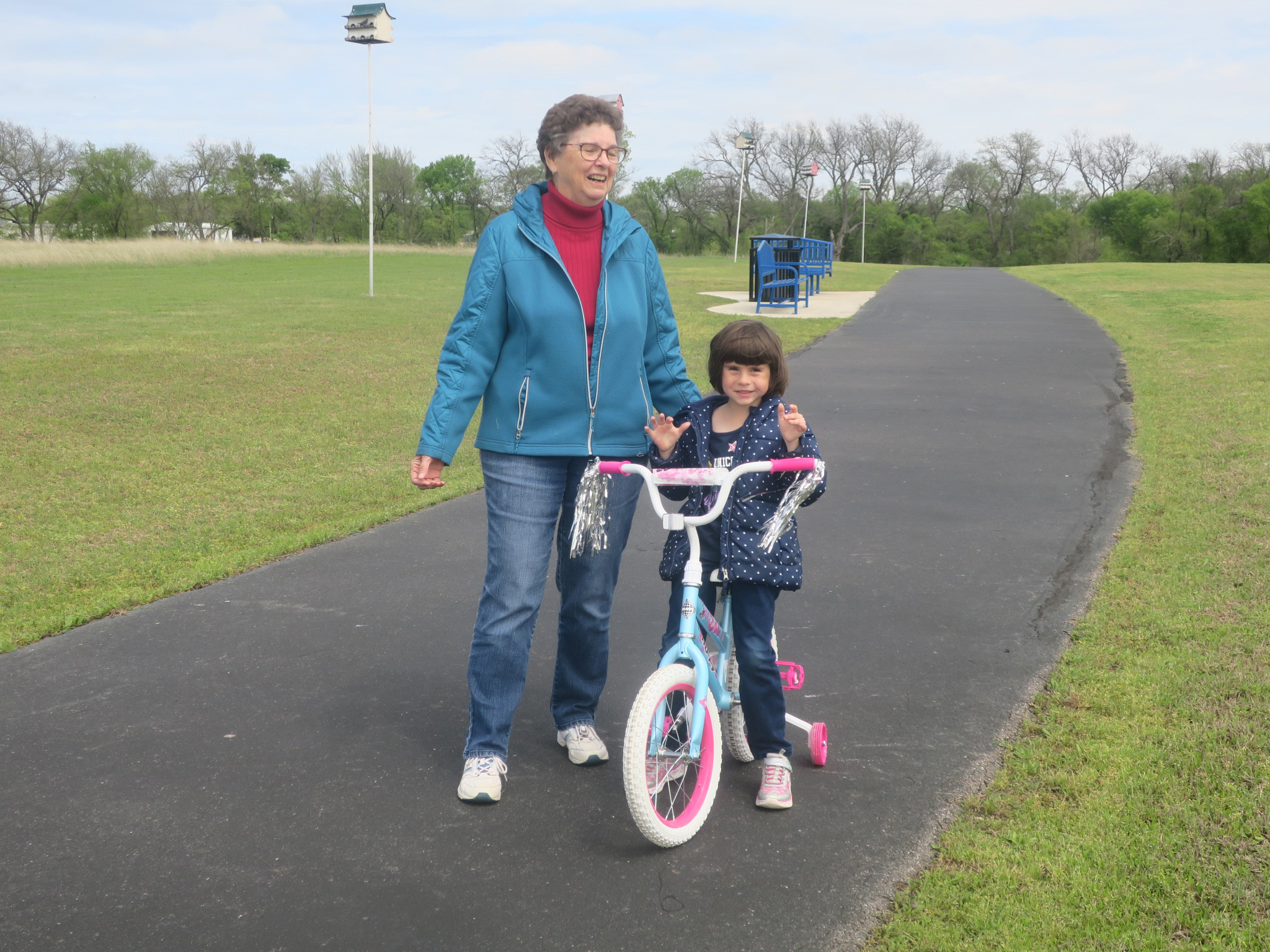 Gale Holt pauses her lap-walking on Legacy Park
Recreational Trail to enjoy the "no hands" cycling of
her great-granddaughter Leah Harjo, age 7. Holt
became a first-time trail user when the group exercise
class at her church closed during the COVID-19 pandemic.
Legacy Park in Marietta is attracting a "spaced out" coterie of exercisers these days.
Walkers, joggers, and bikers are keeping a safe "social distance" of six feet apart on the park's recreational trail to help prevent the spread of COVID-19 virus.
The pandemic has given the trail renewed status. Under Oklahoma's "safer at home" Executive Order, leaving home for outdoor exercise is considered an "essential errand," as important as going to a store for food and medicine.
On a sunny Sunday afternoon in April, Gale Holt, 79, of Greenville walked briskly while her great-granddaughter, Leah Harjo, age 7, pedaled along on a pink bicycle. "I had never used the recreational trail until a few weeks ago. My indoor exercise class at church had to close because of the virus. I try to do three laps around to keep up the level of activity that has been important to me all my life. There are always other walkers already here," Holt said.
The hard-surfaced, multi-use trail was dedicated for public recreation in 2016. Mercy Health/Love County Hospital built and operates Legacy Park on hospital grounds to help patients and Love County residents stay healthy through outdoor exercise.
The basic oval covers a measured half- mile, but users with more ambition can take a grassy cutoff on the north to an out-and-back cross country course. The course was made locally famous by Marietta High School's multiple state championship boys and girls teams.
A young family of joggers has been using the trail since opening day. "This is a really great deal," Anna Diaz said about Legacy Park. She and Antonio Flores run laps with their daughter Avah, age 7, jogging right along with her parents. "It's not flat like a track. There are hills and this will work you," Diaz said. "The minute it opened, we came out."
The couple graduated with the Class of 2012 at Marietta High School. Anna played softball and soccer growing up, and Antonio played football and ran track. Avah said she joined the elementary cross country program this year under P.E. teacher Amber Walker.
Legacy Park is open dawn to dusk with free parking and handicap-accessible restrooms nearby. Dogs on leashes are welcome. Driving directions from Memorial Drive are to turn north onto Wanda St. for one block, then turn east onto Shell Street for one block, then turn north onto Legacy Park Lane, which deadends at the recreational trail entrance.