Medical Clinic Urging Patients to Return for Visits
Posted on Friday, June 5th, 2020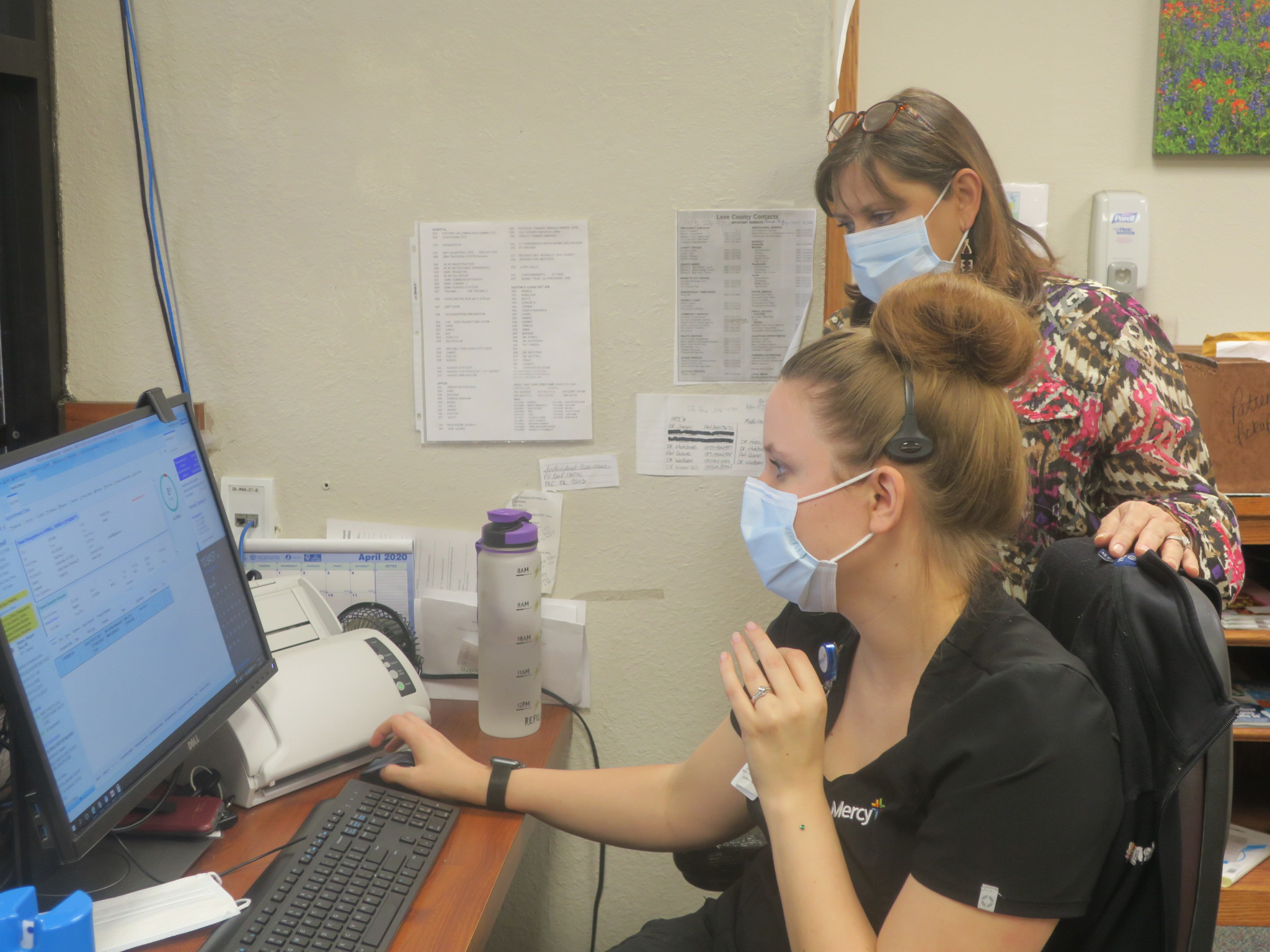 Virtual Visits: Customer Service Representative Dawn
Monetathchi, left, and Clinic Director Connie Barker
look over new software for setting up teleconference
visits between established patients and participating
primary care providers at Mercy Health/Love County.
The 'virtual visits' have been introduced as one way
to cope with the coronavirus COVID-19 pandemic.
Barker said precautions are in place and medical
environments are safe for in-person appointments.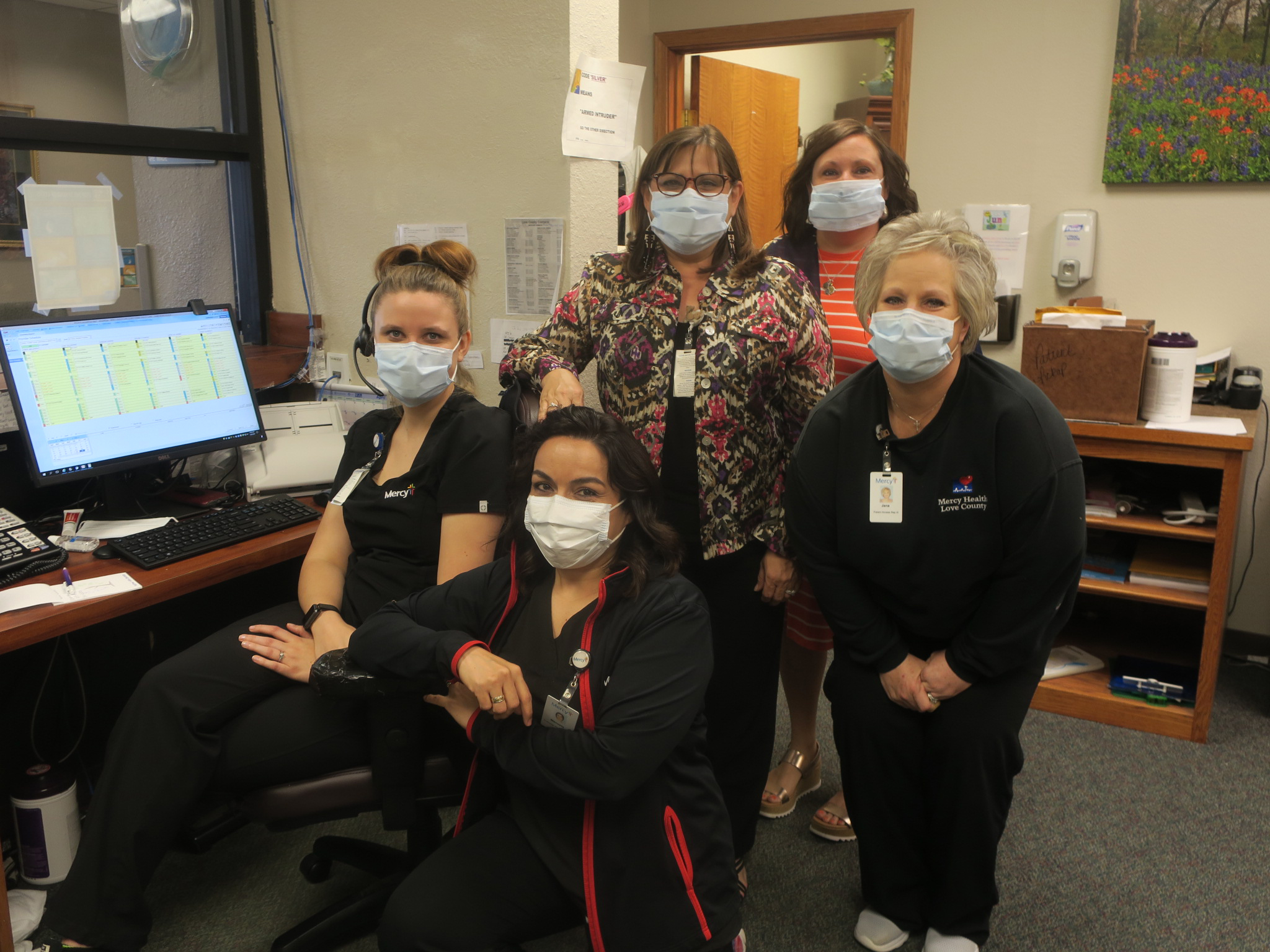 Welcome Back, Patients: Clinic Director Connie
Barker, back left, stresses the medical
environment is safe for patients to resume
regular health care visits at this stage of the
coronavirus pandemic. She is joined by Business
Office Manager Misti Kirk, back right, and
Customer Service Representatives Dawn
Monetathchi, Manuela Barrientos, and
Jana Brown.
Mercy Health/Love County's medical providers are getting out the message that now is the time to see your doctor or nurse practitioner if you have postponed care because of the coronavirus (COVID-19) pandemic.
"At the start of the pandemic, we contacted our patients who have regular clinic visits every three months to push those visits back three more months. Now it is time for them to be seen and we want them to know we are here and prepared to care for them," said Clinic Director Connie Barker.
She said precautions are in place and medical environments are safe for patients to return for regular care.
One indicator is that visitation to hospital patients has resumed, even if on a limited basis. Bed patients may receive one daily visitor, in the afternoon, for 30 minutes.
All clinicians in the hospital, clinic, and emergency room are wearing protective face masks. They undergo temperature checks and COVID-19 screenings, just like patients and visitors, at the main entrance before starting work.
Barker said the pace of clinic visits is beginning to pick up as sports physicals get under way in June. Athletes in school sports are required to undergo checkups for the 2020-2021 school year.
After "safer at home" pandemic guidelines were issued in March, the clinic introduced a telemedicine option. Established patients could stay home but visit with their participating physician using a computer, smartphone, or tablet. Each party can be seen and heard.
For transportation and other reasons, the virtual visit option will continue, although on a case-by-case basis, Barker said.
A high-speed internet connection is required. "It saves getting out," said Theresa Steen-Landreth, office nurse for Dr. Margaret Western, one of the early adopters of telemedicine. "We have set up virtual visits for some hospice patients and home health patients. In the western part of the county, there are connection snags but most of the time we're managing to make the calls work like they are supposed to," Steen-Landreth said.
On June 1, Oklahoma Governor Kevin Stitt rolled out the third and final phase of reopening businesses in the state. The governor credited hospitals for having demonstrated the ability to properly treat COVID-19 patients and have ample bed capacity.
That day, Love County had 15 confirmed cases of the coronavirus. None was hospitalized, Barker said. Testing for coronavirus is free and available at the Love County Health Department.
Under the reopening plan, persons over age 65 or part of a vulnerable population should continue following safer-at-home policies. All citizens should minimize time spent in crowded environments, wash hands frequently, maintain physical distance, and consider using face coverings while in public.
Barring a setback, these policies for reducing transmission of the disease will remain unchanged until a COVID-19 vaccine is developed.