Hospital Preparing for Possible COVID-19 Surge
Posted on Wednesday, August 12th, 2020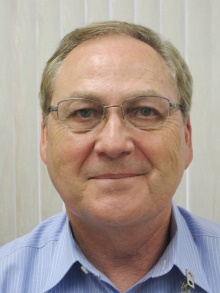 Richard Barker, FACHE
Mercy Health/Love County Hospital
CEO and Administrator
Mercy Health/Love County Hospital is adapting several of its buildings to be able to add surge beds temporarily in case COVID-19 brings a sudden influx of patients.
Contractors will be working on weekends during August and September to make the changes to portal entries without interfering with normal operations. Affected are the main entrance, clinic, and physical therapy buildings.
Turning what are normally operational sites into bed-patient areas at a moment's notice is part of Oklahoma's COVID-19 Hospital Surge Plan. "We are engaging in preparation for a possible statewide surge. This means adding to the number of beds that can be used by COVID-19 patients," said hospital CEO/Administrator Richard Barker.
Barker said there are no COVID-19 patients in the hospital presently. "The County has been doing a good job at staying well, " Barker said. "People have been diligent about spacing at group events. Churches have done well at that," he added.
Improvements underway are mostly to air conditioning systems in the buildings that will manage patients associated with the coronavirus. Workers are creating air exhaust spaces to treat COVID-19 bed patients completely separate from others. The air would be ventilated, heated and cooled in isolation from the rest of the building so as not to circulate infection to other patients and health care workers. Room dividers would complete each treatment area.
Another area being upgraded is the walkway from the front doors of the hospital and clinic. It will become completely glass-enclosed all the way to the parking lot, and heat, ventilation, and air conditioning installed. If needed, the walkway could be used as an ambulatory holding area until clients are appropriately screened, Barker said.
Under the state's COVID-19 Hospital Surge Plan, individual hospitals are increasing bed capacity and making agreements on shared care of hospital patients among facilities in their region. Generally, larger hospitals in a region are planning to take on the care of COVID-19 patients and send their medical/surgical patients to the smaller hospitals to recover.
Mercy Health/Love County is in the state's region three which includes 17 counties -- Carter, Stephens, and Comanche among them -- in southwestern Oklahoma. Barker said the most likely scenario is that Mercy Hospital Ardmore would be the primary caretaker for local COVID-19 patients in a surge.
Meantime, the hospital has resumed daily visitation to bed patients. Hours are 1 p.m. to 4 p.m. seven days a week. Barker stressed that the hospital, clinic and all other departments are safe places. "Come in. We're safe. We have providers and technicians to care for you. Don't let your health deteriorate out of fear of coming for help. We will take care of you," he said.