ER Replaces Telestroke System with New Model
Posted on Monday, December 14th, 2020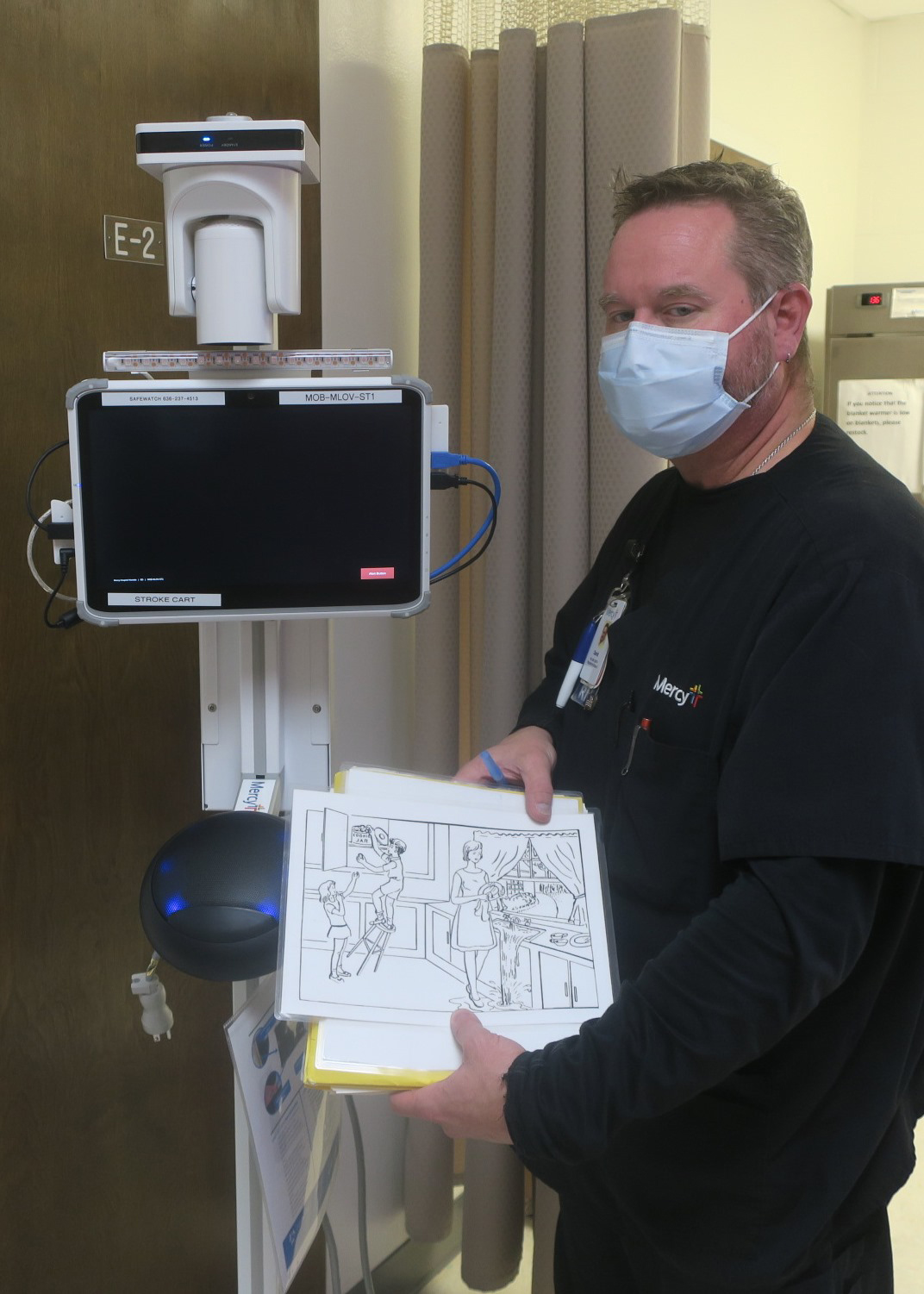 Stroke Diagnosis Aids: David Manning, RN,
poses next to the new telestroke camera
and display screen. From the emergency
room, a two-way video conversation is set up between
a suspected stroke patient and an offsite
stroke physician. Manning holds an illustrated
page from a neurology test that evaluates the
patient's ability to recall and say the words for
common objects or activities.
In the care of stroke patients, every minute counts toward preventing permanent neurologic damage. Treatment within 60 minutes is the standard of care.
At Mercy Health/Love County Hospital, a Mercy stroke doctor in another city diagnoses a patient who has arrived in the local emergency room with a suspected stroke.
The patient, ER staff, and stroke physician see, hear, and speak to one another through a telestroke video link.
The hospital recently acquired the new Caregility platform for improving the quality of the telestroke image and system performance. It replaces a previous system installed in 2015.
ER nurse David Manning, RN, touted the new wheeled platform, which consists of camera and video monitor. "The camera is much more maneuverable. It's less bulky and has a longer battery life," he said.
The video hookup is made within seconds. The stroke doctor directs a neurological examination of the patient, views the test results, and communicates a treatment plan for the best possible care. If drug therapy is indicated, the medication is administered immediately.
Ruling a stroke in or out has a great deal to do with next steps for the patient – whether he or she will be treated locally or need to be transferred to a larger hospital.
Twice daily, Manning said, telestroke test connections are made to be sure the remote hookup will be available when needed.
Besides the telehealth connection, the hospital also has the capability to perform CT scans, another important indicator of whether a stroke has occurred.