COVID Vaccine Entering County in Phases
Posted on Tuesday, December 29th, 2020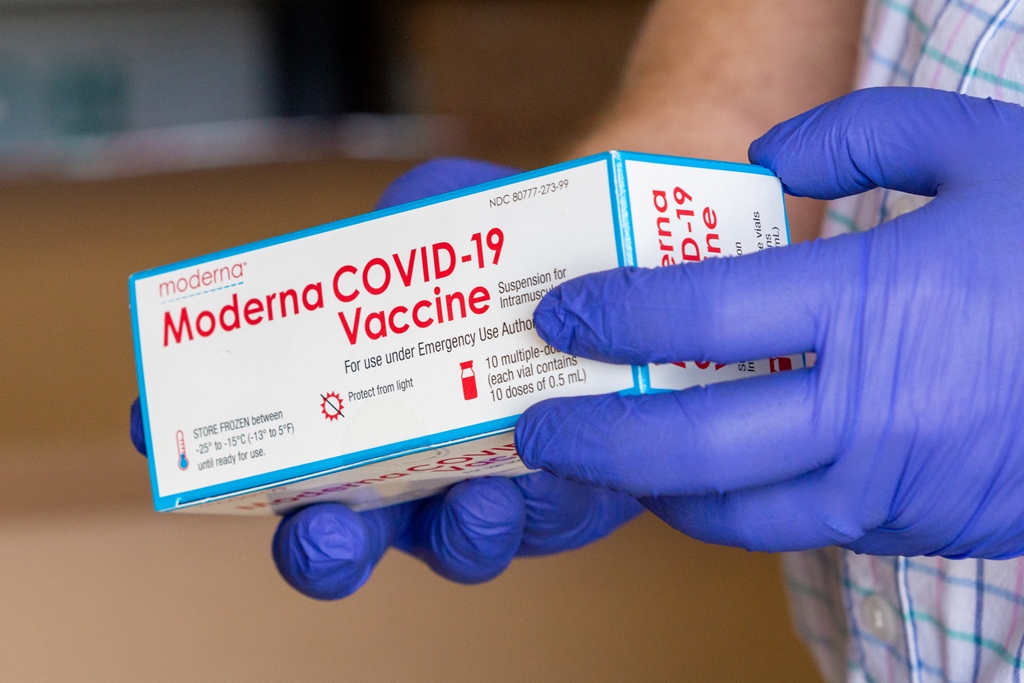 Vaccines Arriving: A health care worker handles a box of
Moderna COVID-19 vaccine. It is the second vaccine to arrive
in Oklahoma since inoculations began mid-December 2020.
By Barbara W. Sessions
(December 28, 2020) Lake Country Nursing Center is anticipating receipt of COVID-19 vaccine any day. Long-term care residents and staff are in phase one for vaccine distribution in the state.
Lake Country's allotment is being fulfilled by the federal Centers for Medicare and Medicaid Services agency. CMS engaged with CVS and Walgreens to administer the vaccine at nursing homes. Walgreen staff will serve Lake Country residents and staff, according to administrator Shelia Isenberg.
Also in phase one are inpatient hospitals. The staff of Mercy Health/Love County received a supply of Pfizer vaccine December 17 from Mercy Ardmore. Ninety workers in the hospital, clinic, and emergency services were inoculated.
Health Department workers also are being inoculated in phase one so they can proceed to set up vaccine clinics around the state.
"Supply is ultimately what allows us to progress through our distribution plan," said Oklahoma State Department of Health Deputy Commissioner Keith Reed.
By December 31, the state expected to have close to 175,000 total doses of the Pfizer and Moderna COVID-19 vaccines, according to Reed.
Noble Research Institute of Ardmore made news Monday by donating an ultra-cold storage freezer to each of 11 Health Department districts in Oklahoma for the purpose of stockpiling Pfizer vaccine as it arrives in the state.
The Moderna vaccine does not require ultracold storage temperatures. As a result, it can be distributed more quickly than the Pfizer vaccine, Reed said.
OSDH has outlined phases two-four.
Phase 2: Next up, starting as soon as supply is received, are first responders and health care workers outside the hospital setting. Occupations in this phase include fire departments (paid and unpaid) law enforcement, workers in urgent care, dental, home health, hospice, rehabilitation services, and funeral home workers.
Also in phase two are teachers in preK-12 settings, homeless shelters, prisons, food manufacturers, front-line government leaders, and elected officials.
Phase 3: The next priority for vaccine administration will be teachers and childcare facilities outside preK-12, and essential business and industry personnel.
Phase 4: All other Oklahoma residents. Health officials expect the vaccine to be available for all Oklahomans throughout 2021. According to health officials, priorities will be made based on comorbidities, age, exposure level, and access to personal protective equipment.
Reed said the Oklahoma State Department of Health is working as quickly as it can to get Oklahomans vaccinated.