Legacy Park Celebrates 5th Anniversary
Posted on Friday, March 19th, 2021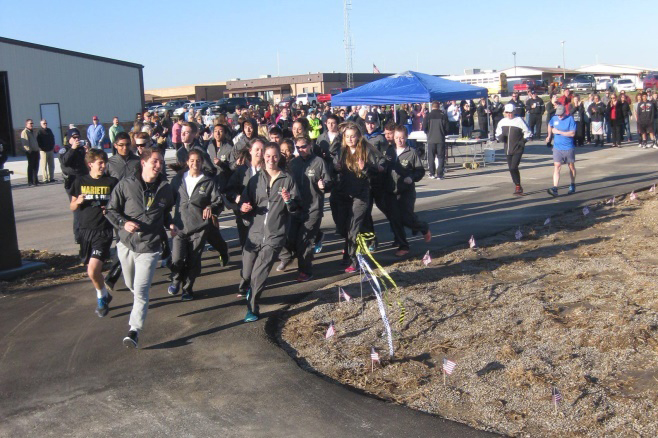 Honorary Lap Leaders: The state champion Marietta High School
girls and boys cross country teams, led by All-State seniors Ethan
Vinson and Abbie Winchester, round the flag-lined first turn. They are followed
by senior marathoner Arthur Rickets and speed walker Rob Robertson
on the ceremonial first lap around the Legacy Park Recreational Trail
on March 21, 2016. (Photo by Don Sessions)
On Monday, the first weekday of Daily Savings Time, Legacy Park on the hospital grounds in Marietta had a sunny and serene air about it and a stream of visitors, just as it has nearly every day for the past five years.
Around 5:30 p.m., a young woman was seen walking a few laps on the measured ½-mile hard-surface trail, then finishing her session with a two-lap jog. A young man listened to music on headphones while walking the loop.
A mother stepped onto the trail on foot while her son rode a bike that looked a tad tall for him. They headed north on a cross-country portion of the layout for a good workout that lasted more than an hour. A couple crossed the park on foot, fishing gear in hand, headed to a nearby pond.
A park worker on a riding lawnmower crossed back and forth on the infield.
The two dozen Oklahoma native trees planted in 2018 by donors to the Love County Senior Volunteers had grown a little taller. Six pole-mounted purple martin houses all in a row – donated by the Love County 4-H Club -- were open for residency alongside the stretch of trail that includes a picnic table and seating.
Mercy Health/Love County Hospital developed the 10-acre Legacy Park, located at 466 Legacy Park Lane, in 2016, in the interest of enticing patients and the public to engage in regular physical activity, and to utilize the market building at the trailhead to find farm-fresh fruits and vegetables for a healthy diet.
Five years later, the hospital is well-pleased with the result. "The trail has contributed to our mission and vision of having everyone invest in their own health, while joining with their healthcare providers in reaching 'best health,'" said Richard Barker, Hospital Administrator.
He cited the the park's safety and central location for contributing to its appeal. "Legacy Park is a safe place to exercise, socialize, and improve our overall well-being. Healthy lifestyles can begin here or continue based on where we are in our journey to improve ourselves," Barker said.
Barker managed the Legacy Park project and the County Commissioner District workers constructed the recreational trail. A grant from the Oklahoma Department of Tourism and Recreation contributed $160,000 in funding.
The trail opened with a flurry of activity on March 21, 2016. An estimated 650 people visited the new, 1/2-mile loop during opening day festivities.
Special tribute was paid to the Marietta High School state champion girls and boys cross country teams. All-State seniors Abbie Winchester and Ethan Vinson held the black and gold ribbon designated for the ribbon-cutting.
The school's Cross Country Coach Matt Appelman was honored as the official starter for the honorary first lap, which was led by his victorious teams. In his first four years, Appelman had produced four state champions. The girls had won three in a row, 2013-2015. The boys had captured their first ever crown in 2015.
(More championships by both teams were to follow in the subsequent years, and cross country courses of 3.2 kilometer for girls and 5-kilometer for boys now branch off from the hard-surface trail, making Legacy Park the home venue for the school's cross country meets.)
Next on the trail was Marietta's Arthur Rickets. Rickets ran his first marathon (26.2 mile race) at age 65, had since completed three more marathons, and, at age 76, was still one of the top runners in the area. Rickets also served as chair of the Love County Health Center Foundation.
Also singled out to join in the honorary first lap was speed walker Rob Robertson of Falconhead. With only three years of experience in the sport of "pedestrianism," the 52-year-old Robertson has achieved the rank of Centurion. That is the designation for speed walking a distance of 100 miles within 24 hours. He was one of only 78 Centurions in the United States.
(In the next five years, Robertson became only the fifth person in the world and the only person in the Western Hemisphere to complete six world centurion races. His amazing streak included a first place finish in the Australian championship and a personal best time of 22 hours, 19 minutes in the British Centurion, both in 2016).
Dozens of spectators formed up behind the lap leaders to join the fun with a 1/2-mile walk of their own.
Adult exercise classes and walking groups visited the trail later in the morning.
Then came the school children. All four Love County schools brought busloads of students to set age group records in the 1/2-mile distance on the recreational trail.
Top runners from Marietta grades pre-k through 8 were Yahir Alvarado, Peyton Harmon, Axel Serrano, Liliana Fernandez, Kasen Lott, Katelyn Tucker, Luis Garcia, Abigail Garcia, Tucker Kirk, Yulisa Gonzalez, Damoron Green, Marlene Ochoa, Wyatt Vinson, Courtlyn McMahon, Kyler Williams, Lexie Waterhouse, Garrett Morgan, Sophie Love, Jacob Cox, and Mandy Sykora.
Fastest from Thackerville fifth grade were Landon Voyles and Makenzie Kretzschmar.
Turner pre-K through fifth grade speedsters were Dalton May, Aiden Hudson, Graham Eakins, Brayden DeMonia, Micah Wolfe, Braylee Foster, and Judson Eakins.
Fastest from Greenville grades 1-5 were Gracie Lewis, Anthony Hamilton, Angel Rojas, Kenadea Banks, Ashton Glazner, Lucy Douglass, Case Robinson, Dakota Schmidt, Heaven Hamilton, and Anna Stahlbusch. Abby Alvaez, grade 7, came in first in the grades 5-8 girls track team competition.
The Love County Senior Volunteer Program served water and fruit to all participants inside the growers market. The first 500 visitors to Legacy Park also received commemorative souvenir frisbees.
Restrooms for the park are located on the north side of the growers market. Park hours are dawn to dusk. The course is somewhat hilly, providing a satisfying workout for the distance.