Uptick in COVID Cases Forecasts Surge
Posted on Thursday, August 12th, 2021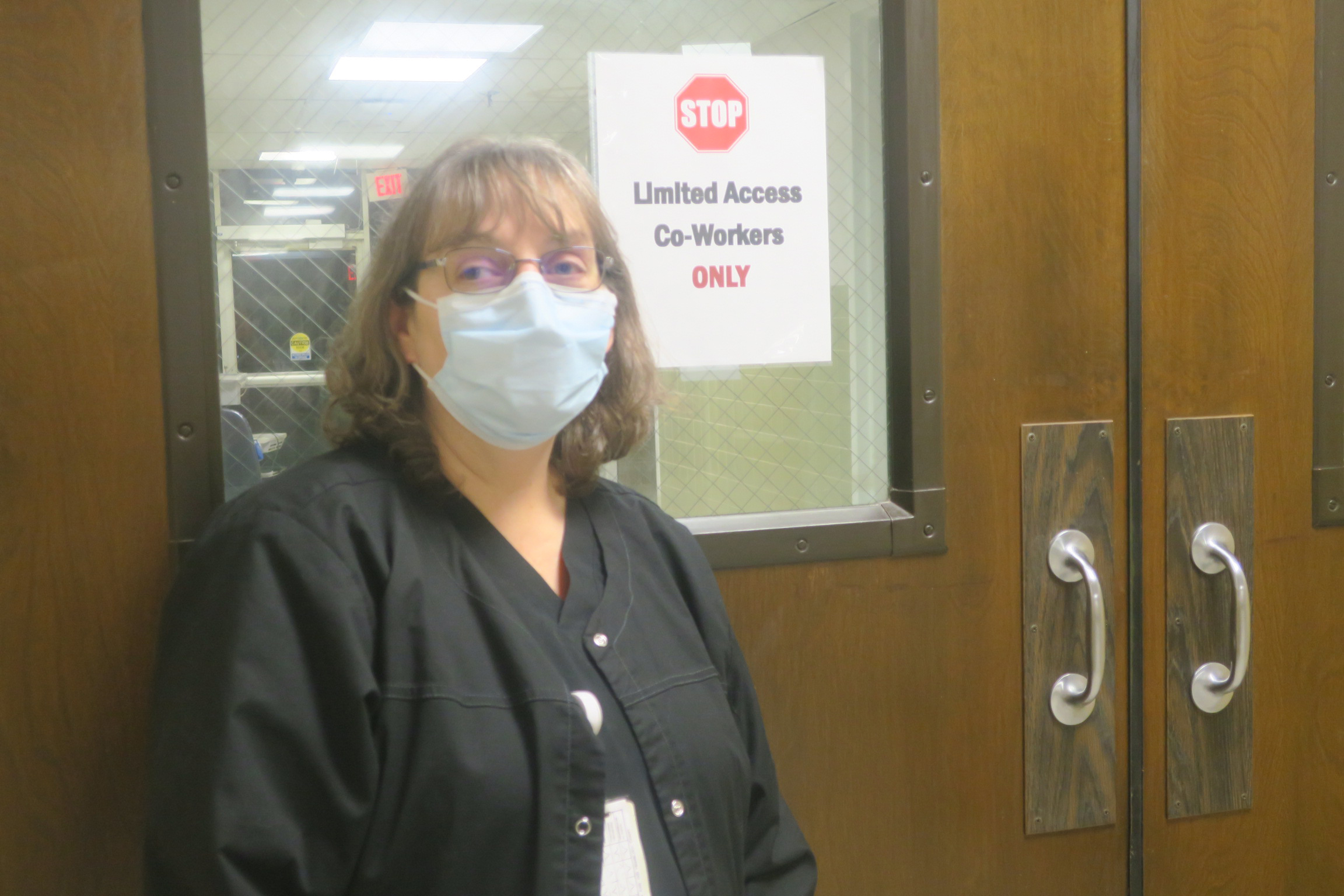 COVID WING: Michelle Lively, Respiratory Therapy Department Head, stands outside the dedicated COVID-19 wing of Mercy Health/Love County Hospital on August 5, 2021. The beds are in use again as healthcare workers prepare for a surge of very ill and infectious patients.
As COVID-19 infections are once again going up across the area, coworkers at Mercy Health/Love County Hospital are preparing to return to the frontlines. Some admit to exhaustion surviving the pandemic while trying to help others afflicted with the virus.
Last week, the hospital restricted patient visits – now allowing only one designated visitor per bed patient on the general hospital corridor, from 1-5 p.m. daily.
"It's a hard step to cut back on visits but we have to put the patient's safety first," said Respiratory Care Department Head Michelle Lively. "We are seeing an increase in COVID cases through the emergency department, and the COVID wing of the hospital is already in use."
Health systems are continuing to prepare and make sure there is room for more patients. Lively said transferring patients too sick for local care is currently a problem because surgery and elective procedures are still going on at larger institutions, limiting the beds available in their hospitals.
Mercy Health/Love County nurses who battled through the first surge of bed patients regret seeing the virus make a comeback in the Marietta area. In 2020, a nurse's station was set up within the closed suite of five rooms comprising the COVID wing. Sequestered, the RNs and LPNs handled the patient care, served the meals, and performed most every other activity themselves through the course of their 12-hour shifts for several weeks.
"We tried to minimize other employees' exposure by being the only ones to enter a patient's room. We did some of the blood draws for lab work and we even did the cleaning and sanitizing of the room," said Gina Davis, RN, a weekday charge nurse with 39 years of nursing experience.
"It was very stressful and very tiring," Davis said. A great deal of patient support was needed. No visitors could enter the COVID wing, so Davis held the hospital Ipad for a patient to have a video call with their loved ones. The average stay on the wing was two weeks.
Respiratory Therapist Robert Umphrey recalled the surge as the most intense period in his 20-year career. "There is anxiety from not knowing what to expect. It affects your personal life too. The risk of infection wasn't just to me but to my family. I would use hand sanitizer in my truck on the way home, then take my shoes off and put my scrubs in the wash before going in the house, Umphrey said. "Now we have to brace ourselves for the next wave."
"COVID-19 is scarier than any disease I have been around because of the unknown," Davis said. She recalled being the first nurse at the hospital to administer Remdesivir, a new drug that shortens the time to recovery in adult patients with COVID-19. "It went well and the patient felt better the next day," she said. Bamlanivimab, another monoclonal antibody treatment, is being given on an outpatient basis to patients at high risk for progressing to severe COVID-19 or being hospitalized.
The PPE – personal protective equipment – was hot and restricting, coworkers remembered. Consisting of a gown, gloves, mask, face shield, and, sometimes, respirator, it was donned each time a caregiver entered a patient room, then doffed in a medical waste cart when leaving the room and not reused.
"PPE is for our safety," Lively said. "But it is hot and cumbersome, especially for someone who wears glasses. COVID-19 care is mentally and physically exhausting," she said.
The current uptick in positive tests for the disease among Love County patients is mostly among unvaccinated people, with a few vaccinated individuals as well, Lively said.
Only 3,829 or (37.3%) of Love County residents have received at least one dose and 3,180 (31.0%) are fully vaccinated against the virus. This is 40% short of the target percentage of population to achieve herd immunity.
As a result, Laboratory Director Kelvin McMillan who, along with Lively and others, serves on the Infection Control Committee, is anticipating increased clinic and ER visits and hospitalizations in the coming weeks. Patients who think they are infected are asked to call ahead at the hospital number, (580) 276-3347.
Driving the infection rate is the so-called Delta variant of the original COVID-19 virus. Experts say the variant is far more contagious, with one patient typically spreading the virus to 5-9 other people.
The increased community spread followed the Fourth of July holiday and has become a pattern following major holidays. School openings also threaten to add to disease transmission.
Anybody who is at least 12 years old is eligible to be vaccinated. "Please get vaccinated," McMillan said. "The illness is greater than any discomfort from vaccination. There are rare reactions. In those cases you and your physician should discuss the benefit versus ill effects of vaccination."
Lively added that even vaccinated people still need to social distance, use proper hand hygiene, and wear a mask when they are out and around others.
She said most Mercy Health/Love County coworkers are vaccinated and the Mercy policy for any staff having a vaccine exemption is to maintain social distancing, practice hand sanitation, and wear a mask at all times even if patients are not present.
Vaccinations are free at walk-in clinics at the Health Department on Colston St. weekdays. The shots may also be requested by calling the hospital at (580) 276-3347.