Dr. Joe Witten Returning to Clinic November 8, 2021
Posted on Tuesday, November 2nd, 2021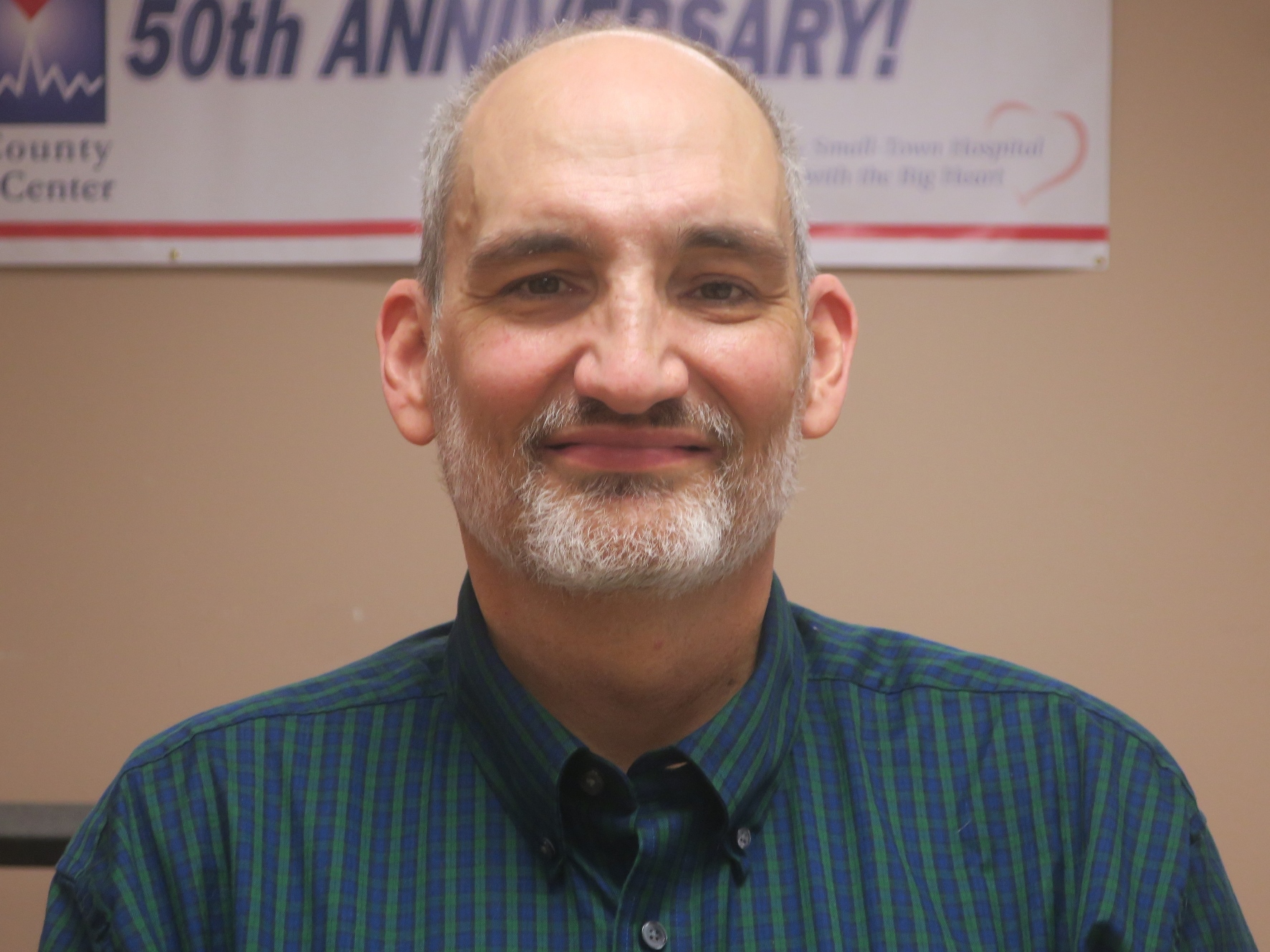 Joe Witten, D.O. will once again be seeing patients in the clinic,
hospital, and emergency room, starting November 8, 2021
(Marietta, OK, November 2, 2021) Dr. Joe Witten, D.O., is resuming his career at Mercy Health/Love County Hospital and Clinic on Monday, November 8, following a lengthy illness and convalescence. The 53-year-old doctor says he is fortunate to be alive. He credits his coworkers with nursing him back to health during a five-month stay in the Marietta Hospital.
The feeling runs so deep, he refers to coworkers now as "my family," and in a special bond akin to his wife Ann and son Zach, age 11. "They all pulled me along," he said of their concern and support in recovering from an illness that began in December 2020.
Witten was admitted as a hospice patient in February after specialist doctors in Oklahoma City did not believe he could survive needed heart surgery following a massive infection and septic shock. "They saved my life," Witten said about the Mercy Health/Love County nurses and rehabilitation therapists, as well as a clinic colleague, Dr. Terry Jones, who oversaw Witten's care. "Dr. Jones was superb," Witten said.
"When I came here on hospice, Marie (Ross, director of nursing) told me, 'You're not going to die,'" Witten said. Nurse Ross added her own take on things: "We are like a dog with a bone. We are not going to give a patient up without a fight."
Weeks later, Witten successfully underwent heart valve replacement surgery at OU Health in Oklahoma City. He returned to skilled nursing care at Mercy Health/Love County, fragile, weak, and 75 pounds lighter from the ordeal. He spent many hours in physical therapy and occupational therapy, from learning how to sit up to how to dress himself and walk.
"I would get mad sometimes because the therapists would push me. But after I grew stronger from working out, I realized I could push myself to do more. I did not think I would ever walk but I will never sell myself short again. I have come out of this with a much stronger belief in myself," Witten said, adding he has a heightened sense of empathy for patients, especially those with chronic or multiple medical conditions.
After being discharged from the hospital in late June, Witten rehabilitated at home at Falconhead through the summer and fall. Cleared recently by his doctors to return to work, Witten said his surgeon told him, "You are a miracle."
He expressed his family's gratitude "for all the love, prayers, and help our friends, neighbors, and community gave to us during that difficult time. They will hold a special place in our hearts forever."
This week, Witten was in the clinic setting up his office and eagerly awaiting his first official day back. "I am excited about seeing patients, especially patients I have cared for in the past." The doctor joined the hospital and clinic in 2016.
"It means a lot to have Dr. Witten back," said clinic director Misti Kirk. "His patients loved him when he was here." Witten's return brings to six the number of primary care providers. He is rejoining medical doctors, Stephen Hutchins, Terry Jones, and Margaret Western; and nurse practitioners Patricia Owens and Nikki Barker.