Dr. Joe Witten, 54, Fought Hard for Life
Posted on Wednesday, April 6th, 2022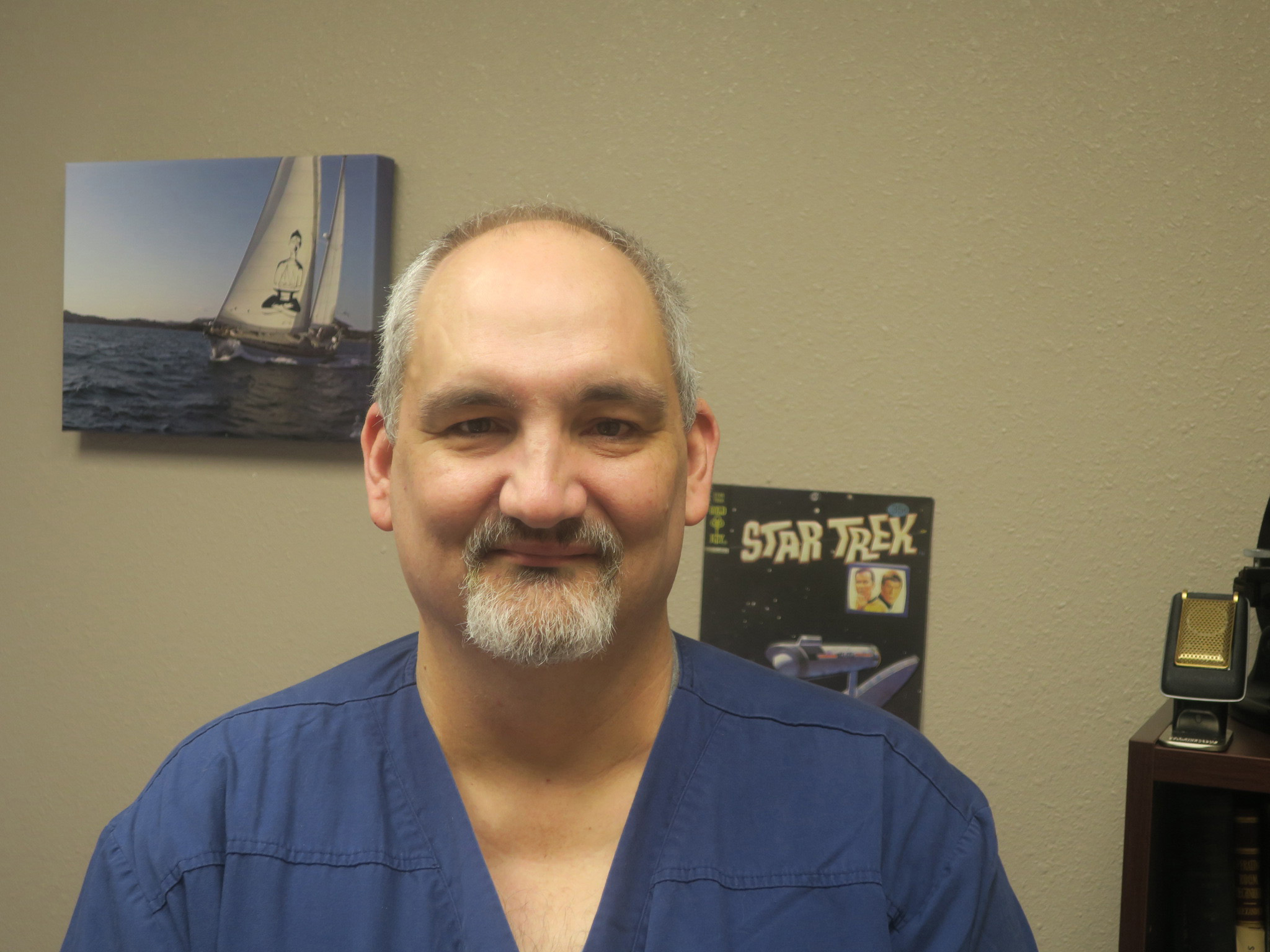 Dr. Joe A. Witten
Dr. Joe A. Witten, age 54, a family physician at Mercy Health Love County Clinic, passed away on Thursday, March 31, 2022, in Oklahoma City. He was born September 23, 1967, in Midwest City, OK. Services are pending with Bill Merritt Funeral Home in Bethany, OK.
Dr. Witten had been on medical leave since the end of January after suffering a stroke at home, his wife, Ann Witten, said. Part of his recovery was participating in outpatient physical and occupational therapy from the hospital's rehabilitation specialists in the therapy building.
"He was recovering and planned to return to work," Ann Witten said, adding that her husband had been admitted for cardiology care at OU Health on March 18. He died of congestive heart failure, she said.
Former colleagues expressed sadness over Dr. Witten's passing. Misti Kirk is director of the clinic. "We will miss him greatly. He was loved by his patients and coworkers," she said.
Dr. Terry Jones, whose clinic office was next to Dr. Witten's, said, "I will miss discussing medical cases with him. He always helped share ideas and diagnoses."
"He had a huge heart. Patients just loved him," said Dr. Margaret Western.
"He did whatever he could to help anybody, and he was highly-qualified in medicine," said nursing director Marie Ross.
"Dr. Witten was very much appreciated. He did a lot of good for a lot of patients," said hospital administrator Scott Callender.
Dr. Witten had over 21 years of experience in the medical field. He served in clinic care, urgent care, and a physician house call practice prior to moving to Love County in August 2016.
Witten graduated from the Oklahoma State University Center for Health Sciences College of Osteopathic Medicine in 2001.
He completed a family practice residency at St. Anthony Hospital in Oklahoma City in 2007. There, he met his future wife, Ann Williams, a department secretary, and they would have celebrated their 15th wedding on April 28. They have one son, Zachary, who turned age 13 on March 12. The family made their home at Falconhead Resort in Burneyville.
Witten grew up in Choctaw and graduated from the University of Oklahoma in 1996. He served in the U.S. Navy from 1987-1991. Training and experience as a Navy medic inspired him to pursue medicine as a career. "The doctor-patient relationship is sacred and unique. I feel privileged to practice medicine and cannot imagine doing anything else," he once said.
In addition to premier service as a physician, Dr. Witten inspired people with an heroic, five-month battle with a grave illness in 2021 and subsequent return to practice last November.
Witten was admitted as a hospice patient last February after specialist doctors in Oklahoma City did not believe he could survive needed heart surgery following a massive infection and septic shock. "They saved my life," Witten said about the Mercy Health Love County nurses and rehabilitation therapists, as well as clinic colleague Dr. Terry Jones, who oversaw Witten's care. "Dr. Jones was superb," Witten said.
"When I came here on hospice, Marie Ross told me I was not going to die," Witten said. He said the nurses and other coworkers brought him back to health. Weeks later, he successfully underwent heart valve replacement surgery at OU Health.
He returned to Mercy Health Love County for skilled nursing care. He was in such a weakened state, he had to spend months learning to sit up, dress himself, and walk, he said. After being discharged from the hospital last June, Witten rehabilitated at home through the summer and fall. Cleared by his OU doctors to return to work, Witten said his surgeon told him, "You are a miracle."
Witten had resumed his career on November 8, 2021.
"He was so happy and grateful to return to work. He felt validated as a physician," said Ann Witten. "It's one thing to be hired by a group and know they want you to work with them. It's totally different to have been so sick and gotten through what he did last year -- to be at death's door, and work so hard to be able to walk again and go back to a job you thought you would not be able to do again. His personal experience just refired his resolve to be a doctor and help other people."
"All the nurses and support staff he worked with, his patients, his fellow doctors -- he loved them. It's just very hard and overwhelming thinking where we're at right now with what he went through last year. He fought so very hard. He was such a fighter until the very end, until his heart just couldn't support him," she said.