Love County's Ambulance is State Tops for 2022
Posted on Wednesday, August 17th, 2022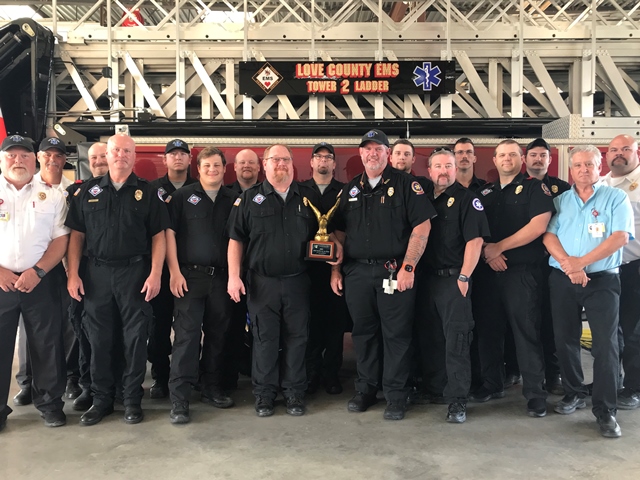 Top Ambulance Service 2022: Gathered to celebrate being named Service Provider of
the Year by the Oklahoma EMT Association are medics (from left) Tracy Walker, Dusty
Michael, Ben Grace, Heath Weaver, Taylor Bennett, Cayden Bailey, Adam Zimmerer, Jeff
McGuire, Derek Weeks, Kevin Trusty, Colton Rains, Nathan Kent, David Villines, Michael
Brashear, Adam Heffner, Tad Hall, and Brandon Dunmon. McGuire was honored as
Instructor of the Year and Hall as EMS Administrator of the Year.
Mercy Health-Love County EMS has received statewide recognition for ambulance emergency care. It was named "Advanced Life Support Service of the Year" by the Oklahoma EMT Association. The award was announced at the 2022 "Medic Update," an educational conference for Oklahoma EMTs on July 29 in Edmond.
Love County EMS personnel also honored by the OEMTA were Tad Hall as EMS Administrator of the Year and Jeff McGuire as EMS Instructor of the Year.
Reaction within the department was swift. Medic Bill Greenlee was quoted by KTEN Channel 10, "It makes us want to bring new people in; show them that Love County is not just a small county in Oklahoma," he said. "We are an up-and-coming service in an up-and-coming part of the state."
Love County EMS is one of the largest rural services in Oklahoma. Ambulances roll from Station 1 at the hospital in Marietta and Station 2 at WinStar Casino. Advanced Life Support means the ambulance is paramedic-level, equipped with airway equipment, cardiac life support, cardiac monitors and similar advanced capabilities that exceed basic ambulance licensure.
Medics are Cayden Bailey, Taylor Bennett, Michael Brashear, Trustan Cable, Wade Connot, Keiri Craig, Preston Derheim, James Dixon, Brandon Dunmon, Lance Garman, Ben Grace, Bill Greenlee, Cole Greenwood, Tad Hall, Obie Heath, Adam Heffner, Rebecca Heffner, Jeff Hicks, Nathan Kent, Collin Knabe, Adam Lumer, Jeff McGuire, Dusty Michael, Scott Neu, Tyler O'Neal, Anthony Pruitt, Colton Rains, Chris Ramsey, Kevin Trusty, David Villines, Tracy Walker, Heath Weaver, Derek Weeks, Natasha West, Taylor Westbrook, Darryl Wood, and Adam Zimmerer.
Hall just celebrated 40 years with the Emergency Department of Mercy Health Love County Hospital. He has also managed the EMS since 1994.
For the past 12 years, Love County EMS has been a distance learning center for paramedic and EMT students in the region. Students train for careers and receive college credit. For the general public, the training center offers first aid and American Heart Association courses, such as CPR and defibrillator.
In 2008, EMS developed a Fire Brigade to engage in fire prevention and fire suppression at WinStar Casino. Many of the medics are licensed firefighters and Station 2 houses fire apparatus and rescue equipment. Also EMS employs first aid attendants at the WinStar and Riverwind Casinos.
The website www.lovecountyems.net contains more information.