Veteran Medic Wins Statewide Honor for Teaching
Posted on Friday, September 2nd, 2022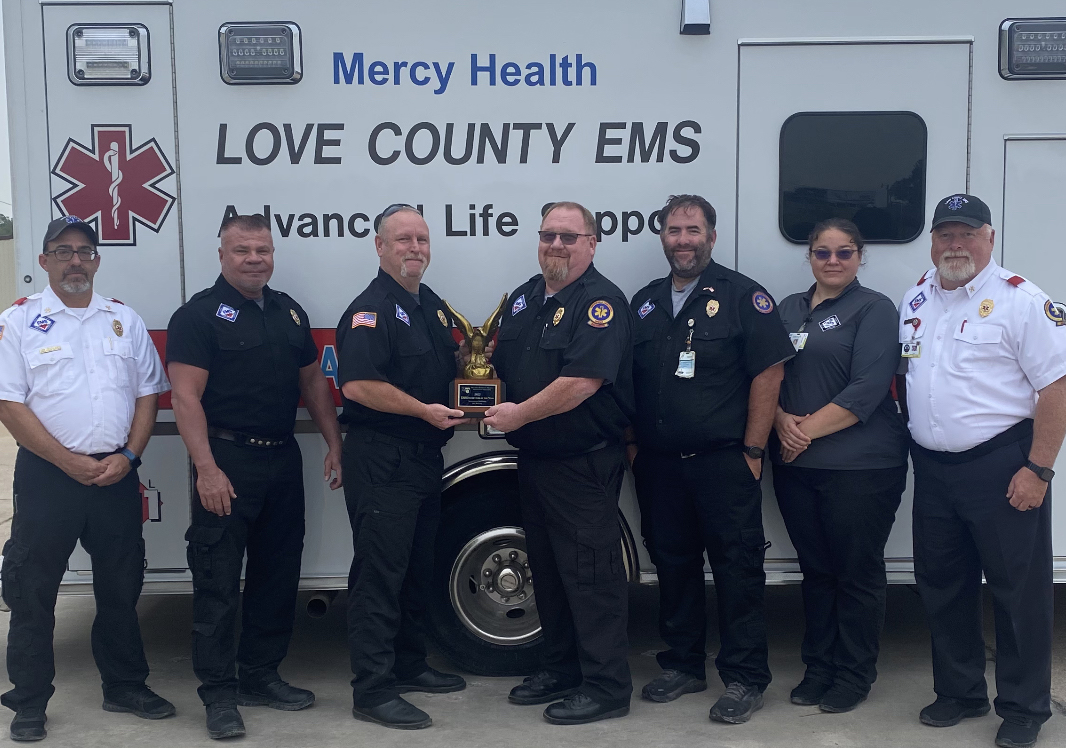 Emergency Services Instructor of Year: Jeff McGuire, PA-C,
fourth from right, shows his award to crewmembers at Mercy Health-
Love County EMS, (left) Paramedics Obie Heath, Chris Ramsey,
Bill Greenlee, Jeff Hicks, Natasha West, and Tracy Walker. McGuire also
is lead instructor in the EMT Training Program at Southern Tech
in Ardmore.
When Jeff McGuire joined the Empire Volunteer Fire Department near Duncan as a young man, the door opened to training as an emergency medical technician. McGuire liked it. More schooling followed until he gained paramedic licensure, then he made a decades-long career in that field.
A high point has been involvement in three cardiac arrest saves in one month. That is bringing back to life patients whose hearts have stopped. "I like helping people and have made a difference for quite a few," he said.
Currently McGuire is lead paramedic on an ambulance crew at Station 1, Marietta, of Mercy Health-Love County EMS.
For the past three years he also has been lead instructor in the EMT Training Program at Southern Tech in Ardmore. In July, McGuire was singled out as Oklahoma Emergency Medical Services Instructor of the Year by his peers in the profession, the Oklahoma EMT Association.
"It would be an honor just to be nominated, but I had no clue even of that," McGuire said. He was attending the awards dinner of "Medic Update 2022," an educational conference for Oklahoma EMTs on July 29 in Edmond, when he heard his name called.
The moment was even more enriching because shared with friends and coworkers that night and in the coming days. McGuire's "day boss," Tad Hall, was honored as EMS Administrator of the Year.
"Tad's award was very well-deserved," McGuire said. "He takes good care of medics in Love County. He does a great job with getting us equipment, nice living quarters, and making sure that we take earned time off to stay fresh. He's a great boss. I love working here."
At Mercy Health Love County, paramedics also assist in the emergency room, and that has introduced a new level of interest to McGuire's work. "Most places, medics drop patients off and leave, but here, we help the physician assistants and learn what the outcome of emergency treatment will be," he said.
The EMT coursework at Southern takes place in fall and spring terms on Tuesday and Thursday nights and all day on two Saturdays a month.
In addition, McGuire and fellow paramedic Bill Greenlee drive to Lawton to Great Plains Technology Center on some Saturdays to administer skills tests to paramedic students who are attempting to qualify for national licensure.
McGuire's wife, Belinda McGuire, an LPN, goes with them to help students with paperwork. Sometimes a few of the couple's children come along "to act as patients," McGuire said.
"Our family accepts that the medical field is our calling and we give lots of time to it," McGuire said. After more than 25 years as a medic and teacher, he frequently encounters former students and even patients he has met during emergencies. "It's been a good career," he said.
McGuire is a long-time member of the Oklahoma EMT Association. Greenlee is a past-president of OEMTA.