Bolton Leaning Into New Duties
Posted on Sunday, October 23rd, 2022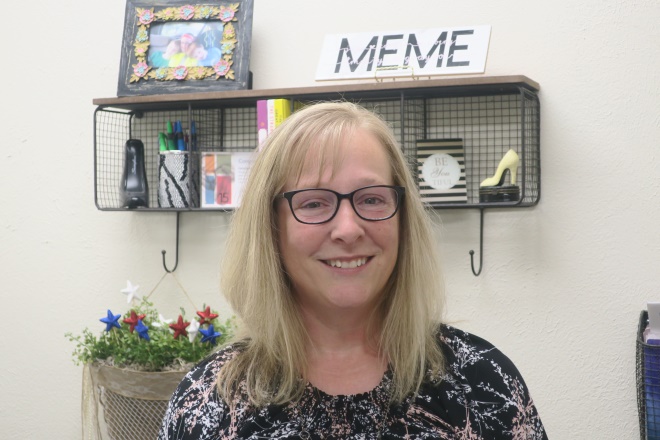 Carla Bolton, Business Office Director
Carla Bolton is leaning in to master the new responsibilities that came with her promotion in 2021 to Business Office Director of Mercy Health Love County Hospital.
She has proven to be a willing learner, having acquired two college degrees and a range of clinical and office experience during 30 years in the medical field in southern Oklahoma.
She follows in the footsteps of highly regarded and long-time business office directors Connie Barker, Charlene Frazier, and Connie Graham.
Bolton is poised and confident, and she has a well of empathy for patients, who are as central to the business office as they are to the nursing floor.
"I feel like I am every patient's advocate," she said. "But you have to have been a patient first to understand and be in their position. The real rewards for me are helping move along their pre-approvals and insurance claims. I get the hard-to-solve cases that come up."
Over the past 12 months, Bolton has picked up on the fine distinctions in filing requirements among the many private health insurance plans, and among the public plans, such as Medicare, Medicaid, Children's Health Insurance, Veterans Administration, and state programs. Another facet she zeros in on is making sure patient registration information is correct and up to date.
The bottom line benefit for patients and the hospital is to collect on medical claims quickly and fully. Coworkers in the business office help patients who qualify for Medicaid get enrolled or assist uninsured patients if they need payment plans. They also help enroll seniors in a Medicare Part D prescription drug plan and perform refresher plan searches every year.
Bolton handles the accounts payable responsibility for the hospital's local bills. She assists the outside auditors. She is secretary for the Love County Health Center Foundation.
From 2012-2021, Bolton was executive assistant to the hospital's administrator. She joined Mercy Health Love County in 2006 as a customer service representative in the clinic. Prior to that she administered a dental office.
Her first job, after graduating from Lone Grove High School in 1992, was with a traveling team of phlebotomists from the Oklahoma Blood Institute. Witnessing the team in action at a blood drive her senior year attracted her to the medical field. "I saw the hospital and clinic as a premier place to work, an honorable place. Nursing was not an option to me but I can help clerically in a meaningful way," she said.
While working fulltime at Mercy Health Love County, Bolton acquired an associate's degree from Murray State College and a bachelor's degree in Human Resources from Ottawa University. "I'm a lifer. The hospital is my family and we're taking care of the community. It's a neat and challenging place to be."
Carla and her husband, Ron, whom she met in high school, have been married for 30 years. They have a son, a daughter, and five grandchildren.