Hospital Winds Down 50th Anniversary
Posted on Tuesday, December 27th, 2022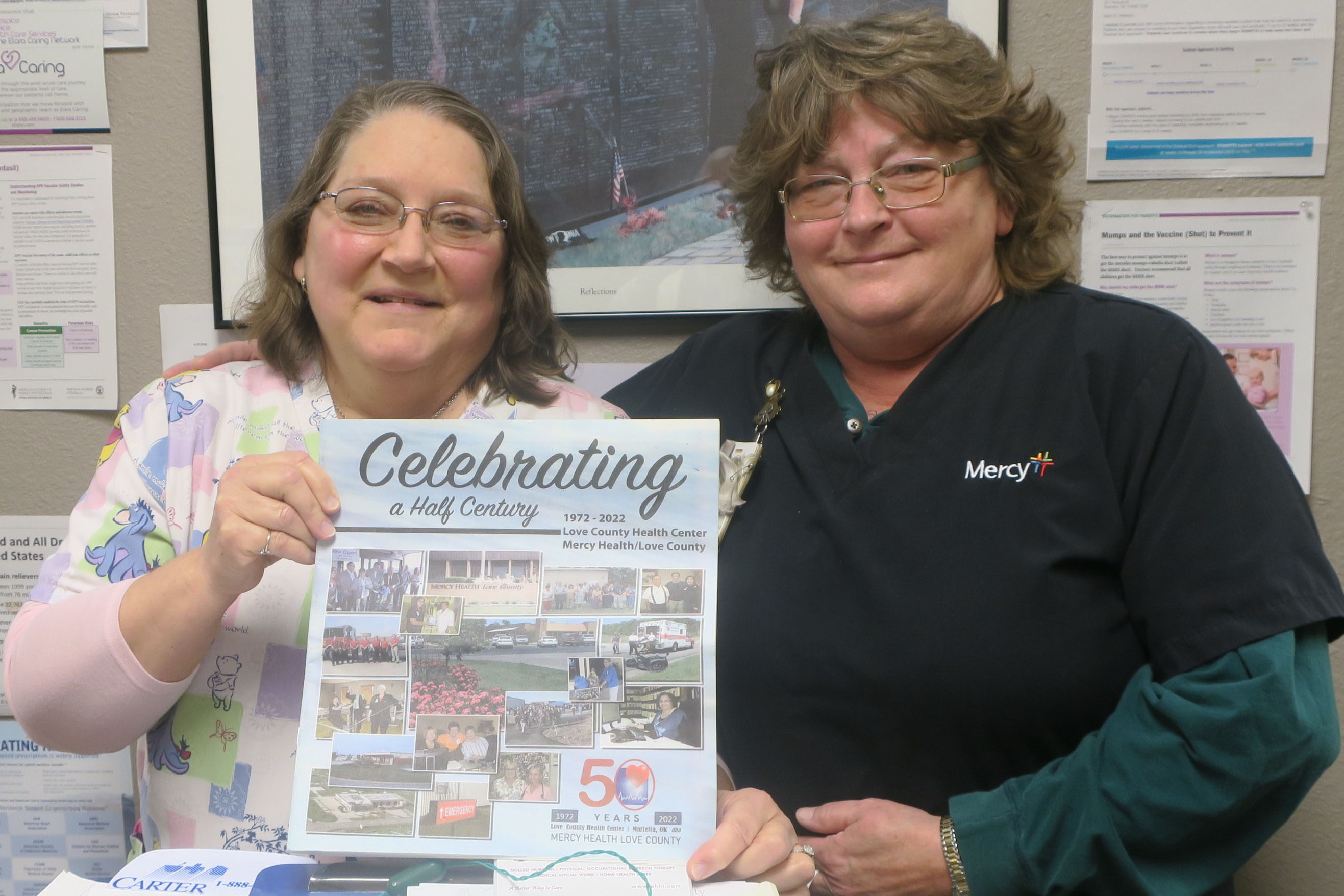 Local Pride: Dr. Margaret Western, M.D., clinic physician, and her office nurse Teresa Steen-Landreth, LPN, looked over the 50th anniversary publication of the Love County Health Center last week. The hospital turned 50 years old on January 30, 2022.
As the fiftieth year of the Love County Health Center in Marietta wound down this week, coworkers expressed pride and admiration for what the people of Love County have accomplished with their medical facility.
"It has been a privilege and an honor to be here for the 50th anniversary," said hospital administrator Scott Callender. "We want to keep it going and take great care of our patients."
Since opening with a 25-bed hospital in 1972, the county's services have grown to include a clinic, therapy building, expanded emergency room, two ambulance stations, and a health campus consisting of a 10-acre park, hard-surface walking trail, growers market, food pantry, and social services building.
Starting with 25 staff members in 1972, employment rose to almost 150 workers in 2022. About fifty of them are affiliated with a robust EMS in Marietta and Thackerville, the latter of which includes EMTs, paramedics, firefighters, and casino first aid attendants for WinStar Casino.
Around the hospital, staff members offered their thoughts:
"With such an impressive beginning, I am proud to be part of this hospital," said Maria Maynard, PA-C. "In the emergency room, we try to serve the community the best we can." Maynard was named Rural PA of the Year in 2021 by the Oklahoma Academy of Physician Assistants.
David Manning, RN, started as an ambulance medic then advanced his education to become a registered nurse in the emergency room. "At one time, three generations of my family worked here. There are many opportunities to serve and to support the community," he said.
Marnie Rutledge, PT-A, provides physical therapy to outpatients and bed patients. "Hospital patients tell me they are well-treated here, like family, whether they are from the local community or not. They talk about how caring everyone is." She added, "These are the best nurse's aides I've worked with anywhere. They work hard, every shift."
William "Obie" Heath, EMS Operations Chief, is the longest-serving paramedic in Love County. He joined the ambulance service in 1994, the year the hospital was asked to take over management of Love County EMS.
Heath helped establish the Fire Brigade when that unit was added to the EMS in 2008. "It has been great for the community to have such a large paramedic service," Heath said. Medics are well-trained to also assist in the ER.
"I like the family atmosphere here," said Blake Scott, director of radiology. We are small enough to become part of patients' families, to know their kids' names, to call them by name when we see them at a store. I worked here under Dr. Smith, Dr. O'Connor, Richard Barker, and Rick Stephens. They go back to the beginning of the hospital. I am thankful to be part of what they started in Marietta."
Doyle Smith handles maintenance and engineering. " All the people who work here are nice to be around. They are good to me and appreciative of the help they receive," he said
The heart and soul of the hospital is the nursing floor. Veteran and new nurses and CNAs provide a vital "skilled nursing" service to patients from a wide area of the state. Stays generally range up to 20 days and involve patients who are recovering from surgery or other treatment at larger hospitals.
"Our reputation for really good nurses is well-known," said Jan Marutzky, RN, a senior hospital charge nurse. "We have good staff all around. I came here as a patient while working for a different hospital. I knew first-hand they treat patients like they want to be treated. I love working here."
Dr. Margaret Western calls it "going the extra mile. We really do try to provide patients what they need in the clinic, the hospital, and the emergency room. We serve the community."
Chela Santibanez, RN, has leapt ahead in her career. In 10 short years, she rose from medical office assistant, to ER registrar, to registered nurse, school nurse, and now hospital case manager.
The advancement was made possible by her personal energy and determination to go to college while working, plus the scholarships she received from the Brannan Trust in the Love County Health Center Foundation.
"Being here on the 50th anniversary has meant the world to me. I feel blessed," Santibanez said. She cited director of nursing Marie Ross, "mama Marie," for being her mentor. "They build good nurses here," Santibanez said.
"We grow our own here," Ross agreed. "That was Richard's approach," she said, referring to Richard Barker, 30-year hospital administrator and an extraordinary leader, who retired in 2021. Ross has been at her post for 46 of the hospital's 50 years.
The clinic opened in 1990 and moved into its own building (since expanded) in 1998. Jana Brown has 17 years of experience and is currently the business office manager. "Privileged and honored and blessed," Brown offered when asked how she felt about working there on the health center's golden anniversary.
Teresa Steen-Landreth is the clinic's most experienced nurse, going back to 1995. "This is my extended family," she said of her colleagues.
Remarkably, the health center continues to exist under the sole ownership of the people of Love County. By 2021, only 41 of 150 hospitals were city/county or public trust entities, according to the Oklahoma Hospital Association.
Dozens of other small Oklahoma hospitals closed their doors or were absorbed by large health care systems.
Barker forged a valued relationship with the Mercy System in 1998 to provide revenue assistance. The Health Center took the name "Mercy Health Love County" under a management agreement. The larger institution offers bulk purchasing of medical supplies and equipment. Mercy also performs personnel services, employee benefits, and accounting, billing, and engineering support.
The local hospital pays for the lease of employees plus a nominal monthly consulting fee.
Another key contract has been with the Chickasaw Nation, under which the hospital provides expanded EMS and fire suppression and prevention support to WinStar Casino. In doing so, in 2008, Mercy Health Love County became the first hospital in the nation to form a fire service.
The citizens of Love County built the hospital, clinic, and EMS. They continue to support operations with a one-cent county sales tax. The tax has been critical to breaking even or minimizing losses on a year-to-year basis since 1999, according to the hospital administrator. The tax is up for renewal in a county-wide election on February 14.
In the community, volunteers have operated the Hospital Auxiliary since opening day. The group runs a gift shop and vending machines with proceeds to hospital projects. Other volunteers operate the hospital food pantry feeding the hungry and food-insecure of Love County since 2001.
Local charitable trusts formed early to help support the institution. These include the Schellenberger Land Grant for the original 10 acres on which the hospital was constructed; the Brannan Family Trust; the Ed F. and Jesse McGehee Estate, and the C.C. Wilkins Estate.
The Love County Health Center Foundation, whose Board is made up of local citizens appointed by the Love County Commissioners, administers the Brannan Trust. The Commissioners authorize other foundations' gifts.
They also appoint local citizens to the hospital Board of Control. Current members are Bob Brannan, Andrea Locke, Steve Smith, Lenna Radde, and Dr. Jack Testerman.