Help In a Hurry Proves Value of Local Healthcare
Posted on Thursday, February 9th, 2023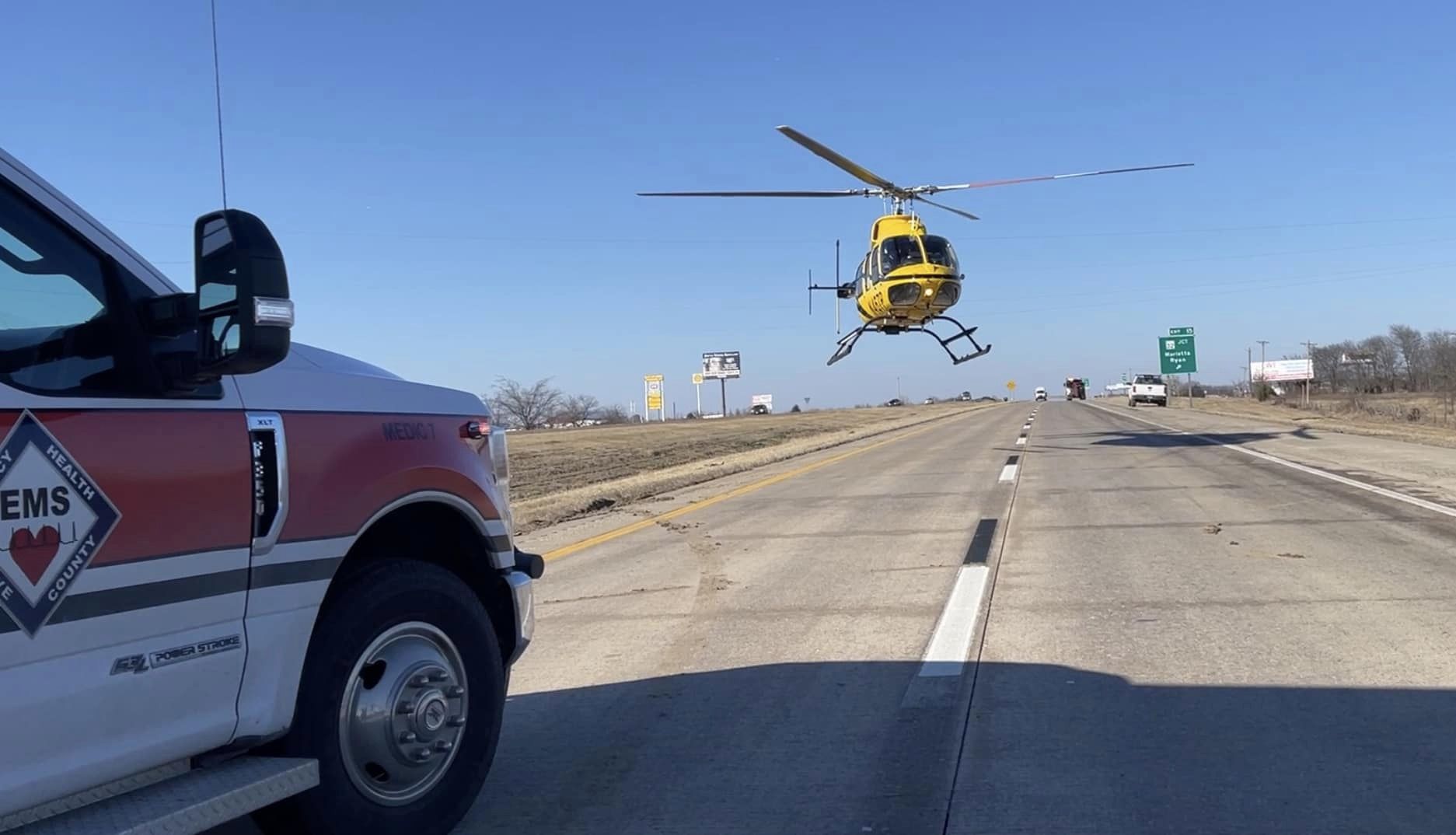 High-Level Help: Mercy Health Love County EMS summoned two air ambulances to transport seriously-injured patients after a multi-vehicle pile-up at mile marker 14 on I-35 on February 3. Behind the EMS ambulance, north-bound traffic was backed up all the way to the Red River bridge.
Travelers on I-35 and local residents can be thankful for Love County emergency response. Area firefighters and hospital medics delivered high-level assistance at pile-ups between the Red River and Marietta last week.
The latest incident occurred Friday afternoon at mile marker 14 on I-35. An RV towing a small sport utility vehicle struck an 18-wheeler that had slowed down for traffic.
The RV was occupied by two people and both required extrication with hydraulic rescue tools. Medics called two air ambulances to the scene to transport the seriously-injured patients. North-bound traffic was backed up all the way to the Red River bridge for several hours.
Icy conditions were the cause of a 15-car and truck pile-up on a bridge at the 8 mile marker of I-35 on January 31. Injuries were few, according to Tad Hall, Emergency Room and EMS manager, who said one patient was transported to an area hospital.
But more dispatches ensued. "Throughout the day, EMS responded to several other wrecks and illnesses, and a patient was transported from each of two wrecks," Hall said. "At one point in the afternoon, all EMS staff were out on calls, operating four ambulances and a fire unit."
It is remarkable to have four ambulances, let alone fire apparatus. But Mercy Health Love County EMS deploys more than three dozen paramedics and firefighters. They are serving the needs of local citizens plus the thousands of daily visitors and employees at WinStar Casino.
In 2022 the County's EMS was honored as Oklahoma's top advanced life-support ambulance service by the Oklahoma EMT Association. Hall was recognized as the outstanding administrator. Paramedic Jeff McGuire was instructor of the year.
In the hospital's emergency room, Maria Maynard was named Rural PA of the Year in 2021 by the Oklahoma Academy of Physician Assistants.
Administrator Scott Callender said he considers the EMS, hospital, and clinic as departments of excellence for the county-owned health center, which marked its 51st year on January 30. About 150 staff members are employed there, one of the largest employers in the county.
Callender also points to extensive community services. These include charitable care for the uninsured, assistance with enrollment in Medicare and Medicaid, a public food pantry, and office space for DHS, mental health, domestic violence and emergency management specialists.
Additionally, the health center helps educators with a school nurse program, and serves community health with a growers market, a park, and a walking trail, all on hospital grounds.
The EMS offers education for persons aspiring to be EMTs and paramedics. A fulltime training manager is employed, enabling the department to also extend to the public classes on first aid, use of defibrillators, CPR, and a host of other American Heart Association programs for rendering emergency aid in the home or workplace.
Callender said he is hopeful the voters will turn out on February 14 to renew for the next 10 years a one-cent county sales tax that helps support health center operations. Last year, the tax provided revenue of $1.6 million. "This is a big help," Callender said. The support measure was last approved in 2013.
Public support took on added significance recently as a hospital closure was announced in Clinton. Since December 22, the town of 9,000, located on I-40 about 80 miles west of Oklahoma City, has been without emergency, hospital, or clinic care. The nearest help is 20 minutes away from the city limits.
Eight other rural hospitals have closed since 2016, in Eufaula, Frederick, Hugo (Lane Frost Rehabilitation Hospital), Sayre, Wilburton, El Reno, Enid, and Bristow.
In a Channel 4 interview on February 3, Dr. George Monks, former Oklahoma State Medical Association president, weighed in on the loss of local care. "When you're having a life-threatening condition, it's important you're close by. In fact, studies show that for every five miles or every five minutes it takes to get to the hospital that may lower your chance of survival by one percent."