New Role for Versatile Nurse
Posted on Friday, April 7th, 2023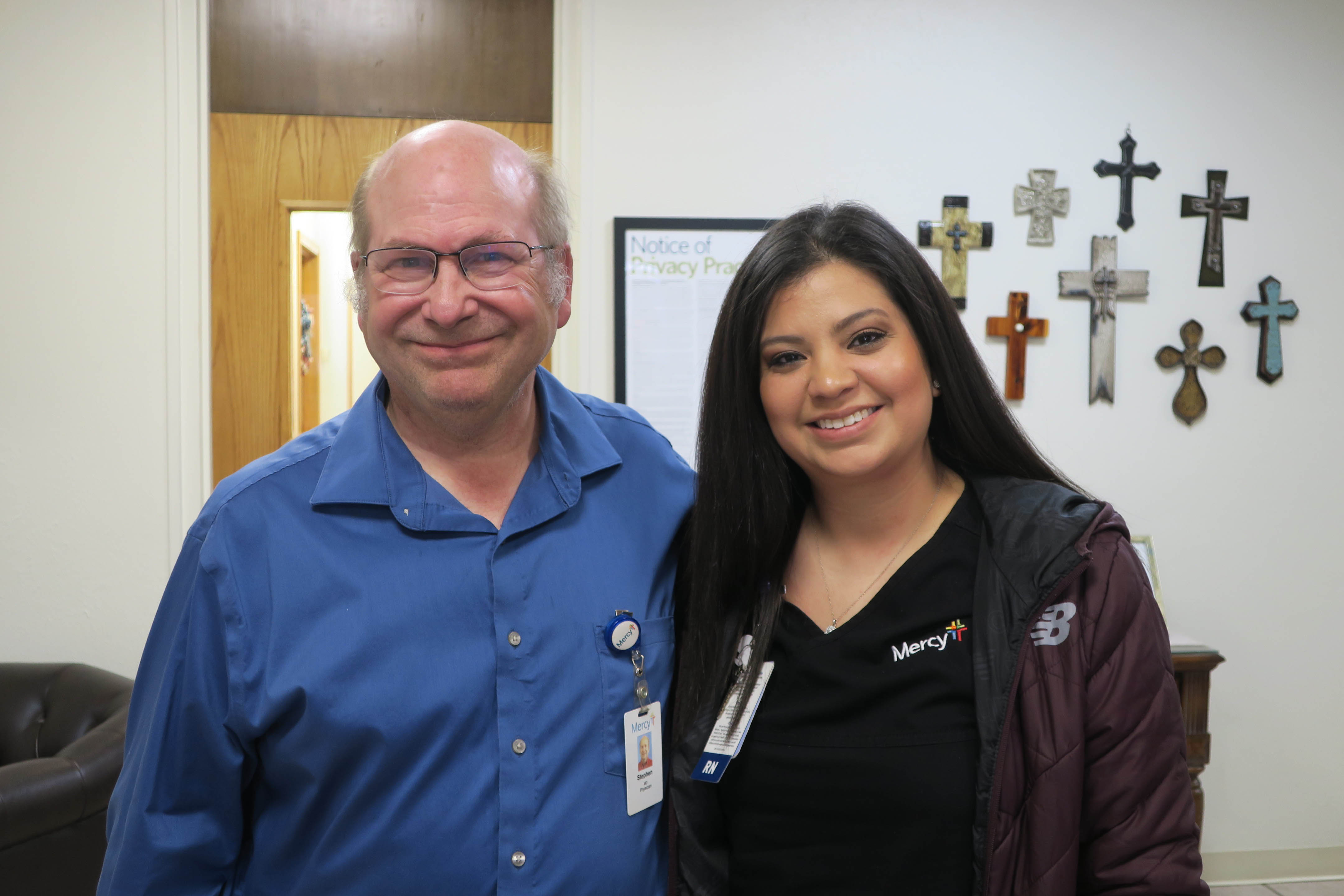 Ten Year Reunion: Griselda "Chela" Santibanez, RN, has been promoted to hospital case manager. She is congratulated by Medical Director Stephen Hutchins, M.D. The nurse's
first job at Mercy Health Love County was medical assistant in the clinic for Dr. Hutchins in 2013.
Hospital Case Manager Rose Quickly Through Education
Griselda "Chela" Santibanez is the type of Registered Nurse that other RNs point to with pride. "Write about Chela," they say. "She is our case manager."
(The case manager follows the progress of patients on the nursing floor or in the skilled nursing unit and helps them plan for care after discharge. More about that later).
To be clear, Santibanez is the hospital's first fulltime case manager. She prepared by filling all the other nursing slots at Mercy Health Love County: medical assistant in the clinic, emergency room nurse, hospital nurse, and school nurse. That is in just 10 years on the job.
Successsive levels of education and training were required. And so it was that Santibanez followed up her medical assistant associate's degree with a four-year bachelor's degree in nursing, licensure as a Registered Nurse, and, most recently, six months of specialized training and interning in case management.
Every step, her colleagues and her husband, Armando Santibanez, LaRoca Restaurant's cook, encouraged Chela to stay with her education. The Love County Health Center Foundation provided scholarships. Her mother, Gabina Bustos, an environmental services specialist at the hospital, and extended family members helped at home.
At one time, Chela's schedule went like this: Work nights as a registrar at the emergency room, drive to campus, sleep in the car before class. After class, return home to study and care for the family, which included three young children, then back to the ER.
At every stop, the friendly nurse has provided an indispensable ability to translate. She is regularly called away from the hospital nurses' station to interpret for Spanish-language patients in the clinic or emergency room.
But that was the responsibility placed on her as a young child growing up in Texas. "I was translating at Parkland Hospital at age 6 for a family member. I felt the weight of that, of having to know what I was translating," she said.
The experience of speaking for grownups produced maturity beyond her age and with it the confidence to grow and learn.
"I feel like caring for others is a cultural thing. I was meant to help. I go to the nursing home to visit patients who have moved there after discharge. I miss the one-on-one of patient care that started when I was the clinic assistant for Dr. Hutchins," she said.
She expressed deep gratitude for Director of Nursing Marie Ross, who has tutored and mentored Santibanez since 2013 and is full of compassion.
"She's been my coach. Marie has been here for nearly the whole time we have had a hospital. She remembers everything about administering care and she knows everyone. Her standard for a successful nurse is whether they have a 'Love County heart, '" Santibanez said.
As the hospital's fulltime case manager Santibanez is in daily contact with sending hospitals to help keep the skilled nursing unit as busy as the nurses can accommodate.
"We have an amazing swing bed program here to give hospitalized patients additional time to recover from a surgery or illness or injury," she said.
Swing bed patients have 24-hour access to providers and nurses, lab and imaging services. They receive speech, occupational, and physical therapy, as needed. The goal is to have patients return to their permanent living situation as soon as possible, able to take responsibility for daily tasks such as hygiene, bathing, and dressing.
Mercy Health Love County is one of the few hospitals in the state to offer the skilled nursing program. Those who qualify generally are on Medicare, which pays for stays for a resonable number of days.
Patients transfer here from Mercy Hospital and the Heart Hospital in Oklahoma City and other hospitals. Because of Love County's extensive EMS, an ambulance can be sent for the transfer most of the time.
Santibanez communicates with every healthcare professional involved in the patient's care. As discharge nears, she works closely with the patient and family members to plan the next best medical or living arrangement.
Asked how patients and family members can best prepare for a hospital or skilled nursing stay, Santibanez replied: "Try to plan ahead. We see some amazing results here, but not every patient is able to make progresss. Prepare for the possibility that a patient may have a quick decline. They may not be able to live independently again. Get a plan in place for that possible outcome."