Dr. Stacy Goode Joins Hospital and Clinic
Posted on Friday, June 2nd, 2023
Welcome, Dr. Stacy Goode!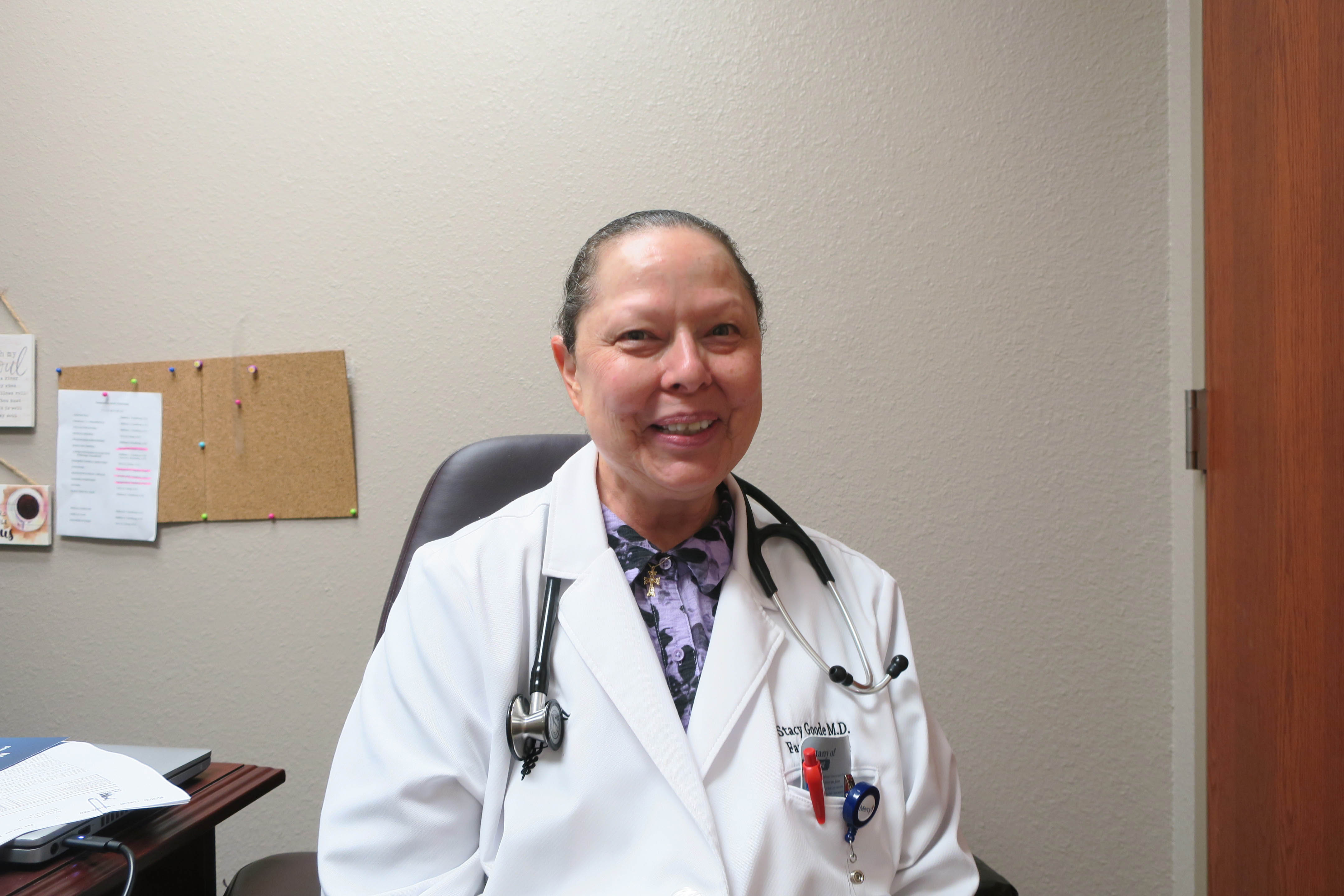 Dr. Stacy C. Goode, M.D., is a Board-Certified family physician
"Stay humble, work hard, be kind," reads one of several motivational signs in the office of Dr. Stacy Goode, M.D. The family doctor has joined Mercy Health Love County. She will see patients in the clinic, hospital, and emergency department.
Her first day in Marietta was May 22, 2023, and she liked what she calls her "new home."
"I am blessed to be here in this position," Dr. Goode said. "I love the area, the scenery, and the patient population. The clinic is a true extension of the community, so that patients and staff are like a family."
Dr. Goode (rhymes with food) has a lengthy and diverse interest in the medical field that started in childhood and led her to undergraduate research and medical school. She has been a family doctor since 2007.
She is settling in Falconhead Resort from Lawton, where she practiced in the adult outpatient department of Lawton Indian Hospital. She also has experience in military family care with a VA hospital in Texas.
As a young woman, Dr. Goode served in the U.S. Army Reserve. The Army trained her as an occupational therapy assistant. Doctors in her place of practice encouraged her to become a physician. "I knew I wanted a career that allowed me the privilege of helping patients with the decision-making that a provider possesses," she said.
Goode distinguished herself in college at the University of Alabama. She secured funding to test whether that methylphenidate, the active ingredient in Ritalin, caused permanent changes in children's brains.
"A professor of neurobiology backed my project, and I was very proud of the results," she said. The professor concluded that the changes Goode believed occurred in the brain had a sound basis in her research.
Goode also worked with another University of Alabama professor, Dr. Edward Taub, who was a pioneer on biofeedback. Dr. Taub theorized that "learned non-use" was inhibiting stroke patients from regaining function. He introduced the practice of restraining the patient with a sling or mitt on a good arm, for example, as a way of reminding the patient to try using the stroke-injured arm.
Through constant repetition, hours a day, the patient would reach first with the stroke-affected arm and restore through practice some strength and effectiveness.
In her first year of medical school in Mobile, Dr. Goode won the academic Melvin J. Young Award and the Board of Medicine scholarship. She completed her M.D. degree there at the University of South Alabama College of Medicine in 2004.
She fulfilled a three-year residency in 2007 at the University of Alabama Family Medicine Residency Program in Selma. She then completed additional requirements to become Board-Certified in family practice.
"I most enjoy the feeling of being a family in family medicine. It is not easy being a patient and exposing personal aspects of your life to a near stranger. Having patients sense that there is a love and compassion underlying the conversation, it becomes a unique relationship based on trust," Dr. Goode said.
"One of my mantras is that the patient is the captain and I am a member of his or her health care team. And it is a privilege when a patient allows me to be on their team."
She said she values preventive medicine and careful listening to various symptoms to narrow down a diagnosis.
The practical benefits of medicine Dr. Goode learned early from her mother in Brooklyn, N.Y. "She took me with her to feed home-cooked meals to a patient who was a resident at Bellevue Hospital. My siblings and I still recall Walter. He was a gentle giant who suffered a head wound in World War II and had undergone a frontal lobotomy. I loved feeling like we were helping this wounded soul in a very tangible way."
Dr. Goode has a 32-year-old son who is a writer. She said she owns "a beautiful yellow lab" dog.
Dr. Goode's hobbies are art appreciation and volunteerism. She collects and reviews books and articles on antiques, and attends ballets and symphony performances.
"I love donning gloves to wash dishes or make sandwiches for church or philanthropic functions. I also have experience as a volunteer for a literacy organization," the doctor said.
Dr. Goode treats patients or all ages. Appointments may be made by calling the clinic at (580) 276-2400.