Dr. Margaret Western Retires
Posted on Friday, June 9th, 2023
Dr. Western Ends Career as Accomplished Chemist and M.D.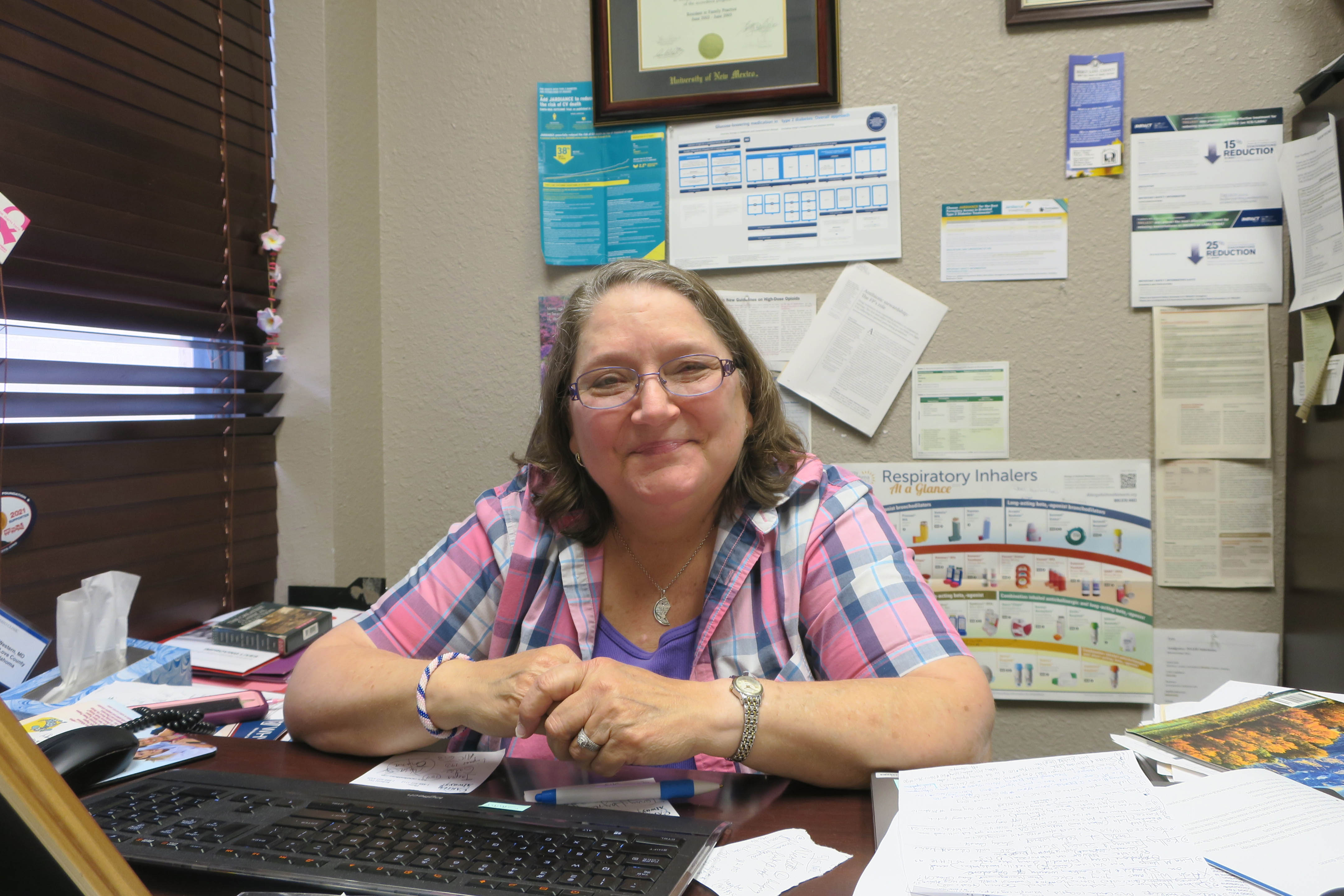 Ready for Retirement: Margaret "Max" Western, M.D. is seen in her clinic office at Mercy Health Love County last week. She retired from medicine on May 31, 2023.
Spending time with her five grandchildren, ages 18-29, and her 91-year-old mother were happy thoughts of Dr. Margaret "Max" Western, as she closed her office at Mercy Health Love County on May 31 and retired from medicine.
"I will be traveling to Texas to see more of them, and while I'm home (at Falconhead), I will begin scrapbooking all the pictures I've collected of them," the friendly doctor, age 70, said.
In eight years at the hospital, clinic, ER, and area nursing homes, Dr. Western built up quite a practice. She estimated having 800-1,000 patients in her care over the eight years. "I will miss my patients most of all," Dr. Western said.
"By and large, I improved the lives of all of them. I helped many people quit smoking or cut back. I helped others quit alcohol. My advice was to take things step by step. Don't look at the BMI chart on obesity and think you have to accomplish everything at once. Gradually cut back on what is leading to illness until you get in a better place."
"In my practice, I served several three and four generation families," she added." It felt good to have whole families put their confidence in me." An important asset was her fluency in both English and Spanish.
Medicine was Dr. Western's second career, but the one she always wanted. "I was a pre-med major in college at Baylor, but marriage and kids created a 15-year gap in my medical education."
Meanwhile she became an accomplished chemical technician for first Exxon then CE Natco and finally Shell Oil in Houston. With others, she patented two chemical compounds. Both inhibit the build-up of paraffin and scale inside a pipeline that can hinder the flow of fluids.
Western acquired a college degree in Industrial Hygiene and this allowed her to deploy provisions of the Clean Air Act and the Occupational Safety and Health Act on behalf of her company and its employees. Later, while a doctor, oilfield workers would seek her care in large numbers.
Accepted to four different medical schools, Dr. Western chose to complete her M.D. degree, in 2001, at Texas Tech University Health Sciences Center School of Medicine. She took out loans to finance her education.
Western completed a family practice residency at the teaching hospital of the University of New Mexico in Albuquerque in 2005. Her varied practice in that state over the next 10 years involved patients in clinics, hospitals, nursing homes, urgent care, assisted living, and a women's prison.
Prior to joining Mercy Health Love County on June 1, 2015, Max had the experience of caregiving for Gary, her husband of 39 years. He was a chronic pain patient stemming from a ruptured disc in his back. He passed away in 2012.
Her deep understanding of pain management made Western a trusted resource for Marietta area oil field and other physical laborers. She estimated helping over four hundred patients with effective drugs and therapies for their pain stemming from years of heavy work.
The lure of New Mexico remains. Western and partner Linda F. Martin have set up a vacation home near Cloudcroft.
Western's son Brad manages three locations for a John Deere Heavy Equipment dealership in Lubbock, TX. Daughter Andrea is a registered nurse in the Houston area.