New Respiratory Therapist Joins Hospital
Posted on Friday, May 12th, 2023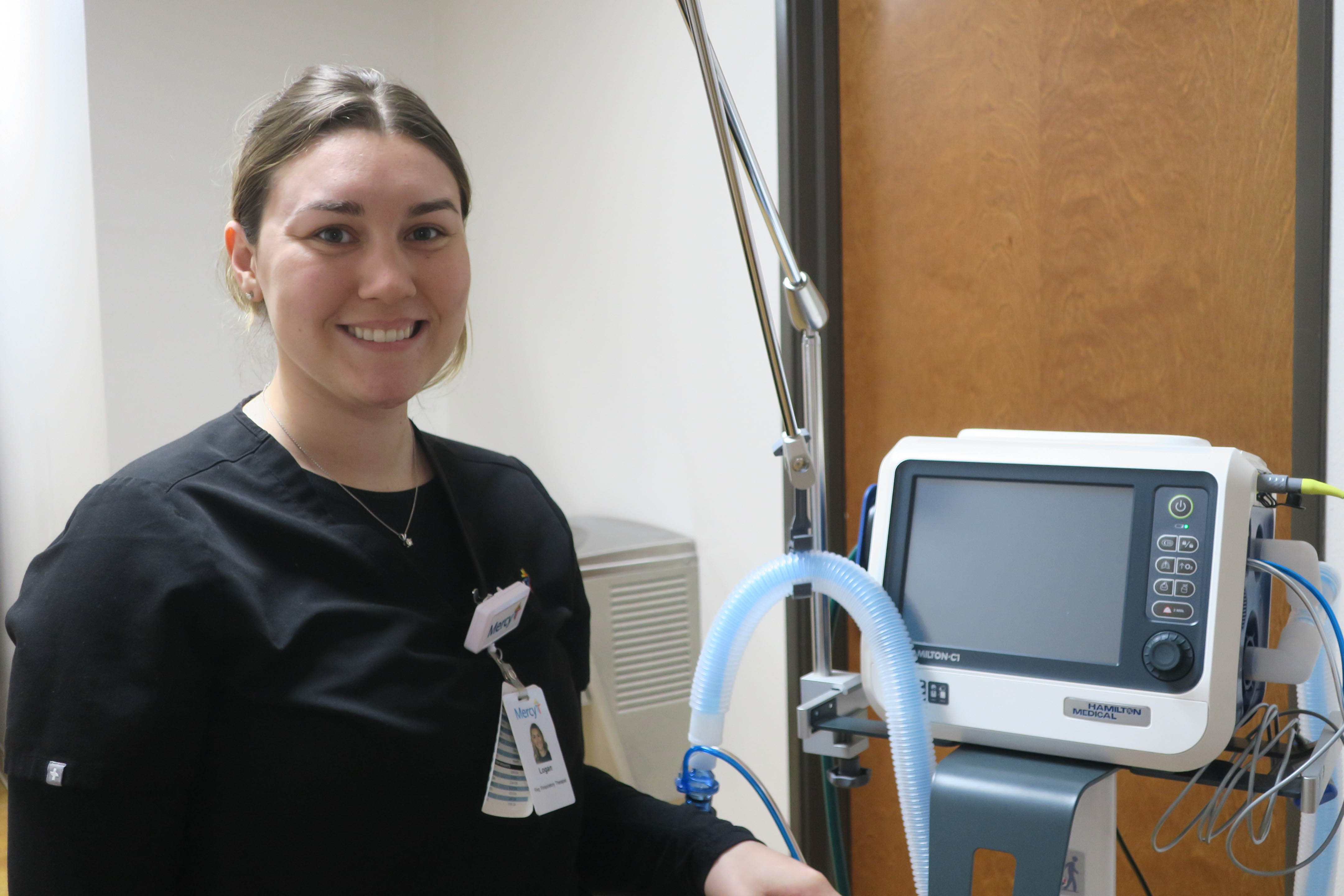 New Respiratory Therapist: Logan Roberts joined Mercy Health Love County in March 2023.
COVID Sparks a Career in Respiratory Therapy
Mercy Health Love County Hospital welcomed respiratory therapist Logan Roberts in March. She joins respiratory care practitioners Michelle Lively (department head) and Beatriz Trevino.
Respiratory therapists and practitioners work with patients of all ages to help them breathe better.
Roberts underwent intensive student training during college. "We worked on mannequins and in person in clinics all over the metro area. I helped with patients at OU-Presbyterian, OU-Children's, Integris-Baptist, and Mercy-OKC," she said.
She graduated last May from Oklahoma City Community College in collaboration with Francis Tuttle Technology Center. She passed the national licensure test as a Registered Respiratory Therapist (RRT).
COVID-19 influenced her education. The pandemic forced some in-person classes to go online, but more than that, COVID was a respiratory illness.
"I saw so much of what COVID patients went through. I saw my two grandfathers fall ill from COVID. One did not make it, and the other went through a long period needing breathing assistance. Seeing their experiences, I knew the field of respiratory therapy was meant for me. I wanted to help people," Roberts said.
Logan Miller Roberts graduated from Healdton High School in 2017. She played catcher all four years on the softball team and remains a sports enthusiast.
She now makes her home in Lone Grove with her husband, Jakus Roberts, whom she married in 2022.
While a student in Oklahoma City, Logan was impressed with the high level of patient care administered in the Mercy System. She joined the system at Mercy-Ardmore in 2022 then took the opportunity that had opened at Mercy Health Love County.
"I've had a friendly welcome here. They do lots for the staff and are supportive. The hospital is smaller so I can spend more time with patients," Robert said.
The respiratory department offers breathing treatments to clinic and hospital patients, responds to medical crises in the emergency department, and conducts a special pulmonary rehabilitation program in the therapy building.
Pulmonary rehab helps patients who have chronic lung conditions like COPD become better breathers. In sessions several times a week, patients exercise to build up their physical strength and gain the aerobic benefit that comes with that. They are equipped to continue working out on their own at home when the program ends.