New Hospital Beds Arrive
Posted on Friday, August 18th, 2023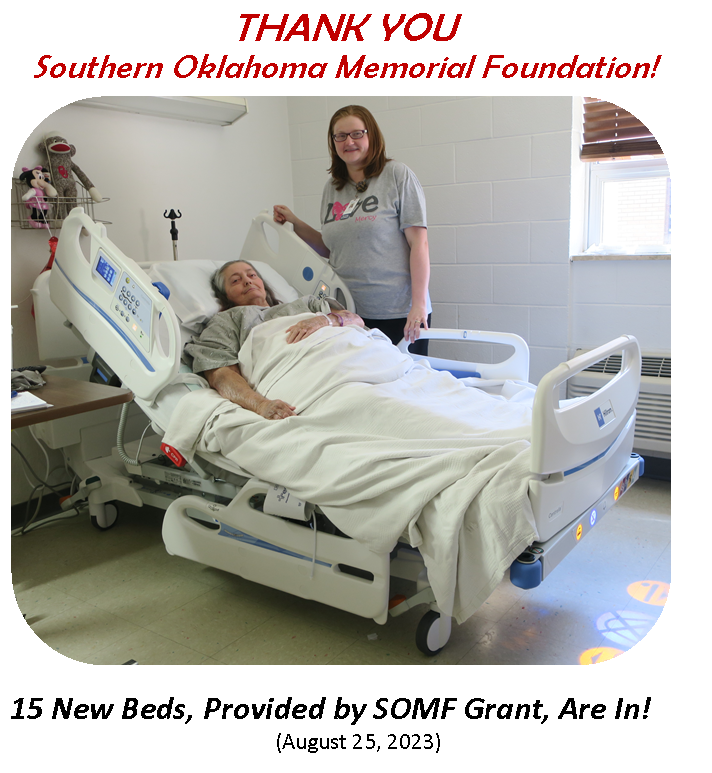 "They told me I was the first patient in one of these new beds, and I have slept like a rock," said Dorothy Cantley on August 14 at Mercy Health Love County Hospital.
"This mattress is comfortable as everything," she continued. "The nurse said she had checked on me several times in the night and that I was sleeping like a baby every time."
The patient's positive assessment is just more good news for the hospital staff. The acquisition of 15 Hill-Rom Centrella Smart+ beds was financed through a grant earlier in 2023 from the Southern Oklahoma Memorial Foundation.
The new equipment is replacing beds from 2006. Hospital beds now feature sensory mattresses that hold their shape to conform to the patient's contour even while the patient is moving to a sitting or flat position. Also, the beds are all electric with no hydraulics.
Numerous safety lights allow nurses or family caregivers to see at a glance whether side rails are properly positioned and the bed is at its lowest, safest position for fall prevention.
"I would like to take this bed home with me, and take the nurses home with me, too. Everybody here has gone out of their way to see that I am well taken care of,"Cantley said.