ER Expansion and Renovation is Underway
Posted on Friday, July 18th, 2014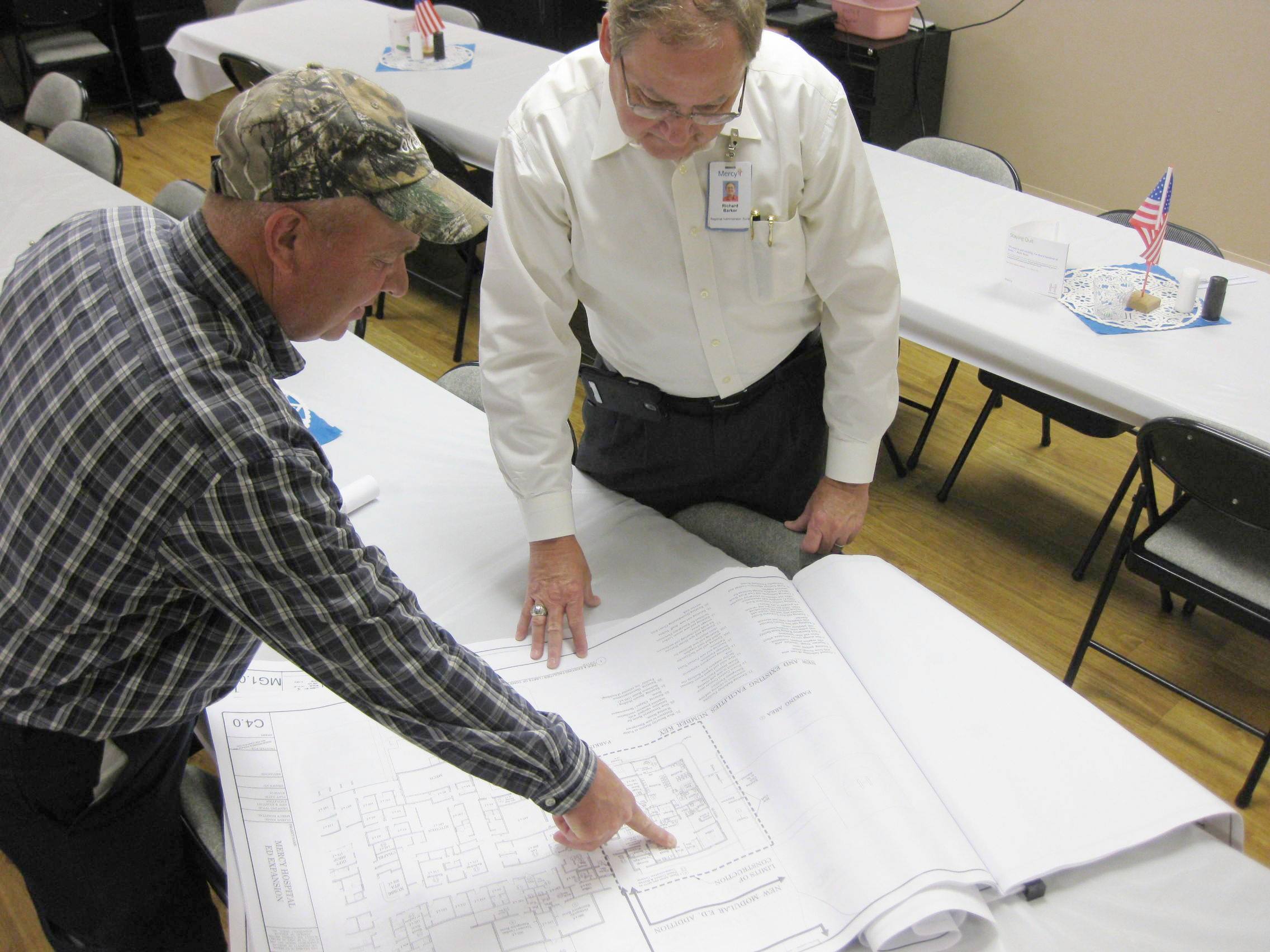 Richard Barker, Administrator (right) and Clancy Hallum,
Maintenance Engineer, look over blueprint drawings for the hospital's
enhanced Emergency Department.
A major enhancement of Mercy Health/Love County's emergency department is underway. The hospital's administrator Richard Barker outlined the exciting changes.
Renovation to Existing 1,200 Square Feet
The current waiting room is being replaced with a patient holding room (for a patient whose symptoms are being observed).
The nurse's station is being rebuilt and set back several feet.
The two existing treatment rooms are being updated. One will become an orthopedic treatment room, the other a
trauma/cardiac treatment room.
A laboratory workstation for drawing blood is being moved from the south side of the lab to the west side.
Expansion is Adding 3,350 Square Feet
Outside, to the west, a modular addition is going up with connecting doors into the existing emergency department. The addition is introducing 3,350 square feet of new emergency department space!
The south half of the new building will be for ambulatory care. Features include:
Canopied ambulatory patient entrance on the south
Security desk
Reception counter
30-seat waiting room, including kids' corner
Visitor restroom
Triage room
Treatment room
Nurses' station
The north half of the new building will be composed of staff offices, workstations, break room, and storage. A canopied ambulance entrance will be on the west. A connecting corridor will lead to treatment rooms in both new and existing buildings.
The modular building, comprised of three steel buildings banded together, will have exterior bricking to match the existing hospital and other buildings on the grounds.
Sixty new parking spaces will be added to the west and south.
Care is continuing without interruption in the existing emergency department.
All ambulances and visitors are using the hospital's main entrance temporarily.
A triage nurse at the entrance is assisting patients and visitors.