Hospital's New Building Keeps DHS in County
Posted on Friday, October 10th, 2014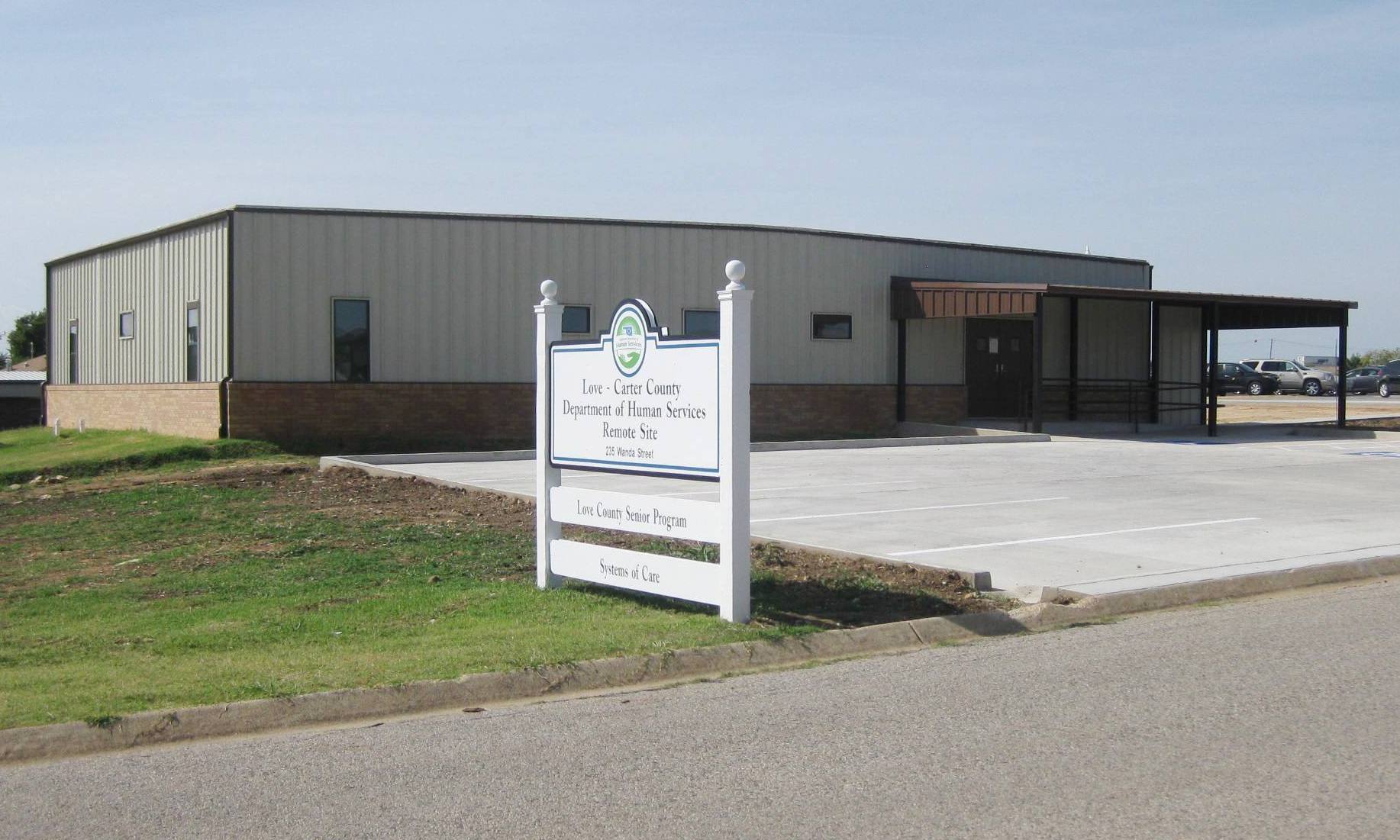 Social Services Building at 275 Wanda St. on the
hospital campus is keeping the Department of
Human Services in Love county, serving patients
and the public.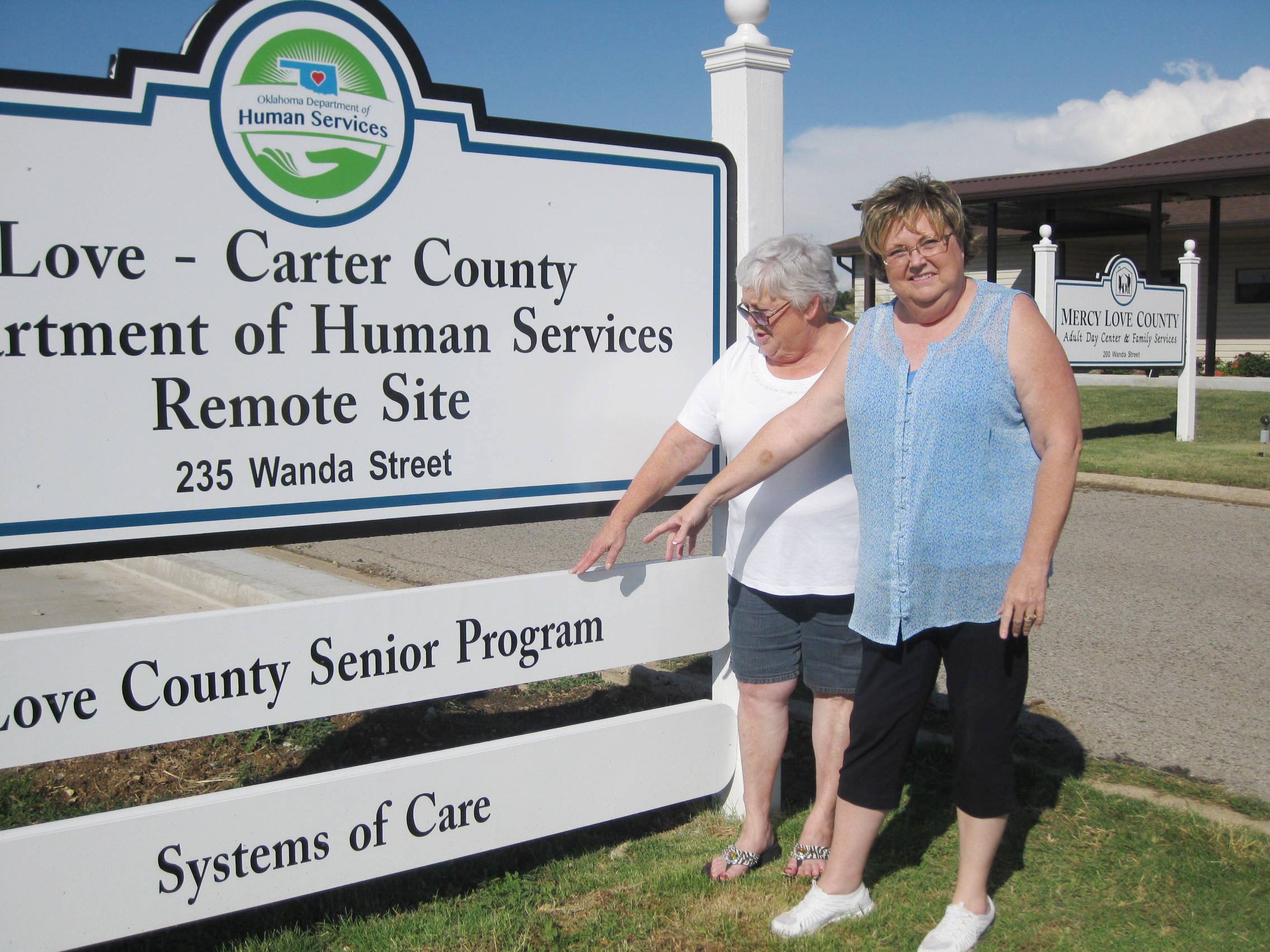 Eyvonna Lemons, director, (right), and Janeane
Hartman, fulltime volunteer will operate the
Love County Senior Program inside the hospital's
new Social Service Building one block south of
Mercy Health/Love County Hospital in Marietta.
Love County Senior Program moved into a brand new building at 235 Wanda St. in September.
Two other agencies, Department of Human Services and Love County System of Care, are moving there.
"I'm ecstatic," said seniors' director Eyvonna Lemons, gazing around her program's suite of two offices, conference room, break room, copy/print alcove, and storage room. "It's like the new car smell in here."
The landlord is an old and trusted friend: Mercy Health/Love County Hospital and Clinic.
The hospital put up a 2,200 square foot Social Services building one block south of the hospital's main entrance so that some important community organizations could remain in Marietta serving patients and the public.
"What they've done is absolutely amazing and fantastic. There's no better landlord than the hospital. They've bent over backward to make us a welcomed part of their campus," Lemons said.
Love County Senior Program had been seeking a permanent site since March when their affiliation with Big 5 Community Services ended. They found temporary quarters at First Christian Church since then.
The program is the place for senior volunteers to find opportunities to serve the community through existing organizations or through initiatives created by the program's advisory board.
Janeane Hartman, fulltime volunteer, joins Lemons in the office. She and her husband, Jack Hartman, serve on the advisory board and have led the annual Silver Stars program of food and gift delivery to homebound or low-income seniors.
The Oklahoma Department of Human Services moved two Adult and Family Service workers, Candice Champlain and Kayla Stinson, into the Social Services building on October 8, signaling the official close of the agency's former full-service Marietta office at 311 S. Highway 77.
Seven other Love County staff members, including the entire Child Welfare Division, have moved to the Ardmore DHS office at 925 W. Broadway, where they will continue to serve Love County clients, said county director Linda Moore. That office has a toll-free number 800-225-9927.
Ground was broken recently for a Carter-Love DHS office at 410 Travertine Drive in Ardmore (off Highway 70 west, near Billingsley Ford). The new office, expected to open next year, will be 18 miles from Marietta.
The DHS Field Office in the hospital's Social Services building will remain in continuous operation, Moore said. "We will have all the adult, family, food stamp, medical, and child care services represented in Marietta."
The local DHS telephone number, 276-3383, remains the same. DHS field office hours will be 8:30 a.m.-5:30 p.m. Monday through Thursday and 8:30 a.m.-5:00 p.m. Friday.
Moore said she approached the hospital about possible office space. "We are grateful to the hospital for offering us a place. This will be a great partnership and assure that all residents are served."
Moore said she and DHS supervisor Kimberley Honeycutt will be in and out of the Marietta field office.
Child welfare director Blaine Dudley said Love County's two caseworkers, Dena' Jones and Amanda Scott, have been serving the county from Ardmore for several months.
"It doesn't appear that we have had a delinquency to services, but I am interviewing for a third worker to be more of a rover, checking into the Marietta field office frequently. We won't be there daily but can be there on a moment's notice," Dudley said.
"We've very grateful to the hospital. They are gracious for letting us be there," Dudley said.
"We are very fortunate to have a good working relationship with law enforcement and the courts in Love County, and the Multidisciplinary Team (for investigating child sexual abuse) is one of the best. They are so dedicated, a very strong team. We feel we have good first responders for ensuring the safety of children."
The DHS field office does not have a supervised visitation office for parents separated from their children. Dudley said among the 10-15 current child welfare cases, visitation so far has been accommodated at relatives' homes.
Moore said the department is sensitive to citizens who may not be able to drive to Ardmore or even Marietta for DHS services. "We're open to accommodate clients with home visits," she said.
Anyone suspecting child abuse or neglect doesn't need to travel to or call a local DHS office to make a report. They are directed to call the agency's statewide hotline number, 800-522-3511, which is answered by a trained child welfare worker 24 hours a day.
For the past three years, clients have been able to apply for food stamps, Medicaid (SoonerCare) or other benefits and communicate with their worker online at www.okdhslive.com.
"Young and old are pretty savvy with it," Moore said. We'll continue to have a computer kiosk in the field office, but a worker will be there to take an application in person if clients want that assistance."
Love County System of Care is the third agency moving into the Social Services Building.
Vincent Mayo, assistant project director, and Karen Stoefel, family support provider, will
have an office for this program, which supports and guides families of Love County children or teens with serious mental health or behavioral issues.
Community volunteers underwent training to establish the program in 2005 through Mental Health Services of Southern Oklahoma.
The Love County program was housed in a Main Street office until the recession hit and MHSSO was forced to consolidate the System of Care programs at its Ardmore office.
"It's been on my mind. I'm aware that System of Care for the area started in Love County. Their families need services in their own community. The ones hardest to reach won't travel to Ardmore," said project director Pam Kerkstra.
"I wrote to the hospital administrator, Mr. (Richard) Barker, that he absolutely demonstrated their motto, 'small town hospital with the big heart,' by making a place for us in their new building."