Mercy Ardmore Opens Senior Mental Health Unit
Posted on Monday, July 6th, 2015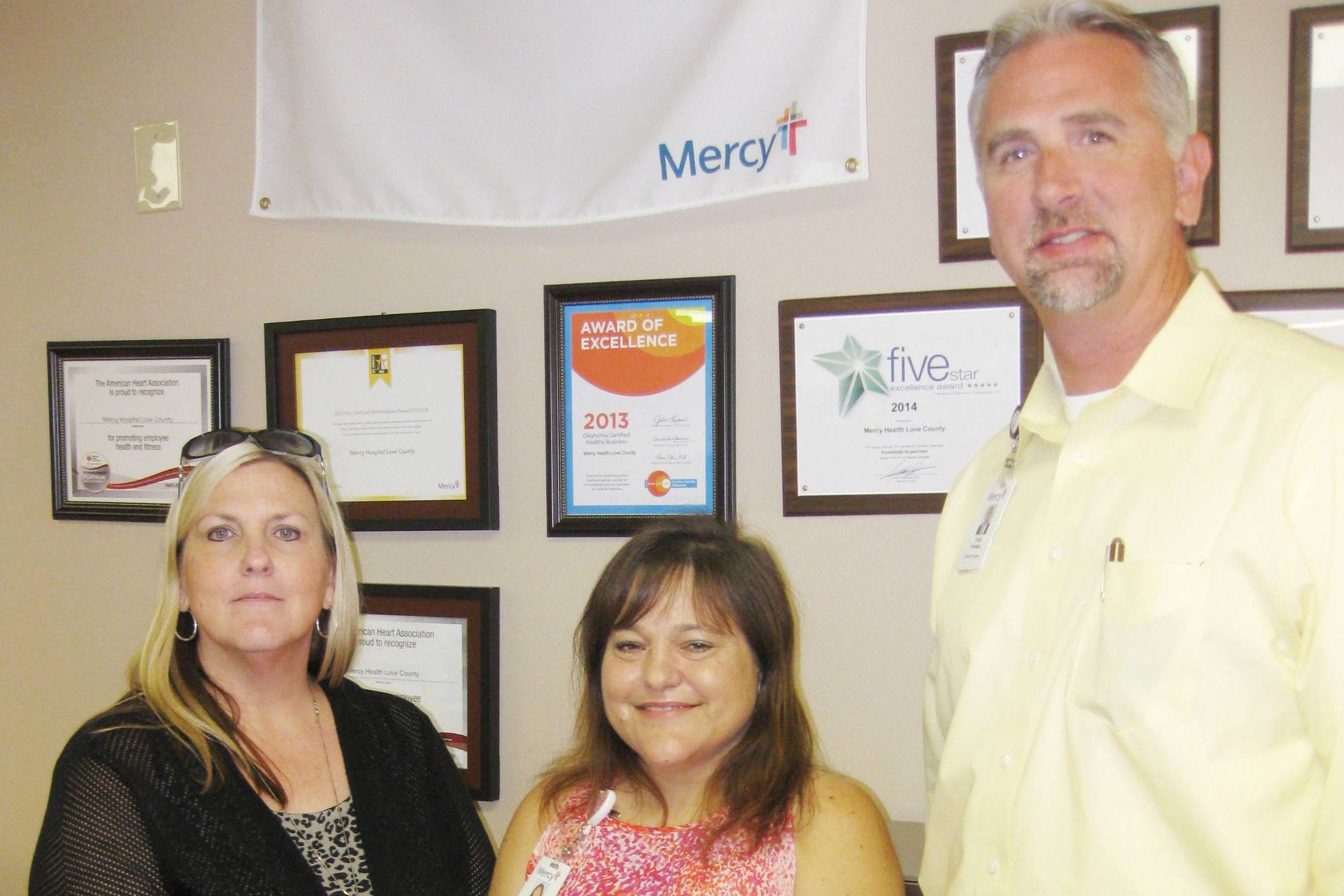 Pamela Lynn, Mental Health Services of Southern Oklahoma;
Shelly Schwake, Mercy Hospital Ardmore; and Todd Ferrand,
Mercy Hospital Ardmore, addressed crisis mental health
services with the Love County Community Coalition in July.
Todd Ferrand, program director, and Shelly Schwake, community relation coordinator, visited the Love County Community Coalition in July to talk about the senior behavioral unit at Mercy Hospital Ardmore. The 16-bed unit opened in 2014.
Some of the problems addressed are disorientation, memory loss, depression (sadness), suicidal thoughts, sleep disturbances, aggression or agitation, prolonged grieving, hallucinations (hearing or seeing things not present), poor appetite, or anxiety (increased worries).
A patient typically is a person with dementia or similar disorder, but this is not always the case. Depression, anxiety, or other change in mental health status may appear in seniors who have no form of memory loss.
Before admission, the intake staff reviews the patient's current medications. They also assess whether underlying medical causes are present, such as urinary tract infection, pneumonia, dehydration, or complications from chronic diabetes or asthma.
Treatment in the unit involves diagnosing the mental or behavioral crisis, administering and adjusting medications, and providing medical care for the physical ailments.
The senior behavioral health unit is on the fourth floor of Mercy Hospital Ardmore. The telephone number is (580) 220-6190. The fax number to fax patient information is (580) 220-6191. Calls are accepted 24 hours a day.
Ferrand said the average stay is approximately two weeks, as it takes time for medication treatments to show satisfactory results. "A key focus of the inpatient unit is to monitor the effectiveness of mental health medicines while providing individual and group mental health therapy."
He described a structured daily routine in the unit, with activities from 8 a.m. to 4 p.m. Patients dress in street clothes and move around the unit for activity. They engage in individual therapy, group therapy, games and social activities, occupational therapy, and family meetings.
The unit provides 24-hour care. The staff includes mental health physicians, hospitalists, nurses, and social workers.
The discharge planning includes scheduling a follow-up visit for the patient with his or her primary doctor within 3-7 days to monitor progress.
Ferrand and Schwake spend much time visiting with senior or their family members who are inquiring about the unit and methods for dealing with issues surrounding dementia.
"We will come to the home of the individual or family member for an assessment and make recommendations," Ferrand said. His contact phone number is (580) 768-2920, or the unit number at (580) 220-6190.